Colorful Kitchen Wall Art With Fake Fruits
The best part of cooking in the kitchen for me are working with the colorful foods available.  Why not display those foods as wall art?  For my white kitchen, these shadowboxes filled with faux fruit added a lot of much needed color.  It's simple decor and it doesn't cost much money at all.
For this DIY, you'll need
Three shadowboxes
Fake fruit or vegetables
Burlap
Scissors
Hot glue and gun
Hammer and nails for hanging
Shadowboxes come in a variety of shapes and sizes.  These 5 x 7 shadowboxes were the perfect size to add extra art on the walls in my breakfast nook.  They were not to big to where I had to buy a lot of fake fruit, and not too small either.  When you purchase a shadowbox it should have a foam backing and come with pins for you to add elements to it.
I did not like the black backing on these shadowboxes so I covered them with burlap paper.  I cut the paper the same size as the back and used the pins provided to attach it so that it covered the black foam.  Use whatever color paper you prefer; but the burlap mixed with the fruit gives the box a "farmer's market" artsy look.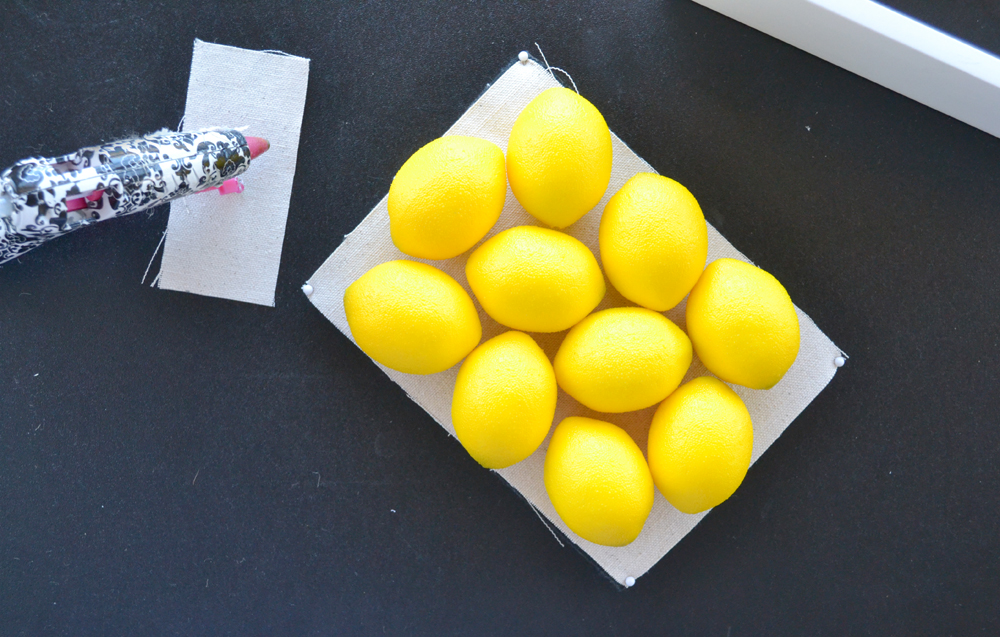 Lay the fake fruit out on the back piece of the shadowbox to see how you want to lay it out.  At first I decided to do three straight rows but realized that it looked too neat.  Positioning them randomly gave it a more freestyle appearance.
Once you see how you want it to look, glue each piece of fruit down.  This can be a bit tricky because you have to make sure that all the fruit lies within the edges of the backing so it fits inside of the shadowbox.  Make sure that the fruit clears the edges so it is not hard to reinsert the back panel inside the box.
When the glue is dry, attach the back of the shadowbox to the front and secure at the back.
Repeat these steps with two other shadowboxes and hang on your walls to add a colorful and "fruity" display on your kitchen walls.