35 Easy-to-Make DIY Coasters – Create Your Own Table Coasters
Coasters for your drink may seem like a small thing to have around the house, but they're essential to protect your furniture from mugs and glasses that are too hot or too cold, as well as from those annoying little spills that may taint your table.
Unfortunately, most often than not, coasters that you can find on the market are bland and certainly, none can help bring out your personality or your special memories. For this purpose, creating your own coasters may be the best idea. We have created quite a list of cute DIY coaster projects for you to try out. Some are easier to do, others require a bit more of your time. Either way, we're sure you'll find plenty of inspiration here. The best thing is that even if you don't 100% like these projects, they're fairly easy to adapt to your needs and requirements. Anyway, let's begin!
35 Easy-to-Make DIY Coasters
Are you ready to go over some really cute DIY coaster projects? We know we are! Let's see some cool projects for you to start on ASAP!
1. Coasters With Lace Paper
We love these cute and easy to make coasters with lace paper. Even though you start with a basic coaster, you get such a cute craft that you'll be happy to show your friends when they come visit. Try out our tutorial here.
2. Wine Cork Coaster
There's a little bit of irony in using wine corks to create a coaster for your glasses, especially as you may very well place your cold wine bottle on one and your wine glass on another. Anyway, learn how to make a wine cork coaster by following our tutorial.
3. Concrete Coaster
If you want even more durability, you can definitely try to create some concrete coasters. What's even nicer is that you'll get to paint these however you want. Learn how to make these from our tutorial.
4. Gold Dipped Marble Coasters
Another cool coaster you can make involves a piece of wood and some marble contact paper. The result will catch your eye immediately. Learn how to make some here.
5.Laser-Cut Inspired Coasters
No one has laser cutters just laying at home, but we can definitely take some inspiration and make something similar-looking on our own. Learn how to make some of these laser-cut inspired coasters on your own.
6. Coasters With Parachute Cord and Wooden Beads
Another novel idea to create coasters involves some cool materials, like parachute cord and wooden beads. They're fairly easy to make and if they fit your style, they'll make good protectors for your furniture. Get the tutorial from here.
7. Watermelon Coasters
Sure, they're not madeof watermelons, but they look like one. They're simply adorable and we find they're perfect every time the kids come out to play. Learn how to make your own watermelon coasters.
8. Painted Concrete Coasters
Using concrete to create your coasters can also work wonderfully. Plus, you know that if you use these out in the garden, you know the wind will never make them fly when you lift your glass. Learn how to make these cute concrete coasters!
9. Perler Bead Coaster
Perler beads are easily some of the most versatile crafting tools. This Perler bead coaster is a great idea and one that kids can help you with if you want to get them involved. You just need the beads, a hot iron, and some wax paper. Learn everything about making these Perler bead coasters!
10. Cork Coasters With Shelf Liner
Grab some inexpensive cork coasters at the store and give them your own, personal spin with the addition of some charming shelf liner prints. These are so easy to make and you can learn how from 86 Lemons.
11. Tile Coasters With Wallpaper
Wallpaper scraps or some free swatches you can order from you favorite stores can jazz up tile pieces to create the most perfect coasters for the living room. Get the tutorial for these coasters from Thinking Closet.
12. DIY Wood Coasters With Constellations
Print out something that inspires you, like these constellation charts. Apply them to tiles or wood, mod podge works great, and jazz up the dining room! We made these by following the guide on Almost Perfect.
13. Dry Erase Coasters
We're in love with these interactive coasters. Make with dry erase board, you can pass notes or use them to label everyone's drinks at the dinner party. These are super cool and super easy to make if you follow the guide Jentertaining.
14. Rubber Stamps Coasters
We knew those rubber stamps you've been collecting would come in handy eventually. It's amazing how easy this DIY is and how designer these coasters look in the end. Get the tutorial on how to make these from A Very Sturdy Design.
15. Coaster Ideas With Rope
If you can get some cotton rope and some paint you can recreate these adorable nautical coasters. They'd be perfect to add some summertime flair to the house or porch. These cool designs were made by hi, friend.
16. Coasters With Paint Pens
Again, grab some inexpensive cork coasters and have a blast creating fun little designs with a paint pen. Use the same print or pattern for all of them, or make each one unique! We learned how to make these from Fellow Fellow.
17. Coasters With Maps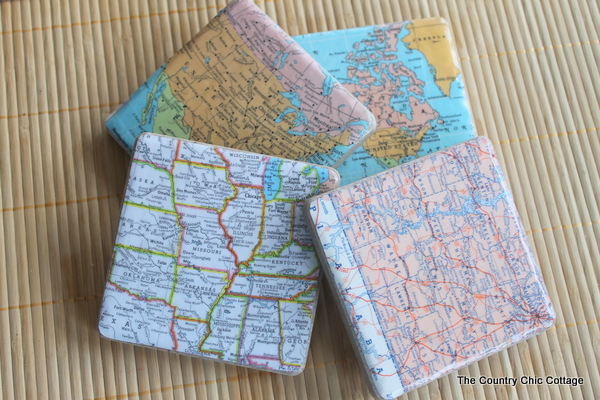 Maps can make some adorable coasters too. Mod lodge maps of your favorite places to some tiles and create an original piece of decor (and function) for the home. We loved making these, so learn how to do it yourself by checking out the tutorial on The Country Chic Cottage.
18. Felt Coasters
If you know how to sew, these coasters may be the most charming of the bunch. Use some felt to duplicate these citrus cuties. These are adorable and we learned how to make them on The Purl Bee.
19. Coasters From Natural Branch
Natural branch can make great coasters as well. Keep them as organic as possible for a rustic, easy charm. We found out all the details on making these on Garden Therapy.
20. Coasters Out of Gift Ribbon
Can you believe that these were created by using a gift ribbon (the one that you can curl up to decorate birthday presents)? They've been rolled and sealed and we found the tutorial on Chica and Jo.
21. Coasters With Photos
Pictures can too become a coaster for the family. This is one of the most personal and original ways to go, and we're in love with the coziness. We found the tutorial on Oopsey Daisy and found it so easy to follow.
22. Crochet Coasters
If you know how to crochet, why not whip up some of these for the breakfast nook? Use different colors or how with a more neutral flow. Crocheting is certainly difficult, but it can be made easy if you read on it on tuts+.
23. Comic Book Coasters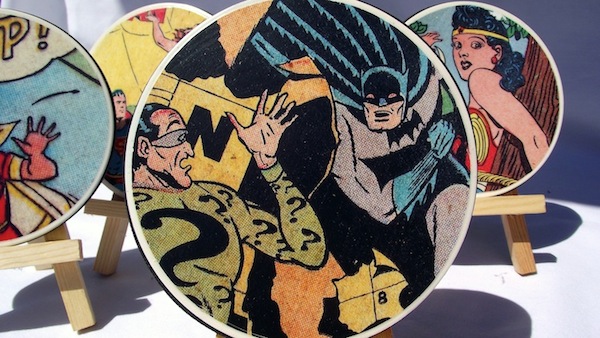 The man cave will need some coasters too. And these were made with cut outs from some favorite comic books. These coasters are ideal for comic book fans, so learn how to easily make them from Mod Podge Rocks.
24. Coasters Out of Magazines
Take some of your old magazines and create coasters from them! You don't need mod podge or tile foundations, instead, you can weave the pieces. Learn how to make these great coasters with the guide on How About Orange.
25. Coasters With Scrabble Pieces
Glue some old scrabble pieces together to create a funky new addition to the coffee table. It adds a youthful vibe but also a family-friendly air. Creating your own scrabble coasters is easy if you follow the tutorial on Gourmet Gab.
26. Coasters With Racing Bibs
Here's another great idea to add to the man cave – whether that's the bonus room or basement. Old racing bibs can make for great tile covers as well and have them instantly turned into coasters. These will be perfect additions to your home, so learn how to make them on Hello Neverland.
27. Fabric Coasters
If you're good with a stitch and can find the right fabrics, you can create an adorable set of coasters from scratch. They're so easy to make, as you'll learn from Therm-O-Web.
28. Mini Palette Coasters
Miniature wood palettes can come together to make a rustic, shabby chic coasters for the patio or breakfast nook. You can even decorate these with wash tape or add some color with paint. Figure out how to make these on Cooking Like Lou.
29. Coasters With Felt Balls
These may be a personal favorite because of their lightness and charm. These wool felt balls came together to create quite a stylish look. Learn how to make your own by reading the tutorial on Inspired By Charm.
30. Coasters Out of Wine Corks
Wine corks are another way to add uniqueness but also a chicness to the dining room table. Keep your old corks to create a stockpile for crafting. You can learn how to make your own wine cork coaster by reading the tutorial on HGTV.
31. Paint Chip Coasters
Remember, paint chips are free at the store. Grab some next time you're checking out the colors and you'll have a stash for creating new coasters! We found the tutorial for these cute coasters on HGTV.
32. Coasters With Alcohol Ink
These coasters are absolutely stunning and hand-designed using alcohol ink. If you're artistic in spirit, this DIY may be right for you. Get the tutorial to make some yourself by reading it on My Good Morning.
33. Agate Coasters
Sliced agate can easily be used as coasters but if you want to throw some extra style onto them, add some gold leaf to the edges. Find out how to make your own on B@H.
34. Painted DIY Wood Coasters
Wooden pieces will always be a great choice for coasters, but if you want to add a bit more creativity and imagination, hand paint beautiful designs. You can figure out how to make your own by reading the tutorial by Camille Styles}
35. Chalkboard Coasters
With chalkboard coasters, you can write people's names on them, or a number, and they'll be so easy to track at parties. Plus, they're forever customizable since you can wipe them clean and reuse them later on. Learn how to make one on Crazy-Wonderful.
Table Coasters – The Stylish Protector
Table coasters, also known as coasters, drink coasters, beermats, beverage coasters, and so on, are quite useful. They've been around since the 1700s, perhaps even before then. They were originally used for decanters and wine bottles so they could be "coasted" around the table after the servants went to bed. Later on, they started being used for glasses too. They can help protect your furniture when the glasses and cups are too hot or too cold, as well as to absorb some of the condensation dripping off the glass, or even for small dribbles of whatever you're drinking.
How to Make Coasters
All the coasters on our list are fairly easy to make. You can use all sorts of materials to make your coasters – cork boards, wood slices or wood boards, beads, fabric, glass, and so on. Then, you simply get to decorate the base material with whatever things you want – paint, pictures, embroidery, etc. We've served you with 35 cool DIY coaster ideas, but you can spin any of them however you see fit. We're sure you'll find a design to suit your needs, style, and personality.
Cute Coaster Ideas
Creating your own coasters will make it possible to bring your personal touch on objects that many people do not give a second thought to. And yet, they can be a cute touch for your home. Plus, you can even make some of these to gift to your friends and family members on special occasions – as long you put your heart into them, they'll be appreciated. Here are some cute ideas on how to personalize your craft:
add your memories to the coaster (or the recipient's photos)
embroider your name (or theirs if you're gifting them)
paint your favorite flower or animal
create a mandala design with beads
make each coaster a different color
Final Thoughts
We really think that any house needs some customized coasters since parties are going to be a lot more fun. On top of protecting your furniture, you'll also help your guests keep better track of their drinks. Plus, we're sure you'll get enough compliments that you'll want to make more! So, how did you like our DIY coasters?