Surprise Him! Check Out These 50 DIY Christmas Gifts For Your Boyfriend!
It can be hard finding the perfect gift for your beau. Instead of emptying your wallet on movies and video games, why not whip him up something that he'll use and appreciate a bit more than something that can be bought in the store? Surprise him! Check out these 50 DIY Christmas gifts for your boyfriend!
1. Magic BBQ Rub
Stone gable shows us how to make some "magic" BBQ rub for men that love to spend time on the grill. Follow it up with the apron below for the perfect combo present!
2. Jack Daniels' Soap Dispenser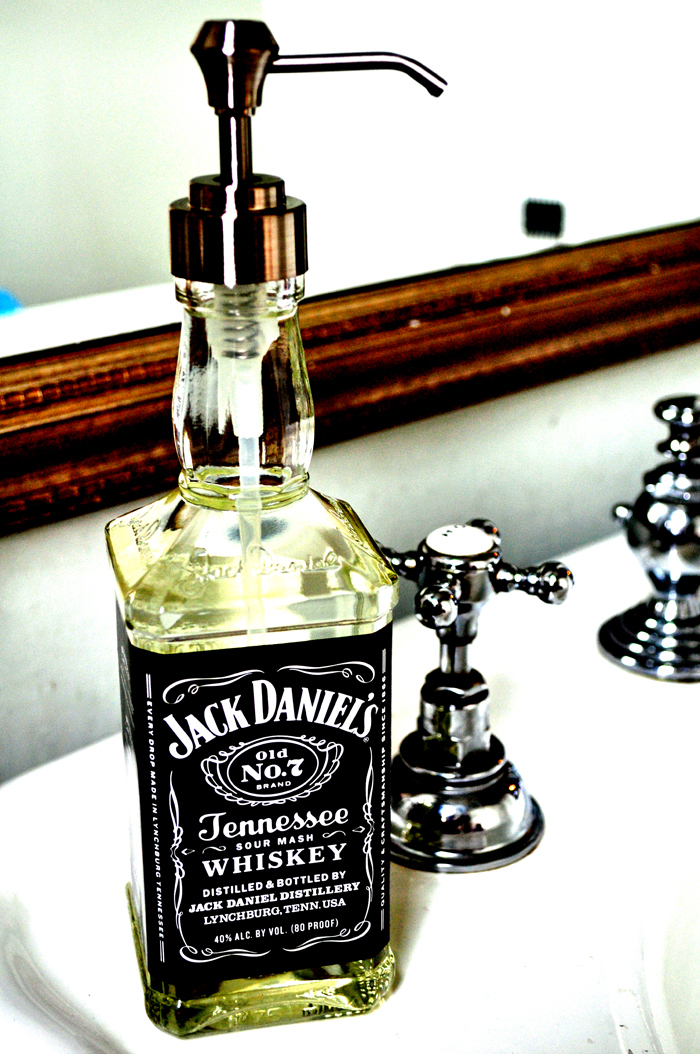 If you've got a Jack Daniels lover, then this idea from Curly Birds will be right up his alley. Jazz up the bathrooms a bit with one of these creations.
3. Comic Book Coasters
Mod Podge Rocks took some comic books and turn them into a fun coaster set for your man's dorm room, apartment or man cave! Check out how to whip them up after the jump.
4. Serving Boards
This is quite the chic addition to the kitchen. Visit ManMade to learn how to turn a piece of wood into the most stylish and functional serving board around.
5. Coffee Bean Soap
Living Well Spending Less shows us how to make some coffee bean soap that he'll want to lather himself up with every morning. Talk about the right kind of wake up call!
6. Rosemary Mint Shaving Cream
Here's another manly beauty product that you can make right in the kitchen. Check out Food For My Family and learn how to whip up this rosemary mint shaving cream for your beau to enjoy.
7. Apron
Here's that fun apron we mentioned earlier. Lovely Indeed gives us the super easy details!
8. Photo Playing Cards
A Beautiful Mess showed us how to take a regular set of playing cards to the next level. Add some photos and personalize his deck!
9. Man Balm
PopSugar made some man balm that your boyfriend could use too! He can lather his lips up and be kiss-ready with this little pot of love.
10. Leather Keychain
The Crafted Life made this chic leather keychain and we think it's a great idea for something personalized and sweet for your boyfriend to keep and remember you with. It's a great stocking stuffer too!
11. Dipped Shot Glasses
Make his home bar a bit more stylish by gifting him a set of dipped shot glasses. Pick the color and shades yourself and follow along at PopSugar for the directions.
12. Hot Pepper Oil
A Beautiful Mess gives us a great gift for the foodie boyfriends. Check out how to make some hot pepper oil this afternoon!
13. Tie Phone Case
Does he lose his phone all the time? PopSugar shows us how to make the right kind of phone case – out of a tie – that he can sit right ton his desk at work.
14. Wine Bottle Tumblers
Brit + Co takes it a step further when it comes to stocking his personal bar. Grab some old wine bottles and turn them into tumblers!
15. Mountain Clock
Say Yes makes a chic mountain clock that could fit into his modern little space quite nicely. You could even paint it to match his own style.
16. Tripod Camping Stool
If he's an outdoorsman, why not make something for him to use on his next adventure? Design Sponge will give you all the know-how for creating this tripod camping stool!
17. Leather Cord Roll
Or you can grab some leather and learn how to make a nice little organizer for all his electronic cords. Check it out at Brit + Co.
18. Mustache Mug
Whipping up this little mustache mug is quite the easy task as well. He'll love the sweet thought and use it every morning! (via)
19. Slipper Socks
Martha Stewart shows us how to make some slipper socks that are quintessentially Christmas-worthy and cozy. He'll love this for lounging!
20. Swiss Army Key Chain
Over at Instructables, learn how to make a Swiss army key chain that will wow him! It's not only functional but he'll be so impressed with the creation.
21. Bottled Cocktails
Bottle up some cocktails for him to try with some help from Brit + Co. These will be so much fun to experiment with in the kitchen.
22. Beard Oil
Does your bae have a beard? If so, why not make him some beard oil to keep it tamed with help from Everything Etsy?
23. Tiny Notebooks
See Kate Sew made some tiny notebooks for the writers and artists in our lives. He can carry this around on his trips, in his car or on his way to class!
24. Leather Cuff
The Red Kitchen made a leather cuff that's manly enough to fit your boyfriend but also stylish enough to create a trend. Grab the details after the jump.
25. Skinny Ties
Design Mom shows us how to make some skinny ties. You can make him an entire new collection if you check out this tutorial.
26. Bike Lunch Bag
For those that love to ride their bike, Evil Mad Scientist make a frame lunch box that could come in handy. Pick out your prints and colors to match his style and get to work!
27. Sofa Caddy
Again, you'll want to pick out a print or color that matches his personal style before you get started. And this sofa caddy from Sew4Home will get a lot of use!
28. Zen Garden
Curbly will help you give him the gift of relaxation. A zen garden for his home office or regular work space could be a sure way to his heart this Christmas.
29. Grill Rub Set
We're back to the grill with this one. Fire up the BBQ with Kojo Designs and give him a trio to try out.
30. Suspenders
A new pair of suspenders could be cool for a man with a funkier style. Check out A Beautiful Mess for the tutorial.
31. Bicycle Brake Clock
Instructables shows us how to take a bicycle break and turn it into a clock. What a cool addition to his space!
32. Handprinted Mouse Pad
Design Sponge also gives us a great idea for jazzing up his office space. Learn how to hand paint a mouse pad with all the right flair.
33. Leather Sketchbook
The Merrythought shows us how to make a slick leather sketchpad for the men in our lives with a bit more creativity running through their veins. It's a great journal idea as well!
34. Pencil Holder
Over at Strawberry Chic learn how to organize his desk top or have his drawing or writing pens on hand with ease. Turn some wood … into this!
35. Map Coasters
BHG teaches us how to take a map and turn them into a fun set of coasters. Again, this is great for a stylish apartment or to enhance his man cave.
36. License Plate Key Rack
Grab one of his old license plates and turn it into a key rack. With some help from Kojo Designs, he'll never lose his keys again.
37. Classic Socks
Of course you could always go traditional in the gift-giving sense. Visit Purl Soho and learn how to whip up a pair of cozy socks for him!
38. Chalkboard Mug
Wit & Whistle gives us another mug idea that we love. Dipped in chalkboard paint, you can personalize it differently every day!
39. Leather Wallet
See Katie Sew makes a leather wallet that will bring an easy smile to his face. And he'll be able to actually use this one!
40. Army Guy Bowl
Make will make him giggle with this fun project. An army man bowl will be his newest addition to the dining room!
41. Car Kit
Putting an emergency car kit together could be easy and special too. Check out the details over at Not Martha.
42. Roll-up Tool Organizer
If he has a large tool collection, why n to make something to help him with the organization of it all. One of these roll-up organizers could be really great! (via)
43. Laptop Riser
An easy and chic laptop riser could be another great – and unique – present idea. Check out ManMade for the details.
44. Bacon & Beer Cupcakes
Brit + Co goes with an edible gift that we're drooling over too. Have him open up a batch of bacon and beer cupcakes – then let him dive right in.
45. Wooden Bungee Organizer
And if you visit Brit + Co again you'll find a great tutorial for one of these wooden bungee organizers. From glasses to cords, they'll help out in any room!
46. Beer Tray
A beer tray could be a fun addition to this space as well, especially for serving snacks during ball games. Visit DIY Playbook for the know-how.
47. Wooden Slab Table
The Crafted Life made a wooden slab table that could help out with some decorating inside his space. He'll also love that you made it all on your own!
48. Leather Mason Jar Sleeve
Check out this awesome e leather, mason jar sleeve we found over at A Beautiful Mess! It's such a fun way to jazz up his favorite drinks.
49. Manly Hand Scrub
Paper Turtle will have your man's hands feeling extra soft and supple with this hand scrub. Learn how to whip it up yourself after the jump.
50. Bacon Salt
And finally, why not add some bacon salt to his kitchen-inspired gifts this year? He'll have so much fun experimenting with it! (via)