50 DIY Garland Ideas for Your Christmas Tree
Christmas is nearing and you can almost smell the pine. This is the time of year where families gather to celebrate their love for one another by hanging up Christmas garland on their trees.
Home Depot has everything you need to make this project happen. Head over there now, pick up some fresh-cut pine branches- not too thin but not too bushy -and take them home to decorate your room or apartment in whatever fashion pleases you.
Well, in an ideal world things would be that straightforward, but in that world, we'd all end up having the same Christmas tree garland and it would get boring so fast you wouldn't believe it.
Christmas Tree Garland
Christmas tree garlands are one of the simplest ways you could possibly decorate your living space, and yet they can host a creative variety of decorations and styles.
Christmas tree garland ideas range from simple to grand, and you can put any amount of time into them that you want. Whether you just throw up some tinsel or decorate your entire house is entirely up to your preference.
For instance, if you're short on time, a festive wreath with a bow hung around the base of a bare tree trunk makes a great centerpiece. If you have candles in jars around it, it becomes even more beautiful.
Another simple solution for your living space would be wrapping real pine branches in string lights while still attached to their trees.
If you find these crafts interesting and want to learn more about creating awesome garlands for your Christmas tree, just keep on reading this comprehensive guide. We promise you won't be disappointed!
1. DIY Custom Christmas Banner – Christmas Tree Garland
The first item on our list is this customizable Christmas banner that was not exactly meant to be hung on or wrapped around a Christmas tree, but it works just as well if you're crafty enough.
You'll need to prepare your wire-frame banner, a length of fabric, and some sort of adhesive. There's no right or wrong way to do this; you can either embroider the fabric beforehand or sew it on afterward, and use glue for everything else.
The Christmas tree garland is not difficult but it does take time and patience, which makes it much more rewarding in the end. If you're crafty enough, go ahead and make one!
This project will keep you occupied for quite some time, so put on your favorite show and work away! If you want to learn more about creating this awesome DIY customizable Christmas tree garland, just check out our guide.
2. Cupcake Liner Garland – Christmas Garland Ideas
Who doesn't love cupcakes? Whether you're a fan of baking or just love eating them, you can use this project to your advantage.
All you have to do is collect some cupcake liners, cut them in half or thirds, and attach them to a strand of lights.
This Christmas tree garland idea requires no complex sewing but it does take up quite a bit of time if you want to make sure your strands are covered in cupcake liners.
If you don't want to go through the trouble, though, tracking down 50-100 cupcake liners should be enough for most people's garlands.
If you're looking for something that has minimal work involved while producing maximum results, look no further than this awesome project.
Need more detailed instructions and helpful photos to guide you along the way? Check out our comprehensive tutorial.
3. Dried Orange Garland – DIY Garland
If you want to create a truly unique and rustic Christmas tree garland, look no further than this dried orange garland.
We're big fans of the unexpected, and this project combines some of our favorite things: oranges and lighting! These ornaments are beautiful when lit up or left in the dark.
To make them, all you have to do is slice your oranges (the more unevenly they're sliced, the more interesting and unique it looks), boil them for 30 minutes until their peels become soft and pliable, brush some glue on one side of each slice, let them dry overnight until they become hard again, and attach a strand of lights!
Of course, there are plenty of other ways to decorate your Christmas tree, but why not try something new? Your guests will be pleasantly surprised when they see this unique display of oranges hanging on your tree.
4. Paper Tree Garland – Christmas Tree Garland Ideas
If you're looking for something that is similar to the cupcake liner garland in terms of the level of work involved and decoration results, this paper tree DIY Christmas tree garland idea might be perfect.
This project requires some sewing so it's not entirely suitable for people who aren't very good with a needle and thread yet, but if you have the patience and skills, go ahead! In fact, why not enlist your mom or grandma's help?
The best part about this Santa Claus garland is that it looks almost identical to a real one. With a little bit of effort on your part, you'll have a beautiful new decoration for your home!
This project takes between one and three hours, depending on how large your garland will be and what materials you'll use (different types and patterns of papers yield different results).
5. Pinecone Christmas Garland – Christmas Tree Garland
Another fun Christmas tree garland idea for anyone who's interested in creating something unique and simple is this pinecone garland.
All you need to complete it are some pinecones and jute, or other similar materials, and maybe a little bit of glue just to keep everything together.
This garland is also often referred to as the zero-waste garland mainly because it doesn't require a lot of materials to be made, and that you can find jute and pinecones just about everywhere.
There are dozens of ways you can implement this project into your own home. The sky's the limit! You can use one strand that attaches your entire pinecone garland together or even split it into multiple strands that connect individually.
This project takes about one to two hours, or less if your pinecones are already dried out and ready for decorating. Merry Christmas, everyone!
6. Winter Plants Garland – Tree Garland
Another alternative to the paper trees garland is this winter-y plants garland. The best part about these ornaments is that you don't need to work too hard to get them looking great.
All you have to do is cut out small sections of your chosen plant, tie them together with some twine, and voila! You have yourself a gorgeous winter-inspired plant garland that'll look great on your Christmas tree.
This decoration is perfect for nature lovers because it allows them to bring their favorite plants indoors in the colder months without having to worry about the withering effects of the cold weather.
This Christmas tree garland idea also has the same benefits as the paper tree garland in terms of being eco-friendly and sustainable because it uses easily accessible materials for decoration purposes.
This project takes only a few minutes so if you're struggling with coming up with new ideas for how to decorate your home during the holidays, you should definitely give this one a try.
7. Advent Calendar Envelopes Garland – DIY Christmas Garland
Another awesome idea that should definitely be added to your list of Christmas tree garland ideas is this advent calendar garland.
All you need to create it are some envelopes and twine or other strong thread, scissors, and a pair of hands. That's it!
This decoration can serve multiple purposes so you don't have to limit yourself to just one area of your home where you can use it.
Whether it's decorating your Christmas tree or simply hanging up on your wall somewhere in the living room or hallway, this advent calendar garland will definitely leave an impression wherever you place it.
The best part about this project is that the envelope function still serves its purpose by providing ample storage space for any holiday goodies you have left to give.
This project requires a bit more effort than the previous two because you basically have to create each individual envelope, not just cutting out a few pieces of paper and stringing them together like the other projects on this list.
However, if you're someone who enjoys small projects instead of large ones, then this decoration might be perfect for your home! It shouldn't take any longer than thirty minutes from start to finish depending on how many envelopes you decide to make.
8. Garland With Small Glass Jars – Christmas Garland Ideas
This garland idea is perfect for those who love crafting and DIY projects.
All you'll need are some glass jars, twine or string of any color, scissors, and the ability to cut shapes into your chosen material. Other than that, this project requires no special skills!
The great thing about this decoration is that it can be customized to the color of your home. So, you can use glass jars of any color if you have them on hand or want to purchase some for this project.
This garland idea also has the benefit of being interactive so you won't just look at it once and forget about it until next year. Instead, your guests will have fun seeing all the different decorations inside each individual jar!
Your friends are sure to ask where you purchased these amazing decorations because they're unlike anything most people would expect you'd make yourself.
This Christmas tree garland requires minimal effort but with maximum impact because it's festive and attention-grabbing without requiring too much time or money out of your pocket.
The only downside about this Christmas tree garland idea is that you can't place it on top of your Christmas tree as you would with other decorations because the jars won't fit through the branches.
However, placing this garland along one side of your wooden mantle or perhaps around your windowsills will definitely provide a stunning centerpiece for display throughout December.
9. Porcelain Star Garland – DIY Christmas Garland
The next decoration on our list of Christmas tree garland ideas is this porcelain star garland.
All you have to do to create it yourself is use a glue gun and old painted porcelain stars that you can pick up at a local thrift store or secondhand shop. If you don't have access to those kinds of places, then look online for any sites that sell used items by weight so you'll have more chances of finding these kinds of decorations!
In some cases, however, the simplest decorations are also the hardest ones to find so if your first few attempts result in nothing, keep looking until you eventually find what you're searching for!
Once you have your hands on some suitable star-shaped decor, simply glue the points together and make a loop of hot glue at the top.
Then, wrap your chosen string (we recommend neutrality like white or cream) around the bottom for that classic Christmas garland look.
You can place these stars anywhere you want but we do recommend using some common sense when choosing where to display them because porcelain is not only fragile but also heavy!
So, it's best to choose decorations where they won't be knocked off easily by excited children or pets during the hustle and bustle of December.
The great thing about this particular decoration idea is that once you finish creating it, you'll see plenty more uses for it than just for festive holiday decor. For instance, why not use these stars as the basis for creating snowflake-shaped ornaments which can then be hung on your Christmas tree?
Plenty of possibilities exist for this one simple decoration which means you'll get plenty of use out of it long after you've finished celebrating Christmas this year!
10. Everlasting Flowers Garland – Tree Garland
This next item on our list of Christmas tree garland ideas involves creating this decoration which requires little more than some clear fishing line, a glue gun, dried flowers, and lots of patience.
You can use any color or color combination you want but when choosing the materials for your garland, it's important to go with neutral colors so that they will complement most kinds of décor.
Begin by wrapping the wire around the ends of each stem before gluing them together beneath the flower heads – try not to cover them up completely though because you'll need access to these parts.
Then, start attaching flowers to your wireframe in whatever order you like until you've created an aesthetically-pleasing design that pleases both your eyes and nose.
Once you've finished making the garland, all you need to do is take it off the frame and attach it to your Christmas tree!
There's no need to add in any extra string because the fishing line will be barely noticeable when hung from a branch and hanging in clumps will help to hide it even more if for any reason you decide that you don't like how aesthetically pleasing this decoration looks.
When we said earlier that patience was something that would benefit those who wanted to create their own garlands, we meant it – however, once you're done creating your everlasting flower garland then you'll certainly be rewarded with one of the most beautiful decorations on our list of ideas!
11. Cute Rabbit & Chick Paper Roll Garland – DIY Garland
Here's another garland idea that proves the adage "two heads are better than one" because not only can you choose to work alone on this project but also if you have children then getting them involved in the process will make this Christmas decoration even cuter!
This decoration combines two crafts into one which means that your kids will be kept busy for hours as they collect, curl, and glue together lots of different kinds of paper to create either rabbits or chicks.
We recommend choosing just one color/color combination for both designs so that they complement each other when hung together from the branches of the family Christmas tree.
Once you've finished making your garland (or garlands), all you need to do is take it off its cardboard roll and tie it to your tree's branches using either some string or even more of the curling paper.
This is another decoration that works well in any color combination so whether you're going for purple rabbits on a beige background or pink chicks on an orange background, these designs will look good if they complement each other when hung side by side!
12. Paper Roll Flower Garland – Christmas Tree Garland Ideas
If you're looking for Christmas tree garland ideas that break away from the traditional then this one here might just be what you're looking for because it involves creating a decoration that, after completion, will look more like an actual wreath than a garland.
All you need to create your paper roll flower wreath is some individually cut pieces of colored paper, which could either be used plain or printed on one side with an Easter-themed design if you want something extra special to celebrate the holiday season.
After cutting out each strip, all you need to do is take a pencil and curl it around until it forms a tube shape – these can then be joined together by overlapping their open-end against each other at the center of the creation.
You'll then need to take some extra strips of paper and use these as "hooks" to go around the toilet roll tube once it's almost empty by either tucking them into each other or curling them around the edges – whichever you find easier.
Once you've finished making your wreath, simply drape it over your Christmas tree using some string or florist wire so that the open side is facing downwards.
This decoration looks great in all sorts of different color combinations so whether you want to create a rainbow flower garland with white daisies for an extra-festive look or something that matches your decorations perfectly, this idea will be perfect!
13. Branches & Berries Garland – Christmas Garland Ideas
A wreath is basically a garland that you hang over the front door rather than around your Christmas tree so if you're looking for traditional Christmas garland ideas then this one might just be what you've been searching for.
All you need to create this garland are some branches from your garden or even your backyard, which should resemble small trees given how much foliage they have at their base.
After collecting these together, simply tie them with string into the shape of a circle and then attach berries to each twig before threading ribbons through them in order to decorate.
Although there's no right or wrong way to do this decoration (the only rule being that it must resemble a wreath), we recommend trying to use different kinds of berries so that it really looks the part when hung on your Christmas tree (or wherever else you see fit).
You can also turn it into a wreath, and it's actually a great idea if you don't have a wreath hanger to attach to your front door; all you need are the branches themselves – just tie them together in order to achieve that festive look!
14. Mushroom & Jute Rope Garland – DIY Garland
This garland is a little bit different from the others in that it features a lot of mushrooms – and not just your run-of-the-mill white ones but also brown, red, green, blue, and even black!
You'll need to find the majority of these (leave out the poisonous-looking ones!) and make sure they're thoroughly dried before beginning this decoration; otherwise, you might end up with some moldy decorations.
Attach each mushroom onto a length of jute rope using either glue or string (which we recommend for durability) and always ensure that they're facing upwards so that when put together all you can see is the tops of them.
The secret behind making these mushrooms look so realistic is in their color combination – which should include various shades of brown, red, green, blue, black, and purple.
After decorating your entire length of rope this way, you need to attach one final mushroom to the top of it using glue or string – this is what you'll hang your garland from.
Once hung, this decoration looks great no matter where you put it but specifically works well on a fireplace mantelpiece and even your Christmas tree during the winter months.
15. Felt Spruce – Tree Garland
If you love the look of traditional Christmas tree ornaments but don't want to pay through the roof for them, why not use felt balls to create your own garland instead?
This garland is ideal if you're planning on decorating your fireplace mantelpiece during the festive season; however, it's best suited to smaller trees that aren't too bulky.
You can also use this decoration in other areas – such as on top of a TV set or even around an indoor window! The choice is yours.
All you need to do is cut a large circle from a piece of felt and then bunch it up in the center so that it forms a ball.
Now, all you have to do is cut out smaller circles from the same sheet of felt and sew them onto the larger one so that they overlap slightly – this will form your tree shape.
Use as many colors as possible, just as you would with traditional ornaments, but try using two or three shades for each 'ball' to ensure that it looks truly authentic – this garland is meant to have depth!
Once made, simply thread string through each hole and tie it into a bow before attaching a small branch with berries on top for decoration (or use regular ribbon if you prefer).
The key to success with this garland is in how you decorate each ball or 'tree' so follow our recommendations or come up with some ideas of your own. For example, try alternating colors and textures to achieve the best look.
Once you're happy with your design, simply attach each ball to an equally-sized section of string using thread or even clear adhesive tape. Then you just need to start hanging it up!
This garland is easy to make and looks great either just as it is or with a few simple homemade decorations such as sparkly bows, feathers, and beads.
16. Paper Christmas Star Garland – Christmas Tree Garland
This beautiful garland consists entirely of hand-cut star shapes made from paper, each one featuring a different pattern and color to add both texture and visual interest.
You'll need a lot of colored cardstock to make this decoration – about two sheets for every star. You can always use old wrapping paper for this if you have some lying around the house but try to keep it colorful!
Once your material is ready, simply cut out a circle from the center that's large enough to accommodate your thumb.
Now take either white or gold string or cord depending on what type of effect you want to achieve and using double-sided tape fix it in the middle of the star before carefully peeling off each side
If you don't have a thimble, you should use a pencil or a similar cylindrical object to do this as it will mean that you won't end up with any unwanted holes in your material.
Now all you have to do is thread your string through the top of each paper star and fold it over at the bottom before tying another length of cord around it for good measure.
Finally, attach a hook to the opposite end of the garland and hang it from your Christmas tree or anywhere else inside your home where it can catch the eye!
17. Paper Flag Garland – Christmas Tree Garland Ideas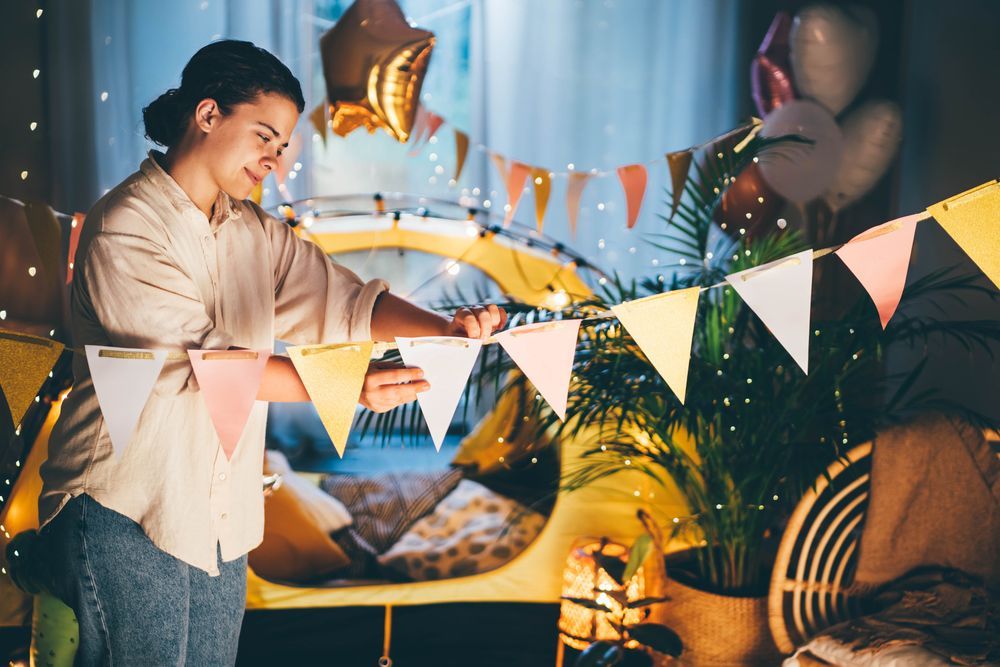 This garland consists entirely of a series of beautiful handmade paper flags strung together to create a stunning effect.
To make this decoration, you'll need cardstock in a variety of colors as well as double-sided tape and string for hanging purposes.
Start by cutting out square-shaped pieces from each sheet of cardstock using a craft knife, gently fold them into triangles, then carefully open them up before repeating with all remaining pieces.
Once you have around 30 or so, fold them into triangle shapes and secure each one with some double-sided tape before setting them aside until you're ready to sew them all together.
When it comes to stitching your garland together, simply choose contrasting and complimenting colors and use either white string or metallic thread to keep things looking elegant.
Before fixing each flag to the cord, make sure that you've folded over enough material at the bottom depending on how long you want it to hang from your Christmas tree for example.
Once all flags are threaded onto the string, simply tie a knot near the top before making another around 10 cm down and one at the very bottom too. Finally, attach a hook to complete this gorgeous garland!
18. Paper Whirligig Garland – Christmas Tree Garland
These gorgeous paper whirligigs make the perfect garland to hang from your Christmas tree and can be adapted in size depending on how much space you have.
To make this decoration, you'll need approximately one sheet of A4 cardstock in each color for every three whirligigs that you want to create which will also need to be glued together with double-sided tape before being attached to a string cord.
Start by cutting out three small squares from each piece of cardstock and then folding them into halves along their diagonal axis so that they resemble triangles when opened up again.
Carefully open up all triangles and secure them in place using some more double-sided tape, ensuring that the points meet at the middle where the spine of each triangle is located.
At this stage, you can refer to the finished picture for reference if you need it or simply choose colors that compliment your existing decorations and objects inside your home.
Once your triangles are all secured in place with double-sided tape, add a strip of white string across the top before folding over the material at the bottom and securing it in place too.
After this has been done, cut out a small rectangle from each piece of cardstock that's roughly twice as long as it is wide before unfolding them again and gluing one onto either side of each triangle so they create a neat "V" shape when opened up once more.
Once all rectangles have been, glue them together along their midlines with double-sided tape and then fold over the ends before attaching them to your string cord.
Finally, add a small strip of cardstock in the center of each triangle and cut out a small circle from it before gluing one onto either side of where the rectangle meets the top of each triangle to create eye-catching embellishments.
The beauty of this garland is that the whirligig is not exactly a precise thing; instead, it's what you want it to be, so if you have a better idea for a whirligig to place on your garland, just go ahead and craft that one!
19. Bells & Trees Garland – DIY Christmas Garland
For this garland, you'll need around 50 small bells and about 50 small pieces of cardstock cut out as trees.
Start by threading the bells onto your string cord before securing them in place with a knot about 4 inches down from the top and one at the bottom once more.
Next, attach a new piece of string (about 10 inches longer than it needs to be) on top of, and perpendicular to, your first length of material before taking three sets of six bells and attaching each set to either end; then join these sets together with smaller strings between each bell.
At this stage, simply repeat step two until all material has been threaded onto your cord although avoid using any short sections because they will make for an uneven garland.
Finally, cut out two pieces of cardstock in the shape of Christmas trees and attach one to each end before leaving your garland to hang freely from the branches of your Christmas tree.
As above, this display is designed to be versatile so if you have better ideas for hanging this garland with bells and trees, then go ahead and place it there instead!
20. Trinket Garland – Christmas Tree Garland
This pretty little garland features detailed trinkets around its edge and looks terrific hung from a mantelpiece during the festive season.
To make this garland, simply attach various objects such as tiny candy, miniature Christmas bags, stars, baubles, and whatever else you have in mind to a clothes hanger.
Secure each trinket with double-sided tape and arrange them so they are evenly spaced around the clothes hanger before securing the material in place with another piece of string.
Once this base has been finished, cut a long length of string and attach one end to the top center of your clothes hanger so it hangs from there before threading on whichever trinkets you have decided to use.
At this point, you may need to trim any excess material off the first piece of string and then secure it in place with glue or double-sided tape before adding on more trinkets along the second length of string; repeat as required until all garland has been threaded.
Finally, hang your garland inside or outside to ensure you get to enjoy it throughout December.
Here's a helpful hint: try hanging various pieces of candy
21. Paper Angels Garland – Christmas Garland Ideas
This beautiful garland features haloed paper angels with white cardstock wings along their backs with a pretty red ribbon running around the outside.
To make this one, you'll need at least four pieces of red cardstock cut into equal rectangles measuring about an inch long per side.
Next, take two pieces of green cardstock and cut them into equally sized squares before rounding off one corner on each piece to create their haloes; then attach both shapes together by taping or gluing them top-to-bottom.
Now glue the finished haloes onto your first red rectangle so they are centered on it before adding your second piece of green so its edges overlap those of the first piece slightly.
Finally, cut out two paper Christmas bells from white cardstock and use them to decorate the top corners of your garland before hanging them on a simple piece of red or green ribbon.
This display would look lovely hung above any doorway but try experimenting with various color combinations to discover which you like best – who knows, maybe one day you'll make an entire set!
22. Orange Skin Garland – Tree Garland
This zero-waste garland involves working with the very skin of the oranges you're definitely gonna enjoy this Christmas, so you won't have to spend a lot of money on materials for this project!
All you need is some jute rope or yarn to make the base for your garland, and an X-Acto knife (or a similar tool) to cut the skin of the oranges in the shapes you want.
What did you expect? It's not like we were gonna tell you to hang random pieces of orange skin on a piece of thread and call it a day. Sure, we're all about keeping things simple, but not that simple.
To make your garland, all you have to do is cut out any shapes you like from the orange skin. Make sure they are large enough to cover the entire surface of whatever they're hanging from.
If you want a size gauge, just put your index finger and thumb together as if you were giving the OK signal to someone. The size of the hole made by your fingers is what the size of a single orange skin decoration should be.
When your garland is ready, you can hang it on your Christmas tree. Not only will it look great, but it will also give a distinct citrusy smell that will get your guests in the mood for Christmas.
Although this craft is simple, make sure to check on it regularly; orange skins can still develop mold, so you should make sure that your decoration doesn't become a health hazard, especially if you keep it in a warm, dark place.
That's also the reason why you shouldn't hang it from your door or against your mantelpiece; the orange skins still have some juices and oils that could mess up your furniture. This garland is ideal for hanging on your Christmas tree.
23. Christmas Fir Tree Garland – DIY Garland
This pretty garland is easy to make and uses a very economical Christmas tree as its base, so you won't have to spend a lot of money on it.
You'll need several fir tree branches (you can buy them from craft stores or take as many as you like from your own trees) along with some jute rope for this project; they come in various thicknesses and colors, so choose one that best fits the aesthetic of your home.
To start, simply cut all the branches down to an equal height of about four feet before placing them side-by-side on a flat surface. Don't worry if they're not completely straight yet – we'll take care of that shortly.
Next, tie together three of the branches in the middle of the row – tie them so they are close to their bases, but not so tightly that you can't slide your fingers in between them.
Now cut two perpendicular pieces of jute about 6 inches long before tying them to either end of the three tied-together branches. These will keep your garland together while also keeping its shape nice and neat.
After this, continue adding rows by repeating the second step (tying together the branches in the middle of the row) all the way up the line until you reach your desired height.
Make sure that as you add more rows, none of them touch or overlap as some uncut branches may look slightly different from others!
Once you're done with this step, go back and remove some sections towards one side to create a more natural look.
It's as simple as that! This is a pretty and easy garland to make for winter, but you can also decorate it however you like with buttons or string lights.
24. Beads & Bells Garland – Christmas Tree Beaded Garland
A simple and fun way to decorate your Christmas tree, this garland just uses two items: beads and bells!
To create this garland, simply tie a knot at the end of a piece of yarn and thread on some beads before repeating with as many pieces of yarn as you like.
Make sure that there's enough space in between each bead for another one – you can use a ruler if you want an exact number.
Now take a bell and thread it onto the yarn before pulling the end of the yarn through the bottom part of the bell.
After this, tie another knot to secure it in place. Continue this process all the way up to your yarn strand until you get to the end.
Make sure that you alternate between beads and bells so that there's a nice amount on each section but not too many beads that they're touching!
You need not be limited to plain wooden beads either; you can decorate your garland with colorful beads, bells, or buttons if you wish.
When it's time to hang your garland from the tree, simply tie a bell onto the end of each strand for an extra festive touch.
This is perfect if you're going for something minimalistic but still colorful and easy on the eyes.
25. Reindeer & Snowflakes – DIY Christmas Garland
A simple yet festive garland, this is perfect for decorating your Christmas tree in an easy way.
To make this garland, you'll need some paper snowflakes and some wooden reindeer decorations; they should be the same size to ensure a uniform garland.
First, cut out a bunch of snowflake shapes from different colors of paper before gluing them together on the yarn to cover it entirely. This will give you a nice multicolored garland that looks quite pretty!
Afterward, you'll want to tie some ribbons (if they're not already there) to your wooden reindeer decorations, so that you can attach them to the garland safely.
You can also use ribbons to lower or raise each wooden reindeer against the garland as you see fit. For instance, if you have larger snowflakes, you'll want the reindeer to hang a little lower.
As a finishing touch, add some little bells to the deer heads by threading a small piece of jute through each one.
This is an easy way to add some color and cheer to your holiday season without having to spend too much time on it.
To hang this piece from your tree or anywhere else, simply tie some string around the wooden dowel sections, and voila – you have yourself a lovely garland!
This garland is fairly easy and straightforward but still looks great because of the colorful snowflakes and adorable reindeers.
26. Autumn Cherry Leaves & Berries Garland – Christmas Tree Garland Ideas
An autumn garland that looks like cherry blossom, this decoration adds a nice pop of orange and red color to your Christmas tree.
To make this pretty garland, you need some yarn in various shades of pink and green; the same shade is preferable for all colors.
Start off by tying two strands onto a wooden dowel section together to make one large strand before separating them again to make 2 smaller ones.
You'll want these strands long enough so that you can tie the garland around the bottom half of your tree's trunk easily.
Now take each smaller strand and string on alternating beads: either green acorns or pink floral pom-poms will look great! Just alternate between them until you've used up both strands and then tie a knot at the end to keep them in place.
You can also use acorn or pom-poms to make cherry leaves for your garland by simply cutting out leaf shapes from paper before gluing them together. Alternatively, you could use real dried cherry leaves if you have them. Just make sure to stock up on them early.
For one last touch, you can tie on some little bells onto each strand somewhere near the middle for an extra festive effect.
This is absolutely lovely and definitely great if you want to jazz up your Christmas tree's decoration without much effort.
To hang this garland, all you need to do is tie it around the bottom half of your tree's trunk with some string! This works well if you're aiming for something minimalistic during Christmastime but still very pretty.
27. Stick Festive Garland – DIY Garland
This garland is great for making your home seem more Christmassy, and it will definitely make your Christmas tree stand out even more.
To make this homey garland, start by sourcing a large stick (more like a branch) from a nearby forest or your backyard. You'll want to find a sturdy stick, so make sure it won't break easily, else you'll end up with a faulty decoration.
Now that you found the stick, start attaching some yarn to your favorite decorative objects, such as globes, little jars, lights, baubles, ornaments, candy, toys, and whatnot.
Once these items are prepared, hang them from the stick at various heights. Since we don't know exactly what you plan on using, we can't give you any advice regarding the height you should be hanging them from.
However, you should feel free to check the reference photograph we've attached above.
This is a very creative garland that takes almost no effort; you can either spend the whole day making it or simply do it in ten minutes. It all depends on what you want to use for decoration.
Another advantage of this garland is that if you ever get tired of the way it looks, you can easily redo it within five minutes with different decorations; there are loads of ideas online.
To hang this simple but cozy-looking garland, you need to use some rope to secure both ends of the stick, and tie the rope to the surface you want to attach the garland to (for instance, you could attach it to your window or even your mantelpiece, but be careful not to set it on fire).
28. Traditional Popcorn Garland – Christmas Garland Ideas
This is a great garland for practicing advanced string art; it even has an educational value! It's also very easy to make; all you need is some thread/string, popcorn kernels (pre-strung ones are easier), and maybe some cranberries or other types of berries.
To make it, start by stringing popcorn pieces on some thread/string; you can do this by hand or with the help of a needle.
When you're done, tie off your small strand (just like how you made the strands for your tree garland) and secure them to a wooden dowel as well as to another sturdy stick before separating once more into two smaller strands so they won't be too heavy to hang from your window frame or other desired location.
For extra effect, use multi-colored popcorn kernels so each piece will have different colors at each end! This makes it look very Christmassy indeed.
Once these parts are made, simply attach them to your window frame or tree or wherever you want to hang them.
This garland is very easy and quick to make; it mostly depends on how much time and effort you're willing to put in because the decoration itself only takes a few minutes (especially if you use pre-strung popcorn kernels). However, making many strands like this will take up more time than usual.
To hang this garland, all you need is some twine. Simply tie one end of the twine around one strand of your garland and then use a sturdy stick to secure it onto a wall/window frame/tree by pushing the other end into the ground with force.
Alternatively, if you have a really high tree (for instance, if your tree is ten feet tall), you might want to consider hanging this garland diagonally or around the tree.
29. Eucalyptus Leaves & Beads Garland – Christmas Tree Beaded Garland
This garland is a great decoration to add some color and scent to your Christmas tree. In fact, you could even use it instead of the usual multi-colored lights (although this might make it harder for you to see if any bulbs are burned out).
To make this garland, all you need is some beads, eucalyptus leaves (if they're not available where you live or if they come in packets that contain many broken ones), wire (to tie everything together), and hot glue (so everything will be connected).
First, thread two beads on each leaf using the wire; then attach them to the main strand with the help of more wire or with some glue.
Continue stringing beads on leaves and attaching them to the main strand; make sure you don't string too many beads on one leaf or else it'll look funny (so only two beads per leaf is best).
Then once enough leaves and beads are threaded onto your garland, twist things together with your final length of wire and attach the end product to your desired surface.
30. Paper Snowmen Garland – DIY Christmas Garland
Everybody loves snowmen during the holidays, so why not create a garland out of them? It's very easy and requires only some paper, sticks, and glue.
First, cut your snowman shapes out of the papers (or use already made ones). Then fold their bodies and heads like how you would make origami; then on each go around this process again with small pieces of paper to form arms and buttons.
Now cut two large rectangular pieces from your stick; attach these to both ends of your main strand (one on each end) by gluing them on.
Then once all of these steps are done, secure your snowmen onto one end using string or hot glue. You can then fix the other end of your snowmen garland to a tree or wall by tying twine onto it and using a stick to push its other end into place.
31. Paper Flowers Garland – Tree Garland
This garland is perfect for people who want a more simplistic-looking decoration for their Christmas tree or any other desired surface. In terms of materials, all you need are flowers made from paper and some string!
If you'd like, you can even use this garland to decorate some doors by skipping the string and tying each flower directly on the door.
First, get paper flowers to make your garland. Fold each flower's petals in order to get it into the right shape; then you can cut out leaves or other decorations that come with your chosen flowers if you wish.
Then attach these flowers together by tying string around space in between them (so not in the middle of two flowers). You can do this by pushing string through spaces in their edges or using glue to secure things together.
Next, thread some string through each of the folded paper flowers; tie all of them together on one end, leaving some excess string on the other end for hanging purposes.
Finally push the other end of your garland onto any surface (for example, a wall or door frame) by pushing its twine-tied side into it with just enough force. Merry Christmas, everyone!
32. Rosemary Wreath Garland – Christmas Tree Garland
If you're the kind of person who likes to decorate with fresh flowers instead of plastic ones, then this wreath made of several mini garlands is perfect for you.
It requires rosemary (or any other similar-looking type of plant), wire (to hold things together), and twine (to tie flower wreath garlands onto your desired surface).
First, stick rosemary into a wire mesh to hold it in place. Then, start adding flower wreath garlands by pushing their twine ends onto the same bunch of wires your rosemary is on.
Don't attach too many garlands at once or else they'll be way too bulky and thick; so only add a few at a time to avoid this problem.
Next, tie all of these garlands at the top and attach them to a surface (for example your Christmas tree) by tying twine onto it and using a stick to push its other end into place.
Finally, thread the end of your garland back through its wire loop; tie it together, and voila! You've got yourself a nice (and green) Christmas tree garland.
The best part about this garland is that if you're not a huge fan of the whole mini wreath garland look, you could take it apart and use each mini wreath as a decoration of its own.
33. Fruit Garland – DIY Garland
This is a garland that will give your home a fresh, organic kind of vibe that you can't get from any plastic or metal decoration. It's also quite simple to make and requires very few supplies.
All you need to do is stick some fruit onto wire mesh in order to form branches; then tie these branches into bunches with twine. You can even juice the fruits first for extra flavor! this by hand or use a juicer.
Next, attach these fruit branches onto a surface (again, such as your Christmas tree) by pushing their twine ends into it. Make sure to thread the end of each garland back through its wire so it forms a loop and doesn't fall apart on you.
And there you have it! A fresh-smelling holiday decoration for everyone to enjoy.
After this, just thread them all through one main bunch of twine (or else they'll tangle) until they are spread throughout your desired area evenly.
This can be hung anywhere on an indoor wall or door frame using string or hot glue. Then simply sit back and enjoy the aroma of fresh fruit filling your room during winter.
No matter what kind of Christmas theme you're going for this year, there's a garland that can help you get that look while also being eco-friendly and non-toxic.
All of these homemade garlands are quick and easy to create; plus they're cheap too! So if none of these ideas fit your personal style, just have fun with it and try making your own. Happy holidays!
34. Snowflake Garland – DIY Christmas Garland
If you're looking for some winter magic to bring into your home, look no further than this sparkly snowflake garland made from transparent thread and plastic snowflakes! The best part is, it's super easy to make too!
First, cut out pieces of string so that they are much longer than the desired length of your garland. Then simply sew each snowflake onto these strings by stitching them in place with clear thread. You can either do this by hand or with a sewing machine.
Next, attach these snowflake garlands onto the branches of your Christmas tree by tying their string ends onto them and pulling them as tight as possible so no snowflake hangs over the edge of the branch.
If you don't have any twine on hand to use for this, then simply knot each end of your thread together and cut off any excess; then tie another knot above it to hold the two pieces together and prevent them from unraveling.
Simple and elegant, there's no reason you shouldn't try this out during your next holiday party season! And even if you're not planning on hosting any get-togethers at your place, making one for yourself will be worth all the effort.
35. Wooden Decorations Garland – Christmas Garland Ideas
If you're looking for something comfy and cozy to add to your Christmas decoration this year, try this wooden decorations garland!
Not only is it pretty much the softest thing ever; but when lit up by some fairy lights, its warm glow will fill any room in your home and make it feel like an instant cocoon of serenity and relaxation in the heart of wintertime.
Simply cut out a couple of pieces of birch plywood (or similar thin wooden panels) into the shape of snowflakes, trees, stars, or whatever else you can think of.
Then use some clear thread to attach them onto an ordinary twine garland by stitching their ends down onto it in order to cover its entire surface.
After this, thread your twine through one big bunch of these wooden decorations until they are all evenly spaced out within it, and then loop their end back through each one so they don't fall apart when hanging on your Christmas tree.
Alternatively, simply tie them directly onto your interior wall for a rustic decoration that will fill any room with cozy vibes in time! You can even do this if you don't have a Christmas tree to hang them from.
More Christmas Tree Garland Ideas
We have even more cool Christmas tree garland ideas that you can make yourself this year, so let's dive in and check them out.
36. Cardboard and Ribbon Letter Christmas Tree Garland
The best thing about making your own DIY Christmas tree garland is that you can do it from the simplest things, and if you're a DIY enthusiast like us, you probably already have those things in your home somewhere!
We love the way Papelidades cut simple rectangles of cardboard and wove a pretty, thick red ribbon through the top, drawing letters on each piece with a white gel pen or marker.
37. Felted Ball Tree Garlands
People who enjoy felting are never at a loss of crafting options when it comes to simple things like DIY holiday decor. Even if you're very new at the art, you've probably already got the skills you need to make basic shapes, and even the easiest ball can help you make a cute garland.
Check out how My Sparkle string these adorable, brightly coloured felted balls together to make a cheerful garland that looks nice anywhere (and is versatile enough to hang up the rest of the year too).
38. Painted Bells Christmas Tree Garland
Do you live near an affordable craft store or a dollar store that sells plain metal bells in their Christmas aisle?
Then grab a few packages and follow the steps outlined on Cozy Cottage Cute to string them along a thing piece of jute rope. Before you string them, though, try painting them a pretty cream or off white colour to give them a vintage look.
39. DIY Garland with Lace Doilies
Some people might just see place setting pieces when they look at paper doilies, but to crafters like us they look like endless DIY possibilities!
We love the way Cake saw garland potential in the paper lace, folding them in half over a string so they can drape across the Christmas tree or the wall ever so delicately.
40. Cupcake Wrapper Christmas Tree Garland
Do you like the idea of a simple, affordable paper garland but your Christmas decor is a little more funky and you're not sure lace will really fit the aesthetic? Then try this paper cupcake liner idea instead!
Le Fru Fru suggests using glitzy papers that are brightly coloured or have some sparkle and shine to them to make the look especially interesting. This one's also easy to make with kids!
41. Christmas Tree Garland with Paint Chip Hearts
If you're an avid scrapbooker then you probably already have hole punchers in all kinds of shapes, but if not, you could cut a shape for your paper garland carefully with small scissors instead.
We love that, instead of regular colored paper, Grace and Light Studio chose to use paint chips so they could create perfect color coordinating garlands by sewing through the middle of each using a needle and thread.
42. Pacman Christmas Garland Idea
Who says you have to keep things traditional when it comes to Christmas garland? Half of the real ornaments we own are already themed around other things we enjoy rather than Christmas itself, so why not make yourself something a little more novelty?
We can't get over how cute this Pacman garland by Minie Co is. Check out their tutorial to see how they made the shapes.
43. Ice Cream Cone DIY Garland
Maybe you'd rather make yourself a garland that hearkens back to warmer days, just to keep yourself cheerful through the colder season? We think the idea of making yourself an ice cream-themed garland is adorably ironic. Check out how Hello Lately made this one using paper cones and colored pom-poms for the ice cream tops!
44. Paper Flower Christmas Tree Garland
You might not choose to string your pretty paper flower garland up from a branch like this if your ultimate goal is to decorate your Christmas tree, but
45. Star Ornament Christmas Garland Idea
Have you always loved stars the most about Christmas, taking great pride in placing one at the top of your tree every year when you're finished decorating?
Then try taking that theme and running with it, decorating the rest of the tree or your walls to match! Confetti Pop guides you through the process of building your own shiny stars and stringing them together just like the picture.
46. Sewn Leaf Christmas Tree Garland
Are you a sewing enthusiast who's been looking for projects that will teach your kids the basics of your favourite craft? Combine that lesson with making your very own Christmas garlands and help your kids create these adorable little leaves!
A Beautiful Mess shows you (and them) how to thread a piece of yarn through holes cut in each leaf using a blunt darning needle. It's the perfect learning project!
47. Washi Tape Bunting – Christmas Tree Ribbon Garland
Perhaps you're just looking for a fun, cheap way to add pops of colour to your tree and make the place a little more patterned and cheerful? Then all you really need is washi tape and string! Gather your favourite colours and patterns and carefully wrap strips around a subtle string or thread all along in a colour gradient or randomized. We love the way Poppytalk cut litttle notches in each so they look like bunting flags!
48. Christmas Tree Garland Out of Maps
Are you a big fan of surrounding yourself with not just the people you love during the holidays, but also the things? Well, even if you're not actually going on a holiday trip, there are cute, easy ways that you can show your love for jet setting and travel even just in your simple Christmas decor!
One of our favorite ideas is this cute little 3D garland made of sections from an old map. Blog a La Cart guides you through the process of building the circles by making cuts in the paper and sliding them together in the middle.
49. Coffee Filter Flowers – Homemade Christmas Tree Garland
Maybe you're just looking for a way to decorate the tree very simply or keep your kids busy while you cook in preparation for family to come over? Then all you really need are coffee filters and some string, thread, or yarn! A Daily Something suggests pinching them in the middle at the bottom and tying the thread there so the filters hang down like little white blossoms.
50. Painted Pine Cone Tree Garland
If you have lots of trees near your house then you probably have just about everything you need to make this brightly coloured winter garland already! Say Yes shows you how to string them along like a garland once they're dry, but our favourite part of this idea is dipping the ends of them in whatever colours of paint you love most.
Conclusion
All things considered, if you feel like you're not completely prepared this Christmas and you want to make some extra effort to prepare your house to embrace the spirit of this holiday, these awesome garlands are an awesome starting point.
You can play around with different styles and designs to figure out what works best for you, and even let your kids make their own versions of these homemade Christmas decorations to add a fun touch to your room.
And who knows, maybe you might even end up making some new traditions for yourself while feeling like Santa Claus is on your side!
Plus, you can always switch things up next year if the last-minute pressure of the holidays has gotten to you; after all, not every day is December 25th. So take it easy and best of luck! Happy holidays!