10 Of Our Best DIY Recycle Projects: Art, Decor, And More!
There are tons of items around your house that you can snatch and create something new with. Don't believe us? Well, we've created an entire list of some of our best DIY recycle projects. It includes some artwork for the kiddos to make. It includes some decor to top off various occasions with. And a few other odds and ends that may delight your fancy. Let's have a peek!
1. Tin Can Simple Desk Organizer
Recycle one of your your tin cans into a simple desk organizer. Or just grab a few and turn them into several desk organizers to really tidy up the space. Embellish them in all the ways that you love and voila! Now you have a space to hold your pens, pencils, scissors, and the like.
2. Paper Plate Tree Art
Honestly, this is such a fun art project for the kiddos to get involved in. You don't need too many supplies either! Some pom poms, pipe cleaners, and glue will get you started. Turn paper plates into tree art for a rainy Sunday afternoon adventure.
3. Mason Jar Decor
Gather up everyone's old mason jars and turn them into something functional for your DIY-inspired celebration. They can easily become new additions to your reception centerpieces or highlight the cake table – or even act as containers for your favors. Mason jar decor is right on trend for weddings!
4. CD Art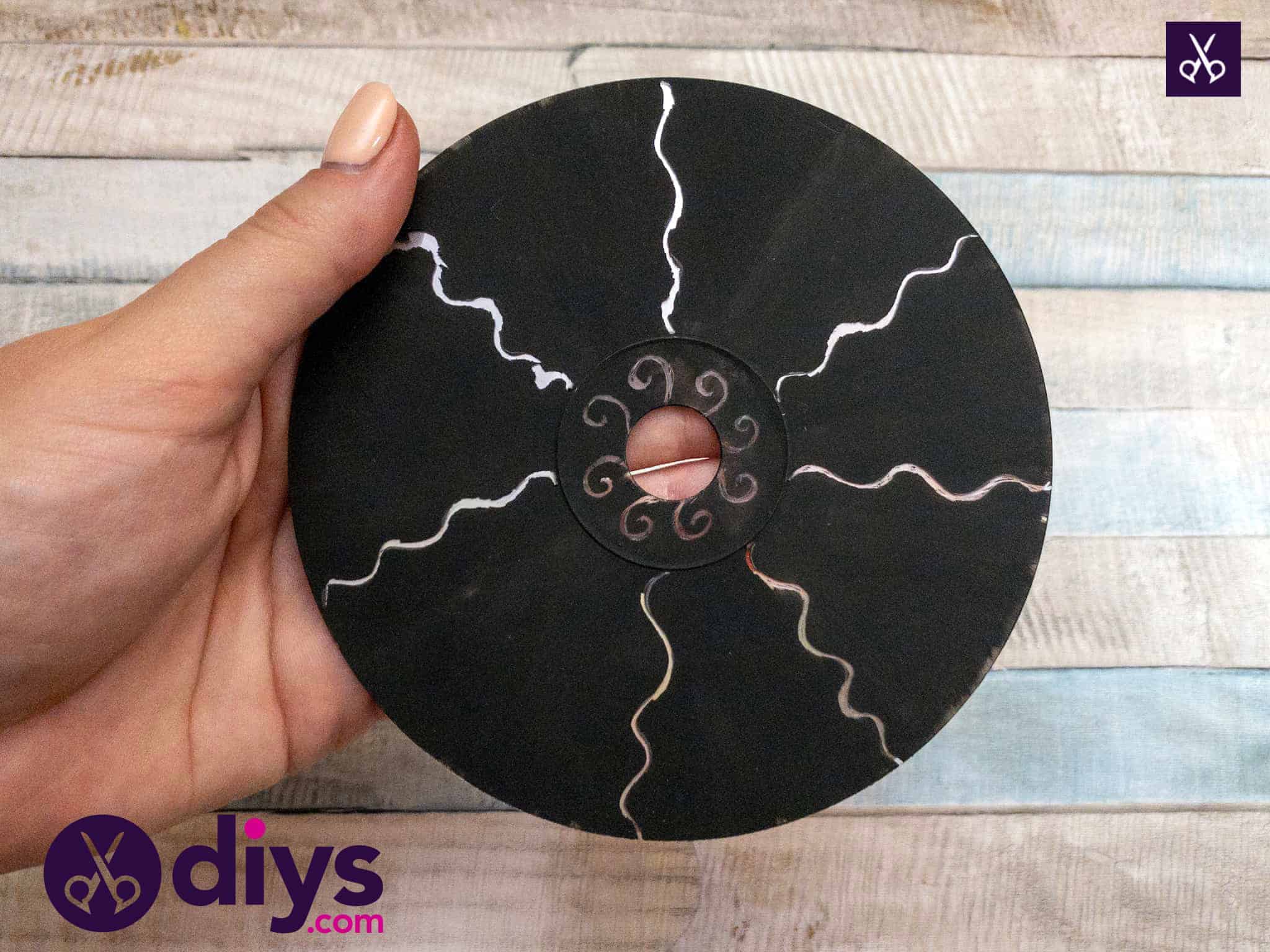 Do you have a collection of blank CDs that you, well, just don't need anymore? Instead of throwing them out, we have a fun idea for you to play around with and use your creativity. Turn those old CD-roms into pieces of art. CD art is a great way to rest, relax, and get your artistic juices flowing.
5. Toilet Paper Roll Pencil Holder
Don't throw out those cardboard bits! Instead, turn them into something for the kiddos' desks. Toilet paper roll pencil holders actually work really well. And the process of embellishing is a great time for the little ones. Use paint, markers, stickers, wash tape, felt strips, fabrics – really whatever their heart desires.
6. Beach-Inspired Mason Jars
Those mason jars you're collecting from you family? Well, when you get started with the decorating, know that you can turn them into nautical pieces as well. These are great as favors, shower decor, or fun bits to sprinkle around your seaside wedding. Check out how to make these beach-inspired mason jars after the jump.
7. Plastic Bottle Pom Pom Ornament
Stop! Don't throw out your water or soda bottles! Instead, make a plastic bottle pom pom ornament! How adorable are these? Create a nautical-inspired Christmas tree this year. Or dress up each pom pom in a new color for the kids' tree in the foyer.
8. Jute Placemat
Jute can easily be turned into some fantstic kitchen pieces. Trivets, runners, and these round jute placemats too! And you have no idea how easy it is to whip these up. The kiddos can even help out. Just hop on over to our tutorial and follower along. You'll have a set of 4, 5, or 6 made in no time.
9. Felt Glasses Case
Stop laying your glasses around the house allowing them to just get scratched! Instead, that extra fabric or felt you have in your craft room can help you out. Learn how to make simple felt glasses case and add some personalized embellishments to the final design.
10. Yarn-Wrapped Paper Heart
Whether you want to use this as Valentine's Day decor or as a thank you for your kiddo's teacher, these yarn-wrapped paper hearts are so fun to make. Use leftover paper and yarn to make the magic. And yes, grab the little ones in the house because they can help you.