DIY Yarn Wrapped Paper Heart
I've been really into upcycling and using up scraps in my supply stash lately, so I suddenly felt a little bit inspired recently when I came across some yarn that needed using up but that only had a very small quantity left in each colour. I decided that it was time to teach my kids how to do simple yarn wrapping crafts, but I threw in a bonus heart shape for my own enjoyment because I just like working with hearts in DIY so much! Check out how I made this DIY yarn wrapped paper heart.
My kids have always liked making simple hanger based projects because we have a fantastic picture window in the front room where anything we've ever made and hung there looks great. Because we made more than one, I decided to document the process so I could share it with other crafters who like the idea just as much as my kids and I did. Check out these step by step instructions complete with photos! If you'd rather follow along with a video tutorial instead of written words, scroll to the bottom of this post to find just what you're looking for.
For this project, you'll need:
Cardboard
Red paper
Yarn (light and dark red, yellow, and light and dark pink)
Scissors
A glue stick
Step 1: Gather your materials!
Make sure you have everything you need.

Step 2: draw the heart
Make the base shape of your heart hanger! Use your pencil to draw the outline of a heart on your cardboard in whatever size you want. Then draw another, slightly smaller heart shape inside that one, leaving a space of about an inch between the two outlines; that space will make up the thickness of your heart shaped base and is what you'll be doing the yarn wrapping around. Cut the bigger heart out and then cut the smaller heart out of the inside of that. The result will be a cardboard heart with a smaller heart shaped cutout in the centre.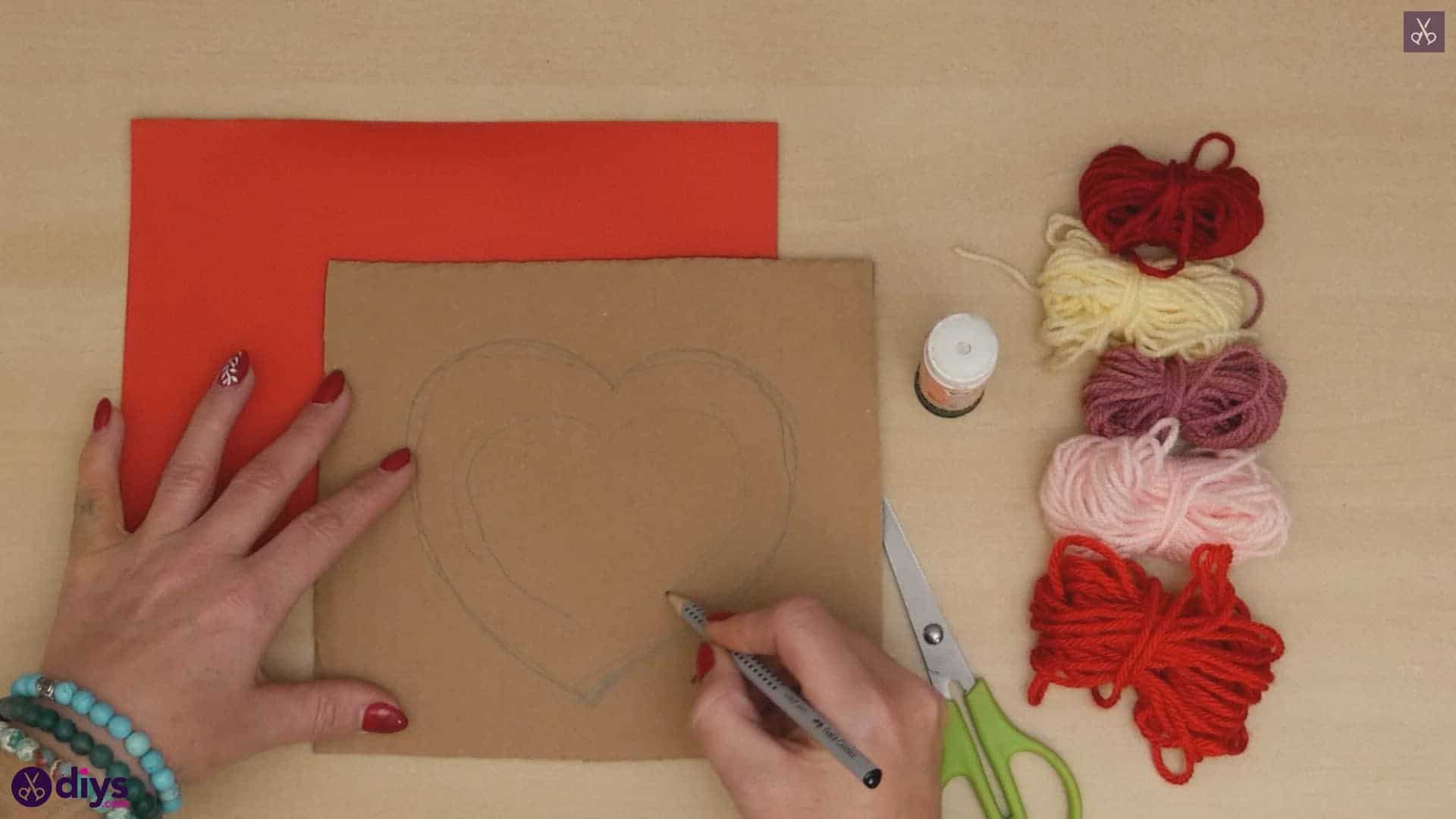 Step 3: drawing inside the heart
Place your cardboard heart shape down on a piece of red paper and use your pencil to trace around the outside of its shape. Then use your pencil to trace the shape of the inside heart as well, without moving the cardboard from its shape. Next, you can either layer your paper over another red sheet and cut the two together as one to get two final new red pieces, or you can trace two separate shapes and cut them out separately as well. Either way, you now have two red heart shapes with heart cutouts that match your cardboard shape in size and thickness.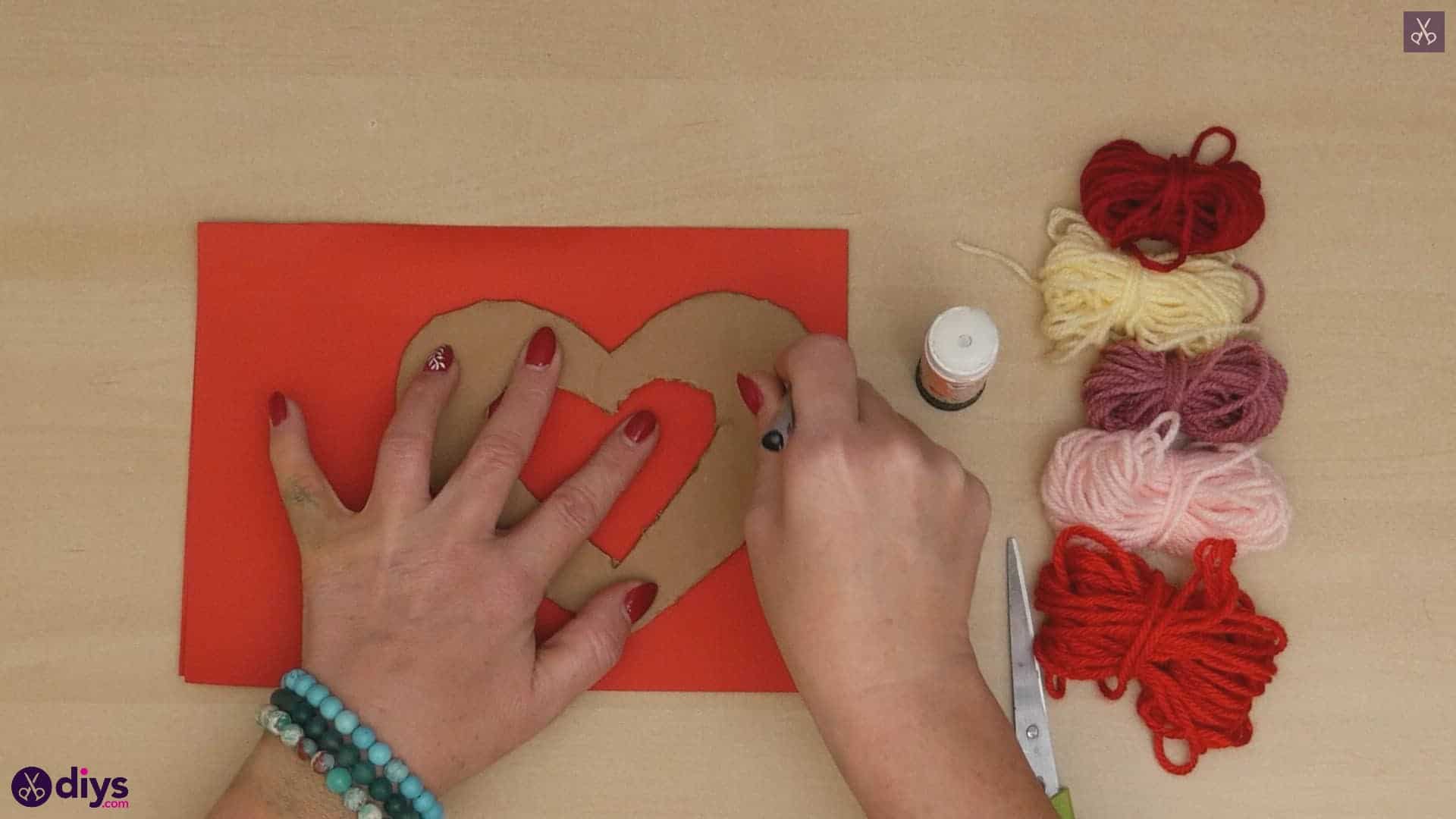 Step 4: glue
Apply glue all over one side of your cardboard heart and line one of the red hearts you just cut out up with its edges, sticking it into place so it matches the cardboard all the way around and covers it. Flip the whole heart shape over and repeat the covering process, applying glue all over the remaining cardboard side and sticking the matching red shape down on that side as well.
Step 5: start yarn wrapping
Apply glue to the end of the first colour of yarn you want to wrap with and stick it down on whichever side of your heart you want to be the back. Pass the ball through the hole in the centre of your heart (you'll have to make and cut a smaller bundle if you're using yarn that's still part of a very big ball so it fits through the middle) and wrap it around the side of the heart to pass it through the middle again. Keep wrapping but, as you go, move the yarn around in different angles and at different lengths and distances as you move along the red edge to cut a cute, eclectic, and purposely uneven effect. Make your way all the way around the whole heart until you meet back up with the other end or simply decide you've had enough of that colour. Cut the yarn free, apply glue to that end, and stick it down on the same back side as you started on before.
Step 6: switch colors
Repeat and continue this wrapping process with your other yarn colours until you're satisfied. You can do them by turn or keep them attached and alternate them; do whatever makes you feel satisfied with the look! When you're done with each colour, cut the ends free and glue them down in the same way you did with the first colour.
Step 7: make the hanger
Cut a piece of yarn (from any colour you like) that's double the length of how long you'd like the loop you'll hang your piece to be. I cut mine about six inches long and then folded it in half so that the free ends met, leaving a loop at the other end and giving me a hanging length of three inches. Pass the loop end through the cutout in your heart and bring it up the other side, positioning the string at the top centre of your heart where it dips down. Pass the ends through the loop and pull it so the string closes like a slip knot around the centre top fo the heart. The the free ends you're left with in a knot and trim the tips if necessary. You now have a loop to hang your heart piece from!
You're all finished! Feel free to get creative with your own colour combinations when it comes to yarn. Just in case you'd like to try this project out for yourself, here's a fantastic tutorial video to help you!