DIY Simple Felt Glasses Case
I've been a glasses wearer ever since I was a little kid, but I've long been the kind of person who forgets about, loses, or breaks the cases that all pf my pairs of glasses have ever come in. Because I only have to wear my glasses sometimes, however, I'm finding more and more that it would, in fact, be very convenient indeed to have a case to put them in when I'm not reading (and it would probably help me stop losing my actual glasses themselves as well). I know that I could very easily go out and buy myself a glasses case at various stores, but the crafter in me is forever convinced that making something by hand, whenever possible, is always the more satisfying option than just purchasing it. That's how I found myself making this adorable felt glasses case last week!
I keep more than one pair of glasses in my house at all times and even have one in my purse and one in my car, so naturally it made sense that I make more than one glasses case as well. That gave me plenty of opportunity to document the process that went into making the little felt cases, just in case other crafters wanted to try it out as well. Check out these step by step instructions complete with photos! If you'd rather follow along with a video tutorial instead of written words, scroll to the bottom of this post to find just what you're looking for.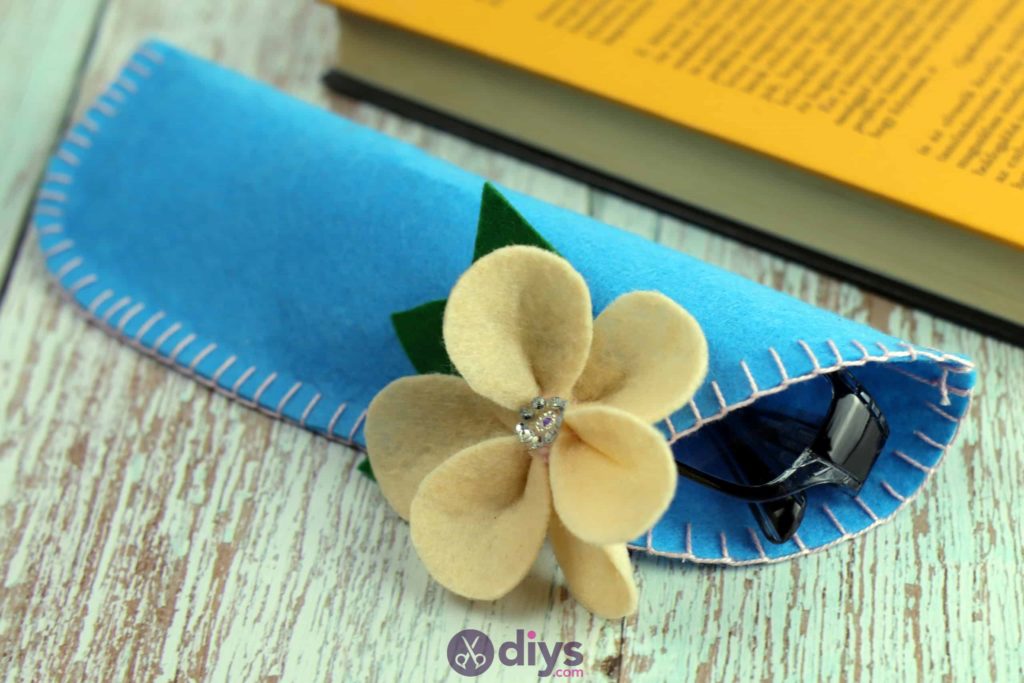 For this project, you'll need:
Scissors

Felt (blue, yellow, and green)

Pink thread

A sewing needle

Rhinestones
Step 1:
Gather your materials!

Step 2:
Thread your needle with your pink thread so you're ready to hand stitch once all of your felt pieces are cut! I measured out a length of thread about 20 inches long and threaded one end through the eye of my sewing needle, pulling the thread through until the needle rested at the halfway point. This let me fold the thread over to me its ends, giving me ten inches of thread space to work with when I stitched. Knot the ends so the thread stays anchored when you start your loop stitch in a moment and use your scissors to trim any excess off the knot for neatness.