15 DIY Ways to Pamper Your Feet
If you're anything like us, then your skin really feels the effects of winter. Each year, different parts of our body start to feel dry and cracked and this is actually the worst time of year for it! Our elbows get dry, our knees get itchy, and perhaps worst of all, our feet dry out and feel uncomfortable all day while we're at work. There are plenty of lotions and scrubs that you can buy at the store, but with skin sensitivities comes the need for natural remedies that are better made at home.
Check out these 15 super effective and awesome smelling recipes for natural homemade skin remedies that are perfect for taking care of your feet for the next couple months until spring finally comes!
1. Tea tree and mint foot scrub
This foot scrub by Salt and Ritual if the perfect bath time remedy because tea tree oil is antibacterial to promote healing and mint is cooling and relaxing. You'll need:
Carrier oil
Black lava salt
Tea tree essential oil
Peppermint essential oil
2. Brown sugar foot scrub
Do you love the idea of making your own foot scrub but you're not keen on strong minty smells? Try making this subtler brown sugar version from The A & B Stories instead! You'll need:
Brown sugar
Baking soda
Olive oil
3. Homemade rosemary and peppermint foot scrub
Perhaps you didn't mind the peppermint idea but you're looking for a more accessible ingredient for the "scrub" part than black lave sale? Try this rosemary peppermint scrub by The Small Things Blog! You'll need:
1/4 cup of kosher salt
1 tbsp of table salt
1 tsp of coconut oil
2 tbsp of olive oil
3 drops of peppermint oil
1/2 tsp of rosemary
4. Camphor and eucalyptus honey foot soak
Have you already found a foot scrub you love but now you need a moisture filled soak to follow it with? Then Honey.com has the answer! You'll need:
8 cups of hot water
1 cup of honey
2 cups of epsom salt
2 tbsp of almond oil (optional)
6 drops of eucalyptus oil
4 drops of camphor oil (or 2 tsp of camphor gel or cream)
4 drops of arnica oil (optional)
5. Sugar cookie foot scrub
Are you still interested in a scrub but, as long as it works, your real concern is how delicious it smells? Then you can't get much better than this sugar cookie recipe from So Let's Hang Out! You'll need:
2/3 cup of granulated white sugar
1/3 cup of packed brown sugar
1/2 cup of olive oil
1 tbsp of vanilla extract
6. Coconut salt scrub
Are you definitely set on having a scrub that smells pleasant, but you'd rather it be more subtle or possibly even unnoticeable because smells give you headaches? Then check out this simple sea salt and coconut idea from Wonky Wonderful! You'll need:
1 cup of sea salt
1/4 cup of coconut oil
1/4 cup of vitamin E oil
7. Honey and lemon foot bath
Are your feet a little bit worse for wear and you're looking for something that will both soothe and heal? Then Babble might have your solution! You'll need:
1/2 cup of honey
1 tbsp of apple cider
1 lemon (sliced)
8. Strawberry sugar scrub
Have all of these sugar scrubs caught your attention but you'd still rather another scent that's a little more fresh and fruity rather than these sweet ideas? Then give this strawberry sugar scrub from Seven Clown Circus a chance! You'll need:
1 cup of white sugar
1/2 cup of olive oil, plus 1 tbsp
2-3 drops of strawberry aromatherapy oil
approximately 10 drops of red soap colorant
9. Peppermint foot scrub
Okay, we know we've talked a lot about peppermint scrubs, but that's because they're proven to have a soothing effect on irritated skin! This one from Blah Blah Magazine gives you plain peppermint without the rest of the fancy ingredients. You'll need:
1-2 cups of coarse sugar or epsom salt
½ cup of warmed coconut oil (or grapeseed or olive oil)
10-15 drops of peppermint essential oil
2 drops of green  food colouring (optional)
10. Peppermint honey foot treat
We've shown you peppermint options and we've shown you honey recipes, but we haven't told you how awesome the two can be when they're mixed together yet! Lucky for us, Honey.com is here to let you know. You'll need:
4 tbsp of aloe vera gel
4 tsp of grated beeswax
2 tsp of honey
2 tsp of fresh mint (optional)
6 drops of peppermint essential oil
2 drops of arnica oil
2 drops of camphor oil
2 drops of eucalyptus oil
11. Lime and mint foot soak
Have you ever realized how deliciously fresh line beauty products smell? With just a hint of mint, this all natural lime scrub recipe from Skip to My Lou is practically irresistible! You'll need:
2 cups of epsom salts
1/2 cup of baking soda
Zest of one whole lime
3-4 drops of lime essential oil
3-4 of peppermint essential oil
12. Exfoliating DIY loofah soap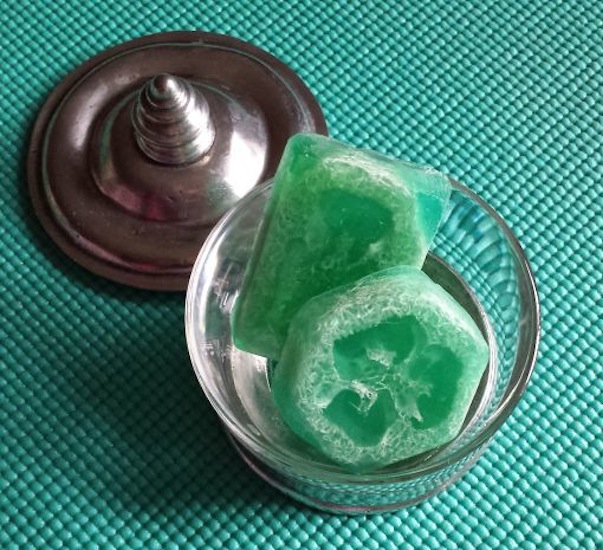 Do your feet need a little bit extra when it comes to textured scrubbing for dried skin? Then this DIY soap with a built in loofah by Tamara Jewelry is for you! You'll need:
Loofah sponge
Glycerin soap base (unscented)
Tea tree essential oil
Peppermint essential oil
Food coloring (optional)
13. Antibacterial apple cider vinegar foot soak
Are you worried that your nails, toes, and heels could use a treatment that's a little more intensive than some of the pretty smell scrub options you've seen so far? Never fear! DIY Beauty Tips has some great advice. You'll need:
Hot water (but not scalding)
1/2 cup of apple cider vinegar
2-3 drops of your favourite essential oil if you do want a more pleasant smell.
14. DIY hydrating foot mask
You've probably heard of hydrating face masks, but have you ever seen a soothing skin mask for the bottoms of your feet? Then check out Humblebee & Me right now! You'll need:
2 tbsp of green clay
2 tsp of kosher salt
1 tsp of citric acid (optional)
½ tsp of camphor powder (optional)
½ tsp of seaweed powder (optional)
Lemon juice (as needed)
½ tsp of vegetable glycerin
4 drops of lemon essential oil
4 drops of cinnamon essential oil
15. Refreshing foot spray
Once you're finished with all of these intensive scrubs and soaks, try cooling your feet down and soothing the skin with this refreshing foot spray by Tamara Jewelry! You'll need:
1/2 cup of vodka
20-30 drops of tea tree oil, peppermint oil, or a combination of both
Do you know someone who's been looking for natural DIY foot remedies all winter for their poor cracked feet? Share this post with them to help them out and save their tootsies from drying out!