25 Ways To Decorate With Botanical Prints
Botanical prints have become more and more popular of late, appearing on everything from wall coverings to textiles to dishware. So today we're sharing lots of different ways to incorporate the style into your home. Keep reading to check out 25 of our favorite ways to turn your home into a botanical paradise.
1. Botanical Wallpaper
Let's start with a bold example of the botanical print trend which has been so popular these days. This patterned wallpaper covers the walls of a light-filled bathroom, creating a beautiful tropical vibe that transports you right to the islands. Head over to Design Love Fest to check it out.
2. Botanical Wall Art
If you are in the market for some wall art, you might consider hanging a series of botanical art prints on your wall. The lovely flowers and greenery will add some life to your space even in the dead of winter. Make your way over to Design*Sponge to check it out.
3. Botanical Textiles
Textiles are another great way to incorporate botanical prints into your decor. This colorful tablecloth adds some floral accents to the classic greens and lends a bold pop to the outdoor patio. Head on over to Red Online to find out more ways to add a tropical feel to your home.
4. Banana Leaf Pillows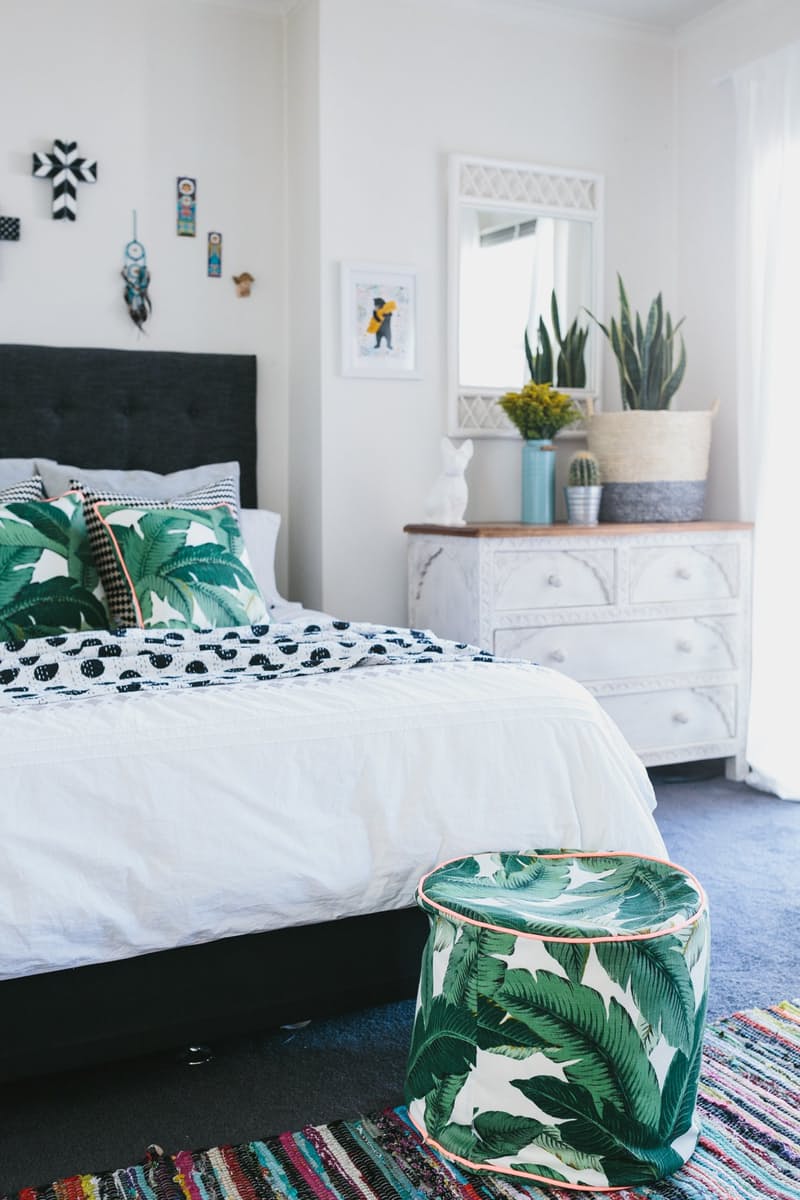 To add a botanical feel to your bedroom, you might try adding a few throw pillows with a banana leaf motif as shown in the space above. Toss in an ottoman in the same pattern for some extra pizzazz. Head on over to Apartment Therapy to check it out.
5. Framed Leaves
You might also consider framing actual leaves to hang on the wall or to place on your shelf. This is a great way to lend the feeling of plant life to your home without the added maintenance of houseplants. Head on over to Loods 5 to read more about this fun idea.
6. Botanical Mural
This bedroom makes a statement, with a large scale botanical motif spread across the entire wall behind the bed. Bright rose colored bedding offsets the green on the wall. Head on over to Marcus Design Inc. to check out more ideas for large scale floral wall coverings.
7. Botanical Garland
This lovely shelving unit holds dishware and utensils, and has a pretty botanical garland with leaf diagrams hanging as decoration. A wild flower arrangement echoes the greenery on the garland. Make your way over to Fleaing France to check out this image.
8. Dramatic Florals
This dramatic dark wall color is a striking background for this beautiful arrangement of leaves, flowers and even a speckled feather. The aged wood tones in the cabinet below adds an additional texture to the mix. Head on over to Freestyle Hippie Soul to check it out.
9. Botanical Posters
For the maximum effect of this leafy look, try combining both actual greenery along with botanical posters on the walls. They will highlight each other, and really create a dramatic visual impact. Make your way over to Hwit Blogg to check out this pretty little space.
10. Tapestry Accent Wall
Another way to achieve the botanical trend is to create an accent wall. Here, a fabric tapestry is hung behind the bed to create the effect of an accent wall. It looks extra vibrant thanks to the mostly white color scheme in the room. Get your own tapestry at Urban Outfitters.
11. Banana Leaf Tablecloth
This leafy green tablecloth makes a beautiful base for this fresh, inviting tablescape. The gold rimmed dishes and silverware add some elegance to the playful leaf print. Make your way over to Pacific Weddings to check out this beautiful event filled with green and gold elements.
12. Tropical Leaf Trays
These unique trays are shaped like beautiful long palm leaves, and are perfect for displaying small plates of food or pretty objets d'art. They can be used in a decorative or a functional way. Make your way over to Zilly Monkey to check out all the details.
13. Botanical Balloons
This pineapple party has a tropical vibe, with palm fronds down the center of the table and miniature pineapples at each place setting. And the best part – balloons with a botanical theme! Make your way over to Studio DIY to find out how to recreate this party theme yourself.
14. Leaf Rugs
For a more modern take on the botanical trend, try decorating with rugs that are in actual leaf shapes like the ones above. They lend a whimsical touch to this colorful, modern home. Make your way over to Bo Bedre to check out more images of this beautiful space.
15. Tropical Tablescape
This colorful tablescape is set up for a dinner party, with a beautiful banana leaf runner down the length of the table and a green centerpiece made with seed pods, ferns and other leaves. Accents of pink add some extra punch. Check out more info over on Instagram.
16. Modern Leaf Clock
This funky clock has a series of leaves decorating the face, with modern stylized leaves in the background and more realistic illustrated leaves in the foreground. Make your way over to Society 6 to purchase this clock for your home. It will only set you back $30.
17. Botanical Painting
If you are looking for artwork for your walls, why not try to find a piece with a botanical theme to kill two birds with one stone? This large scale painting has a beautiful presence thanks to its size and bright color. Check out more photos of this space at My Domaine.
18. Leaf Print Curtains
Leaf print curtains are another great way to incorporate the trend into your home. It will make you feel like you're living in a tropical paradise! And these curtains pair well with the natural wood headboard on the bed. Check out more photos at Coco Kelley.
19. Botanical Chinoiserie Headboard
This eye-catching upholstered headboard is made with a bold chinoiserie style pattern consisting of leafy green stalks that are repeated throughout the fabric. The bright pink trim adds a fun pop of color. Check out more photos over at Chinoiserie Chic.
20. Palm Leaf Throw Blanket
This palm leaf throw blanket is another great way to add some serious botanical style to your home. Just think… you could drape yourself in leaves when you're chilly, or you can place it on the end of the sofa to add some decorative charm. Buy it here. 
21. Leaf Dishware
A beautiful leaf dishware set is sure to satisfy your craving for botanical goodness in your home, with its luscious colors and organic shapes. And layering them on top of the basket-style charger adds some texture. Make your way over to Respect The Beach to check it out.
22. Fern Garland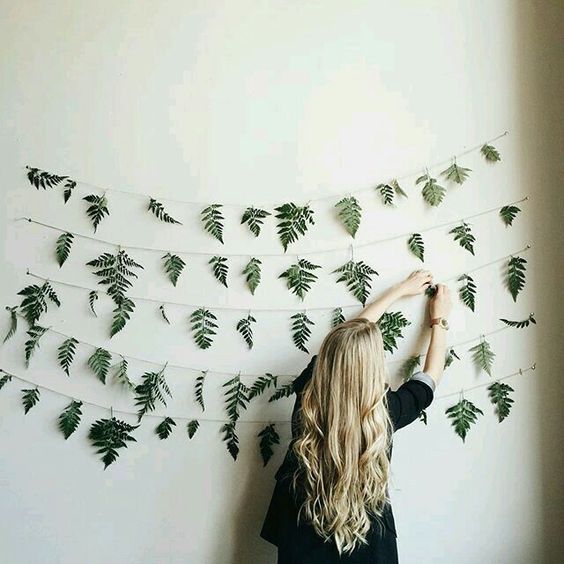 Another way to add some serious botanical vibes to your space is to hang a lovely set of fern garlands on your wall like she has done in this photo. Just pin up some string and attach the ferns with knots. Check it out over at Char Company on Instagram.
23. Terrariums
Terrariums are another great way to add some botanical life to your house. Just grab an interesting vessel, some succulents, and a few other materials and you'll be ready to get started. Check out this photo over at Spring (by Urban Outfitters). 
24. Leaf Plates
This bright blue wall is accented with a series of lovely palm leaf plates, adding some serious botanical charm to the space. Be sure to hang them in a random way as they have done here if you recreate this look in your home. Found over at Picnic Weddings.
25. Green Galore
And when in doubt, just fill  your space with green – both the color and the actual plants. This space is filled with green chairs and other accents, along with tons of real, living plant life in every corner. Check out photos of the rest of the space here.