26 Sweet Crepe Fillings To Enjoy When You Need The Boost
When your sweet tooth calls, why not go the extra mile and create something extra satisfying. Whether it's at brunch or as dessert, these delicate rolls will have everyone at the table happy. Whip up one of these 26 sweet crepe fillings and enjoy when you need a the boost – of sugar, of chocolate, fruit or even a bit of cinnamon.
1. Fruit Salsa
The Gunny Sack shows us how to make some sweet and delicious fruit salsa that will fit nicely inside some homemade crepes. Top it off with some caramel and whipped cream – or maybe even some cinnamon too!
2. Vanilla Bean, Peaches & Cream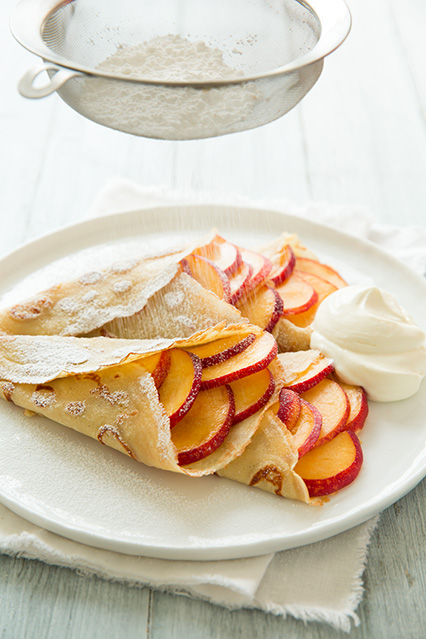 Cooking Classy mixed vanilla bean with peaches and cream to make a brunch time treat the entire family will love. Fresh peaches are the way to go!
3. Coffee Mascarpone Cream
If you're a fan of coffee or coffee flavors, you'll want to visit Diethood. They filled their yummy, delicate crepes with a coffee mascarpone cream!
4. Peanut Butter Cup
Crazy Little Projects created an entire spread of deliciousness to stuff inside their crepes. And we're drooling over this peanut butter cup concoction.
5. Pumpkin Cheesecake
If you're looking for some fall flavors to top off your sweet tooth, visit Somewhat Simple. These pumpkin cheesecake crepes are perfection.
6. Bananas Foster
You'll have a lot of fun whipping up this plate. Serve this bananas fosters treat with some help from Layers of Happiness.
7. Chocolate with Strawberries & Cream Cheese
Crunchy Creamy Sweet mixed two favorite flavors – chocolate and strawberries – and made a super special dessert-style plate. And those chocolate crepes look glorious, don't you think?
8. Black Forest
Do we have any black forest cake fans out there? Visit Gold Lining Girl and watch how all of those great flavors can be infused into your brunch time crepes.
9. Pumpkin
Here's another pumpkin filling that you'll love. If you want more pumpkin with a little less sweetness, go with this recipe! (via)
10. Apple Cinnamon
Julia's Album knows how to satisfy. With this apple cinnamon recipe you'll be serving up all the richness of a yummy apple pie but inside a light, sugar-covered crepe.
11. S'Mores
These s'mores crepes are making us drool all over the place. Visit The Cookie Rookie to follow along and whip up some after dinner tonight.
12. Strawberry Cheesecake
Everyone loves a classic, strawberry cheesecake, right? Well, it also works quite well inside one of these French creations. (via)
13. Chocolate & Raspberry
Here's another delicious recipe that involved chocolate crepes to start. And then Food Scientist Bakery fills it with raspberry cream for an extra bit of tartness and sweet flavor.
14. Coconut Orange
For something a bit tropical and offbeat, go with this recipe from Cook With Manali. Fill up your summer crepes with coconut and orange!
15. Coffee with Vanilla Ice Cream & Chocolate
Sweet Tooth Girl made some coffee-inspired crepes too. But this time they went an extra mile and topped them with some vanilla ice cream and chocolate syrup.
16. Banana-Filled Caramel Chocolate
Pillsbury utilized bananas too. With some caramel and chocolate crepes as accompaniment, you got an indulgent treat for all to try.
17. Chocolate Brownie
The Coconut Diaries made a decadent treat too. This time they're filled with brownies! We love how dessert-inspired and different this recipe is.
18. Blueberry Sauce & Honey Whipped Cream
Blueberry sauce tops off a crepe just right. And Diethood knows how to fill it too, with honey whipped cream!
19. Strawberries & Cream with Orange Liqueur
Cafe Delites whipped up some crepes with strawberries and cream inside. And you just may find some orange liqueur hidden throughout the recipes as well.
20. Lemon with Raspberry
Lemon and raspberry are both tart but they play quite nicely together. Check out Diethood for the scoop on this dup and how to create a filling with them.
21. Mixed Berry with Cream Cheese
Whole and Heavenly Oven used mixed berries as their main ingredient. But be sure you don't forget the cream cheese!
22. Dulce de Leche
Who loves caramel? If so, then this recipe from Dessert For Two was made for you! Inspired by Dulce De Leche dessert, it's a sweet dream of a bit.
23. S'mores
Cake Whiz made S'mored crepes too but with a different batter and with chocolate chunks instead of chips. Check out this fun variation after the jump.
24. Cannoli
Oh goodness, if you love cannolis, then you'll love this idea The Recipe Rebel. Turn your crepes into a favorite Italian dessert, quite easily.
25. Strawberry Nutella
Closet Cooking filled their crepes with something simple. A layer of Nutella, sliced strawberries and a sprinkling of pistachios will get the job done.
26. Pumpkin, Beer, Cinnamon & Apples
Eats Well With Others made pumpkin crepes filled with something extra-unique and delicious. A bit of beer and cinnamon apples will have you drooling. And don't forget the chocolate drizzle.