These 50 Thanksgiving Day Appetizers Will Start The Family Meal Off Right!
While you're finishing up the mashed potatoes or gravy, make sure the family has something extra special to munch on. These 50 Thanksgiving day appetizers will start the family meal off right, with all the wonderful flavors of the season. Some are classic and some are a bit more unique, take a peek at our favorite and most delicious finds!
1. Cranberry Chipotle Meatballs
Host the Toast makes some sweet and spicy bite-size meatballs that will light up the dinner table. Made with flavors of the season, they'll be a hit among everyone in the family!
2. Sweet Potato Casserole Bites
Check out these sweet potato bites from Wonky Wonderful! This is one of the most fun and festive bites on the list.
3. Cheesy Mashed Potato Puffs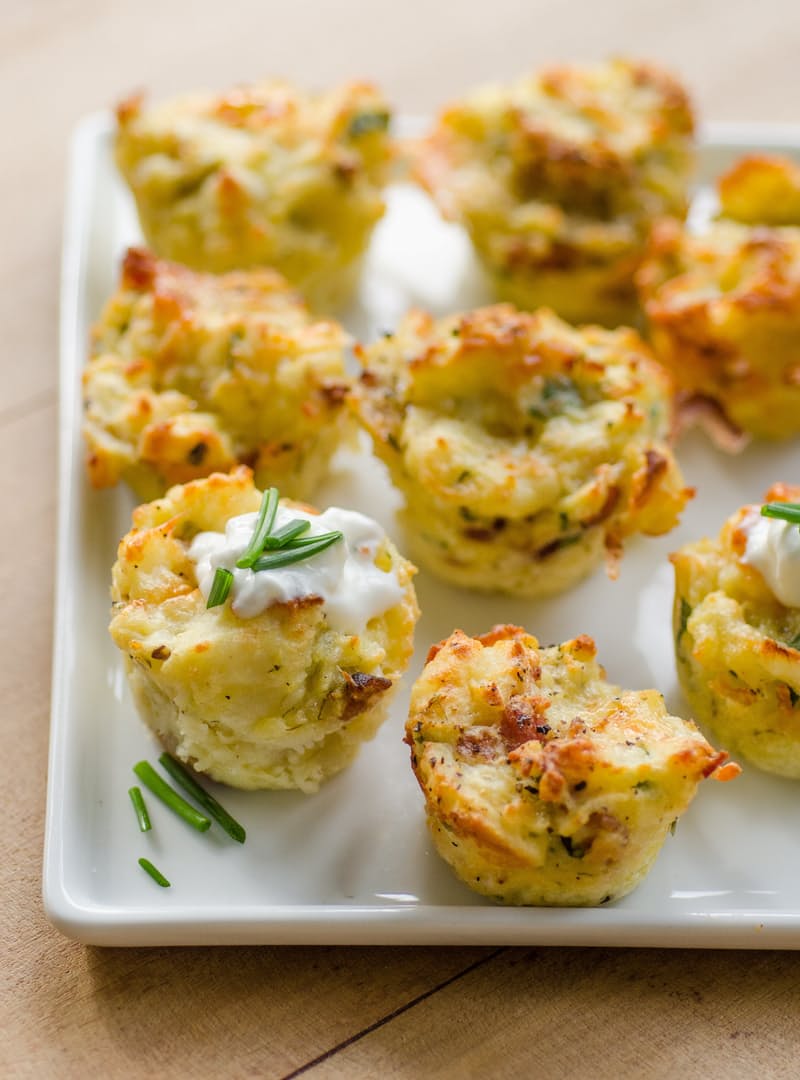 Some of the best parts about a Thanksgiving dinner are the potatoes. And you can turn that into a smaller, appetizing treat with the help of The Kitchn.
4. Cranberry Baked Brie Puff Pastry
Well Plated serves up a cranberry and brie puff pastry that will be another delightful addition to the table spread. Creamy and tart, it's one bite that will hit the spot every single time.
5. Bacon-Wrapped Brussels Sprouts
Everything is better with bacon and that includes Brussels sprouts. Check out this delicious recipe over at Fit Foodie Finds.
6. Cranberry Salsa
Let's Get Together makes a cranberry salsa that will have everyone addicted and diving in! Serve it up with crackers or tortilla chips!
7. Chorizo, Parsnip & Olive Bites
Martha Stewart puts together a super easy and unique treat for the family to enjoy. This one is a bit more sophisticated but perfect for the season!
8. Deviled Eggs
For a classic way to start the meal off right, check out these relished deviled eggs over at Martha Stewart. These are easy to whip up in a pinch too!
9. Spinach Puffs
Deliciously Declassified gives us another classic appetizer recipe that works perfectly to satisfy the family on Thanksgiving day. Spinach puffs are delicious and go well with the day's flavors!
10. Roasted Balsamic Cranberry Brie Crostini
Neighborfood whipped up a roasted balsamic cranberry brie crostini that we're drooling for. This one is a bit more sophisticated but totally scrumptious!
11. Crabmeat Au Gratin
Served up with some cracker, this crabmeat au gratin will be an extra special treat come the holiday. Check out the details with Amy in the Kitchen.
12. Acorn Squash Cheese Spread
Helpful Homemade makes an acorn squash cheese spread that everyone will love and want to dive into as well. And there's some spinach and artichokes in there too!
13. Tempura Green Beans
Bon Appétit took green beans to the next level with this recipe. Some tempura action made these veggies come to life!
14. Bacon-Wrapped Sweet Potato Fries
Things are getting really indulgent over at Delish. Like we said before, everything is better with a little bit of bacon!
15. Baked Brie with Bacon & Caramelized Onions
Delish makes a baked brie topped with bacon and caramelized onions that is so good you'll want to swim in it. Whip this up to keep the tummies happy while you finish up the Thanksgiving feast.
16. Sprigs in a Blanket
House Beautiful knows that we all love pigs in a blanket, but these sprigs in a blanket are fantastic too! Asparagus and prosciutto with some puff pastry will delight everyone in the room.
17. Roasted Cranberry & Orange Crostini
Tastes Lovely paired cranberry and orange on their crostini. With a bit of cheese too, this makes the perfect few bites!
18. Paleo Biscuits
Visit Fit Foodie Finds for this yummy little recipe too. These paleo biscuits are a great way to start the meal and healthy too!
19. Stuffing Peppers
Your leftovers – or beginnings in this instance – can be stuffed in a pepper and made to please the family before they dive into the main course. Check out the recipe at Chef de Home.
20. Bite-Sized Blooming Onions
Who doesn't love a good blooming onion? Make mini versions of the classic treat for everyone at the table. (via)
21. Pumpkin Crostini with Sage
Glamorous Bite makes another crostini that works well with the Thanksgiving flavors. Pumpkin and sage makes for a perfect pair!
22. Pumpkin-Shaped Cheese Ball
Over at LOL Foodie, you'll find a recipe for a classic cheese ball. But this one is a bit special because it's shaped like a pumpkin!
23. Spinach-Stuffed Mushrooms
Chef in Training stuffs mushrooms with a delicious spinach mixture that's easy to replicate and even easier to indulge in. Take a peek at the recipe now!
24. Thanksgiving Eggrolls
Fortune Goodies makes some "Thanksgiving" eggrolls that will blow your mind – and your tastebuds. Check them out after the jump!
25. Garlic Parmesan Knots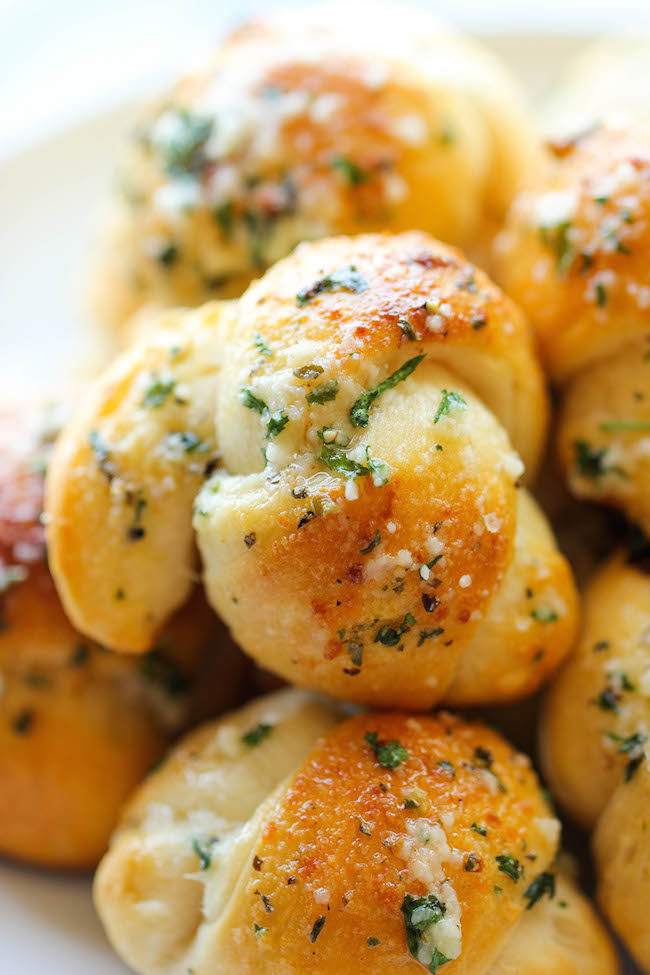 These classic garlic parmesan knots from Damn Delicious are a great way to start your meal off right. They'll hold off the hunger pangs until the turkey is ready!
26. Endive Salad Bites
Flavor the Moments whipped up some endive salad bites stuffed with so much deliciousness. Pears, blue cheese and pecans too – it's all inside!
27. Garlic Butter Smashed Sweet Potatoes with Parmesan
These smashed potatoes look delicious don't they? Grab the recipe over at Cafe Delites.
28. Sausage & Stuffing Meatballs
I Should Be Mopping the Floor make some small stuffing balls that we're drooling over. Added with a bit of sausage and cranberry dipping sauce – it's Thanksgiving in one little bite!
29. Cheese & Garlic Crack Bread
Oh, you're going to love this crack bread recipe. Check it out at RecipeTin Eats and serve up this cheesy garlic concoction before dinner hits the table!
30. Loaded Hasselback Potato Bites
The Comfort of Cooking takes potatoes to a new level with these bite-sized bits. Loaded up and crispy, these will be hard to resist.
31. Squash Blossom Focaccia
Woman's Day scattered a piece of delicious focaccia bread with some squash and parmesan. It's a wonderful, fall treat to begin the meal with.
32. Sausage Rolls
Hop on over to Woman's Day and learn how to make some sausage rolls. Serve them up with Worcestershire sauce and dig in!
33. Curry Sweet Potato Cups
And you'll need to visit Woman's Day just one more time to snatch up this recipe. Learn how to zest up those sweet potatoes a bit with curry!
34. Pomegranate and Cranberry Bruschetta
Tabler Party of Two mixes up some pomegranate and cranberry to make a tart and delicious bruschetta that will most certainly liven up the dinner table. Take a peek at the recipe now!
35. Cranberry Asiago Turkey Sliders
Over At Will Cook For Smiles you'll find some turkey sliders that the kiddos at the table will love. Use these for leftovers or serve them as appetizers to start the drooling over the main course.
36. Sparkling Cranberry Brie Bites
Yummy Mummy Kitchen has some sugared cranberry and brie that you'll want to gobble right up too. It's festive and a bit sophisticated!
37. Spiced Butternut Squash Hummus
If you're a hummus fan, you'll want to check out this snazzy and unique recipe for spiced butternut squash hummus. It's perfect for the season! (via)
38. Tomato Mozzarella Bites
House Beautiful shows us how to put together a quick and easy – and classic – appetizer recipe that will satisfy the mouths of your family while they wait for the turkey to be done. Check it out!
39. Cheesy Brussels Sprouts
Delish knows that everything is better with a bit of cheese. And these cheesy Brussells sprouts are no exception.
40. Figs with Bacon and Chile
Check out this more unique and jazzy bite over at Bon Appetit. Give the family something extra special with these bacon and chile-covered figs!
41. Blooming Onion Pull-Apart Bread
The Cooking Jar took a blooming onion and all it's yummy flavors and shoved it into a cheesy bread. This one is addictive!
42. Pumpkin Dip
Check out Chew Out Loud for this extra-festive recipe. It includes pumpkin so you know it's a great one to try for Thanksgiving day! Obviously the bacon helps too.
43. Bacon Straws
They'll be munching on these even after dinner is done. Hop on over to Army Wife to Suburban Life and grab the details.
44. Salami and Cream Cheese Roll Ups
Sugar Apron made some super easy and delicious salami and cream cheese roll ups that work too! These are a great staple for any dinner celebration of the year.
45. Stuffed Mushrooms
A Pumpkin and A Princess makes some stuffed mushrooms that you'll want to gobble up too. Check out the details after the jump.
46. Rosemary Spiced Mixed Nuts
Some classic mixed nuts are a great way to curb the hunger pangs before dinnertime too. Check out this rosemary spice mixture at Kitchen Konfidence.
47. 3-Ingredient Blue Cheese Bread
Half Baked Harvest shows us how to make a blue cheese appetizer everyone will love. And this one is made with merely three ingredients!
48. Baked Brie with Maple Roasted Cranberries
My favorite brie recipe of the bunch can be found over at The View From The Great Island. It's a bit more classic and full of holiday flavor.
49. Caramelized Butternut Squash & Gorgonzola Crostini
Wisconsin Cheese Talk has a crostini recipe to run for. Spread with the right cheeses and topped with some butternut squash and onion, it's a medley of great flavor.
50. Rosemary Pecan Goat Cheese Truffles
You could also make up these rosemary goat cheese truffles the night before and have them ready to serve while you finish the potatoes on the stove. They're quote yummy too! (via)