Curried Pumpkin and Lentil Soup Recipe – How To Prepare Easy and Creamy
This curried pumpkin and lentil soup recipe use a small pumpkin, but you can always double up and freeze portions of the soup for a speedy lunch later on. Curried Pumpkin and Lentil Soup a spicy and warming lunch – ready in less than 30 minutes! Are we still loving pumpkins? They never get old for me, I'd happily make pumpkin recipes in spring if I could get hold of some!
All made in one pan, this soup is easy and deliciously spicy. I use mild curry powder and sweet chili sauce to give the soup a warming-but-not-too-hot feel, so the kids can enjoy it too. If you want it hotter, simply use hot curry powder and throw in a teaspoon of hot chili powder too.
Serve with flatbreads or naan bread for dipping.
A great lunch for #meatlessmondays!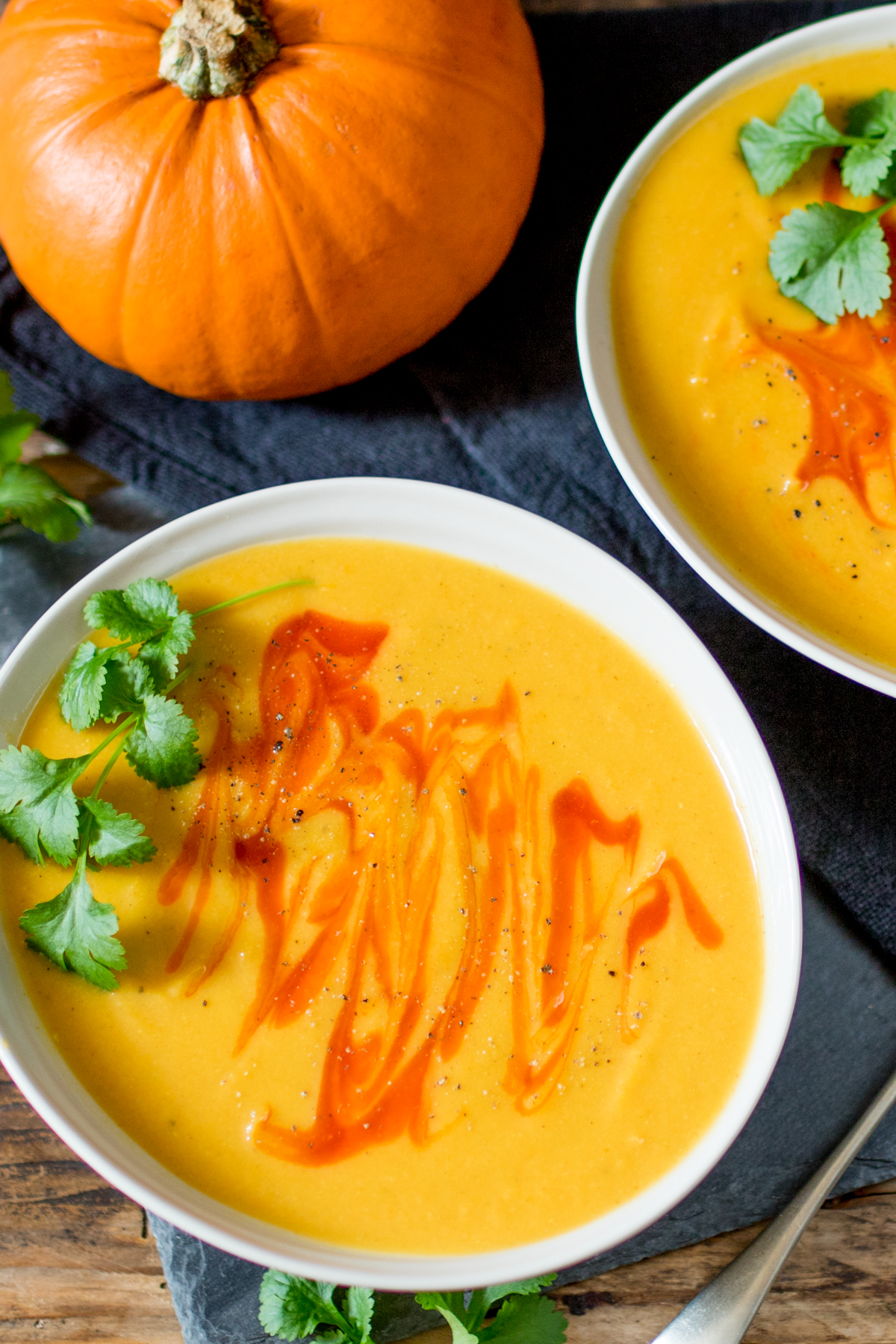 Here's what you'll need to cook the curried pumpkin and lentil soup recipe:
Serves 4:
1 tbsp olive oil
1 onion, peeled and chopped
2 cloves garlic, peeled and minced
1 1/2 tbsp of curry powder (mild or hotter, depending on your taste)
1/2 tsp salt
1/4 tsp ground black pepper
4 heaped tbsp red lentils (rinsed)
2lbs pumpkin or butternut squash, peeled, deseeded and chopped
1  large sweet potato, peeled and chopped
1 large carrot, peeled and chopped
3 1/2 cups hot vegetable stock
1 1/4 cups half fat milk
Juice of half a lime
Sweet chili sauce to serve
Small bunch of cilantro
Directions to cook the curried pumpkin and lentil soup: (Step by step guide)
Heat the oil in a large pan and add the onion. Cook for 5-6 minutes on a medium heat until the onion has softened. Add in the garlic, curry powder, salt and pepper. Stir and cook for a further minute, then add in the lentils, squash, sweet potato and carrot.
Stir everything together, then add the stock. Bring to the boil, then turn down and simmer for 20 minutes until the squash is tender. Stir in the milk and bring back to a gentle simmer, then add the lime juice. Turn off the heat and carefully blend with a stick blender.
Ladle into bowls and swirl with a drizzle of sweet chili sauce, Top with a few cilantro leaves before serving.