These 20 DIY Pokemon Crafts Will Rule The Weekend!
Pokemon is trending … again … and the kids of the house can get involved with Pikachu without being stuff on their phone. Put the app away for a bit and get creative instead of some of these fun projects. These 22 DIY Pokemon crafts will rule the weekend, just pick one and show some imagination!
1. No-Sew Pillow
Check out this YouTube video and learn how to throw together one of these no-sew Pokémon-inspired pillow. Choose from a pokeball or Pikachu!
2. Origami Pikachu
Red Ted Art shows us how to make a sweet, origami Pikachu. The kid will love to get involved in this project!
3. Pikachu Baseball Hat
YouTube is storing this DIY for you too. Create a Pikachu baseball cap for your best friend or for Halloween!
4. Printables
Check out these free printables from Merry Printable and have the kids get creative. They'll have so much fun "catching them all."
5. Lanterns
Red Ted Art has another great idea for us! Are you throwing a Pokémon-themed birthday party anytime soon because these lanterns need to make an appearance!
6. Oddish Plushie
We found this DIY oddish plush and had to feature it. Put your sewing skills to the test with this adorable little guy! (via)
7. Pikachu Ears
Frog Prince Paperie made some Pikachu ears that the kiddos will love too. Use them at a party or just for a fun night of dress up.
8. Duct Tape Pikachu Bracelet
This is a great DIY project to dive into and gift! Whip up this Pikachu bracelet for the Pokémon-lover in your life! via
9. Pikachu Sock Plushie
Do you want to learn how to make this adorable Pikachu sock plushie? Check out this YouTube video and find out how tonight!
10. Pokeball Bookmark Corners
Red Ted Art does it again with this simple and fun idea. Mark your books with Pokeballs! Fans of the game will love them.
11. Pokeballs
And Next Comes L shows us how to get the kids involved. Gather them around the table and have them whip up some of their very own Pokeballs.
12. Ornaments
You can learn how to make some Pokeballs for the Christmas tree too. Just let Arisu Crafts help you with your afternoon crafting.
13. Team Pins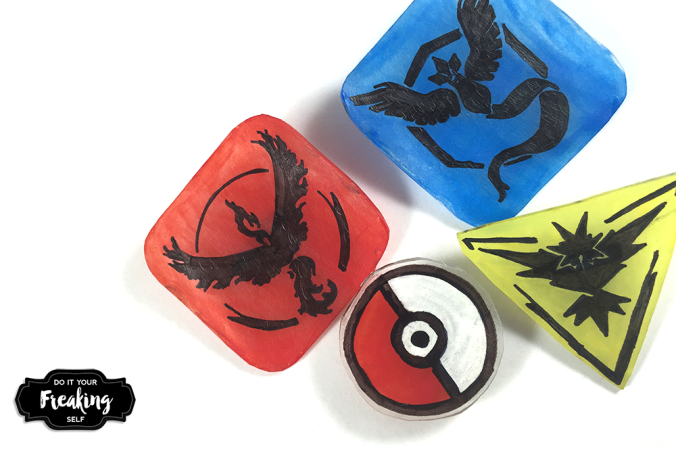 Do It Your Freaking Self took the trendy Pokémon Go game to a whole new level with this DIY. Learn how to make some team pins for your and your crew
14. Design Your Own
And Next Comes L has some Pokémon coloring sheets to get creative with. The kiddos will love this and it'll come in handy at your next themed birthday party as a favor or activity.
15. Pokeball Cushion
Choly Knight will have you practicing your sewing skills with this cushion. Lighten the play room or your kid's bedroom with one of these.
16. Pokeball Sun Catcher
And Next Comes L gives us another great idea for the kids to get involved in. Have them making Pokeball suncatchers this weekend!
17. Pikachu Pencil Case
Dress up school a bit with this Pokemon pencil case. Check out the tutorial and learn how with the help of this YouTube video.
18. Pikachu Handprint
i heart arts n crafts will have you getting your little ones involved too. Turn their handprints into a tiny Pikachu and then show them off!
19. Headbands
How do some Pokemon headbands sound? Perfect for Halloween or for your Go team, visit Forever Stitch for the details.
20. Felt Masks
Mayotte has some felt masks for us too. Make your favorite character and learn how to whip them up in an evening.