15 Mouthwatering Schnitzel Recipes
If you're a "meat and potatoes" kind of person, it can feel sometimes like there aren't a lot of exciting meal variations out there for you. If Germany and Austria ave anything to say about it, however, than that's completely untrue! Schnitzel is a traditional German and Austrian dish made most often from thinly pounded and breaded chicken or pork, usually served with potatoes or a simple but delicious pasta called spaetzel. The best part of schnitzel, however, is that you can eat it plain or mix it up with all kinds of variations and sauces so that it suits your tastes no matter what they are!
Check out these 15 delicious schnitzel recipes that will have you planning dinner for the next two weeks.
1. Chicken schnitzel with Jaeger sauce
In most cases, Jaeger sauce on schnitzel doesn't actually involve the alcoholic drink that probably came to mind when you read the subtitle. That's probably a recipe option too, though! Traditional Jaeger schnitzel is smothered in a delicious mushroom cream sauce, just like this one by The Urban Feast.
2. Holsteiner schnitzel
Are you the kind of person who could eat eggs on absolutely anything, any time of day, for any meal? There's a schnitzel recipe out there for you too! Check it out on German Recipes and More.
3. Chicken fried pork chops with mustard sauce

Did you know that American recipes for chicken fried pork are just about the same idea as schnitzel, just on a different continent? The idea was just too delicious not to enjoy internationally! Check out this chicken fried pork chop recipe paired with creamy mustard sauce by Victoria Paikin.
4. Pork schnitzel with sour cream sauce
Do you love the idea of breaded pork schnitzel but you're not a big enough mustard fan to get into the recipe above? Here's an equally delicious sour cream sauce alternative served with potatoes! Get the recipe on My Delicious Meals.
5. Chicken, herb, and parmesan schnitzel with mushroom and garlic sauce
If you're feeling gourmet, you can even switch up how your schnitzel is breaded in order to give it a unique flavour. Taste suggests using herbs and parmesan cheese in your breading and pairing that with a flavourful mushroom and garlic sauce.
6. Wiener schnitzel with lemon dill sauce
Traditional wiener schnitzel is made from tenderized breaded veal, for those who want something other than chicken or pork. Fox Valley Foodie not only reminds you how delicious it is, but also suggests covering it in a refreshing lemon dill sauce!
7. Vienna schnitzel with cherry tomato sauce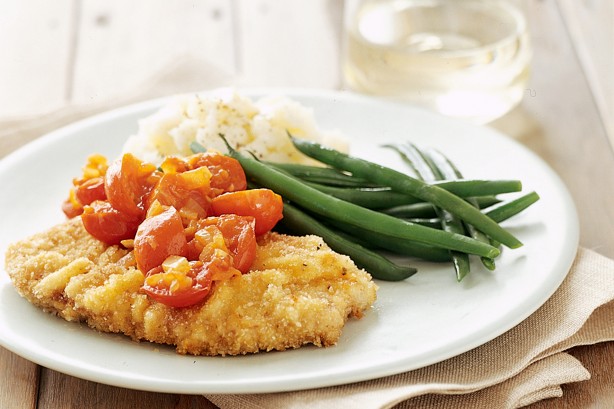 In Austria, wiener schnitzel is actually the country's national dish! This is why you'll sometimes find it called Vienna schintzel, like it is in this recipe from Taste . We love their suggestion for topping it with a tangy cherry tomato sauce.
8. Pork schnitzel with creamy paprika sauce
If you've ever been to Austria and Germany, you might have noticed how much everyone loves paprika there, and we're certainly not complaining! Safeway shows you how to combine that love for paprika with a good, traditional schnitzel by making this awesomely creamy paprika sauce to amp up the taste of your pork.
9. Pretzel and pecan chicken schnitzel with honey mustard sauce
Schnitzel is traditionally a breaded dish, but sometimes it's nice to switch up the classics for something with a little more flavour. One of our favourites ideas is this batter made from pretzels and pecans, paired with a delicious honey mustard sauce by Aldi.
10. Smoky Panko schnitzel bites with honey Sriracha sauce
Are you looking for a more novelty version of schnitzel that would be great to serve at a football game or as a dinner appetizer? Try these smoky schnitzel bites smothered in a spicy but sweet honey sriracha sauce! Tori Avey shows you how to make them.
11. Pork escalope with bell pepper cream sauce
Are you the kind of person who loves it when the sauce is the most standout part of the meal? Do you catch yourself smothering everything on your plate in sauce, even though it was kind of intended for just one thing? We're here to enable your habit with the amazing bell pepper cream sauce paired with pork schnitzel. Find the recipe on Erecipe.
12. "Gypsy" schnitzel
Perhaps you love the flavour of schnitzel, but it's a cold day and you're more into the idea of making a warm stew? Then "Gypsy schnitzel" is definitely the answer for you! It's got cooked vegetables and a mouthwatering sauce among the bite sized piece of schnitzel that you know and love. Check it out on Kitchen Project.
13. Trout schnitzel with spaetzle and mustard cream sauce
Do you love the concept of schnitzel but you don't eat pork or chicken? You don't have to miss out! Check out this schnitzel-style prepared trout that's perfect for pescetarians. A Spicy Perspective shows you how it's made.
14. Turkey schnitzel with leeks and butter sage sauce
Sometimes you just can't beat a good herb and butter sauce, especially on a traditional dish like schnitzel. We love this sage a butter sauce idea from Food52 paired with turkey schnitzel rather than pork or chicken, with delicious leeks on the side.
15. Chicken Cordon Bleu, schnitzel style
What's better than a regular schnitzel when you're feeling like novelty foods? A schnitzel combined with one of your other favourite dishes, of course! We're practically drooling over this schnitzel and Chicken Cordon Bleu hybrid recipe by Cook, Eat, Share.
Do you know someone who loves schnitzel just as much as we do? Share this post with them for a little bit of cooking inspiration!