How To Make Paper Birds – Simple Video Tutorial
Ever since I was a little kid, I've always adored making simple cut and paste based paper crafts. In fact, I liked the easy, fun process so much and appreciated the versatility of paper so heavily that I actually still love making this kind of craft to this day! This is especially true since I had kids of my own and started feeling the urge to pass my love for all kinds of crafting and DIY down to them. Sharing basic paper crafting techniques and hoping to introduce them to things like origami as soon as they're ready is actually how I came up with this idea for making a little cutting, pasting, and folding based bird with 3D wings and a dimensional tail.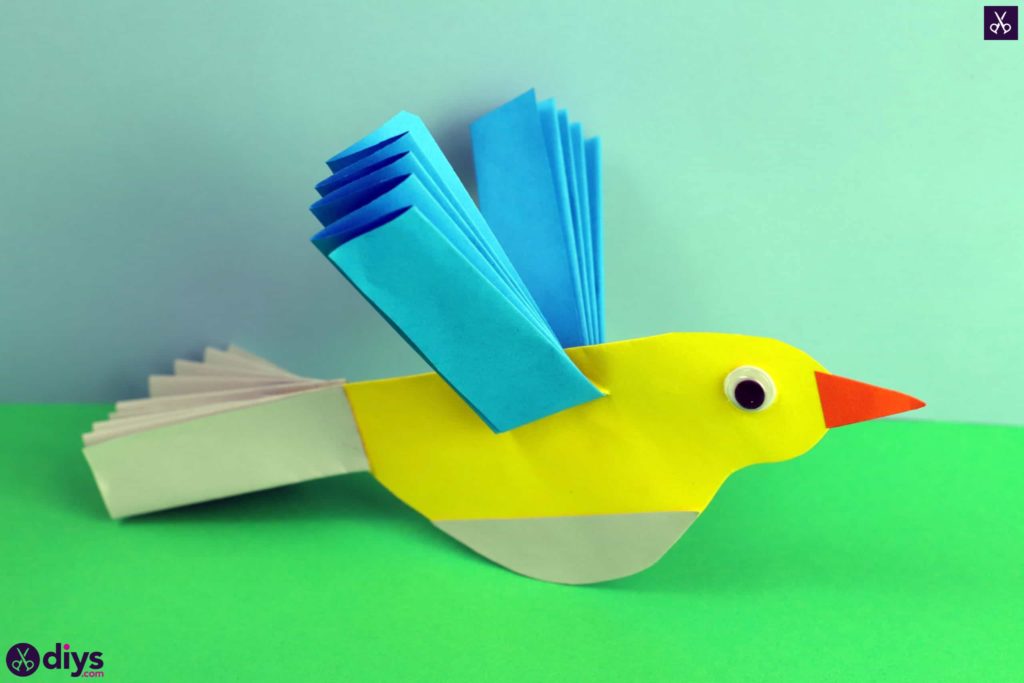 I've always loved following along with the steps when other parents share tutorials for the things they've made with their kids, so sometimes I enjoy documenting my own children's crafting forays and posting them online for others to see as well! This little bird was no exception. Check out these step by step instructions complete with photos! If you'd rather follow along with a video tutorial instead of written words, scroll to the bottom of this post to find just what you're looking for.
For this project, you'll need:
Paper (orange, yellow, grey, and blue)

Googly eyes

A glue stick

Scissors

A pencil

A folding utility knife
Step 1:
Gather your materials!

Step 2:
Fold your piece of yellow paper in half so that the short ends meet, creasing the piece in the middle where it bends. Rotate the page so the crease is at the top and, using that edge as the bird's back, draw the shape of your bird's body, making a head, a stomach, and an angle up towards a tapered tail. Set this aside for now; draw the rest of your pieces first and cut them all out at once in a moment.