45 Modern Christmas Decorating Ideas: Non-Traditional Christmas Decor to Try
Traditionally, we've been celebrating Christmas for 2021 years now, and because so much time has passed by already, it's easy to realize that there are traditional Christmas decor ideas that have been around for centuries, as well as modern Christmas decor that has most recently made its way into our life.
Well, that's precisely what we will be covering in today's article, where we're going to list the top 50 modern Christmas decor ideas that you can try in 2021.
Before I start, though, I need to mention that the decorations are sorted by popularity. That means that if you want to find more modern Christmas decor ideas for your home or office, the first thing you should do is go through this list and identify which of these themes you like the most.
Still, I think it's important to note that all of these modern Christmas decors can be personalized according to individual preferences. So don't be afraid to experiment!
Also, once again, I'd like to remind you that this article has been written with a view to suggesting new ideas for those who are looking for inspiration but might not have any clue where they should begin searching for it.
What Does Modern Christmas Decor Actually Mean?
If you've watched older Christmas movies, you've probably noticed how there are certain decor elements that seem to have been part of the tradition since forever.
However, when it comes to modern Christm decor elements, most of these are actually pretty superficial, meaning that nothing but regular decor principles were applied to them.
Nowadays, modern Christmas decor ideas tend to abandon the traditional forms and embrace something new. They usually use technology in order to bring more lights into the Christmas spirit and make it a bit brighter for all people who celebrate this holiday.
Moreover, modern Christmas decor also tends to pay more attention to the artistic elements that people can find in a specific environment.
Best Modern Christmas Decor Ideas to Try Out in 2021
Now that you've understood the basics of what makes modern Christmas tick, it's time we go ahead and showcase the decor ideas themselves.
However, we've divided the article into two sections:
The first 20 decors ideas are the ones everybody's talking about in 2021
The next 25 decor ideas are ones that were very popular last year and the year before
Thus, go ahead and enjoy browsing through these 50 different entries, and get inspired as to how you'll be decorating your house or your office during the holiday season!
1. Christmas Decorations – Noel Lamps
If you're an avid fan of the winter holidays, you can try to incorporate your passion into the furniture itself, such as getting yourself some LED lamps that are shaped like the letters for the word "Noel" (French for Christmas).
Each letter can act as an individual lamp, and although you could place them in different corners of the room, it would be a bit odd to have random letters lighting up your room, so for visual purposes, we recommend that you keep the 4 of them together.
Another slight drawback is that the concept itself is pretty modern, meaning that the rest of the furniture in that room needs to look the part as well since you can't have a modern-looking Noel lamp in one corner of the room, and a vintage lamp with a lampshade in the other.
If you like the idea but can't seem to find anything similar to buy closeby, and practice carpentry or know someone that practices carpentry, then you can make your own lamps following this idea, while using whatever word you have for "Christmas" in your native language, or any other word for that matter.
2. Outdoor Christmas Decorations – Christmas Globe Gazebo
If you like to impress your guests with your taste in Christmas decor before you even bring them inside the house, one way to do so is with outdoor Christmas decorations.
For example, if you have sufficient yard space, you could opt to buy (or build your own) gazebo, and since it's the winter holidays we're talking about, we think that a small gazebo shaped like a Christmas globe would be an excellent choice.
Sure enough, these can be bought over the Internet, but they can get pretty expensive, so your best option would be to simply make your own.
To make such a gazebo, you'll need:
Metal pipes to make the metal framework
A blowtorch to help weld the pieces together
Wood planks to make the benches inside the globe
Pine branches to cover the entire globe (preferably something that smells nice)
Enough mesh lighting to cover the entire globe, and an extension cord to supply it with power
To start off, you'll have to decide exactly how large you want the gazebo to be. Then, you'll have to decide on the dimensions of the metal framework that will hold everything together.
Take into account that you'll need enough room for at least three benches since your guests are going to feel rather cramped if you only install two benches in there.
The next step is to get down on your hands and knees since you'll be mentioning the shape of the framework by marking where every one of the metal pipes has to go. Make sure that you use strong pipes that can't bend easily (we suggest using galvanized steel).
Once you're done with that part, it's time to weld everything together. We suggest that you ask a professional to weld the pipes for you, but if you're feeling brave and have access to a blowtorch, then go ahead and do it yourself.
Once the framework has been created, you have to add in the bench slats by measuring everything beforehand so that they fit perfectly between each metal pipe in a way that will provide your guests with maximum comfort when sitting down in there. The bench slats can be cut from regular planks of wood.
Finally, cover the entire gazebo with pine branches which go around three times to give it enough coverage. If anything smells nice, use some pine branches since this is meant to mimic the feeling of being at Christmas time.
To power up your mesh lighting, you'll need an extension cord to be plugged into a nearby power outlet.
3. Christmas Tree Decorations – Garland with Pictures of Loved Ones
Photographs have been part of our lives for well over 100 years, but curiously enough, it's only recently that people have been including them in decorative objects, so the idea of making Christmas tree decorations using photographs can be deemed as modern.
As such, those of you that want to show everyone how much they mean to you can go ahead and try making a cute garland where you hang some of your favorite photos.
To make this garland, you'll need the following materials
Several photos of you and your loved ones (ideally polaroids or printed on cardboard, so that they are harder.
A length of twine, string, or even Christmas lights.
Some clothespins to keep the photos in place
As for making the garland itself, you'll have to start off by measuring the length of cord that you're going to need. Our belief is that one picture per foot should suffice, but if you think that you could squeeze more photos into a single strand, then go right ahead and do so.
The next step is to prepare the photos so that you can attach them to the cord. The best way to do this is by sticking a piece of cardboard onto every photo and then cutting around it.
You'll need to leave at least an inch or two borders between your pictures for these pieces of cardboard, otherwise, they'll all end up running together into a single big mess that will be impossible to separate again.
Once you're done with that, attach these individual pictures onto the string, making sure that you use clothespins for this task since simply pinning them on may not work as well as you'd like. If each picture isn't firmly attached, there's a chance that they could fall off later down the line.
Finally, all you have to do is thread the garland onto your Christmas tree and admire how great it looks.
4. Christmas Decoration Ideas – Geometric Ornaments
Those of you that are now adults probably remember how the Christmas tree globes that were around when you were children were very complex with intricate images and incredible details painted onto them.
Well, if you want a more modern-day Christmas setting, you'll have to forget all about that and apply the thing that we talked about earlier: simplicity and sleek designs.
You see, while the globes are still globes as far as the shape is concerned, other shapes have gained a lot of popularity as well, such as Christmas "globes" that are shaped like teardrops, or globes shaped like a minimalist version of other Christmas decorations, like a conical tree.
As for their coloring and design, most modern-day globes prefer to be as plain as possible, usually a single color, and as for the texture itself, you'll see globes that either have a metallic sheen or ones that have a matte finish.
However, most homeowners tend to avoid this decoration, so you'll most often see them in either office environments, or in public places.
All in all, if you do decide to start using globes like these, the criterium is simple: the simpler the better!
5. Christmas Tree Decoration Ideas – Twig Tree
If you love minimalist designs but are also a fan of abstract representations, you'll love this twig tree idea that we showcased in the picture above.
It's one of those Christmas tree decoration ideas where you basically replace the tree itself with something else, and while some may find it to be a bit extravagant, but then again that's what you should expect if you're a fan of Scandinavian-style decor and furniture.
The great thing about this particular design is that from a DIY point of view, it's incredibly easy to make at home since, besides the central metallic pole that runs down the middle of the tree, you'll only need 2 dozen twigs that are relatively straight, and you can find them in the closest forest near you.
Once you find the twigs that are good enough for this project, all you have to do is attach them to the central pole in a tree-like pattern.
The trick with this design is making sure that there's no space between each of your twigs since wherever there's an empty space, it'll look rather weird and jarring.
You can easily solve this problem by using some sort of metal hook or branch on the ends of each twig so they won't droop down underneath their own weight.
As for how long it takes to make this, well…it depends entirely on how many hands you have at your disposal.
6. Non-Traditional Christmas Tree – Metal Framework Tree
The previous design was a minimalist and abstract representation of a Christmas tree, and the one before that talked about using exact geometry in order to make Christmas decorations look more modern.
Well, this non-traditional Christmas tree brings the best of both worlds, as it's basically a metallic framework shaped like a tree on which you place a few dozen copper globes.
One drawback to this particular tree design is that if you want one for your own, you'll have to make sure that the rest of the room is also modern looking since you can have a minimalistic artificial metal tree surrounded by 50-year-old furniture.
Those of you that are pretty skilled with shaping metal will have no trouble making a similar-looking tree of their own, although one core aspect of its design is to make it as sleek as possible, so make sure that you cleaned up the welding spots and covered everything with a nice coat of paint is essential.
Speaking of paint, you don't have to make the tree white and use copper globes like in the illustration. Instead, you can go ahead and use whatever color palette will make the tree fit better in the room.
As for what you will be decorating the tree with, you can use other objects instead of the globes, although we recommend that you keep things as simple as possible.
7. Christmas Door Decorations – Chestnut Wreath
When it comes to decorating your doors on Christmas, one piece of decor that's pretty much iconic already is the Christmas wreath, and since this list is about modern Christmas door decorations, we'll be looking at a way to make your wreath look like something that you'd be proud to make in 2021.
The typical Christmas wreath would usually contain pine branches, bells, ribbons, and mistletoe, the one we would like to present to you is one based entirely on chestnuts and leaves.
The best part about this wreath is that most of the materials can be found outside for free, and the only thing you'll have to pay for is the wiring and the ribbon.
Speaking of which, here's what you'll need to make your own chestnut wreath:
A few dozen chestnuts (you can gather them a lot easier in autumn)
Some thick metal wiring to make the ring frame
A drill and a very fine drill head
Some ribbon
Other decorative elements
You'll first have to drill some holes in the chestnuts and using your metal wiring, make sure that they're all attached to one another.
The ribbon will act as a placeholder for the wreath, it'll also hide the wired frame of the wreath when you throw it over the door.
You can make the wreath even more interesting by adding a few extra natural elements, such as dried berries, or small pinecones.
8. Outside Christmas Decorations – Trees Wrapped in LEDs
Whenever you go inside someone's house, you'll notice how much more modern everything looks if they use LEDs instead of regular lightbulbs, and that's why another great example of outside Christmas decorations is having all of the trees in your yard wrapped up in LED lights.
You can go ahead and use whatever colors you like since nowadays you can pretty much find LEDs in all the colors of the rainbow, but if you really want everything to look very modern and futuristic, try sticking to colder colors, like blue, green, or purple, or even simple LED lights.
In case you have a lot of trees in your yard, or simply want everything to look as bright as possible, you can always try and combine all the different colors into one by getting some cheap extension cords and wiring them up together.
Wrapping each tree in its own strand will make the overall effect more interesting since if there are two close-by trees with exactly matching colors, chances are that they'll blend together if they're standing next to each other.
One major drawback with this Christmas decor idea is that you need to be very careful how you wrap the LEDs around the tree because taking the lights down once the winter holidays are over can be very tricky, and an utter nightmare if the LED string gets tangled.
9. White Christmas Tree Decorating Ideas – Monochromatic Decor
One easy way to make any decor look as modern as possible is to make it as simplistic and as sleek as possible, and as you can see from the example above, a Christmas decor with an all-white setting definitely looks like something out of the XXIst century.
The great thing about going for a monochromatic setting is that you can incorporate pretty much any decorative object you want, just as long as you stick to the same color palette, just like in the example above where we mixed in elements that were either white, had light shades of beige, or illuminated in a neutral light color.
Unfortunately, going for a monochromatic setting does have its drawbacks.
For example, you're limited to using elements of a single color, so shopping will be a bit harder. The good news is that you could get away with buying things that are a different shade or a similar hue, so there's a little bit of wiggle room.
Another drawback is that certain colors demand a certain style of decor. For example, if you're going for an all-metal setting where everything is silver, copper, or gold, you can't have vintage furniture since the two elements will clash.
Lastly, if you do decide on choosing an all-white setting like the one in our example, be prepared to do some heavy-duty cleaning, since white gets dirty very easily, and even the tiniest speck of dust will be visible from a mile away.
10. Living Room Christmas Decor Ideas – Silver Decor
When we talked about monochromatic decors, we also mentioned all-metal decor where the furniture and decorations all share a metallic motif, either silver, gold, or copper.
Well, the copper decor does look nice, but it gives off a somewhat vintage/steampunk vibe, and a golden decor might be a bit too tacky for most people's tastes.
The great thing about silver Christmas decor is that it looks simple, modern, and very easy on the eye.
It also goes with pretty much everything since silver matches most colors of clothing, not to mention how it matches all kinds of electronic equipment like smartphones, TVs, DVD players, etc.
Here are some quick tips for getting an all-silver decor: – The best way to go is by changing things up each year so that the overall effect doesn't get old and boring.
If you plan on going with a larger silver tree, make sure you have a plain white one as a centerpiece which will help balance out the look.
Any accessory or decoration you use should be either made of pure silver or contain reflective surfaces like mirrors, glass balls, etc.
When it comes to decorations, glass ornaments in a single hue work best since they don't clash with the decor's overall color scheme.
Be sure to use LED lights if you want your decor to look sleek and high-tech instead of seeing what we meant by candlelight above.
11. Native Country Christmas Decorations
There are plenty of countries out there that celebrate Christmas, and each country has a different way of approaching the holiday, either via specific decorations, traditions, foods, etc.
Well, going back to the roots has been on the rise in recent years, and there are plenty of ways to decorate your house using your native country's Christmas decorations without it looking traditional.
For example, try to make as many hand-crafter decorations as possible, and make those that are easily recognizable as being part of your culture, such as how Scandinavians fill their houses with Christmas gnomes.
The key to making these decorations is to not make them in a way that si too professional because you want visitors to be able to see that they were handcrafted and not bought from a convenience store.
Another way to go is by taking a general cue from your culture and turning it into an event, such as the Japanese have been doing for centuries.
Since they associate Christmas with celebrating life and being thankful, they started to build houses that look like temples complete with torii gates.
Everyone likes to celebrate Christmas in their own way, but going back to basics by decorating your house according to your country's traditions will help you get closer to the holiday's roots.
12. Black and White Christmas Decor
If you find monochromatic decors to be a bit too boring and overwhelming, then you can go ahead and mix together 2 colors, and one of the best combinations to try out is black and white.
We've already showcased how white decorations look modern by default, and the color black has always been associated with luxury and elegance for a very long time, so the idea of mixing the two together is pretty much perfect.
The best way to go about doing this is by using white, shiny accessories with the color black playing the part of a shadow or some kind of accent.
For example, you can use Christmas tree lights that are white, or you can also use a white tablecloth as a base for your decor, but add in some dark accents such as a large table centerpiece that features a large-sized chocolate sculpture surrounded by a bunch of white flowers.
It's easy, elegant, and cool at the same time which is exactly what modern decors are all about.
The good thing about black and white is that both colors are already simple by nature, so you don't have to worry much about making things complicated.
Also, no matter how you mix them up, neither color will overpower the other, and instead, they'll work together to create a tranquil and subtle decor that you can use in your bedroom or living room without any hassles.
13. Black Christmas Tree Ideas – Gold and Black Decorations
While the two colors couldn't look any more different from one another, both gold and black have been associated with a sense of luxury, gold because of jewelry, and black because of gadgets, cars, and expensive furniture, so blending these two will really make your Christmas feel very luxurious.
One way you can mix black and golden decorations is by using a Christmas tree that features all sorts of shiny ornaments in the color black alongside some golden decorations, such as angel statues.
To really get the most out of this combination, you can also place some golden candles on top of your fireplace which looks even more amazing if they are placed inside gold candle holders, and then add in some white flowers to make it look Zen-like.
Another idea for decorating your house with both gold and black is by adding up an oil painting under a big golden frame above your mantelpiece, complete with candlesticks on each side of the fire.
You can try pairing these items up with fake candles or regular candles instead depending on how much light you want to shine through your living room during the night.
You can also go ahead and place a big golden area rug on the floor right in front of your fireplace to make it look more elegant, even if you decide to use fake candles instead of real ones.
14. Modern Christmas Tree Decorations – Minimalist
If you think about all the decorations that people usually set up inside their house during Christmas, the only one you could really call "iconic" is the Christmas tree, so another neat way to make your living room feel all Christmasy without losing its modern touch is to simply have nothing but the Christmas tree.
This may sound counter-intuitive, but the tree alone is big and flashy enough to be seen from all corners of your room, and for many people, having just one corner of their room as the designated "Christmas spot" is ideal.
So, if you want to embrace the holiday spirit but don't want to lose your modern decor for a moment, go ahead and keep everything else inside your living room as simple as possible.
If you really want to add something else besides the tree, you could go ahead and place a few white candles in the corners of your room which will work great with the darkness brought on by your dark-colored Christmas tree.
You can also keep your lights off or at least very minimalistic, but make sure that it's not too dark inside because otherwise, the contrast won't be as effective.
15. Unique Christmas Decorations – Papercraft
We mentioned how it's very trendy nowadays to actually use handcrafted objects as much as possible, and one of the simplest materials that you could work with is paper, and that's what makes papercraft such a coveted decorative approach. You can even check out our tutorial on how to make yourself a wonderful paper star ornament.
However, there are certain things that you need to keep note of for your paper crafted decorations to look modern:
You should carefully choose one design, and stick to it – too many designs look tacky and traditional
Try to work with as few colors as possible – two would be ideal
Try to use paper that has a matte finish – glossy paper is what you used when you were a kid
For example, if you look in the picture above, you'll notice how neat that paper-crafted snowflake looks like, and how the blue paper with a matte finish makes it look as if it were store-bought.
These are just some ideas on how to keep your modern look while embracing the holiday spirit, but there are many other ways that you could achieve this effect.
For all of you who would like to make their Christmas decorating a little less costly and time-consuming, yet still keep it stylish and interesting, papercraft is definitely the way to go.
Taking care of the interior design of your living room for Christmas can become very cumbersome if you want to do it right, especially if you're trying to fit in with the season without losing your modern touch.
If you're worried about spending too much money or taking too long with the process of setting up your perfect Christmas décor for this year, then why not take advantage of these little-known modern approaches to holiday decorations?
16. Unique Christmas Tree Ideas – Zero-Waste Christmas Tree
Every single year, millions of trees are cut down just so that they could decorate our living rooms for a few weeks, and then you either throw them into the garbage or turn them in firewood.
Well, if you care about Mother Nature and hate contributing to seasonal deforestation, you could go 2 ways:
Get yourself an artificial tree and some scented oils to make the room smell like pine
Make your own Christmas tree with whatever you find in the forest (besides the tree)
The twig tree mentioned earlier looks great, and it too can be considered a zero-waste solution, but the problem is that you need to have some basic carpentry skills and have access to a few power tools in order to make one yourself.
On the other hand, if you decide to make yourself a Christmas tree like the one in the picture above, the only skill you'll need will be the ability to tie strings and sticks together.
To make a Christmas tree like the one below, you'll need several long twigs that you can find outside, a length of twine or string, although we recommend twine for the rustic look, and other homemade decorations to hang on your tree when it's done.
All you need to do is arrange the twigs one over the other from short to long, and then tie the ends of the twigs together.
When you're done creating the tree, hang it in a corner where you have enough empty wall space, and then hang the decorations on the twigs.
17. Christmas Decorating Themes – Glass Decorations
If we were to talk about a holy trinity of modern design, we'd have to talk about using metal or materials with a metallic shine, LED lights, and, finally, glass.
We've already talked about the first two entries earlier, and now it's time we showcase you one of those Christmas decorating themes that are straight out of the XXIst century.
Basically, have as many decorative objects made out of glass as possible, but make sure to choose some with a shiny metallic finish so that they look like metal.
For example, the baubles on the image above look great because of their gold or silver finish, which sets them apart from regular glass decorations.
As far as layout goes, try to find one spot where you can put your tree and other decorations in such a way that light will hit them directly while creating an interesting contrast with the rest of the room.
18. Christmas Tree Theme Ideas – Globe Tree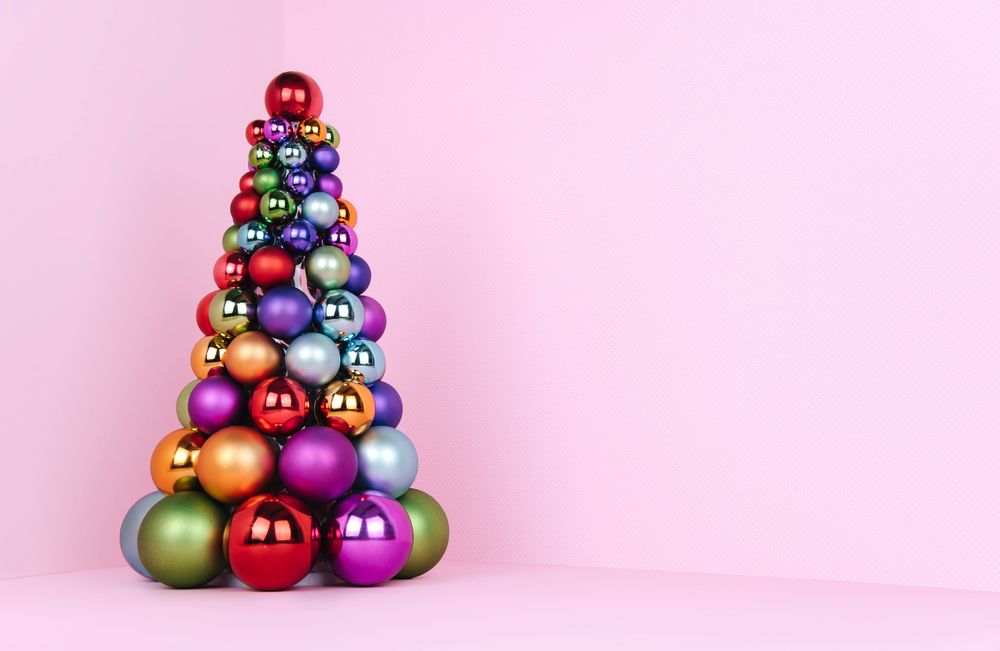 When it comes to decorating trees, you have to find the perfect balance between adding too many decorations, and too little, or else the tree will look either too extravagant or too shabby.
Well, one way you can give your Christmas tree a very unique, modern, and admittedly abstract twist is to make it entirely out of Christmas globes.
As far as colors go, there are plenty of ways to approach this globe tree:
Use globes of a single color, in which case we recommend green, or several shades of green
Just two colors, but make sure that they are as contrastive as possible.
As for how you'll arrange the globes based on their color, you could try arranging them in the form of a downward spiral, with several rows of globes of the darker color, and single rows of the lighter-colored ones.
On the other hand, you could mimic the look of a real Christmas tree, and have the majority of globes be of just one color, and have a handful of globes of a contrasting color sprinkled around the tree from place to place.
19. Christmas Home Decor Ideas – Wall Stickers
Wall stickers have been very popular as of late, and pretty much any home decoration store has at least a handful of models to choose from, like the famous "Live, Laugh, Love" wall sticker.
Well, since we're talking about Christmas, you could buy yourself some holiday-themed decorations that include texts like "Merry Christmas", or "Happy New Year 2022!"
You could also go the more abstract route, and have your wall stickers spell out "Xmas" or "Ho Ho Ho".
As far as the colors go, you can choose any color or several colors to match your room's color scheme. Just make sure that you do buy a few holiday-themed wall stickers.
You could also go for a theme related to Christmas, and have decorations that include words like "Joy", or even a few popular carols in the form of wall stickers.
Plus, try putting them in places where you'd typically put Christmas decorations: above a door, on a window, on a big empty wall in the living room, etc.
In fact, you can get your entire home ready for Christmas with this idea by getting at least one wall sticker per room that says some variation on the classic "Merry Christmas".
As far as other home decorations are concerned, you could always get yourself some other decals that are just shaped like Christmas trees, snowflakes, stars, presents, etc.
20. Christmas Room Decor Ideas – Homemade Candles
Candles have always been one of the main ways through which we create that magical Christmas atmosphere, but whenever you think of Christmas candles, you think of those simple ones that are either white and red and don't smell like anything.
Well, since we already talked about how using homemade objects is making a comeback, this Christmas you should go ahead and try artisanal candles since they all have a very unique look, and they are made with ingredients that positively smell amazing.
As for the shape, you could go all traditional and buy yourself a pine tree-shaped candle that will smell like an evergreen.
On the other hand, you could play around with shapes and try to find some very unique ones like snowflakes or stars (which might smell like vanilla or peppermint), or even Santa hats (that mostly smell like chocolate).
When it comes to colors, we recommend choosing white candles in order to maintain an air of simplicity and serenity. But if you want something more festive and Christmas-y, choose between blue, green, red, orange, etc.
Just remember that this time around you're doing things differently from everyone else by choosing homemade candles made with natural ingredients!
More Modern Christmas Decor Ideas From Past Years
"Modern" is a very flexible term since it doesn't refer to something that's in style at this very moment.
On the contrary, something that is "modern-looking" can also be something that first appeared 2-3 years ago.
That being said, while the first 20 entries were some of the most talked-about Modern Christmas decoration ideas of 2021, there's nothing wrong with taking a look at some of the other entries as well, since the next section of the article contains 25 other entries that were very popular in 2020, 2019, etc.
That being said, if you're not looking specifically for the latest in modern Christmas decorations, go right ahead and check out the entries below.
21. Black and White Christmas Tree Decorations
This look is quite contemporary, with a focus on black and white patterns with pops of gold added for brightness. Texture is also an important component here, so be sure to layer some textiles if you're recreating this look in your own home. Head over to theJust Destiny blog to find out more.
22. Scandinavian Style Christmas Decoration
This gorgeous tablescape has a subtle feel to it, with a large evergreen branch and some geometric candle holders to add ambiance. To achieve a similar look, make sure that you avoid traditional Christmas red tones and stick to neutrals. Check out the image in its original location here.
23. Neon and Silver Modern Christmas Decor
Step outside the box with this super unique look for the holidays using pops of neon to accent whites and silver tones. The key here is to use the neon sparingly… you don't want your home to look like it just stepped out of the '80's. Read more about this look over at the My Attic blog.
24. Wall-Mounted Tree – Non Traditional Christmas Tree
This alternative Christmas tree idea is a wonderful solution for those of us with a lack of square footage. To make your own wall-mounted tree, just cut a series of branches in decreasing lengths and attach them to the wall using damage-free adhesive hangers. Found over at Imgfave.
25. Golden Glam Modern Christmas Decor
Gold sequins and glitter are another great way to give your space a festive feel. This space has a set of modern Christmas trees in the shape of cones, with lots of warm lighting to shine and shimmer off of the sparkles. Head over to the Whatever blog to checkout more sparklylooks.
26. Black Christmas Tree Idea
This space has a crisp, clean look so a sparsely decorated tree fits perfectly. The addition of gifts wrapped in simple black paper with big festive gold bows gives the decor a whimsical look. If you're going to give this one a try, be sure to keep lots of light flowing into the room. Check out the rest of the room here.
27. Jewel Tones – Unique Christmas Tree Ideas
Here we have a color scheme that is certainly not for the faint of heart, but if you like big, bold colors then this might be the look for you. Purple, pink, blue and gold are the main players here, and no amount of glitz is too much for this decorating style. Check it out here.
28. The Rustic Look – Country Christmas Decorations
This understated living room is a lovely look for those who enjoy simple, rustic decor with subtle festive details. Burlap, pinecones and a few other muted tones all combine to create a beautifully-decorated space with a country feel. Check it out here along with lots of other mantel decor ideas.
29. A Monochromatic Christmas – Unique Christmas Tree Idea
This little vignette has a country sort of feel to it too, but in a more Scandinavian style with very simple decorations and nothing especially ornate.
To achieve this look in your home, choose monochromatic items and cluster them together in a corner sparingly. Check it out here along with other unique Christmas tree ideas.
30. White Christmas Tree Decorating Ideas
You can still have a white Christmas even if it isn't snowing outside… just cover your tree in all white decorations! The unique tree above complements this look nicely, but you could easily recreate the look on a traditional evergreen tree too. Found over at Kara Rosenlund's blog.
31. Yellow, Black, and White Christmas Decorations
Dress your table in a non-traditional color-scheme… black, white and yellow! The pops of yellow feel happy and warm, so it still feels festive despite the lack of red, green, silver, etc.
Make sure to place a few modernblack and whiteChristmas tree decorations on the table along with some ornaments. Found here.
32. Neutrals and Naturals – Living Room Christmas Decor Ideas
Sprigs of evergreens and mini Christmas trees provide pops of green, and the rest of this lovely living room is decorated with neutrals… white snowflakes, burlap and pinecones. Find out how to make the farmhouse-style joy banner that's on the mantel over at the StoneGable blog.
33. Vintage Glamour – White Christmas Tree Decorating Ideas
This vintage aluminum tree is trimmed with a unique combination of red, pink and purple ornaments, giving it a funky mod sort of feel. To get this look, simply buy an artificial silver tree and leave out all of the blue and green ornaments. Read more about the look here.
34. Modern Christmas Decor – Go Green
These spaces are filled with lush shades of green – boxwood wreaths, bulbs and fresh foliage. They lend a natural touch to the already festive spaces without going over the top. Check out this color scheme and many others over at the Florence Finds blog.
35. Christmas Decorating Theme – Technicolor
Go bold if you dare, with this technicolor themed holiday setup which uses just about every color under the sun. The bright, saturated colors are a fresh take on the traditional red and green combination that has become so popular. Read all about it over at the always colorful Bright Bazaar.
36. No-Fuss Simplicity – Christmas Decoration Idea
This living room has a low-maintenance setup that doesn't require all that much time to put together, but its simplicity is the genius behind it. You can easily get this look in your own home by placing a small evergreen in a basket and decorating the mantel with a series of candles. Found here.
37. Silver Christmas Decorations
This silver tree is a showstopper, the perfect accent in a very monochromatic and modern loft-style space. The white lights and silver ornaments give it even more of a metallic, almost industrial feel. Check it out along with lots of other unique Christmas tree ideas here.
38. Nautical Christmas Home Decor
This home has a tasteful nautical theme, with a thick rope winding around the banister along with starfish-embellished greenery. The key to successfully decorating your space with a similar nautical style is to use it sparingly. Head over to Coastal Living to see this and other ideas.
39. White and Blue Christmas Decorations
This dreamlike glamorous white tree is filled with beautiful light blue ornaments mixed in with a few silver and white ones for balance. Make your way over to Setting For Four to find out how to recreate this memorable look in your own home.
40. Minimal Decor – Unique Christmas Tree Idea
Minimalism can apply to holiday decorating, too! Here, a simply decorated white room is punctuated by a small Christmas tree with no decorations, and a thick knitted tree skirt. Check out more photos of this sophisticated space over at Dreamy Whites(and see more cute dogs, too!).
41. Cardinal Red Christmas Decoration Ideas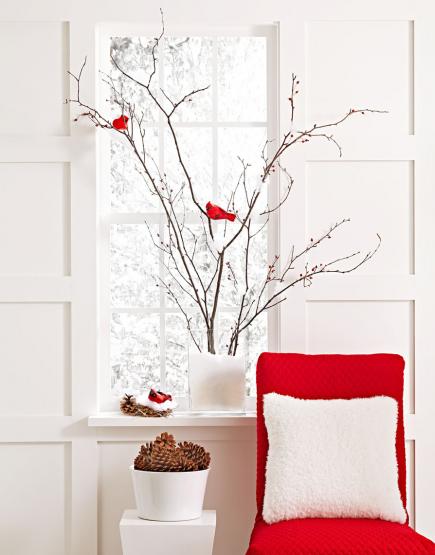 Using red doesn't necessarily mean that your space will look traditional; here, a trio of faux cardinals are attached to a tall vase of branches. Next to a simple bowl of pinecones, this looks quite stunning. Check out this and other nature-inspired ideas over at Midwest Living.
42. Christmas Noir Decorating Theme
This dark, cozy space feels romantic with its black and gray textiles and flickering golden candlelight. If your home displays color sparingly, this might be a good look for you. Just decorate a leafless tree with a few black and white ornaments and set a few festive monochromatic items on the table. Found here.
43. Beach Inspired Christmas Decorations
If you live near the ocean, you might consider decorating your living room like the one above with light-colored decorations and subtle shell ornaments. Bonus points if you already have a ship replica on your mantel! Head over to Indeed Decor to check out this and a few other beachy Christmas ideas.
44. Chevron and Plaid Unique Christmas Tree Idea
This cheery living room has some traditional elements mixed with some very contemporary details like chevron, polka dots, Moroccan lattice, etc. The key to this look is lotsand lots of layers. Read all about the making of this room over at the11 Magnolia Laneblog.
45. Cheeky Vintage – Modern Christmas Decor
If you enjoy antiquing or thrifting, this final look may be the one for you. Beautiful mercury glass decorates the mantel, while wooden "stockings" hang from it. A few snowflakes add a wintery vibe. Check out Eclectically Vintage to see the rest of this gorgeously decorated living room.
Best Modern Christmas Decor Ideas: Conclusion
After showcasing 45 different modern Christmas decor ideas to you, our article has come to an end, but we hope that it served its purpose and now you have a better idea as to how you'll arrange everything around the house this Christmas.
Keep in mind that we at DIYS.com are always open to new ideas, and if you thought of some pretty interesting decoration for this year's Christmas that we haven't mentioned here (and it isn't too complicated), feel free to leave the description in the comment section below.
We'll be sure to check them out, and who knows? You might even see your idea featured next year!