25 Non-Traditional Christmas Decorating Ideas
Not everybody loves red and green. And not everybody loves sticking to tradition. So if you fall into either of these categories, you're in luck – because we have 25 inspiring non-traditional Christmas decorating ideas for you… everything from gold to pink to beachy to vintage.
1. Black and White Christmas Tree
This look is quite contemporary, with a focus on black and white patterns with pops of gold added for brightness. Texture is also an important component here, so be sure to layer some textiles if you're recreating this look in your own home. Head over to the Just Destiny blog to find out more.
2. Scandinavian Style
This gorgeous tablescape has a subtle feel to it, with a large evergreen branch and some geometric candle holders to add ambiance. To achieve a similar look, make sure that you avoid traditional Christmas red tones and stick to neutrals. Check out the image in its original location here.
3. Neon and Silver
Step outside the box with this super unique look for the holidays using pops of neon to accent whites and silver tones. The key here is to use the neon sparingly… you don't want your home to look like it just stepped out of the '80's. Read more about this look over at the My Attic blog.
4. Wall Mounted Tree
This alternative Christmas tree idea is a wonderful solution for those of us with a lack of square footage. To make your own wall mounted tree, just cut a series of branches in decreasing lengths and attach them to the wall using damage-free adhesive hangers. Found over at Imgfave.
5. Golden Glam
Gold sequins and glitter are another great way to give your space a festive feel. This space has a set of modern Christmas trees in the shape of cones, with lots of warm lighting to shine and shimmer off of the sparkles. Head over to the Whatever blog to check out more sparkly looks.
6. Black Simplicity
This space has a crisp, clean look so a sparsely decorated tree fits perfectly. The addition of gifts wrapped in simple black paper with big festive gold bows gives the decor a whimsical look. It you're going to give this one a try, be sure to keep lots of light flowing into the room. Check out the rest of the room here.
7. Jewel Tones
Here we have a color scheme that is certainly not for the faint of heart, but if you like big, bold colors then this might be the look for you. Purple, pink, blue and gold are the main players here, and no amount of glitz is too much for this decorating style. Check it out here.
8. The Rustic Look
This understated living room is a lovely look for those who enjoy simple, rustic decor with subtle festive details. Burlap, pinecones and a few other muted tones all combine to create a beautifully-decorated space with a country feel. Check it out here along with lots of other mantel decor ideas.
9. A Monochromatic Christmas
This little vignette has a country sort of feel to it too, but in a more Scandinavian style with very simple decorations and nothing especially ornate. To achieve this look in your home, choose monochromatic items and cluster them together in a corner sparingly. Check it out here along with other unique Christmas tree ideas.
10. White Christmas
You can still have a white Christmas even if it isn't snowing outside… just cover your tree in all white decorations! The unique tree above complements this look nicely, but you could easily recreate the look on a traditional evergreen tree too. Found over at Kara Rosenlund's blog.
11. Yellow, Black and White Tablescape
Dress your table in a non-traditional color-scheme… black, white and yellow! The pops of yellow feel happy and warm, so it still feels festive despite the lack of red, green, silver, etc. Make sure to place a few modern black and white Christmas tree decorations on the table along with some ornaments. Found here.
12. Neutrals and Naturals
Sprigs of evergreens and mini Christmas trees provide pops of green, and the rest of this lovely living room is decorated with neutrals… white snowflakes, burlap and pinecones. Find out how to make the farmhouse style joy banner that's on the mantel over at the StoneGable blog.
13. Vintage Glamour
This vintage aluminum tree is trimmed with a unique combination of red, pink and purple ornaments, giving it a funky mod sort of feel. To get this look, simply buy an artificial silver tree and leave out all of the blue and green ornaments. Read more about the look here.
14. Bring Nature Indoors
These spaces are filled with lush shades of green – boxwood wreaths, bulbs and fresh foliage. They lend a natural touch to the already festive spaces without going over the top. Check out this color scheme and many others over at the Florence Finds blog.
15. Technicolor Christmas
Go bold if you dare, with this technicolor themed holiday setup which uses just about every color under the sun. The bright, saturated colors are a fresh take on the traditional red and green combination that has become so popular. Read all about it over at the always colorful Bright Bazaar.
16. No Fuss Simplicity
This living room has a low maintenance setup that doesn't require all that much time to put together, but its simplicity is the genius behind it. You can easily get this look in your own home by placing a small evergreen in a basket and decorating the mantel with a series of candles. Found here.
17. Silver, Silver and More Silver
This silver tree is a showstopper, the perfect accent in a very monochromatic and modern loft-style space. The white lights and silver ornaments give it even more of a metallic, almost industrial feel. Check it out along with lots of other unique Christmas tree ideas here.
18. Nautical Decor
This home has a tasteful nautical theme, with a thick rope winding around the banister along with starfish-embellished greenery. The key to successfully decorating your space with a similar nautical style is to use it sparingly. Head over to Coastal Living to see this and other ideas.
19. White and Blue
This dreamlike glamorous white tree is filled with beautiful light blue ornaments mixed in with a few silver and white ones for balance. Make your way over to Setting For Four to find out how to recreate this memorable look in your own home.
20. Minimal Decor
Minimalism can apply to holiday decorating, too! Here, a simply decorated white room is punctuated by a small Christmas tree with no decorations, and a thick knitted tree skirt. Check out more photos of this sophisticated space over at Dreamy Whites (and see more cute dogs, too!).
21. Cardinal Red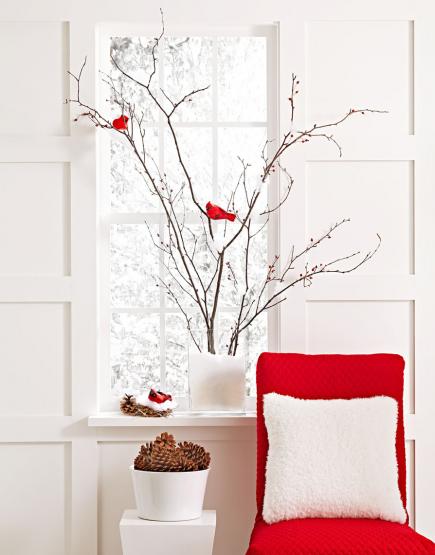 Using red doesn't necessarily mean that your space will look traditional; here, a trio of faux cardinals are attached to a tall vase of branches. Next to a simple bowl of pinecones, this looks quite stunning. Check out this and other nature-inspired ideas over at Midwest Living.
22. Christmas Noir
This dark, cozy space feels romantic with its black and gray textiles and flickering golden candlelight. If your home displays color sparingly, this might be a good look for you. Just decorate a leafless tree with a  few black and white ornaments and set a few festive monochromatic items on the table. Found here.
23. Beach Inspired Christmas
If you live near the ocean, you might consider decorating your living room like the one above with light colored decorations and subtle shell ornaments. Bonus points if you already have a ship replica on your mantel! Head over to Indeed Decor to check out this and a few other beachy Christmas ideas.
24. Chevron and Plaid
This cheery living room has some traditional elements mixed with some very contemporary details like chevron, polka dots, Moroccan lattice, etc. The key to this look is lots and lots of layers. Read all about the making of this room over at the 11 Magnolia Lane blog.
25. Cheeky Vintage
If you enjoy antiquing or thrifting, this final look may be the one for you. Beautiful mercury glass decorates the mantel, while wooden "stockings" hang from it. A few snowflakes add a wintery vibe. Check out Eclectically Vintage to see the rest of this gorgeously decorated living room.