25 DIY Gold Christmas Decor Projects That Will Bring Glam To The Holidays
Decorating your house for Christmas can be a nightmare, especially when you want everything to be perfect, or if you want to try your hand at DIY Christmas decorations.
However, there are a few tricks that you can use to make your Christmas decorations a lot more memorable, starting with the color scheme that you'll be using.
You see, nothing says celebration and abundance more than gold, but since we understand that not everyone can afford to actually buy golden Christmas decorations, there are plenty of paints out there that will do a fantastic job of replicating the look of that precious metal.
In today's article, we will be showcasing 25 different gold-themed Christmas decorations that you could try to use to make your holidays feel like a vacation spent at a royal palace.
Christmas is a special time of the year, and if you try hard enough, you might even be able to trick your friends and family into believing that Christmas is all about celebrating with kings and queens!
Best Golden DIY Christmas Decorations of 2021
Gold has had a long tradition of being everyone's go-to color when it comes to decorations, not just Christmas, but that doesn't mean that trends don't come and go.
So, while the color itself remains just as popular, what you do with it is something that people have been changing, and after doing some research into what everyone is talking about in 2021, we've compiled this list of 25 different decorations that you can try for yourself.
The article will be divided into two sections:
The first 10 entries are the hottest and most sought-after decoration designs of 2021
The other 15 are also very amazing, but they were more popular in past years instead
As for how we chose the entries, we also looked for those that could also be considered DIY Christmas decorations that you can make at home because not everyone has money for new decorations (even if they are fake gold).
Without further ado, let's begin our list of the best golden Christmas decorations that you should consider trying out this year!
1. Gold Christmas Tree Decorations – Golden Globes
There's no way you can start a list of Christmas decorations and not talk about the ever-famous globes that you hang in your Christmas tree.
Well, since we're focusing on golden decorations right now, it goes without saying that our first recommendation as far as gold Christmas tree decorations go is getting yourself some golden globes.
They're cheap, they're available everywhere and you won't have to spend a lot of time trying to make them by hand since you only need some globes and some golden paint which you can buy pretty cheap at any hardware store (or you can use spray paint for easier application).
While, yes, they're not the most creative items on this list, you can't deny that they're a classic and will get any party started.
The only downside is that they might be a bit too common, which goes to show you how much people like them.
2. Gold Christmas Decoration – Golden Garland
After the all-popular Christmas globes, the second most popular Christmas decoration that we've all seen throughout the years is the garlands.
The best part about trying out golden garlands is that they are incredibly easy to find, since they all come in a metallic color by default, with gold being among the most popular ones.
If you want to use them as part of your Christmas Tree decorations, then we recommend getting a thin garland and wrapping it around the tree branches.
This will give your tree a more festive appearance without going overboard with the gold color.
Just make sure to pick up a high-quality garland that will last you for years.
After all, it's not about how much money you spent on your decorations, but how long they'll last and if they suit the style of the room where they're going to be hung.
As for other Christmas decorations, you could always try using them as table cloths or even as part of your home's wall decoration (gold is unlikely to go out of style anytime soon).
3. Silver and Gold Christmas Tree Decorations
Those of you that love jewelry know that when it comes to other metals, few look so well right next to gold the way silver does, and this little visual trick applies to Christmas decorations as well.
Sure enough, in the image presented above, you're only seeing silver and golden globes, but you can go ahead and try pretty much any other type of decoration as well, like garlands, ribbons, decorative candles, and even decorations that have both colors simultaneously.
However, make sure not to go overboard with the silver color if you want to continue presenting gold (there's nothing wrong with having both colors in your home, but make sure they don't compete for attention).
Another thing you should try is golden and silver party balloons as part of your Christmas decorations.
When it comes to Christmas decorations, balloons might not be the first thing that pops into your head (unless you're a child), but they're available pretty much anywhere and won't break the bank since they don't require gold or silver paint.
That being said, if our first entry seemed a bit too plain since the globes were only gold-colored, go ahead and spice things up with a bit of silver as well!
4. Silver and Gold Christmas Decorations – Leaf Garlands
If you liked the previous entry and agree with us that the mix of both silver and gold looks very nice, but are looking for something a bit more specific, we'd like to direct your attention to the silver and gold leaf garland displayed above.
Not only does it mix together the visual beauty of gold and silver, but you'll also be using natural supplies to make them since leaves are available pretty much anywhere.
To make a similar garland, you'll need:
Leaves (try gathering them as early as autumn since they are hard to find during winter)
A length of string or twine, although twine looks better thanks to its vintage look
Gold and silver paint (we recommend spray paint for easier application)
Once you have all the necessary supplies, follow these steps:
Paint leaves in a silver color and lets them dry
Tie a string horizontally around a couple of painted leaves (these need to be at least 4-5 inches apart from each other)
Repeat with as many leaves as you can fit onto one string going vertically this time, making sure there's enough space to cover the entire length of your string or twine.
Another way to include these leaves into your Christmas decor is to simply paint them and then spread them out at the base of the tree until the entire base looks as if autumn came by and left behind a golden surprise.
5. Red and Gold Christmas Tree Decorations – Red, Gold, and Rose Decorations
Another great color combination that you should definitely try out if you want to bring a bit of diversity to your Christmas decor si to mix the gold with some solid colors, and for those of you that are aiming for a very "royal" look, we recommend the following combinations:
Red and gold
Blue and gold
Green and gold
Purple and Gold
Additionally, there's always the option of using rose gold decorations as well, since that is yet another favorite color when it comes to jewelry, and it will also give off a very delicate and luxurious feel to whatever room you are decorating.
The key to making these colors look great together is to ensure that there's a clear contrast between the two, so one of them should be either darker or lighter.
As far as combining silver and gold goes, you can actually use it with all three of the colors we just mentioned (and more), but if you're going for a very classic look, then red and green are your best bet since they have been used for many years (also because they go really well with each other).
If you want to bring back memories from your childhood by using your favorite color combination that reminded you of Christmas whenever it was time for presents, then go ahead and try out anything that mixes red with white or green!
Now, when it comes to Christmas tree decorations, in particular, the red and gold color combination is definitely one that's pretty much considered "traditional".
6. Rose Gold Chrismas Decorations – Golden Stag
Some decorations are so beautiful that sometimes you actually feel bad about having to put them away once the winter holidays have passed, but you can avoid this by using decorations that aren't too "Christmasy", but still work well together with the other dedicated Christmas decorations.
For example, just take a look at the rose gold stag statue illustrated above, and notice how well it goes with all the other decorations there, which are also rose-colored, gold, and rose gold.
Of course, such decorations may seem too specific, but you can go ahead and try out a different kind of statue if you can't find one similar in any store nearby, just as long as it looks like it belongs to a Christmas setting.
More so, if you have a hobby of making wood or clay sculptures, you can go ahead and make your own little statuette, and then use some rose gold or regular gold paint to make it yourself.
In addition to this color combination being exceedingly elegant, it's also very easy on the eyes, which is why many people choose these colors for their wedding decorations as well (in fact, you could say that they are a must if you want your wedding to be remembered).
So if you're looking for something that's a bit more neutral (meaning it can be used outside of the winter holidays), then make sure to bring out all your rose gold decorations!
7. White and Gold Christmas Decorations – Gifts with Golden Ribbons
If you go ahead and ask a child what they're most excited about when it's Christmas, pretty much all of them will tell you that it's the presents (and those that don't are probably lying).
Well, the presents come packaged in boxes which in turn are wrapped in fancy paper, and these too can be elements that can contribute to a Christmas holiday with a golden theme.
Just take a look at the picture above and notice how nice the combination of white and gold looks, making you think that whatever is inside of them is most likely very expensive.
If you already bought the presents and all you need to do is wrap it up, then you'll need the following:
Several rolls of glossy white wrapping paper (we recommend that you look for pearlescent paper)
A roll of gold ribbon to tie the knots of the presents
We won't go into the details regarding how you should wrap the presents, since there are plenty of YouTube video tutorials out there that show you how to wrap a gift, and how to make a fancy-looking knot.
Bottom line is that whoever will see presents that are wrapped up like this will end up being very excited about what's inside (unless of course, they've been naughty, in which case they will find a lump of coal).
8. Blue and Gold Christmas Decorations – Assorted Globes
Another "regal" color combination is that of blue and gold, and this one is particularly efficient precisely because yellow contrasts most with blue, so anything that uses both colors will really stand out.
Well, if "standing out" is what you're looking for this Christmas, then you should definitely go for blue and gold Christmas decorations, especially if you manage to find decorations for the entire room (or house for that matter), that incorporate both colors.
Although there are definitely many things that you could use for this, we recommend that you start with globes, like the ones seen above, and the best part about this idea is that, even if your local store doesn't have decorations that have both blue and gold, you can just buy gold ones and blue ones and mix them together.
Whichever the case, every single time someone will enter a room where these kinds of decorations have been used to decorate it, they'll stop and wonder what they're looking at.
The simplest explanation is that you have some vintage kind of decoration that's been updated with a modern twist by the introduction of blue and gold colors.
But regardless of whether or not people will understand your intentions, they will definitely appreciate how nice these look!
9. Gold Table Decor – Golden Christmas Candles
Christmas lights are definitely something special, but did you know that in the beginning, before electricity was invented, people used lit candles as Christmas decorations?
Well, candles still have a certain charm, and while no one is hanging them in trees anymore, they still light up a few and place them throughout the room so that they can emanate a warm yellow light that contributes to that Christmas magic.
Well, if you too are going to stick to candles, then we recommend that you find yourself golden ones. Not only are they pretty common, but the natural yellow light that they emit will look amazing as it reflects off of the candle's golden surface.
Candle-based decors also make great Christmas dinner table centerpieces, so if you were trying to come up with an idea for that as well, you'll be shooting two birds with one stone just by using golden candles placed on your table,
We won't get into any specifics here regarding how exactly you should decorate your table, since this depends on the kind of decoration that you have chosen for the rest of the room, but we do suggest that you look for dark colors to use as "contrasts" against the gold color, or complementary colors, like silver, or rose gold.
10. Christmas Painting Ideas – Golden Nails
No one ever said specifically said that Christmas decorations have to be things that you place around the house, and you yourself can be part of the golden decor this Christmas.
While wearing a sparkly gold dress or suit may seem a bit too much, like something out of a Las Vegas movie, you can still go ahead and wear gold in a more subtle manner.
For example, the ladies have it for easier, since they can use golden eye makeup, or they can even try to make a golden manicure, just like the one showcased in the picture above.
Golden nail polish is incredibly easy to find, and you don't have to pay too much for it either, especially since you're only interested in keeping your nails done that way for up to a week (if you plan on holding the New Year's Eve party as well).
As for the men, we recommend a combination of a black suit with a golden tie, or a regular black or navy blue suit, and wear as many gold-colored accessories as possible (watch, cufflinks, tie pines, etc).
Either way, many people will definitely appreciate the effort that goes behind such details and whether or not they say anything about it (they will most likely keep their thoughts to themselves), they'll surely notice it.
More Simple Christmas Decor with Gold Motifs
Now that we're done showcasing the most popular gold Christmas decorations of 2021, it's time we move to the next part of our article where we'll mention 15 of the most popular entries from past years.
Keep in mind that while trends do change, they don't change too much in too little time, so there's a high chance no one will notice that you're trying something that was popular in 2020.
Besides, it's not like gold-themed Christmas decorations are all that common, so guests won't probably be able to tell the difference between something that was popular last year, and whatever is the latest rage this year.
11. Gold Christmas Decorations
Create some cone trees and then display them on the mantle. Dip them in glittering golds, of any kind, for a sparkling and glam finish. Check out the details atWhatever.
12. Christmas DIY – Tree Branches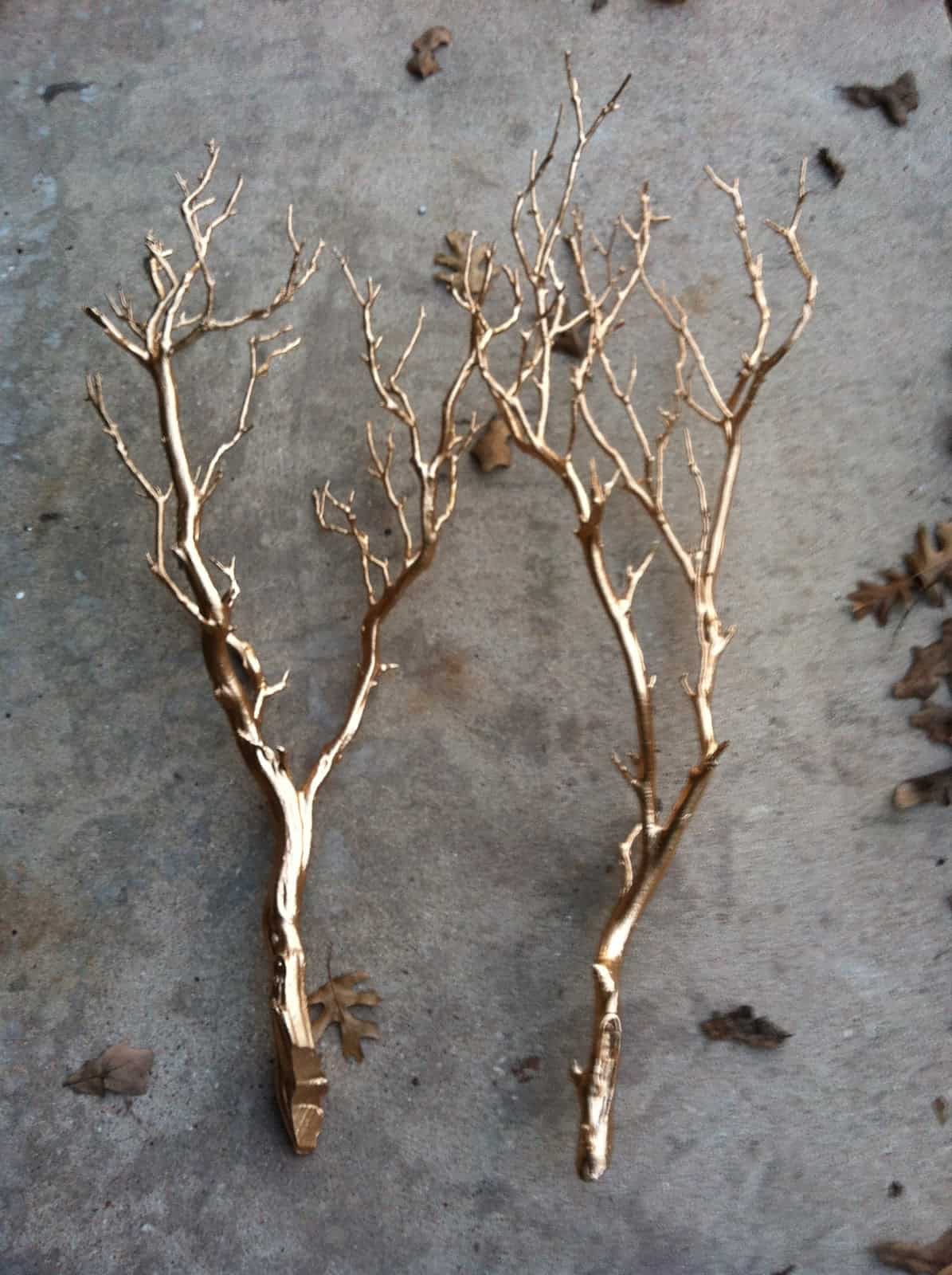 These tree branches can be used in so many different ways around the house. Create new arrangements in various vases by utilizing these! Learn how to make them at Maureen Stevens.
13. Gold Christmas Decoration – Rich Mantle Tradition
This living room mantle has so much richness and tradition behind its styling at Balsam Hill. You can easily whip this up too. Use some older pieces you have lying around and maybe use some spray paint to add warmer, bolder gold tones.
14. Vase Fillings – Gold Table Decor
You can always grab your vases and start filling them up with golden bits. We love the ornament idea because its super simple and effective for festivity as well. Check it out at Southern Living.
15. Champagne Trees – Gold Christmas Decorations
Pottery Barn has so many beautiful pieces to sift through but also a ton of styling inspiration as well. Just check out this gorgeous scene that incldues champagne glitter trees!
16. Gold Throw Pillows – Simple Christmas Decor
You could even DIY your own Christmas throw pillows if you'd like – and display your love of gold. Visit PopSugar to learn all the ins and outs behind this one. Or use it as a DIY option!
17. Window-Hanging Ornaments – Gold Christmas DIY
Cuckoo4Design whipped up these hanging window ornaments and we're swooning. Not only is this a unique idea, but it adds so much festivity and glamour to an unsuspecting space. Visit now for the details.
18. Golden Bells Christmas Decoration Idea DIY
Nevermind to silver bells, check out these golden ones! Used to accent Christmas trees and wreaths, they're such a pretty addition. We found this scene at The Creativity Exchange.
19. Christmas Village – DIY Christmas Decoration
This Christmas Village is a fun DIY project and its filled with gold appeal. Of course it can be personalized to fit any color choice, it's such a beauty in the metallic neturals. Check out the details at Nesting Place.
20. Gold Christmas Decoration – Reindeer
View Along the Way utilized the antler trend. These golden reindeer would be perfect for foyer gallery walls or even inside the wreaths!
21. Rose Gold Christmas Tree Decorations
When we're talking about golden Christmas decor, we have to include some rose gold trends. From the tree to the coffee table, this feminine metallic shade is such a beauty. We're especially inspired by this space from Blondie in the City.
22. Gold Table Decor – Painted Leafs
This golden, leafy table runner from Interiors Online is such a beauty. It's a great way to create focus at the dining room table and it's something you could DIY yourself. Grab an inexpensive, faux leaf vine and some spray paint!
23. Nutcracker Mantle Christmas Decor
We love this nutcracker-accented mantle. But what we love even more is the tinsle garland that's added to the finished scene. Take a look at more by visiting Emily Henderson.
24. Glitter Banner – Gold Christmas Decorations
PopSugar has the know-how behind this gold glitter banner as well. Use it on the mantle, in the dining room, or even in the kids' playroom. It's simple, easy, and festive – what it should be!
25. Monochromatic Gold Christmas Tree Decorations
Here's a peek at a gorgeous monochromatic gold and cream living room from Randi Garrett Design. Full of stunning, glittering accents, it's a gorgeous example of how you can bring in that glam, Christmas style into all nooks of the shared, family space.
Best Gold Christmas Decoration: Closing Thoughts
Our golden list has come to an end, and we hope that among our 25 ideas you've found at least one gold Christmas decoration that you really liked and are thinking of trying out.
This is not to say that gold Christmas decorations are the only ones worth trying out, but we do think that they're among the most popular and simple ones, so if you're really struggling with coming up with new ideas for this year's decoration of your home, then gold may be a great answer.
We will end our article by mentioning that while golden décor items tend to get quite expensive during this time of the year (when demand goes high), we recommend against making pricey purchases and instead opt for decorations that you've made yourself.
Not only is this the only real way you can make sure that they will turn out how you like them, but the act of crafting decorations can itself be a very fun activity that both you and your loved ones can enjoy doing together.