50 Magical Unicorn Recipes That Will Surely Make You Smile
With a bit of magic, and tons of tutorials, you too can create some trendy, beautiful food in your kitchen. Unicorns are the "it" bit of inspiration for everything. From our hair to our morning toast, this fictitious creature is inspiring style in every corner of our lives. And these 50 magical unicorn recipes will surely make you smile and surprisingly taste good too!
1. Unicorn Hot Chocolate
Love & Olive Oil whips up this magical unicorn hot chocolate that's perfect for winter birthday parties and nights in with the girls. Don't forget the sprinkles!
2. Unicorn Meringues
If you visit Momdot, you'll be able to grab this recipe for unicorn poop meringues that will round out your kiddo's slumber party with sweetness and color. Perfect as party favors or just a bit of fun in the kitchen with your little ones.
3. Unicorn Smoothie
The Chic Life makes a smoothie with unicorn style too. Start off your mornings with a bit of magic.
4. Unicorn Sweet Dip
Cheesecake dip sounds delicious, does it not? Chocolate Covered Katie serves hers up with a bit of color and graham crackers on the side.
5. Unicorn Ice Cream
Bread Booze Bacon went the extra mile with this one. Hop on over and grab the recipe for this unicorn ice cream. Chocolate sauce not included.
6. Unicorn Sugar Cookie Bars
Here's another fun dessert to serve up at birthday parties, showers or just weekend slumber parties! The kids will have fun decorating these ones too!
7. Unicorn Waffles
Even your waffles can get a unicorn makeover. Just visit Momdot for all the details.
8. Unicorn Bark Milkshake
Beth Cakes combines candy bark with all the delights of a milkshake in this pink and sensational sip. Grab the recipe after the jump.
9. Unicorn Sprinkle Explosion Bark
Unicorn magic was definitely used throughout this sprinkle bark creation from Peony + Ink. These too are perfect for party favors or just as something fun for the entire family to indulge in.
10. Unicorn Truffles
Princess Pinky Girl went with truffles that are full of sweetness and full of pastel tones too. Bite into one of these delights by the weekend.
11. Unicorn Cupcakes
These cupcakes have unicorn trend written all over them. This recipe from PopSugar includes a horn!
12. Unicorn Cheesecake
Instead of just dip, your entire cheesecake can be inspired by the unicorn frenzy. A bit of color can really go a long way within your desserts.
13. Unicorn Frappuccino
If you loved the Starbucks unicorn frapp then you'll want to visit PopSugar. They have a copycat recipe you can snag!
14. Unicorn Sushi
One Green Planet went with something that one would never think to associate with the magic of these fantastical creatures. Even your sushi can be made over into the unicorn scene.
15. Unicorn Toast
We're loving the unicorn toast we've been seeing flying around the web too. And thankfully, Vogue has all the details behind these beauties.
16. Unicorn Smoothie Bowl
The Chic Life starts their mornings off right with a smoothie bowl too! Just grab the ingredients after the jump.
17. Unicorn Noodles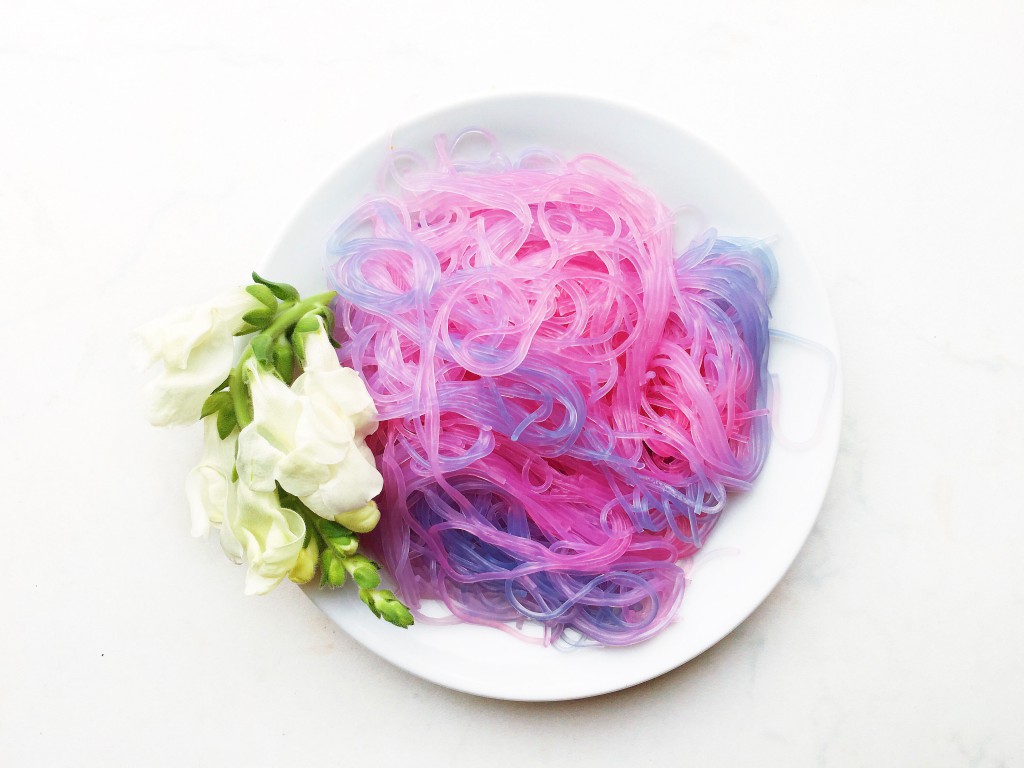 The Indigo Kitchen wowed us with these gorgeous noodles. And now you can wow your dinner guests with a nod to unicorns too.
18. Unicorn Doughnuts
Of course you can whip up a batch of doughnuts that indulge a unicorn's style as well. And again, you can't forget the sprinkle.
19. Unicorn Fudge
We found more food that could become the perfect favor to your next celebration. Learn how to make unicorn fudge over at The Novice Chef.
20. Unicorn Popcorn Snack Mix
Sweet T Makes Three knows how to serve up sweet snacks for a party. This popcorn snack mix is perfect for all kinds of celebrations!
21. Unicorn Layered Smoothie
Here's another smoothie that was inspired by what we all love: unicorns. It's layered with yummy flavors and good for us too!
22. Unicorn Pretzels
Fork & Beans made pretzels that actually look like unicorns. Obviously, this one is a personal favorite of the bunch.
23. Unicorn Shortbread Bites
Any recipe that invites in a beautiful bout of colors will have that same, magical feel. And these shortbread bites from Pink Piccadilly Pastries have just that.
24. Circus Animal Cookies
Cooking Classy whipped up these adorable circus cookies and we couldn't help but think of how easy it could be to add a unicorn to the mix. The coloring is already perfect!
25. Rainbow Cookies
Miss Blueberry Muffin went literal with her recipe too. Jump through the link and grab this recipe too!
26. Unicorn Ice Cream Cake
Why go with unicorn ice cream when you can go with unicorn ice cream cake. Details over at The Skinny Fork.
27. Marshmallow Unicorn Sprinkle Sandwiches
Sweetapolita made some dessert sandwiches that literally looked sprinkled by unicorns themselves. Find out the details by visiting now!
28. Unicorn Rainbow Donuts
We're loving these rainbow donuts from The First Year. And what unicorn doesn't like being accompanied by a beautiful rainbow?
29. Unicorn Piñata Cupcakes
Sally's Baking Addiction went with the unicorn theme as well. And you see it once you bite onto these cupcakes.
30. Unicorn Muddy Buddies
Momdot has more snacks for us to choose from. Muddy buddies with a pop of girlish charm are both pretty and delicious!
31. Unicorn Sundaes
Cutefetti made unicorn sundaes that could be another great accompaniment to a night with friends. Or even an interactive activity at a birthday party!
32. Marble Unicorn Cookies
Lauren Conrad inspired us with these marbled beauties. Thank you gifts, favors and beyond; these will wow your loved ones.
33. Unicorn Floats
Even The Bewitchin Kitchen become inspired by the unicorn food trend. This ice cream float could be more colorful and sweet!
34. Edible Unicorn Cookie Dough
Love From The Oven combined two trends in one. You get edible cookie dough to go with a dash of unicorn style in one.
35. No-Bake Unicorn Cookies
These no-bake cookies have some unicorn flair too. Sprinkles go a long way with this trend, as you can see.
36. Funfetti Softbaked Unicorn Cookies
Averie Cooks have sprinkle cookies that go with this same vision as well. But this time, they're baked.
37. Strawberry Milk Unicorn Ice Pops
Sprinkle Bakes had up drooling over these strawberry milk pops. They're adorable, they're delicious and they have a hint of unicorn flair to fit in with whatever magic you have planned.
38. Unicorn Horn Cupcakes
We found some more horned cupcakes over at Kara's Party Ideas. Visit now for more inspiration!
39. Funfetti Cookie Unicorn Sandwiches
These cookies sandwiches will take a bit of work to recreate but they'll be so worth it! You can even switch it up and do pink icing with blue cookies!
40. Soft-Frosted Unicorn Sugar Cookies
Life Made Sweeter made sugar cookies too. But they left the unicorn styling right on top. It's another great way to get the kids in the kitchen with you!
41. Vegan Unicorn Frappuccino
Feasting on Fruit made a unicorn-inspired Frappuccino treat as well. But this time, it's vegan!
42. Mason Jar Unicorn Cake
Mason jar cakes can be so fun (and convenient) to create. Thankfully, we found a colorful, unicorn recipe to fit those benefits as well.
43. Unicorn Favor Food
Sprinkle Bakes inspired us with this little pail of unicorn treats. How adorable would these be on a themed birthday party table?
44. Blue Buttercream Unicorn Bars
Check out these fluffy pieces of heaven from Cookies and Cups! Blue buttercream and sprinkles for days, we love food that's both festive and yummy!
45. Unicorn Parfaits
Homemade Hooplah went a route similar to the sundaes. Perfect for sleepovers or to make an activity for the kiddos at the celebration!
46. Unicorn Dream Marshmallow Bars
No. 2 Pencil took Fruity Pebbles and made something even more magical with them. Top off your unicorn party with one of these sweet bites.
47. Unicorn Cheesecake Bars
Chocolate Covered Katie whipped up a batch of unicorn cheesecake bars. Add sprinkles, or don't, whatever you fancy works.
48. Unicorn Cupcake Cones
Momdot went with the unicorn "poop" theme with these cupcake cones and we're in love! Again, perfect as favors or jazzing up the birthday table.
49. Unicorn Candy Bark
Hello, Wonderful went all out with this candy bark recipe. Hop on over now and snag the recipe!
50. Cotton Candy Unicorn Popcorn
Bitz & Giggles finishes off our list with this beautiful cotton candy-flavored popcorn. Parties or just to snack on for movie night, it's a fun recipe!