These 40 DIY Rustic Wedding Ideas Will Help Finish Your Vision
Country-flavored with a sprinkling of shabby chic style, these 40 DIY rustic wedding ideas will boost your planning and make things a bit easier in terms of vision. Don't stress and don't fret either. You can create the celebration of your dreams by following along with some of these stylized projects below!
1. Wooden Calligraphy Signs
100 Layer Cake starts us off on some DIY rustic wedding ideas with this beautiful calligraphy sign. With a piece of wood and some paint, you too can create something equally as magical for your wedding. Whether it's for the ceremony, the reception or used as a photo-op, these are so easy to recreate and personalize.
2. Feather Boutonnieres
There's something rather rustic about feather accents as well. And over at The Knot, we got a taste of some feather boutonnieres that are easily recreated right at home. Whether it's just for the groom to stand out or for the entire groomsmen party, have the gals get together and get creative before the big day comes to call.
3. Naked Cake
Naked cakes are super trendy right now especially within the rustic genre. And thanks to Brit + Co, you can learn how to create one inside of your home kitchen with a lot of ease. You'll get to have fun styling it though. Between fresh fruits, florals and all of the handmade toppers we see floating around Pinterest, it'll be easily to personalize it to your liking.
4. Printable Save-the-Dates
You can even create some of your very own save the dates with a rustic vision. Hop on over to The Pretty Blog and check out this charming printable. Put in all of your personalized info and start sending out the necessary info to all of your family and friends.
5. Wooden Cheese Trays
A Charming Fete provides wonderful inspiration in the realm of rustic weddings. You can even DIY or put your own touch on the wedding by adding some easy bits throughout the event. Using wooden chargers and trays for guests to enjoy is just another great way to add interest to photos and help transform the vision.
6. Fresh Fruit Place Cards
Instead of buying a bunch of expensive place card holders or spending entirely too much time DIYing them, take this even simpler handmade approach. Fresh fruit has a natural style and an easy appeal. All you need is to handwrite the tag! Thanks for the idea Dear Stacey.
7. Golden Bottle Centerpiece
Add a bit of gilded glamour to your rustic affair by recreating this bit from Wedding Chicks. Some old bottles can be dipped in gold paint to create a handmade and "shabby chic" finish to the reception tables. Just make sure you drop a bud or two in each of the bottles.
8. Rug Aisle Runner
So you may not be handmaking these rugs from scratch but it's another way to put your own, DIY stamp on the day. Don't rent an aisle runner, just grab a funky old rug from the closet or find one at the flea market to transform your ceremony site. We're loving this trend featured over at Brit + Co.
9. Wooden Mr & Mrs Signs
Brit + Co showed off these adorable Mr. and Mrs. wooden signs. And, of course, they're super easy to recreate. Again, all you need is some wood and paint to whip these up. Use them at the reception site, in a photo booth or at he sweetheart table!
10. Pallets & Floral Photo Backdrop
Love and Lavender gave us a great idea for a backdrop that you can easily make at home. With some wooden palettes and fresh flowers, it'll become a great way to jazz up the ceremony or use as a photo-op before or after the vows are exchanged. It also adds a bit more femininity into the rustic celebration.
11. Bare Reception Tables
Ditch the tablecloth and go bare! Intimate Weddings provided us with the inspiration so we're showcasing. Wooden tables at a rustic wedding don't need any tablecloth and you can ditch the bill to rent them too. Bare tables are just another way to put an easy, handmade touch on your DIY-filled day.
12. Hanging Floral Chandelier
If you're really crafty, you can even recreate one of these floral hanging chandeliers. Wood and flowers are all you need to get started – and a design, of course. Style Me Pretty always has some gorgeous, real-life inspiration and this one was definitely high on the list for unique, rustic weddings.
13. Whiskey Bottle Favors
Wedding Paper Divas gave us a great idea for a wedding favor that you can make right at home as well. Have you ever made your own whiskey? Well, you can now. And then you can bottle it up and send it off with your family and friends to have a try.
14. Table Lights
Check out these fun table lights from Green Wedding Shoes!  Rustic themes coincide well with industrial style, and that's what these bits are reminiscent of. Use them to mark the tables or place settings while using them as favors too!
 15. Wooden Box Floral Arrangement
Add a bit of uniqueness to your floral arrangement. Brit + Co gives us a step by step tutorial on how to make this happen for your wedding. You don't need a florist to create it. Your own two hands can easily bring it to life.
16. Memorable Accent Signs
You can create some memorable accent signs with some wood palettes like you see here at Brinton Studios. Create something special for the ceremony, reception or around the seating areas with just a strike of some paint. Have your bridesmaids help out with this one!
17. Sweetheart Floral Chair
Martha Stewart Weddings shows us how to create a chair that's extra-special for the bride and the groom. Although you can easily use this idea for the bridal shower, creating this same effect at the wedding is great too! Mark the bride and the groom in a beautiful way with a bit of creativity.
18. Wooden-Framed Photos
Brit + Co had this genius idea hidden up their sleeves. Although it can be used at all kinds of weddings, these wooden frames scream rustic! Having some extra-large family photos spread throughout the celebration is a great way to signify what the day is truly about and that's bringing together two families to make one.
19. Vintage Ladder Display
Do you have an older, wooden ladder hanging around? If so, you can easily DIY your very own reception decor. Just check out this beautiful display from Rustic Wedding Chic that an grab inspiration from and recreate for your own big day.
20. Barrel Cocktail Tables
Barrel cocktails tables are the perfect way to add rustic flavor and charm to the reception. And they're so easy to make. An older barrel topped with a piece of glass is literally all you need. Your family and friends will be able to enjoy their bites and sips in a way that's detailed and right in the style niche.
21. Bud Vase Centerpieces
Country Living suggests that we make our own centerpieces with a collection of bud vases. This scheme is so simple that it can't be messed up. It also fits in easily with a country-flavored, rustic styling. Just choose your petals and pop them right in.
22. Driftwood Candelabra
If you're feeling adventurous and want to take on an even bigger project, then Green Wedding Shoes has the DIY of your dreams. Create this driftwood candelabra and ignite your ceremony or reception with its romance. Whether you want to fill it with succulents or petals is completely up to you and your personal vision.
23. Chalkboard Wedding Program
There's something extra special and rustic about a chalkboard as well. Create your very own wedding day program with one! We gathered this bit of inspiration from Style Me Pretty and love the fact that you save both money and time by going this route.
24. Wire Orb
Ruffled featured these delicate wire orbs and we couldn't help but start thinking of all the possibilities that they can create in the décor department. Jazz up the ceremony chuppah or add some sparkle to the nooks and cranny of the reception venue. Follow along with the tutorial after the jump.
25. Painted-Branch Chair Decor
Here's another fun way to way to mark the sweetheart table and the bride and groom's chairs. Country Living showed off how to take some branched and dip them in gold. It's simple, it's wedding-worthy and adds that pop of rusticism to the event all at the same time.
26. Floral Initial
Pinterest, as we know, has so much inspiration floating around its pages. But when we stumbled upon this idea, we knew that it was fitting for not only a rustic wedding but for a DIY-lover. An initial and some fresh – or faux – flowers is all you need to get your creativity off the ground. Both decorative and for photo-op purposes, it's both functional and fun.
27. Beer Bar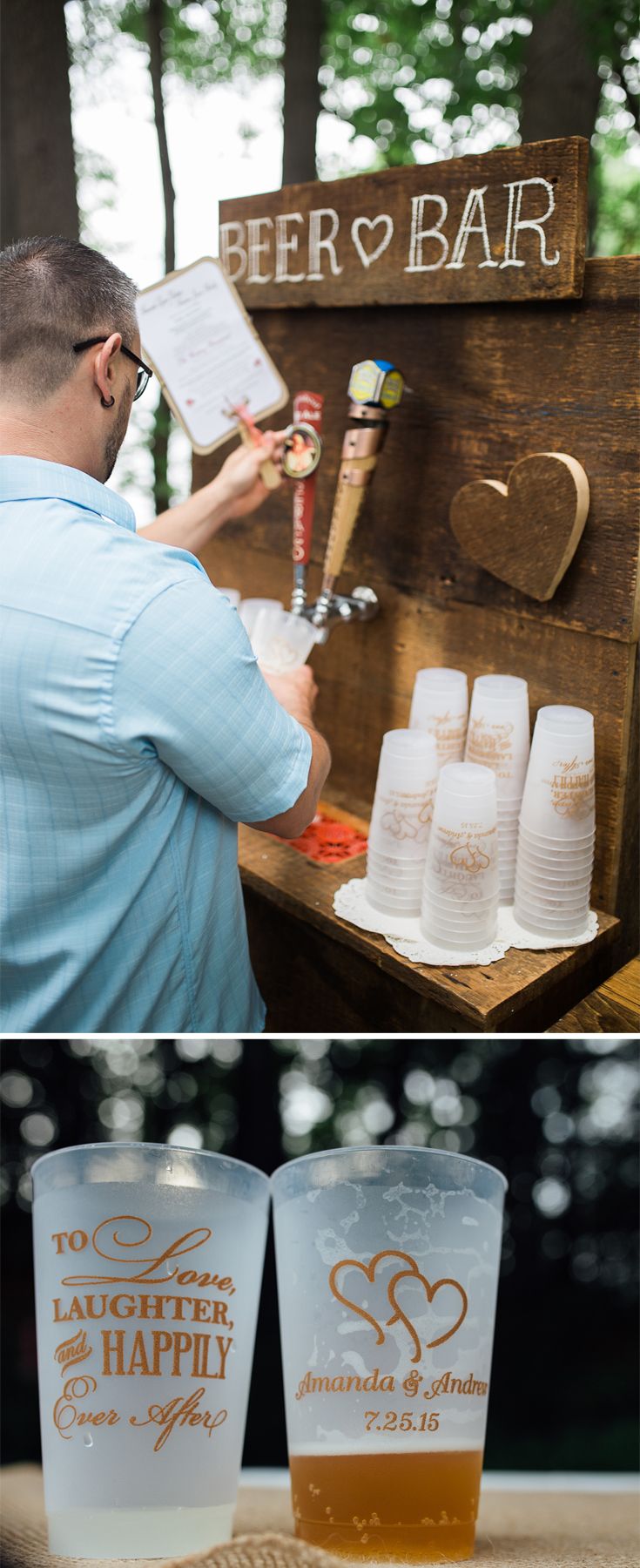 There's truly nothing more rustic and downhome than a cold glass of beer. So, it's only fitting that you create a "beer bar" for your friends and family to celebrate with. Create glasses as favors and have them trying some different flavors throughout the night.
28. Fruit Stand
Intimate Weddings set up a fruit stand at their rustic affair and we love it! It adds color to the day but also provides that cozy, home feeling that these kinds of styles radiate. Grab a fruit to refresh and use them as favors too!
29. Gold Leaf Garland
Here's another simple, easy-to-replicate idea from Pinterest! Grab some real leaves or faux leaves and start dipping them in gold. Attach them to some wire and then use them to highlight different nooks and crannies of the day's events.
30. Family Photo Display
Check out this impressive family photo display we found over at You Mean The World To Me. This is a great way to incorporate both families and signify the union between the two. But it's also a great way to create photo opportunities and fill in dead space around an outdoor venue.
31. Animal Escort Card Display
Country Living created some farm-inspired place cards. With some plastic toys and spray paint, you can do it too. And then guests can keep them as a memory from the day's events. It's a polished way to pay homage to the rustic style.
32. Pinwheel Accents
Clever Wedding Ideas will teach you how to make some pinwheels. In whatever color you choice, you can highlight your signature cocktails or the ceremony site with big and small designs. It's just another way to add some homey spirit to the celebration.
33. Giant Paper Flowers
Here's another piece of decor and photo-op that you can make right at home. Just check out the fun tutorial over at Design Sponge. These giant paper flowers will add a bit more romance and femininity to a rustic wedding.
34. Pallet Outdoor Seating Arrangement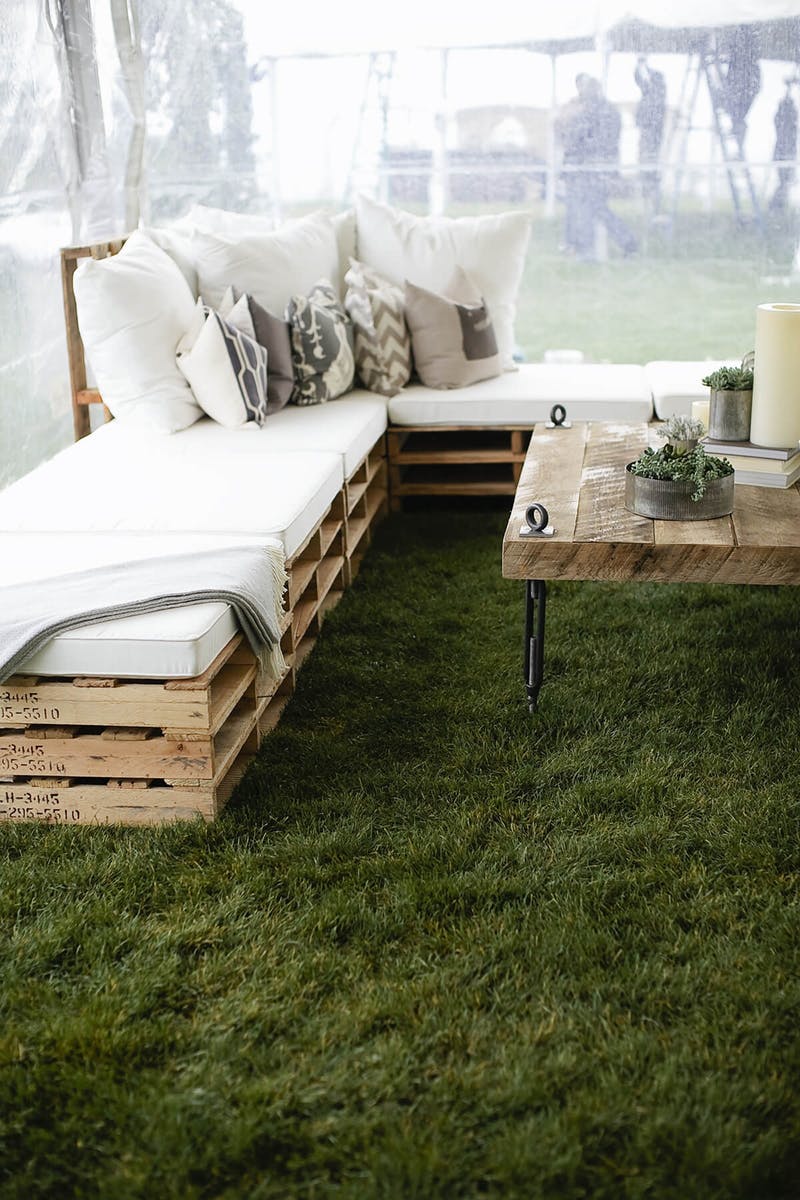 You can even learn how to create some custom seating for your wedding. Some pallets are all you need to get started. Just take a peek at what your end result could be with this bit of inspiration from Style Me Pretty!
35. Wooden Table Number Slice
Brit + Co made some rustic table numbers that didn't take too long either. They have an easy tutorial to follow after the jump. And you won't believe how many different ways you can style them to create a new end result.
37. Tea Cans and Flowers Centerpiece
Style Me Pretty had this idea up their sleeve as well. It's just another way you can create and design your own centerpieces. Grab some old tea cans and fresh petals, then have a go on the creativity behind the tables.
38. Painted Mason Jar Display
Add some mason jars to the mix as well! The Knot showcased these painted cuties and we had so many ideas for them the moment we took a look. From the ceremony aisle to the centerpieces, they can help decorate in a lot of different ways.
 39. Felt Flowers
You can even ditch the fresh flowers if you'd like. Over at Something Turquoise you may learn how to make a bouquet filled with felt! It has that rustic charm and unique appeal as well as a budget saver.
40. Homemade Candle Favors
And finally, if you visit PopSugar you'll be able to learn how to create some scented candles to use as favors. Decorate them with some twine or a fresh floral or two. The best part about these kinds of favors is that they're budget-savvy and functional too!