15 Beautiful Knitted Shawls for Beginners
As most knitters know, there's a period of time in every beginner knitter's experience where they know enough to make neat things, but those things are slightly limited. When we first started knitting for beginners, for example, we made such a huge pile of scarves, hats, and dishcloths that we eventually started having to give them all away to our friends because we had nowhere to put them. One day, we woke up feeling feisty and decided it was time to take on something a bit more challenging. That's where shawls saved the day! Depending on the pattern and construction, knitting a shawl can be just as easy as knitting a hat or scarf, but after months of making the same thing, many people find them more satisfying and versatile to wear.
In case you're a beginner knitter who's ready to take the next step into something a little bit more satisfying, here's a list of 15 simple but gorgeous shawls that we've actually knit before, enjoyed at every step, and still wear to this day!
Are you ready to learn about yarn overs? Then the spindrift shawl is the perfect design for you! If you've already knit things like hats then you might already be familiar with the yarn over technique, but this pattern will let you get a lot more practice to really master the stitch. We love that, besides the outer panel, the rest of the shawl is a simple stockinette stitch, meaning you can concentrate on learning how to increase, decrease, and yarn over until you're confident. We're also completely in love with the idea of doing the main section in a speckled variegated yarn!
Have you mastered yarn overs like the ones in the shawl above and totally enjoyed them, but now you're ready to add another step into the mix? Then perhaps a bit of colour work in simple striping is what you need! This shawl lets you choose seven different colours to work with, giving the design variety, but it still keeps things quite simple, giving you the opportunity to learn something new without feeling overwhelmed.
Maybe you're so confident in your yarn over skills that you've had your eye on intricate lacy patterns lately, practically drooling over how fun they look even though they're intimidating? Well, before you take on something that's a little too complicated, try this garter and eyelet shawl instead! The techniques you'll use to make this simple mock lace version will set you up perfectly for making something a lot fancier next.
Have you always been a fan of variegated yarns, especially in really bright colours? We love those too, but we also know that sometimes you need a simple pattern to go along with them, otherwise your stitch work doesn't show or a complicated texture downplays the beauty of the yarn you chose. That's where a simple garter shawl like this one comes into play! It allows for a bit of simple knitting and a whole lot of colour appreciation, without boring you too much because you're still creating a little scalloped edge as you bind off.
When it comes to shape and size, the term "shawl" is a diverse one. Some shawls are closer to scarves or small shoulder wraps, while others, like this beautifully big triangle shaped shawl, are more like fashion blankets shaped perfectly for wearing around your entire torso! We love that this particular design is big enough to snuggle up in, but lightweight and holey enough to stop you from getting too hot while you wear it. Enjoy that breeze without getting chilly!
Are you so intent on mastering colour changes that you've been scrolling the Internet for hours just hoping to find something full of bright colours and stripes to really get your practice on? Then this rainbow shawl is exactly what you need! Whether you choose to match the original designer's scheme, pick a colour combination of your own, or get even crazier with your hues, you'll be satisfied and well practiced by the end of this awesome shawl that borders on poncho size.
Do you love the idea of a triangular or 3-cornered shawl but you'd like it to have a little more flair than just some neat yarn overs? Then this pretty Icelandic design might be more your style! We love the way the edge flutters out into loops that look almost lacy, even though they're a lot simpler to make than they appear.
8. Metropolitan Shawl by Lily Go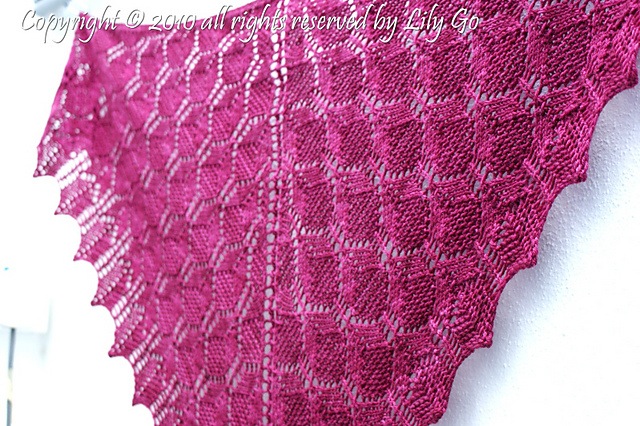 Okay, let's say you've tried a couple of these shawls now and you're totally still on a shawl kick, but you're ready for something just ever so slightly more challenging? Well, this particular design is still pretty easy, but it'll help you practice counting and pattern repeats a lot more effectively than some of the others you've seen on the list. It'll also help you learn how to do a picot cast off to get that pretty waving edge!
9. Shawl of Many Colours by Callie Beck
Despite being a beginner knitter, have you already built yourself up quite a stash? We don't blame you! Our stash practically few out of nowhere the day we picked up a pair of knitting needles, or at least that's how it feels! Instead of letting it go to waste, try making this brightly coloured and awesomely amusing triangle shawl! It'll use up your yarn ends no matter what texture they are and also help you practice switching colours, increasing, and decreasing.
Are you really just looking for a simple project that puts to work the easy stitches you can't get enough of? Perhaps you want something that you can do while you watch your favourite TV shows in the evening after work. Then a garter stitch shawl sounds right up your alley! This one switches things up between garter, stockinette, and a light yarn over pattern in the middle, but we still think you'll find the level of simple garter soothing and therapeutic to do.
Garter lovers rejoice, we've found another shawl pattern that's great for you! This one's also great for people who love texture but don't want to do an entire shawl made of yarn overs and careful stitch counts. Switch it up between the two and add some colour variegation for extra fun!
12. Garter Lace Triangle Shawl by Martha Waterman
The best parts of this shawl are all right there in the title: garter and lace! Of course, we've made sure to collect you some easy shawl patterns, just like we promised, so don't let the word "lace" here stress you out. This shawl features a very simple version of lace that's totally within your realm of skill, but will still help you work your way up to more complicated things that really look like the kind of lace you're probably picturing.
13. Striped Shawl with fringe by Ann Bourgeois
Have you really enjoyed the idea of some of the striped and rainbow shawls you've seen so far but, the more you think about it, the more you're not sure you want to cover yourself in horizontal stripes? Then try some that run in all different directions instead! The back of this shwl is horizontal, but the stripes comes down the front vertically from the shoulders and we're very into how it looks. Besides that, what's more fun that fringe to top off a look full of bright colours?
It's simple. It's elegant. It's the perfect size to be either a wrap, a shawl, or a scarf, depending on how you decide to wear it with your specific outfit that day. There really are only positive things to say about this pattern! It's also a pretty good build up project to lacier things, showing you how to count, yarn over, and make even holes without overwhelming you.
Knitting and puns are two of our very favourite things, so you can imagine how excited we were when we first stumbled across this craftily named shawl! We love that the stitch pattern itself is wildly simple, allowing a fun variegated or multicoloured yarn like this one to stand out well. This pattern will help you learn to pick up along the edges of a project to add a border in order to make that frilly little finish!
Do you know a beginner knitter who's been looking for a project that will challenge them but also give them something awesome to work towards? Share this post with them for a little bit of shawl inspiration!