50 Things to Knit for Beginners – Knitting for Beginners (2023)
Knitting can be intimidating if you've never done it before, but there are so many simple patterns out there that will get you started on your knitting journey without getting frustrated.
We're sure that some patterns are more difficult than others, but in the end, it's nothing that you can't handle with a little practice. After all, practice makes perfect, and that certainly applies to knitting. We're going to dive into 50 really awesome knitting projects for beginners.
Knitting for Beginners
As you seek to find a cool project to start knitting, we have a few ideas for you. We're sure you'll love most of these, so let's get started!
1. Basic Garter Stitch Scarf
This basic garter stitch scarf is the perfect pattern for beginners… it only uses one type of stitch throughout, and it will also give you practice making fringe. Head on over to All About Ami to check out lots of photos and to read the written tutorial. There's also a helpful video!
[amazon box="B07Z49LYC2″]
2. Cuddly Knit Cap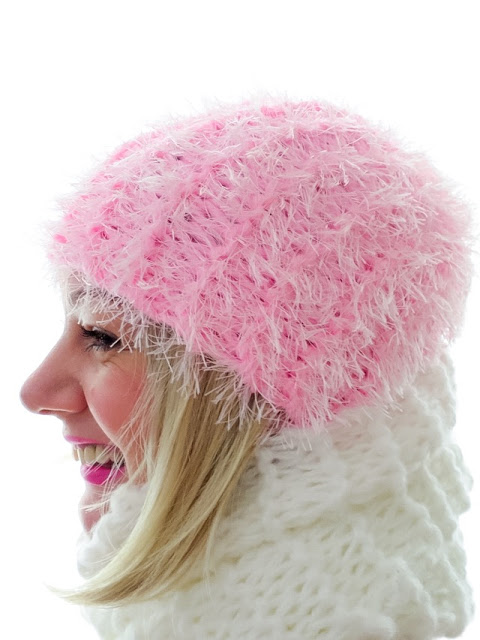 Thisfluffy pink hat is the perfect color to warm up a cold winter's day, and the fluffy yarn adds some extra coziness to the design. Make your way over to Frau Moin's blogto check out the full tutorial and pattern for this super easy cuddly knit pink cap.
[amazon box="0307462730″]
3. Bow Headbands Knitting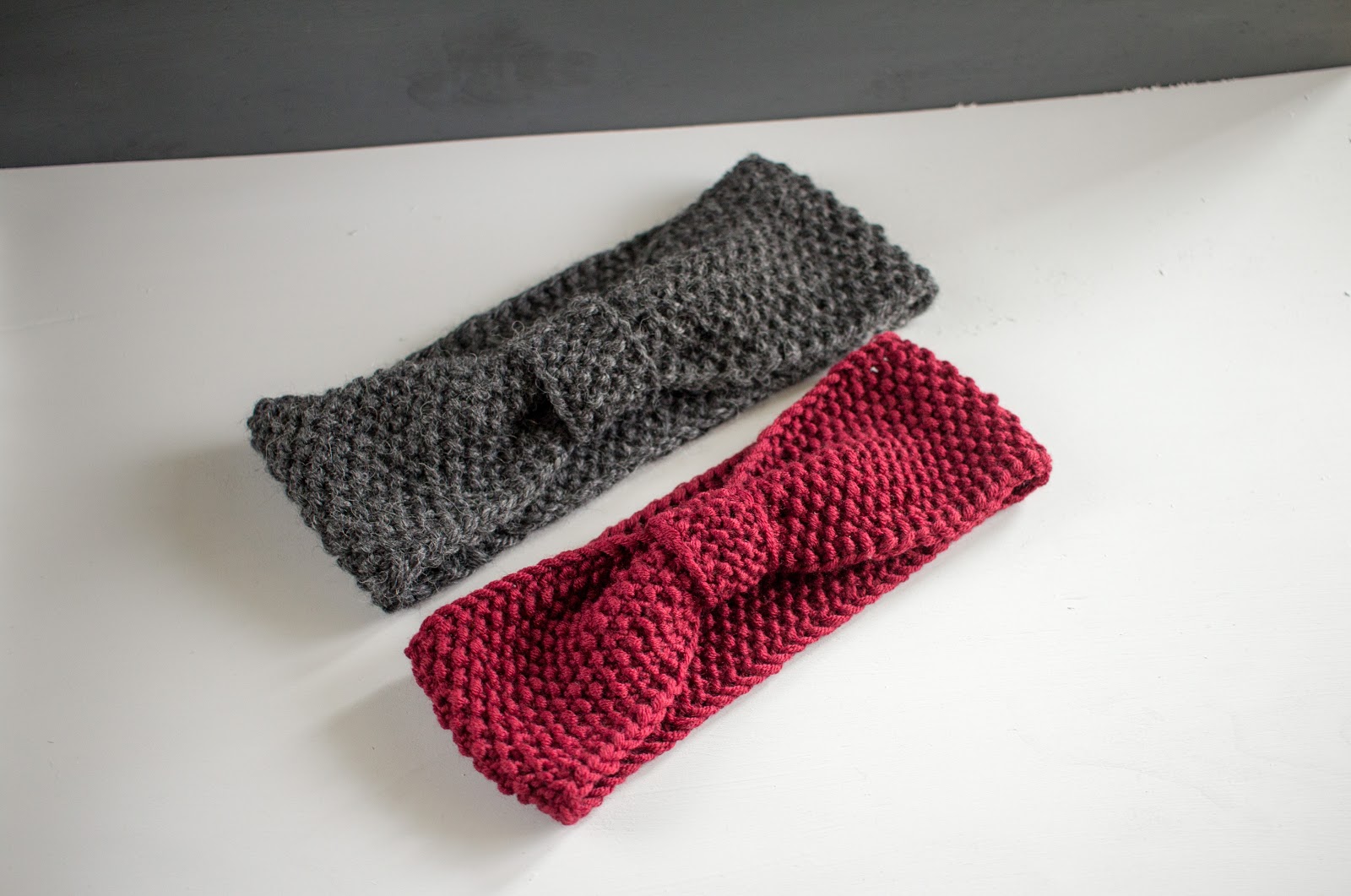 Headbands are handy in the winter for those days when you want to keep your ears warm but avoid the dreaded "hat head" that comes along with a tight cap. Head on over to the Green Bird blogto find out how to make this seed stitch headband for yourself.
[amazon box="B01N0TK5KY"]
4. Tassel Pillow Cover
Use up all those leftover yarn scraps you have lying around to make one of these pretty scrap-busting pillow covers. The tassels on the corners are the perfect finishing touch to this pretty piece. Check out the full tutorial and pattern over at Gina Michele's blog.
[amazon box="1942021690″]
5. Beginners Foldover Beanie Hat
If you know the basics of knitting, then this might be a great hat project to bring your skills to the next level. There's nothing super complicated about it, so don't be intimidated! Head on over to Things We Do to find out how to make your own foldover beanie.
6. Easiest Toddler Slippers
These adorable knit slippers are perfect for toddlers to keep their toes warm on even the chilliest winter night. They are incredibly simple to make, so they are perfect for novice knitters. Head over to Gina Michele's blog to check out the full pattern.
[amazon box="B012NBX39I"]
7. Kate Spade Inspired Hat Patterns
If you're a big Kate Spade fan, then you're sure to love this fun black and white striped slouchy hat. It is easy enough for beginners but detailed enough to ensure that people are shocked when you tell them you made it! Check out the free pattern here.
8. Chunky Knitted Pillowcase
Spice up your sofa or bed with one of these fun chunky knit throw pillows. Simply grab a pillow insert and some super bulky yarn to get started. Make your way over to What's Next? By Yukiko to find out all the details of this bold pillow cover.
[amazon box="1942021879″]
9. Fog Chaser Cape Knitting
If you're on the hunt for a good alternative to cowls and scarves, then this might be the perfect pattern for you. This beautiful fog chaser cape is made with circular needles and chunky yarn, so it won't take long to complete. Here's the easy tutorial.
10. Bear Beanie Pattern
If the little ones are in need of new hats, you might consider whipping up a few of these adorable bear beanies. They are done with a rib knit stitch, so they will stay put on the kids' heads. Check out the full beginner tutorial and pattern over at Small + Friendly.
[amazon box="B07ZZKVBJX"]
11. Mega Bulky Cowl
Despite the fact that this cowl looks like there's a lot to it, it's actually a super easy project that is perfect for beginners. The key is to buy the right kind of multi-color yarn! Head on over to Blitsy to check out the full tutorial and pattern for this pretty cowl.
12. Headphones Hat
Looking for the perfect baby shower gift to make? Well, look no further. This precious hat is made to look like the baby is wearing a big set of headphones. Talk about a crowd-pleaser… people will love it! Check out the pattern over at Gina Michele's blog.
[amazon box="B07DP37SLK"]
13. Summer Knit Clutch
Believe it or not, you can even make a stylish clutch out of yarn! This particular one is made with a light t-shirt yarn, and then it is folded over, and the sides are stitched up. Head on over to the Eat Me Blog to check out the full tutorial and free pattern.
14. Bulky Ribbed Cowl
Here's another beautiful cowl pattern, this time made with a ribbed pattern which will give it lots of stretch. It is finished with a few buttons, which can be added in two different arrangements for variouslooks. Check out all the details over at Mama In A Stitch.
15. One Square Stuffed Bunny
Besides being totally adorable, this little bunny is deceptively simple to make. All you need to knit is a square, and then the bunny is shaped by stitching the corners and across the middle. Head over here to check out the photos and full tutorial.
16. Colorful Afghan Blanket
Here's another super easy project that is perfect for beginners… the key is to buy a unique combination of yarn colors, because the stitch is the same throughout. So make your way over to Smitha Katti to find out how to recreate this fun afghan yourself.
17. Beaded Wrist Warmers
If you can knit a square, then you can make these fun wrist warmers. They are embellished with pretty seed beads to create a colorful patterned element. Make your way over to the Creative Pink Butterfly blog to find out how to make these yourself.
18. Easy Floor Pouf
This is another project that is surprisingly easy. This pouf is actually just a large rectangle that is sewn together on the top and bottom and filled with bean bag filler. Head on over to The Surznick Common Room to find out all the fun details.
19. Easy Knitted Neck Tie
This necktie project is done with the seed stitch, which the author of the pattern chose because it holds its shape well and is reversible. It is even tied like a regular necktie! Make your way over to Scissors and Sage to find out how to make your own tie.
20. Checkered Washcloth Pattern
These pretty washcloths are made using a checkerboard style design, which is really quite simple to do. It's just a matter of switching from knit to purl every few stitches to create the square shapes. Check out the pattern over at The Chilly Dog blog.
21. Knit Bunting Banner
If you have lots of different half-used skeins of yarn lying around, then this might be the perfect DIY for you. This project uses only the knit stitch but is a great way to practice your decreasing stitch skills. Head on over to Hobby Craft to check out the tutorial.
22. Easy Knit Boot Cuffs
Add some style to your winter wardrobe by making a set of these lovely boot cuffs to wear at the top of your tall boots. They're easy enough for beginners to do, too! Make your way over to Kozy & Co. to find out all the details of the warm-looking cuffs.
23. Pom Pom Scarf
Add a set of colorful pom poms to the bottom of a basic scarf to give them a whole new look. This one is incredibly simple to make, and it won't take long to finish either. Head on over to Gemma Evans to check out the tutorial and pattern.
24. Dog Bow Tie
What is cuter than an adorable little dog? One with a bow tie on, of course! This simplebow tie project is very easy and quick to make, and it is another one that is great for finishingup partially-used skeins of yarn. Check out the tutorial over at Mama In A Stitch.
25. Color Blocked Hat
Here's one more hat to top off the roundup, this time in a two-tone color-blocked style with a large pom pom on top. Be sure to choose two contrasting colors that pair nicely together. Head over to the Little Things Blogged to check out the full tutorial.
26. Catalunya Colorblock Poncho
If ponchos are your thing, then we have a really cute project you can go for! This isn't a single color, either, which makes it that much more pretty. You can get the instructions on how to make yourself one of these pretty things from One Dog Woof. The poncho will keep you warm on those chilly evenings.
27. Infinity Scarf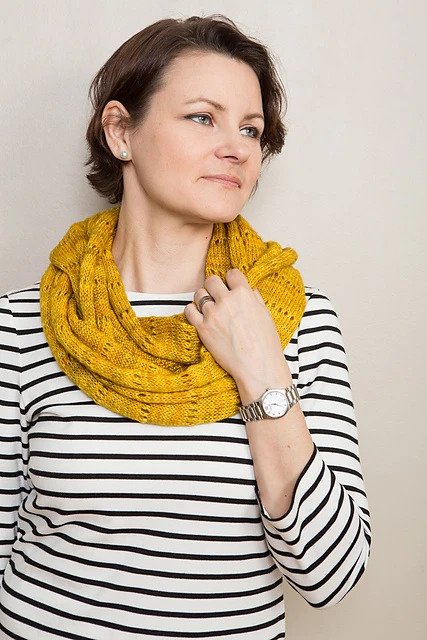 Infinity scarfs are pretty awesome to wear, and they're not impossibly hard to mark. You can follow this tutorial from Ravelry to make yourself (or a loved one) one of these cool scarfs. They tell you what yarn you need, how to size the scarf and give you all the other details you'll need to make this work.
28. Childs Cat Hat
How about a cat hat? For your kid, not you! Although, if you really want one, you'll need more yarn. The Spruce Crafts has a really cool pattern you may want to create as it's super easy. They estimate you can do this in three hours, so spend an evening with the needles and yarn in your hands as you binge some show on Netflix.
29. Dog Sweater
Depending on the breed of your pup, it may need some extra protection during cold days. So, why not make them a sweater? Sure, you could buy one, but it's not going to be perfectly tailored for your pup. All Free Knitting has all the details you need on how to make your cutie pie one of these.
30. Planter Cover
Sometimes, plant pots aren't necessarily the best-looking things out there. So, if you want to practice your knitting, get better at how tight the eyes are pulled, and so on, we suggest you make one of these planter covers. If you fail anywhere, the plant won't mind. Best case scenario, you have yourself a cute cover for those pots you really don't want to throw away but also don't really want to display. Get the details from The Merry Thought.
31. Confetti Scarf
We're sorry, but we really love scarves. Those you make yourself are even more precious since you put your heart and soul into them. Over at Purl Soho, you can get the directions on how to make yourself one of these scarves, and they'll even give you more color ideas to put into practice.
32. Trivet
We know trivets aren't exactly the things you think about when you think of knitting, but why not? The coolest thing about this project from Flax and Twine is that you'll be using your fingers to knit the rope for the trivet. It's brilliant, and you'll enjoy doing this. Get all the info from their page.
33. Baby Cocoon & Cap
Babies are absolutely adorable, but in cocoons, they look even cuter! Just check out this knitting project from Yarnspirations! Not only will this cocoon keep your baby warm, but it will also help with all the moving during sleep which can startle your bundle of joy.
34. Chunky Baby Blanket
It seems that babies can never have enough blankets, and since they're all so cute and come in tiny sizes, they're absolutely adorable. The Merry Thought has this really cute baby blanket tutorial. They'll play with the blanket, they'll be useful when you put them to sleep, and so on. Maybe it will even become their favorite blankie. Frankly, we want one in regular size too.
35. Rainbow Blanket
Whether you're making this for a kid or for yourself, this rainbow blanket is absolutely adorable! It brings in a lot of color to your home, and it's certainly not something you'll have any difficulty finding in the closet. Get the tutorial from My Poppet.
36. Crown
Your little princes and princesses need a crown to go with their role play, so why not knit them one? Paper or plastic crowns can be tough on their sensitive skin, so a knit project seems like the perfect solution. Get all the details you need from Ravelry, including data on the yarn and needle size you need.
37. Bandana Cowl Scarf
Cowl scarves look fierce, and they offer a lot of coverage to your body, making sure that the spot on your chest, the one that's rarely properly covered by coats, is well taken care of. Ashley Lillis has the tutorial on how to make one of these, and we frankly one a couple of them in different colors. Let's get knitting!
38. Coffee Cozies
Those coffee cups can be a bit too hot to handle, so how about you knit a few cozies so you can protect your fingers from burning and dropping your cup? Cardboard sleeves work too, but why go through endless cardboard when you could go green and use a reusable cozie instead? Plus, you can make them adorable like the ones in the pic, which can very well match your Hogwarts house. Get the instructions from Pattymac Makes.
39. Hedgehog
If your kid loves hedgehogs as much as we do, then this really cute knit project may work well for them. Purl Soho has the details on how to make your very own knit hedgehogs, including yarn information, needle sizes, gauge, and so on.
40. Spring Cowl
In the spring, cowls are great for when the weather turns suddenly, and you find that it's not as warm as it was when you left home, as the cold wind whips around you. This really cute spring cowl from All Free Knitting is something you may like, and it's easy to learn how to make.
41. Potholders
The thicker the material, the better protected you are from hot pots. So, why not knit yourself some potholders? They're super cute, they're easy to make, and they'll keep you from burning the skin off your fingers. Make this for yourself or someone you love! Get the pattern and instructions from Bromefields.
42. Knit Bag
Knit bags look absolutely gorgeous, and they're practical too. So, let's make one of these cute bags! Instructions on how to knit a bag come from LVLY, and it's super easy to follow. Since you're making a big piece and folding it, it's that much simpler than other patterns we've seen around.
43. Neck Wrap
Scarves and cowls are super cool to have, but how about a neck wrap that closes off with a button? It's so lovely, and the color is really something! Get the pattern and instructions from All Free Knitting. The cool thing is that once you master this project, you can make these and give them off as gifts to friends and family who will certainly enjoy it as much as we did.
44. Toddler Mittens
Kids always lose their mittens, so you'll likely always be making them a pair if you get started down this road – just a warning. These striped toddler mittens are adorable, and we love them so much, and you should definitely get started on this project. What colors will you be making? Get the tutorial from All Free Knitting.
45. Lacy Waves Poncho
Ponchos can be these heavy things that keep you warm, but they can also be ready for those summer evenings when it's just slightly chilly. This lacy waves poncho pattern we found on Revelry is just perfect for this scenario, and if you use the right colors, it can even go with more elegant scenarios.
46. Sleeves
Your teenager will love it if you make them these sleeves. You may have a bit more peace of mind if you make them some of these sleeves to go with those T-shirts they're keen on wearing instead of sweaters during the coldest winter days. Revelry has the pattern and the details on how to make these cool sleeves.
47. Arm Knit Blanket
If you like how those jumbo blankets look, then this is your chance to make your own. The folks at Flax and Twine will tell you just what you have to do and what you need for the whole project, and we can't wait to see the results.
48. Pouches
These knit pouches are super useful if you want to find a new way to keep your glasses or other valuables, makeup, or money. Even your phone could probably fit into one of these. They're super cute and fairly easy to make, so let's see how you can make yourself one of these pouches by following Martha Stewart's tutorial.
49. Book Cover
Do you know how we used those plastic book covers in the past? Or maybe they were made of paper. Well, if you knit one, it will be super useful too, it will last longer, and it will be more "green" of you since there will be no plastic to dispose of later on. Get the pattern and instructions from Mollie Makes.
50. Slipper Boots
Cold feet will be a thing of the past if you make some of these slipper boots to wear around the house. Slipper boots are super cute, and they work for those who always have cold feet, even when the house is toasty warm. This craft from DIY n Crafts is super cute, and we kind of want some of these too!
Final Thoughts
Making some cute things with your own hands is super rewarding, and learning to knit can serve you for a lifetime. Plus, all these things you could be knitting will last just as much. Get the tutorials and share the pics with us so we can check them out too.