39 Valentine's Day Knit Patterns to Show Your Love with Stitches and Strings
Knitters looking for new Valentine's Day patterns have no shortage of beautiful designs. Read on to discover creative crochet patterns for February 14th.
Whether creating something small and simple, like a pair of cozy mittens, or something more intricate, like an elaborate beaded shawl, there are plenty of projects available online and in print to make your beloved feel truly special on February 14th. Plus, knitting doesn't have to take long; with just an afternoon of crafting, you can create a unique piece that reflects your love and devotion. Here is a list of the Valentine's Day knit patterns described in this article:
Simple garter stitch heart
Various stitch hearts with love notes
Tiny heart applique
Heart air balloon applique
Red mittens with white hearts
Mittens for couples
Owl mittens with hearts
Valentine boot socks
Heart socks
Celtic heart cable knit scarf
Little heart hat
Heart on a string hat
Heart headwrap
Heart beret
Baby red bonnet
Baby XO sweater
Baby blanket
Daisy Dum Dums
Heart potholder
Heart-shaped coaster
Heart doily
Double-heart napkin rings
Valentine card heart motif
Envelope
Valentine card bag
Valentine pouch
Heart treat bag
Heart basket
Chunky knit heart wreath
Red wreath with flowers
Hanging heart
Full heart garland
Empty heart garland
Chunky knit heart pillow
Amigurumi heart
Amigurumi heart-shaped cat
Amigurumi Valentine gnome
Amigurumi candy monster
Valentine dog jumper
Keep reading to learn more about each Valentine's Day knit pattern, including sources. Check out the FAQs section for more info.
1. Simple garter stitch heart
A simple garter stitch is a classic knitting pattern to make a heart for Valentine's Day. Make the pattern by knitting two rows of garter stitches followed by one row of purl stitches, then repeating the same two rows repeatedly. The result is a beautifully textured and 3-dimensional shape with a distinct heart form. Get the free crocheting instructions from Nimble Needles.
2. Various stitch hearts with love notes
Knitting a few hearts with messages is a great Valentine's Day knitting pattern to create magical moments with your family and friends. Write your own Valentine's Day message or use classics like I heart you or I love you. To further enrich the design, use colorful buttons, ribbons, and beads to obtain a romantic look. Visit Flax & Twine for more information.
3. Tiny heart applique
Making tiny heart applique that you will apply to all your Valentine's Day knitting designs, such as hats, coasters, and pillowcases. Or you can craft dozens of miniature heart appliques to fill a basket. The pattern is pretty simple to follow, as the stitching follows a central pattern of double crochets and triple crochets. Urbaki has a great tutorial, so check it out.
4. Heart air balloon applique
A heart air balloon applique is a Valentine's Day crocheting pattern that scores high in the originality department. It requires yarn in three colors: shades of red and pink. Consider using this adorable design to decorate a Valentine's Day card and include a pun like "You make my heart fly". For the full pattern, head to Golden Lucy Crafts.
5. Red mittens with white hearts
These red mittens with white hearts are a charming Valentine's Day knitting project for toddlers. Feel free to increase the size of the mittens to fit your grown-up hands. Check out Knifty Knittings for details.
6. Mittens for couples
Knit a pair of mittens for couples and surprise your significant other with this creative gift for Valentine's Day. It's a two-handed mitten crocheted with holiday colors and designs. It has a simple pattern that even novices can tackle. Check out Garn Studio for more information. It has free knitting patterns for the two-handed and standard versions.
7. Owl mittens with hearts
Owl mittens with hearts are an adorable and cozy addition to any winter wardrobe, making a lovely Valentine's Day gift. They have owls on the backside of each hand and a heart-inspired pattern on the inside. An interesting feature is that the mittens are supposed to form a heart when you connect them. Get the free knitting pattern designed by Milla H. from Ravelry.
8. Valentine boot socks
Knitting boot socks is an awesome idea for a cozy Valentine's Day gift to keep feet warm and comfortable while looking sharp. Make these socks in any colors you want, although we recommend sticking to wintery or romantic colors, like shades of grey combined with white, red, and pink. Check out Mary Kaiser's pattern on Ravelry and download the pattern completely free.
9. Heart socks
These heart socks are an awesome Valentine's Day gift that follows the ugly sweater trend. It's a complex design that requires a lot of patience to avoid mistakes, but no advanced crocheting techniques are necessary. To increase the design's visibility, use two contrasting colors, like red and white. Read more about this design by Deborah Tomasello on Ravelry.
10. Celtic heart cable knit scarf
A Celtic heart cable knit scarf is a must-have for your cold-weather wardrobe on Valentine's Day. Crochet it using super bulky yarn and a large needle, creating a texture of interlocking rocks. Visit Studio Knits SF for guidance.
11. Little heart hat
A cozy hat with a little red heart is a thoughtful knitting project for a Valentine's Day gift. It's an easy project for all sizes, from toddlers to adults, even if you're a beginner knitter. You just need basic supplies like yarn, wool blend, a darning needle, a stick marker, measuring tape, and scissors. Check out Fox & Pines Stitches for more info.
12. Heart on a string hat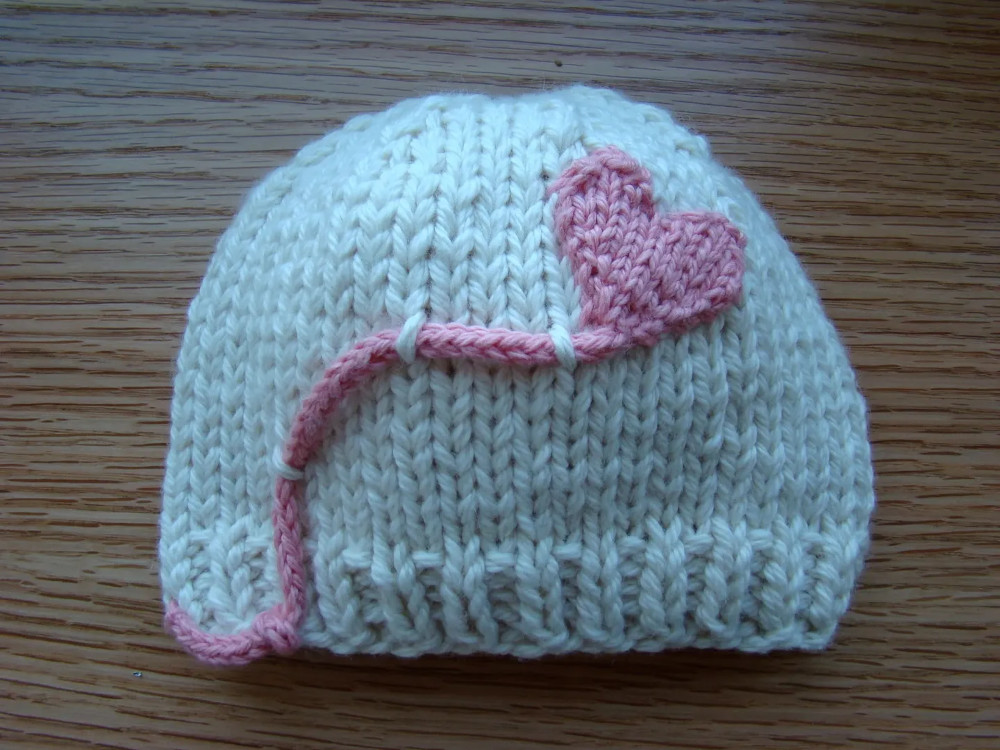 This hat has a unique Valentine's Day pattern – a heart on the string on the front side – which kids and grandkids will love. The pattern requires basic knitting skills and worsted-weight yarn for a comfortable fit. Visit Blue Sky Fibers for more info.
13. Heart headwrap
Headwraps are super-stylish during the cold season, so consider knitting one with colorful hearts to match the Valentine's Day theme. This design has several hearts as the central decorative motive, which go all around the headwrap. Feel free to include additional elements to this design, like sequins or pom-poms, depending on your style. Visit Mattie Mae Crochet for more details.
14. Heart beret
A beret with hearts is another fashionable knitting project for Valentine's Day. Beret hats and other types of headwear may look similar at first glance, but there are key differences that make them unique. For instance, berets are typically made of knit fabric, such as wool, and feature a soft, round brim that sits atop the head. Knitting this heart beret required intermediate skills. Check out Wiam's Crafts for more details about this heart beret knit; it requires intermediate skills.
15. Baby red bonnet
A tiny red bonnet is an adorable knitting pattern for a baby's first Valentine's Day. Give it as a homemade gift for a newborn, or use it as part of the newborn's photoshoot. The bonnet is red and has a simplistic design since the baby is the star of the show. Buy the knitting pattern by Melody Rogers from Ravelry page; it's great for beginners, and you'll receive directions for baby sizes ranging from 0-3 months to 1-3 years.
16. Baby XO sweater
Celebrate your baby's first Valentine's Day in style by knitting them a cozy, charming red sweater with XOs. For an extra special touch, personalize the sweater with the baby's name or initials to create a unique piece of clothing they'll cherish when they grow up. Head to Ravelry to download the free pattern for this baby sweater, courtesy of Miriam Kimball. The directions are for 0-3-month babies, but you can use worsted weight yarn and bigger needles for a larger sweater.
17. Baby blanket
Knitting a baby blanket is a fantastic gift for Valentine's Day or celebrating a newborn. This baby blanket has three cable patterns: a heart motif, a simple three-strand braid, and a design that suggests a baby cradled between parents. Visit Knittikin for free instructions.
18. Daisy Dum Dums
Combining crocheted flowers with Dum Dums is a creative way to make Valentine's Day daisies. It's a versatile project that combines flowers and candy since you can use it for February 14th decorations or candy bouquets. Recreate the flower petals using your knitting skills and run a Dum Dums lollipop through the middle. Be sure to use colored yarn that matches the color of the lollipop wrapper for a realistic effect. Visit Repeat Crafter Me for detailed instructions.
19. Heart potholder
Knit potholders with heart motifs to make a gorgeous and practical Valentine's Day gift for cooks. Use simple red yarn or other romantic colors like white or pink to match the holiday theme. Get the free pattern from Garn Studio.
20. Heart-shaped coaster
A coaster is practical for protecting tables and counters from spills or damage, so consider knitting a set of heart-shaped coasters for your Valentine's Day decorations. They're perfect for dinner parties and impressing your guests. Use red or another vibrant color to make them pop. Heat-resistant yarn works best for this project. Check out the free pattern at The Turtle Trunk.
21. Heart doily
This heart-inspired doily is a Valentine's Day knitting pattern that combines classic designs with romantic motifs. The edges of the doily have eyelet hearts, with a swirl of eyelet circles going toward the center. The finished product is large, measuring around 20 in (51 cm) in diameter, ideal for decorating a medium-sized coffee table. Head over to Yarnspirations to download the free pattern.
22. Double-heart napkin rings
These knitted double-heart napkin rings are gorgeous for sprucing up date night on Valentine's Day. It's a simple napkin tie with two intertwined knitted hearts. Be sure to knit a pair for you and your significant other. Or make a whole set if you're having people over for dinner. Get the free knitting pattern from Crochet Memories.
23. Valentine card heart motif
Craft an outstanding Valentine's Day card by including a knitted heart motif. Instead of a standard cardstock card, make one using an intricate knitted heart in the center surrounded by a border; the back of the card is left blank for writing a message. Visit Elanor King's Ravelry page to download the pattern for free.
24. Envelope
Knit an envelope to hold the love letters or Valentine's Day cards you receive from your sweetheart on February 14th. Or take this opportunity to gift an envelope full of love letters. Pick your preferred yarn color and get the free knitting pattern from Roots and Feathers. Consider adding a large button as a finishing touch to resemble a wax seal.
25. Valentine card bag
A Valentine card bag is the next best thing to an envelope for holding all the romantic cards you receive on February 14th. It has a simple design, and you can wear it as a regular bag year-long. Or you can give this bag to your best friend so that it becomes their go-to accessory during the holiday. Get the free knitting pattern from Knitting About, which uses red and pink yarn.
26. Valentine pouch
A Valentine pouch is smaller than the Valentine card bag and doesn't have handles; knit it to store candies, love notes, and other memorabilia on February 14th. Or use it to create party favors for a singles party. The design is customizable since you can use any colors and add embellishments like ribbons or buttons. Check out Lakeview Cottage Kids for the free knitting pattern.
27. Heart treat bag
A knitted heart treat bag is similar to the Valentine pouch since it's small enough to hold any objects, mainly candies. This design features an assortment of warm colors to give it a fiery appearance, and the white heart on the side gives it the signature Valentine's Day look. Use durable yarn stretchy enough to fit as many treats as possible. Get the free knitting pattern from 5 Little Monsters.
28. Heart basket
This knitted basket has a tapestry heart motif, ideal for Valentine's Day decorations or DIY gift baskets. Get the free crochet pattern from Divine Debris.
29. Chunky knit heart wreath
A chunky knit heart wreath is a lovely Valentine's Day decoration for a door or empty wall. Use festive colors like red and pink, or choose something more subtle like white or ivory to create a timeless wreath to use year-round, not just on February 14th. Check out Modern Glam for more info.
30. Red wreath with flowers
A knitted red wreath with flowers is ideal for Valentine's Day decorations, and you can use it through spring. It adds a splash of color to any entryway. The project requires you to knit flowers, leaves and hanging vines individually, which you will assemble on a styrofoam wreath ring. Visit Fox Tail Lane for the full tutorial.
31. Hanging heart
Simple knitted hanging hearts are fantastic for decorating door knobs on Valentine's Day. There's nothing complicated about this project since you must knit a heart form and add a length of yarn or string to it from a door handle. As a customization suggestion, knit the hanging heart large enough to fit a short message, whether you knit or handwrite it. For example, green your sweetheart with Happy Valentine's Day hanging on the bedroom's door knob. Visit Make and Takes for more info.
32. Full heart garland
A knitted garland with full hearts is a wonderful way to spruce up your Valentine's Day decorations. You must knit several yarn hearts and hang them on a string, so the project is elementary. Choose pastel shades or bold neon colors for a more modern look. To learn how to create this garland, visit Sustain My Craft Habit.
33. Empty heart garland
A garland with empty hearts is a cute alternative to the full-heart version for Valentine's Day, and it has similar instructions. Make as many crocheted hearts as you want and connect them in a single garland. Visit Stitching Together for more info.
34. Chunky knit heart pillow
A chunky knit heart pillow is a fantastic way to decorate your home with Valentine's Day colors without being too tacky. The concept is similar to typical knitted heart patterns, except that you make it significantly larger to stuff with polyfill. Head to At Charlotte's House for more info.
35. Amigurumi heart
An amigurumi heart has an easy crochet pattern for creating a beautiful three-dimensional heart for Valentine's Day decorations or gifts. The pattern is worked in two rounds and requires basic stitches such as single crochet, increase, and decrease. Use bright, solid colors or combine several hues together. Check out Okie Girl Bling N Things for more info.
36. Amigurumi Valentine gnome
Gnomes are popular decorations during holidays, especially Christmas, so knit an amigurumi gnome for Valentine's Day to decorate your home. As far as knitting supplies and skills go, you need a magic ring or circle, crocheting in spirals, single crochet, single crochet increase and decrease, and basic sewing techniques. Download the free pattern from Ravelry, courtesy of Elena Atisheva.
37. Amigurumi candy monster
Knit amigurumi candy monsters as awesome Valentine's Day gifts for kids. This design looks like bad stitchwork on purpose, but it's incredibly adorable. Use two buttons of different shades and sizes to create slightly-off eyes, together with felt to decorate the ears. The creature has horns and a sewn mouth, and it holds a knitted lollipop. Make it more appealing by adding an authentic lollipop instead of knitting one. This knitting pattern belongs to Lucie Gillmann, and you can buy it from Ravelry.
38. Amigurumi heart-shaped cat
An amigurumi heart-shaped cat is a lovely Valentine's Day gift for a cat lover. Make the kitty pink or red using fine semi-cotton yarn, use fiberfill for stuffing, add safety eyes or black beads, sew the nose and whiskers, use wire to make the tail, and wrap the kitty with satin ribbon as a finishing touch. Get the complete instructions from Amigurumi Today.
39. Valentine dog jumper
Knit a Valentine's Day jumper for your dog to keep it warm during the romantic season. It's also a wonderful gift idea for dog lovers. The cute jumper has hearts and Valentine's Day colors. Check out Garn Studio for more information.
FAQs
Discover more helpful information about Valentine's Day knitting projects.
What are some popular Valentine's Day knitting patterns?
Popular Valentine's Day knitting patterns include heart-shaped scarves, cupid-inspired pillows, and sweaters with love-themed embroidery.
What type of yarn is best for Valentine's Day knitting?
Wool or cotton yarns are excellent for Valentine's Day knitting, thanks to their softness and durability. Acrylic yarns are great, too, although they tend to produce softer finished projects.
How long does it take to complete a Valentine's Day knitting project?
The amount of time required to complete a Valentine's Day knitting project depends on the pattern's complexity and the knitter's skill level. Generally, simple projects take a few hours while more intricate patterns may take several days.
Conclusion
Overall, Valentine's Day is a wonderful holiday for knitters and crafters to express their love for their friends, family members, and loved ones. Whether crafting with a pattern or taking the time to create something from scratch, handmade gifts are sure to show just how much your loved one means to you.