50 Creative Halloween Costumes You Can DIY!
October means only one thing: it's almost time for Halloween! Gather your family, break out the home decorations, and decide on a costume to get ready for the scariest night of the year. If you are exploring creative Halloween costumes, we have some interesting ideas lined up for you.
We know you are short on time this month and wanted to give you a helping hand. So we did all the hard work, put in the research hours, and prepared a list of the 50 most creative Halloween costumes worth trying this year.
Some of them focus on popular characters from movies, cartoons, and fairy tales while others add a nice twist and will surely put a smile on your face. We are sure that you can find the perfect Halloween costume here somewhere.
50 Best Creative Halloween Costumes to Try in 2021
Without keeping you on your toes any longer, here are the 50 most creative Halloween costumes we could find and which deserve to be worn this year.
1. Harley Quinn – Halloween Costume Ideas
Harley Quinn is a prolific figure in the DC universe. However, thanks to Margot Robbie's portrayal in Suicide Squad, the character has gathered an impressive fan base outside the comic community. So it shouldn't be a surprise that a lot of women want to dress up and look like Harley Quinn for Halloween.
As far as Halloween costume ideas are concerned, we found this gem on YouTube, courtesy of Maya Baguilat. She demonstrates how she pulled off the Harley Quinn look for under $200, including the makeup, hair, and outfit. Be sure to check it out.
2. Dancing Girl Emoji – Easy Halloween Costumes
If you are looking for a last-minute solution when it comes to easy Halloween costumes, get a friend to join in when recreating the dancing girl emoji. You just have to throw in a matching outfit using a black shirt, pants, shoes, and bunny ears. Then, both of you can strike a pose when taking selfies and posting them online to share with the rest of your friends. We loved this idea from @itssemiprecious.
3. Among Us – Costume Ideas
Among Us is a popular video game that has taken the world by storm. If you and your friends have ever played it, you know what we are going with here. You can easily dress up as one of the crew members aboard the spaceship by picking your favorite color and covering your entire body with it.
Check out this awesome YouTube video tutorial made by DIYholic. It shows you everything you need to do to accomplish this project.
When it comes to materials, make sure to have cardboard, a small box, red, white and yellow felt, pillow stuffing, a black foam sheet, a mesh plastic canvas, acrylic paint or paint makers in dark blue, light blue, and white, together with tape, a pair of scissors, a hot glue gun, and a red top and bottom with matching shoes.
But if you really want to make your outfit stand out, speak to more friends and have them explore these costume ideas in different colors so that you can breathe life into the whole Among Us crew.
4. Last Minute Halloween Costumes
Not everyone has enough time on their hands to prepare their Halloween outfits. So if you are looking for a last-minute Halloween costumes idea, check out this simple and effective cat outfit.
It is posted by AwesomenessTV on YouTube and shows you two ways to dress up as a cat: edgy and sassy. You just have to pick the version you like best.
When it comes to gathering supplies, put the following on your list: a beanie, felt, studs, gloves, scissors, sparkly felt, mesh tights, headband, and black boa. These are everyday objects, so they should not be too hard to track down.
5. Batman and Batwoman – Best Halloween Costumes
A lot of guys choose to dress up as Batman for Halloween. But if you want to stand out in your crowd, have your better half join in and portray Batwoman. This is one of the best Halloween costumes ideas we have seen, and it works for couples.
However, you have to invest a bit of money in the two costumes to order them from an online store since it would be impossible to obtain a polished look by attempting to design them from the ground up. Here is an awesome representation of Batman and Batwoman on Instagram, courtesy of @kobietapl_blizej_gwiazd.
6. Halloween Costume Idea – Pennywise Costume
Pennywise is the shape-shifting monster and the main antagonist in Stephen King's It horror novel, which preys on children. If you want to breathe life into this character for upcoming Halloween, check out this Pennywise costume idea. It is pretty easy to pull off.
This Instagram post published by @jb.blythe shows how to effortlessly recreate Pennywise with the help of white face paint, red makeup, and a red wig piece. As far as the outfit is concerned, you need a light denim suit, red pom-poms, red sneakers, white stockings, and a red balloon.
7. Werewolf Costume – Cool Halloween Costume Idea
Werewolves are hairy beasts and naturally fit in any Halloween decor. But it can be extremely challenging to create a convincing werewolf outfit on your own. If you want to dress up as a werewolf for this year's Halloween, it might be best to buy a ready outfit from your local costumes shop.
We found an excellent representation of Cujo on YouTube, courtesy of Matt Headley. It is an elaborate werewolf costume that takes a while to put on. However, the results are spectacular. It definitely looks real, guaranteed to scare off your neighbors during the scariest night of the year.
8. The Sims Character – Cool Halloween Costumes
The Sims is an amazing life-simulation game that you must have played at least once in your lifetime. If you are seeking cool Halloween costumes ideas but do not really want to spend too much time and effort into building your outfit, you can transform yourself into a Sims character.
Lorraine Stanick shows a simple and effective solution on how to make that happen in her YouTube video tutorial. The trick is to make the Plumbob, which represents the green crystal that hovers above the head of your Sim while playing.
To achieve the Plumbob, you just need to fold two sheets of green paper the right way, just like it is portrayed in the video. Then, you get a headband and wire, attach one end of the wire to the headband, and the other end to the Plumbob.
This way, you can wear the headband and make it look like the green crystal is hovering above your head. No special outfits are necessary. Since Sims wear regular clothes, you can wear whatever you have in your closet.
9. Barbie Costume – Halloween Costume Idea
Barbie used to set the standard of beauty for young girls, although it was exaggerated. Thankfully, the company saw the error in its ways and decided to take it down a notch to make a more realistic representation of Barbie. If you want to dress up as the world's most popular doll, you really can't go wrong with any pink dress that sparkles.
Take this Instagram post made by bellethreads, for example. It shows a young girl wearing a Barbie costume made out of a pink tutu dress, complete with a pearl necklace and pink bow tie in her hair. It is simple and adorable. But it is not the only way to go since there are no mistakes when it comes to Barbie, as long as she is glamorous.
10. Pumpkin Lady – Halloween Characters
You can go with an outfit that incorporates popular elements of Halloween, such as pumpkins, ghosts, witches, monsters, or bats. In this case, you can dress up like a pumpkin lady, thanks to this stunning Halloween characteridea that was brought to life by Rachel Maksy in her YouTube video tutorial.
The trickiest part of the project is making an artificial pumpkin that you can wear over your head and see. To do this, you need to handle a small do-it-yourself project that involves fabric, paper mache, plaster, and foam clay. Watch the entire video to find out exactly what you need to do.
11. Queen Of Hearts Costume – Cool Halloween Costume
The Queen of Hearts is one of the villains from Alice in Wonderland and a truly fascinating character. It's no wonder why many people choose to dress up as her for Halloween. And there are plenty of online tutorials that show you various instructions on how to achieve this look.
But we liked Sarai Jones' version best. She teaches you how to put together a Queen of Hearts costume using do-it-yourself instructions, which consists of the makeup and outfit. We adore the final look of this project.
12. Sandy from Grease Costume – Easy Halloween Costumes
Grease is an upbeat musical romantic comedy movie from the late 70s, featuring John Travolta and Olivia Newton-John. If you want to dress up as Sandy in the final moments of the movie when she emerges completely different, check out this awesome YouTube video tutorial made by Julia.
It teaches you how to create the Grease costume for Sandy when it comes to the hair, makeup, and outfit. The outfit is not that difficult to pull off since you need a black shirt, leather pants, and belt.
13. It Costume – Halloween Costumes
Here is a different take on Pennywise, the main villain of the It novel. In this YouTube video published by RockyTrail, you can see the Pennywise version of the 1990 It movie, portrayed by Tim Curry. There are no do-it-yourself instructions here since you have to buy an It costume and put it on. But the video shows you how it looks.
14. Warrior Greek Goddess Costume – Halloween Costume
There are few outfits as powerful as a warrior goddess costume. And we love this take on Athena, the warrior Greek goddess. If you are interested in a complete DIY inspiration, which includes the design and sewing process, take a look at the YouTube video tutorial of Daisy Viktoria.
The outfit and details are feminine and gorgeous. Yet, they speak volumes when it comes to Athena, the ancient Greek goddess associated with wisdom, handicraft, and warfare. It is the type of outfit that never gets old, so you can reuse it at future Halloween events.
15. #filter and #nofilter – Cool Halloween Costumes
Here is a hilarious and cool Halloween costumeidea that only works for two people. One of you has to wear a #filter shirt while the other wears a #nofilter shirt. The idea is to recreate the expectations-versus-reality meme that focuses on Instagram influencers.
The #filter person has perfect hair and makeup while the #nofilter version looks more realistic, like someone who just woke up in the middle of the night. You can both wear similar clothes when it comes to the rest of the outfit. We love this funny Instagram post made by @everyday_heidi, which demonstrates what we are talking about.
16. Barbie Halloween Costume
Here is another take on a Barbie Halloween costume, although it still revolves around the pink color. But it takes a more grown-up approach since it mainly focuses on Barbie's makeup and hair.
The trick is to apply pink without looking childish but as glamorous as possible. We think that Rozie Ocampo found the perfect recipe in her YouTube video tutorial, so feel free to check it out.
17. Boy Cut in Half – Creative Halloween Costumes
It can be challenging to find an innovative idea when it comes to Halloween outfits, but we believe that the boy cut in half routine nails it. It is funny, inexpensive, and has a bit of magic to it. According to this Instagram post made by @organizedandsimplified4u, you just need some cardboard and old clothes. We absolutely love this creative Halloween costumes idea.
18. DIY Wonder Woman Costume
Building a DIY Wonder Woman costume is no easy feat, but it's not impossible either. There are various tutorials online that seem too difficult to follow, but we think that this video tutorial made by Alyson Tabbitha is just what you need.
Alyson teaches you how to build the Wonder Woman costume one step at a time when it comes to makeup, the golden training armor, and accessories.
As far as materials are concerned, you need a thermal material for the bodice, a heat gun, craft foam rolls, spray glue, a sealer spray, spray paint, resin, a lace front wig, and a mannequin to create the chest plate. There's also the option to buy the outfit if you feel that it is too much for you to handle.
19. Enchanted Woodland Elf – Amazing Halloween Costumes
Elves are charming creatures that are part of fairy tales and fantastic stories. We can't think of a better example than The Lord of the Rings, where elves played such a huge role. If you want to dress up like an enchanted woodland elf for Halloween, check out this amazing Halloween costumes idea.
It is portrayed by Katy Hodges on YouTube and focuses on the makeup routine. But you can top off the look by making fake elf ears and adding the remaining accessories. The results are truly stunning!
20. The Shining Twins – Creative DIY Halloween Costumes
If you are exploring ideas for creative DIY Halloween costumes, we suggest checking out this cool YouTube video tutorial. Hello Horror teaches you how to recreate the Shining twins' dress from the ground up. It is a do-it-yourself sewing project that involves baby blue fabric, white ribbon, elastic, lace trim, and ruffle trim.
It might take a while to complete this project, but the results are spot on. And, if you do not have a twin that can join in the fun, make sure to ask a friend since the costume only works for two people. That means that you have to sew the dress twice. Just make sure to get the measurements right for both people.
21. Family of Bats – Halloween Costumes You Can Make At Home
Here is an amazing outfit idea for the entire family. When it comes to Halloween costumes you can make at home, check out this funny representation of a family of bats. It is incredibly easy to make using fabric you already have in your home.
@murderapparel took it to the next level in this hilarious Instagram post, where she wrapped her kids in black fabric and added bat ears. For the final touch, the children laid on the floor while the mom added a branch at their feet and took the photograph upside down. It is creative and fun for the whole family.
22. Stitch – Easy Halloween Costumes
Stitch is a beloved animated character from the Disney universe, thanks to his adorable role in Lilo and Stitch. It is no wonder why many kids and adults want to dress up like Stitch for Halloween.
If you are one of them, you do not have to worry about creating your own costume since you can easily order a Stitch onesie from the Internet, just like @mrs_kimmie shows in this Instagram post. The outfit is an easy Halloween costumes idea that comes in all sizes for all ages.
23. Lara Croft – Halloween Costume Ideas
Lara Croft made a huge impact in the gaming community when Tomb Raider was released back in the 90s. The game soon turned into a franchise and, eventually, a movie was released, starring Angelina Jolie. If you love Lara Croft just as much as we do, check out this DIY cosplay tutorial made by Lakabra Lamuerte.
It teaches you how to create the Angelina Jolie look from the first Tomb Raider movie from the ground up. You start off with just a few accessories, like toy pistols, pistol holsters, and elastic bands that will be used to hold the holsters.
You also need a pair of short black pants, a belt, black military boots and gloves, together with a black T-Shirt and backpack. To complete the look, make sure to recreate Lara's hair and makeup. The result is spot-on in this cosplay and one of the best Halloween costume ideas.
24. Joaquin Phoenix's Joker – Costume Ideas
Many Batman fans wish to dress up as Joker, his arch-nemesis. However, most people go with the Heath Ledger or Jack Nicholson representation of Joker. In this case, we suggest mimicking Joaquin Phoenix's Joker. Jasmine Brown did a wonderful job at this in this YouTube tutorial, where she transformed herself into a convincing female version of Joker.
It hits all the right notes, from the green hair pulled back that looks perpetually hair to the colorful makeup and outfit that gives you a glimpse into Joker's sanity level. The video tutorial teaches you everything you need to know about the hair, makeup, and outfit, so be sure to check it out since it is one of the best costume ideas for Joker.
25. Animal Heads – Halloween Costume Ideas
Animal heads are increasingly popular in the costume community since it is so easy to achieve a Halloween look using the right mask. We think it is one of the best Halloween costume ideas, especially for people who do not really want to put too much thought into the outfit itself.
For this look, you just need to order an animal head from the Internet. There are a lot of options to go with, such as horse, chicken, cat, pigeon, or mouse, so make sure to get the animal you like best. As for the outfit, you can pick any clothes in your closet or go for a specific theme, like party night.
26. Coraline – Cool Halloween Costumes
If you love Coraline, the stop-motion horror movie, you can easily dress up as the titular character, thanks to this cool Halloween costumes idea that @rociojimenezcosplay made on Instagram.
You just need a couple of accessories, namely a blue wig with short hair and a yellow raincoat. The trickiest part is doing Coraline's makeup, but that should not prove a difficult task, even if you do not have insane makeup skills.
27. Giant Baseball – Halloween Costume Ideas
Your pregnancy should not stop you from dressing up during the scariest night of the year, especially since there are so many wonderful options you can choose from. Take this great example from @nikki.roelofsen on Instagram. It is one of the best Halloween costume ideas we have seen for pregnant ladies.
You can make your belly look like a giant baseball by just sewing a baseball pattern with red thread on a white shirt. And you can wear a second shirt on top of the first one to make the ball stand out. It is simple and adorable, particularly if you are a sports fan.
28. Britney Spears – Easy Halloween Costumes
Britney Spears is an essential part of the pop world. If you used to watch MTV clips all the time during the late 90s and early 00s, her hit single Baby One More Time must have remained stuck in your mind.
You can effortlessly recreate the schoolgirl outfit of Britney Spears portrayed in the Baby One More Time video, thanks to this easy Halloween costumes idea we found on Instagram, courtesy of @highlightsofmolly. To pull it off, you need a black skirt, white shirt, gray cardigan, over-the-knee boots, and pink hair pom-poms.
29. Snow White – Halloween Costume Ideas
Snow White is unmissable from any Halloween event. It might have something to do with the fact that it is one of those fairy tale characters that a lot of us have grown up with. If you are looking for a more mature version of Snow White, check out these Halloween costume ideas we found on YouTube, thanks to TheSorryGirls.
To look like this version of Snow White, you need a yellow tutu skirt. As for the rest of the outfit, TheSorryGirls takes you through every step of the sewing process, making this a terrific DIY sewing project for Halloween.
30. Lady Loki – Costume Ideas
Many women feel that a female rendition of Loki is necessary to accurately represent them on Halloween when it comes to costume ideas. And one of them is makoccino. She made a wonderful Lady Loki costume and makeup on YouTube that we absolutely love, and teaches you how to do the same.
You have to design every piece of clothing and accessory by yourself, which involves the skirt, headpiece, upper body, bottom part, belt and hair accessories, not to mention the hair and makeup. It is a project that needs you to put in a bit of time, but we promise that the results will make it worthwhile.
31. Scooby-Doo and Shaggy – Funny Halloween Costume Ideas
If you grew up in the 90s, you definitely know Scooby-Doo, the rest of the gang, and the mystery van. If you have a friend who is interested in participating in a duo Halloween costume, we suggest dressing up as Scooby-Doo and Shaggy.
The outfits are really easy to pull off since you need a onesie for Scooby-Doo as well as some plain clothes for Shaggy: a green shirt and brown pants. If your hair is not naturally light brown, you can dye it or wear a wig.
You also need a light brown goatee to match Shaggy's look. This is part of those funny Halloween costume ideas that you can't miss if you are a Scooby-Doo fan. We think that @therelatablered nailed it in this Instagram post.
32. Corpse Bride and Husband – Best Halloween Costumes
Here is another awesome idea when it comes to the best Halloween costumes for two people: the Corpse Bride and her husband. It showcases Emily and Victor Van Dort from the Corpse Bride animated movie, and it involves some serious cosplay skills. The look is challenging to achieve, particularly when it comes to makeup. However, @lauracalandtphoto is spot-on on her Instagram page.
33. Poison Ivy – Halloween Characters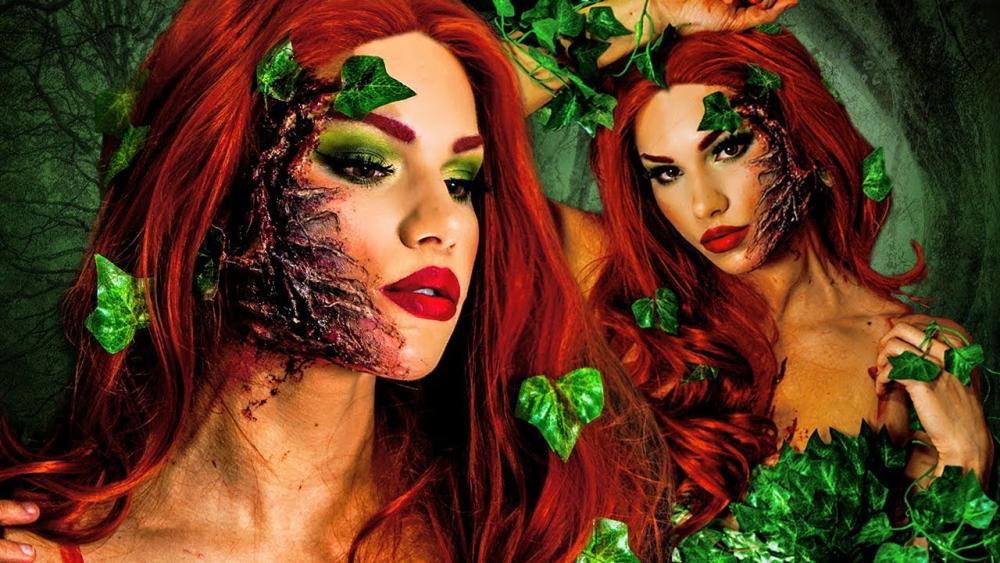 Poison Ivy is one of the deadliest villains from the Batman movies due to their seduction and poisonous skills. If you want to dress up as Poison Ivy for the spookiest night of the year, check out this awesome Halloween characters idea.
Kayleigh Noelle guides you every step of the way in her YouTube video tutorial when it comes to recreating the sexy makeup and hair of Poison Ivy. As for the remaining outfit, we suggest doing a Google search and ordering something from the web since it is easier than attempting to sew this elaborate costume.
34. Marge Simpson – Blue Hair Costume Ideas
If you are a Simpsons fan and love the idea of wearing blue hair for Halloween, the solution is pretty obvious: Marge Simpson. It is one of the best blue hair costume ideas for Simpsons fans, and you will be instantly recognized, thanks to the popularity of the show.
There is a lot of work involved in this look, though, since you need a blue wig with long hair, light green body paint, a red necklace with large red beads, and a green dress. At least, this is the representation of @the_best_of_cosplay on Instagram, which you should check out to find inspiration.
35. Han Solo and Princess Leia – Halloween Costume Ideas
Star Wars will always be a cornerstone in movie history. And one of the most recognizable couples from this franchise is, without a doubt, Han Solo and Princess Leia. Before exploring these Halloween costume ideas, make sure that your significant other is on board since it only works for two people.
If you need inspiration when it comes to outfits, check out the Instagram post published by @michelle_millward. Unlike others, she did not go with the golden bikini outfit but picked the long white gown instead. Make sure to order the two costumes from the Internet.
36. Alice in Wonderland – Easy Halloween Costumes
Earlier, we played with the notion of dressing up as Queen Of Hearts, a villain from Alice in Wonderland. This time, we are going with the titular character. It might not be an original outfit, but it is an easy Halloween costumes idea that works well as a last-minute solution.
We think that this Alice in Wonderland representation of @paperscissorsfrocks on Instagram is adorable for young girls. You can either sew the dress by yourself or order an outfit from the Internet.
14 More Creative Haloween Costume Ideas
If you want even more inspiration for this Halloween, we have a bunch of extra suggestions ready for you!
37. Pineapple Easy Halloween Costume
If you're looking for something a bit quirkier, then you'll want to check out all the ideas that Studio DIY has to offer. This pineapple costume struck our fancy though because of its ease! All you really need is a yellow dress to get yourself started and a headband too.
38. Mermaid Creative Halloween Costume
Mermaids are trending so going as one for Halloween is a no-brainer. Do it in a creative and stylish way though with some help from Life With A. Co. We're loving that seashell bodice!
39. Magician & Rabbit Cool Costumes
Here's a couple's costume that we're swooning for. Say Yes brings us all the idea and inspiration behind the duo. But you can tell that it's an easy one to fashion your own looks after.
40. Starbucks Cup Creative Halloween Costume
Who wouldn't want to take a sip of a frappuccino looking this adorable? Southern Curls & Pearls has all the know-how behind this Starbucks cup and we're loving how unique and creative the outfit really is! We also love how the look is finished off with some black tights and classic pumps as well.
41. Creative Halloween Costume – Frosted Animal Cookie
Remember when frosted animal cookies were a thing? Well, they're still a thing, at least in the eyes ofStudio DIY and we couldn't agree more! Jump over now and grab some ideas concerning your extra-sprinkly costume this year.
42. Minnie Mouse Amazing Halloween Costume
You could always go as Minnie Mouse this year. She's easy to recreate and you could put your own twist on the outfit like you see here in this YouTubevideo. Don't forget the perfect shade of red lips either, it's a must!
43. Taco Creative Halloween Costume
Tacos are delicious, so why not use them as Halloween costume inspiration? That's what Aww Sam did and we're loving the finished product. Just don't forget the sour cream – maybe as a pouffed headband?
44. Disco Ball Cool Halloween Costume
Oh Happy Day gave us a great idea for little ones but one that can easily be recreated as adults too! Going as a disco ball makes for quirk, comfort and laughs. Check out the details after the jump.
45. Cool Costumes – Bjork's Swan Dress
You can really father inspiration from anywhere when it comes to your Halloween costume – even an Oscar red carpet of times ago. A Beautiful Messtook Bjork's famous swan dress and turned it into a costume! And we just had to feature its DIY spirit and creativity too.
46. Sia – Creative Halloween Costume
Sia is a good one to fashion your costume after too! It's easy, it's creative and she's easily recognizable too. Just visit Bunny Baublesfor some tips and tricks on how to make it happen.
47. Amazing Halloween Costume – Sprinkle Donut
Turning yourself or a loved one into a sprinkle donut this season seems like a fun idea. And thankfully, it's quite easy too. Grab some help from iLoveToCreate and think about making that frosting chocolate if you prefer.
48. Cinderella Creative Halloween Costume
Of course, Disney will always have a lot of inspiration concerning our costumes. And Cinderella may be high on your list too! But, Cinderella before she went to the ball could be what makes your version a bit more unique – like that of Brit + Co.
49. Super Creative Halloween Costume – Rainbow Unicorn
This rainbow unicorn idea from Shwin and Shwin is absolutely precious. We love it for both young ones and old ones. And there's so much you can do to make this personalized and age-appropriate.
50. Amazing Halloween Costume – Bubblegum Machine
Last but not last, we have The Joy of Fashionbringing us one of the most creative ideas of the bunch. Who knew turning yourself into a gumball machine could be so adorably stylish? Grab a bag of pom poms and get started now.
Final Thoughts on Creative Halloween Costumes
Any Halloween costume can become creative with a bit of imagination. You can take the classical approach and dress up as a famous character from movies or cartoons, like Wonder Woman, Alice in Wonderland, Batman and Batwoman, Pennywise from It, Barbie, or Sandy from Grease.
Or, you can add a nice twist to your costume by going as a Sims character, #filter and #nofilter couple, dancing girls emoji, an Among Us crew member, a boy cut in half, the Shining twins, or animal heads.
No matter which Halloween costume you end up choosing for the spookiest night of the year, don't forget to return to this page and submit a photo in the comments area below. We can't wait to see your outfits! Also, feel free to share with us more creative Halloween costume ideas that you think deserve to be on this list.