80 Couples Halloween Costumes – Easy and Funny Couples Outfits
Love is in the air. And at Halloween, the love of dressing up and candy is everywhere! There's nothing that gets us more excited for this holiday than seeing our favorite characters get glammed up – or brawned up (hehehe).
And we couldn't imagine anything better: you and your significant other getting dressed alike to make a statement to each other. Or making a statement because you're totally different.
You don't have to be romantically involved with someone to pull off an amazing Halloween costume for couples. If that part of your life is not currently active, you can have a friend, a sibling, or another family member join in.
Whatever your case may be, we scoured the Internet and got some of the best ideas for couples costumes to make sure you're inspiring others by how adorable you look together!
Most Creative Halloween Costumes for Couples
If you are looking for the most creative Halloween costumes for couples, this list is what you need. We have found some of the best Halloween costume ideas that will suit almost any couple. Not only are these costumes cute, but they can also be very funny and sometimes even scary.
Some of them might seem tough to pull off at first, but if you put some time and effort into the costumes, we promise that they will turn out great.
1. Vampire Couples Halloween Costumes
For a more spooky pair, try dressing up together as vampires. For one, you're both evil and will be delightful treats to trick-or-treaters. You'll also have matching outfits that will do the job of being spooky enough for even the most hardcore Halloween fans. And if your Halloween party is too swanky for your costumes, you could always just eat some blood – so it's a win-win! Just check out this awesome couples' Halloween costumes idea.
2. Harry Potter and Ginny Weasley – Couple Costumes
You can't get any more perfect for holidays than dressing up as your one true love! And what better way to celebrate October 31st than dressing up as two people who are romantically involved in one of the best book series of all time?!
Is there anything we love more than gathering around a TV and cuddling on the couch with our most loved one and watching Harry Potter and the Deathly Hallows: Part 2? Spoiler alert: There is. It's this. Check out this cool couple costume idea inspired by Harry Potter and Ginny Weasley, courtesy of @mariannesides on Instagram.
3. Fairies Matching Couple Outfits

Talk about a dream date! This costume would be perfect for any fairy lover, and the more the merrier! One person could dress up in Tinkerbell gear while the other can wear some of their favorite butterfly wings. The possibilities are endless with these outfits! Here is one example of matching couple outfits inspired by fairies that we found on Instagram, courtesy of @emeliexoxo.
4. Astronaut and Alien – Cute Halloween Costumes

If you're looking for a cute Halloween costume idea that is out of this world, try dressing up as an astronaut and alien! It's the classic story of love at first site (hehehe), and this is the perfect opportunity to be cheesy. After all, who doesn't love aliens? And it's always fun to dress up as something you know you'll never truly see in your lifetime, like a glamorous alien who looks like she just stepped out of a Las Vegas show. Just take a look at this Instagram post made by @halloween____costumes.
5. Ghosts – Funny Couples Costumes

If you're looking for a way to be corny and adorable with your partner, try dressing up as ghosts! For one, if you're both wearing white, you'll look like actual ghosts – making it easy for trick-or-treaters to see you and give out candy!
Secondly, it's a great last-minute solution for Halloween, especially if you're on a budget since you can throw in a couple of sheets and cut out some eye holes. To add your personal touch, you can also wear sunglasses and hats as this hilarious couple showed us on Instagram, courtesy of @livkristen_.
Thirdly, if your party is too swanky for these costumes, you could always haunt the town – together – while wearing these funny couples' costumes.
6. Danny and Sandy from Grease – Easy Couple Costumes

Put on your favorite spin on the '50s by dressing up as Danny Zuko and Sandy Olsson from the classic love story, Grease! For one, you can't go wrong with a leather jacket for men. Or, if it's too hot outside, you can get away with a plain black shirt.
And, while we can appreciate Sandy's poodle skirt, we think it's the black leather pants that really make this character stand out. You can combine it with your favorite pair of red high-heeled shoes, just like @justjadelauren did in this Instagram post that showcases a simple idea when it comes to easy couple costumes. Besides, if your Halloween party is too swanky for these costumes, you could always go to the drive-in!
7. Skeleton DIY Couples Costumes

Halloween is all about being cute, spooky, and anything in between! So why not dress up as a couple of skeletons? If you're looking for DIY couples costumes, check out this simple and straightforward idea approached by @happymindhappylife.pl on Instagram.
You and your partner can dress up as a couple of fancy skeletons by bringing out the most fabulous clothes you can find in your closet. The trick is to nail the skeleton makeup. In this case, you can apply makeup to only half a face on yourself and to the other half on your partner – to keep things romantic, after all.
8. Super Mario and Wario – Hilarious Couples Costumes

One of the best things about Halloween is dressing up as our favorite video game characters – and this year, you can make it a costume for couples! Super Mario outfits are pretty typical for Halloween, but Wario? Now that's something unique.
If you can bear to part with Mario, then you and your significant other will be breaking hearts as two of the most popular video game characters. Check out these hilarious couples costumes inspired by Super Mario and Wario that are sure to make a statement at any Halloween party! We love this Instagram post made by @couplehalloweencostumes.
9. #filter and #nofilter – DIY Couples Halloween Costumes

The couple's outfit is a clever Halloween costume idea for anyone who wants to get the most out of their fun. They wear matching T-shirts with different hashtags, one wearing #filter and another sporting #nofilter.
The rest of their clothes match in terms of color as well – jeans on top paired alongside black shoes having red accents at every opportunity they can find! You'll be laughing from start till end once you see what these Instagrammers are up to this year – @everyday_heidi does not disappoint with this hilarious idea for DIY couples Halloween costumes.
10. Purge Couple Costume

If you are true crime lovers, this will be the best Halloween couple idea for you! Dress up as a pair who are fighting the system during mass murder – what could be better?! Of course, each of you can dress up according to what your costume is inspired by – but the main idea is that you're dressed as violent criminals who are committing a crime.
This Halloween outfit is inspired by The Purge movie and will even scare away any snoopy trick-or-treaters! We think that @jesswickersham_ nailed it with this Purge couple costume in this Instagram post.
11. Aladdin and Jasmine – Creative Couples Costumes

We're not saying that you and your significant other have to be one of the most iconic couples in Disney history, but we're definitely not NOT saying that either! This will be a cute Halloween couple idea inspired by Aladdin – you'll be set with your matching couple costumes and the best accessory of all is each other!
It's not always the men who are obsessed with Disney princesses, ladies! If you love Jasmine as much as Aladdin does or vice versa, then this costume is perfect for you two to wear together at your Halloween party! And if you're not into couples costumes, don't worry. Just wear their outfits separately and you'll still be the cutest couple there! Check out these creative couples costumes posted by @fashionablyrelated on Instagram.
12. Lion King – Couples Halloween Costumes

One of our favorite Halloween costume ideas for couples is definitely these adorable Lion King outfits! What better way to start this list than with couple of Lion King costumes that are easy to make while still looking like the real deal. With some brown clothes, fake fur, and some face paint, you will both be looking like you just walked out of the jungle.
Or, you can keep it simple and adopt two matching suede outfits that scream Hakuna Matata and look like they were ripped away from Lion King's universe. It's what these two did on Instagram, courtesy of @draumrkopa_, and we love the couple's Halloween costumes.
13. Han Solo and Princess Leia – Couple Costumes

Han Solo and Princess Leia are a classic couple that a lot of people love to dress up as on Halloween, thanks to the Star Wars franchise. So, these couple costumes might be perfect for you and your significant other if you are both fans of the series.
All you need is a white dress and dark pants along with your favorite blaster. Since Leia's famous hair bun was only seen in the first Star Wars film, it would be better if you wore long brown wigs instead so there is no confusion between who is supposed to be Luke Skywalker and Princess Leia. Check out this great Insta post made by @michelle_millward for more inspiration.
14. Dancing Girl Emoji – Easy Couple Costumes

If you're looking for a last-minute solution to your costume woes, get a friend so that both of you can dress up in matching outfits. All that is necessary are black shirts with bunny ears on top of it to recreate the dancing girl emoji. Besides, you can take goofy photos while dancing around the house, as proved by @itssemiprecious on Instagram. These are easy couple costumes for which you can use any black clothes you can find in your closet, as long as they match your friend's costume.
15. Scooby-Doo and Shaggy – Funny Couples Costumes

The Scooby-Doo show is one of the most popular animated television programs to ever be created. Everyone knows who Scooby-Doo and Shaggy are because they are two of the main characters as well as the goofiest ones. This funny couples costumes idea could work for Halloween, Christmas, or any other time of year where people want to dress up in costumes.
We think that this Instagram post made by @therelatablered nails it. You just need a green shirt, brown pants, light brown hair, and a matching goatee for Shaggy. As for Scooby, you can easily order a onesie from Amazon and call it a day.
Unique Couples Halloween Costumes
Some of the most iconic couples costumes ideas such as Jack and Sally, Bonnie and Clyde, Ross and Rachel, and Sleeping Beauty and Prince Phillip all make appearances on this list! Other unique couples' Halloween costumes include dressing up as a cheerleader and a football player, or Finn the Human and Princess Bubblegum from Adventure Time!
Check out these fun suggestions to inspire you with some great couples costume ideas for your upcoming Halloween celebration.
16. Jack and Sally – Unique Couples Costumes

If you're one of the many diehard fans of Tim Burton's A Nightmare Before Christmas, then this unique couples costumes idea is perfect for you! To get ready for your special spooky evening, both partners should get dressed up as Jack Skellington and Sally. We love this take on Jack and Sally that we found on Insta, thanks to @francie.mua.
Sally can wear a long black or colorful dress while Jack can hone his well-known black-and-white suit, with or without a hat. Both partners must wear makeup inspired by The Nightmare Before Christmas – blue for Sally and black and white for Jack. They can also decorate themselves to go along with the Halloween theme such as adding spider webs, ghosts, and other creepy things to their costumes.
17. Ross and Rachel from Friends – Creative Couples Costumes

It's not a question anymore whether or not Ross and Rachel were on their break. Jennifer Aniston later agreed that this was the case, but you can't let that stop you from dressing up like them when it comes to creative couples costumes for Halloween!
Just pick your favorite scene from Friends that involves both Ross and Rachel, and then try to recreate it by mimicking the two characters. @laurel.b.fit did an excellent job on Instagram by reimagining the episode where Ross and Rachel got drunkenly married in Las Vegas.
18. Sleeping Beauty and Prince Phillip – Couple Costumes

We couldn't think of two better people to dress up as for Halloween than the most iconic Disney pair – Sleeping Beauty and Prince Phillip! Just check out this wholesome Instagram post published by @hobbitparty.
Sleeping Beauty is so sweet and innocent with no understanding of the troubles she's caused by the whole princess-sneezing-on-a-spindle thing. Prince Phillip, on the other hand, is a princely knight who will always be there to fight any evil that comes into her life.
Even if it's just her wicked stepsister or some random lady with a metal hatchet. It may be one of the lesser-known Disney couple costume ideas out there but it's definitely one of our favorites!
19. Cheerleader and Football Player – College Couple Costumes

Who said that opposites don't attract? This is a great idea for college couple costumes because it doesn't require two of the same exact outfits. You and your other half can dress as anything you like!
For example, the football player can dress up as a wide receiver with shoulder pads, knee socks, football pants, etc. Meanwhile, the better half can wear a cheerleader uniform – complete with wristbands and pom-poms.
It's just an idea, though, since it's highly customizable for both of your identities. We love this look approached by @deforestcooper on Instagram.
20. Jessie and James from Team Rocket – Funny Duo Costumes

This idea for funny duo costumes is a must for any Pokémon fan. While most fans prefer to go as Ash and Pikachu, we love this rendition of Jessie and James from Team Rocket.
Just imagine being Jessie with her long pink wig and James in his purple one if that's more your speed! You'll need their famous Pokéballs though – @jenncadiz.nyc didn't manage to make these photos look so good without them in her Instagram post.
21. DIY Bonnie And Clyde Costume

If you want to dress up as a couple but don't think the typical cute is your thing, how about dressing up sexy and edgy? This DIY Bonnie and Clyde costume idea looks so cool. And with easy makeup and accessories, you'd be looking like this in no time.
This is definitely one of those couples costumes that will never get old. Just check out this YouTube video tutorial made by JUST ADRI to learn everything you need to know about putting together the costumes of this famous duo.
You can probably find the clothes in your own closets, but if you're not up to making those cute headpieces, those can be found on Amazon for cheap!
22. Beetlejuice – Matching Couple Outfits

Feel the stripes with these matching couple outfits featuring two Beetlejuice costumes! You are sure to stand out in this fun pair of couple Halloween costumes that will have everyone obsessed with your unique style. It looks insane and we totally love it. If you take a look at @chasethefoxes'Insta post, you can quickly understand why. Now let's just hope you can choose which one of you is Lydia and which one of you is Barbara.
23. Stormtroopers Couple Costumes

A couple Halloween costume idea that is totally trending right now is a pair of Stormtroopers costumes! Feel the force run through you as you dress up as the power Star Wars duo on one of the most special days of your life.
Besides, you and your partner don't have to be romantically involved to pull off this costume. These couple costumes work for any relationship, whether you are friends or siblings. And there's no number to the number of Stormtroopers that can participate. It's not exactly a DIY idea, though, so you will have to purchase the Stormtrooper suits from online stores like Amazon.
24. Finn the Human and Princess Bubblegum from Adventure Time – Couple Costumes

From Adventure Time, the popular cartoon seriescomes this creative couples costume idea for Finn the Human and Princess Bubblegum. To look like Finn, one person simply needs to wear a blue shirt, blue jeans or shorts, a white hat, and a toy sword.
For Princess Bubblegum, all you need is a pink dress, foam sheet, velcro, a wooden dowel, a blue gem, and pink hair. Just check out this thrifty idea for couple costumes from Jess Lemos Tester on YouTube to learn exactly how you need to dress up and apply makeup.
25. The Incredibles – Matching Couple Outfits

For those of you who want something out of the ordinary for Halloween, why not dress up as one of your favorite Disney duos in matching couple outfits? This couple decided last year to dress up as Mr. Incredible and Elastigirl from The Incredibles! We love this look that was pulled off by @virginia_scroggins and posted on Instagram.
Both of you have to stick to the orange or red hue when making your costumes or ordering them from the Internet if that seems too time-consuming. Then, print out some masks at home so you can really get into character with this amazing superhero couples costume idea! And, if you have more family that would like to join, you can dress them up as more of the Incredibles!
26. Zombies – Couples Halloween Costumes

They say that relationships always start off with crazy love, so why not look completely wild on your first date for the spookiest night of the year? A great idea would be for you both to dress up as a couple of zombies who are looking for brains to eat at the Halloween party! Here's an excellent example of a couple's Halloween costumes that we found on Instagram, courtesy of @nikkinapalm.
And, if the party turns out to be a bummer, you can always wander the streets in search for your next victims. The guy who said that romance is dead can now ponder on a new meaning of the expression.
27. Police Costumes – Matching Couple Outfits

You and your significant other or best friend can dress up as police officers to avoid any trouble while trick or treating! You can even purchase toy guns that are safe for children in case they try to pull one on you when you are demanding candy from them.
While this matching couple outfits idea is not the most trendy, it still gets the point across that you are representing law enforcement in some way! This means that there are no limits when it comes to creativity for this Halloween outfit idea.
28. King Kong and Ann Darrow – Couples Halloween Costumes

Do you have a soft spot for old classic movies? Then this idea should definitely be considered. This Halloween costume idea for couples is a great way to show that your love life was almost destroyed by a giant ape. Or, you don't have to be that dramatic since you can just show how much you love this complicated love story.
By dressing up as the handsome King Kong and his damsel in distress, you can recreate scenes from the film while showing all those other couples how it is supposed to be done! Just check out this lovely Instagram post of @centerstageclothiers to see what we mean. You just need to purchase a gorilla outfit from Amazon. As for Ann, she can dress up in the most fabulous clothes she can find in her closet.
29. Rick and Morty – Funny Couples Costumes

Rick and Morty are two of the most popular characters on television today. So, if you are looking for a Halloween costumes idea that will have all of your friends saying wow, then this is definitely a funny couples costumes idea that needs your attention.
Check out this Instagram post made by @vicabonatto, which depicts a simple, yet effective approach toward dressing up as Rick and Morty. You just need the right clothes. If you want to take things one step further, consider purchasing some masking tape and cardboard to create your very own portal gun! This is an inexpensive costume idea since Rick's signature uniform has been seen in numerous episodes.
30. Among Us – Matching Couple Outfits

Among Us is a galactic adventure that will take your friends and you on an unforgettable journey. It's an addictive video game for groups of friends. If you're one of its fans, you can easily dress up as one of the crew members aboard this spaceship by picking your favorite color to cover yourself in it!
And, if you want to pull off matching couple outfits, have your significant other, a friend, a sibling, or another family member join in. It's actually better if you can make your crew bigger – at least 4 – each wearing a different color.
This YouTube video tutorial created by DIYholic explains each step you need to take in order to achieve the Among Us look for one crew member. You will need some supplies to begin, though: cardboard, a small box, multi-colored felt, pillow stuffing, a foam sheet, a mesh plastic canvas, and multi-colored acrylic paints or paint makers. You will also need some tape, a pair of scissors, a hot glue gun, and a top, bottom, and shoes in matching colors.
50 More Couples Halloween Costumes to Inspire You
We have even more couples Halloween costumes up next, ready to inspire your next shopping trip or DIY project.
31. The Shining Twins – Couples Halloween Costumes

This idea for a couple's Halloween costumes is pretty popular among those who want to dress up as iconic characters from the Stanley Kubrick film, The Shining. We found a cool YouTube tutorial created by Hello Horror, which shows you how to sew the twins' dresses from scratch. But you need a sewing machine to pull off this project, together with some baby blue fabric, white ribbon, elastic, lace trim, and ruffle trim.
You don't need a twin since you can get another friend to participate. However, since it's a two-person costume, make sure that you get enough fabric for both people. Then, both of you will be ready to jump in the car and head up to Overlook Hotel.
32. Patti Mayonaise & Doug Funnie Couples Halloween Costumes
The cartoon we all love, check out this snazzy Patti Mayonnaise and Doug Funnie couple's costume! The details are at She Knows.
33. Juno Couples Costumes
Here's a costume that will get everyone to turn heads and think you're super clever. Featured on Baby Gaga, this is one of the easiest to recreate!
34. Hawaiian Punch Matching Couple Outfits
Brit + Co did something really clever too. Taking Hawaiian Punch to an entirely new level, check out this play on works and costumes.
35. French Chef & Cake Funny Couples Costumes
Over at Studio DIY you'll find one of the most charming of couples' costume ideas. Dress like a French chef and his French wedding cake, for something a bit sweeter!
36. Bandits Hilarious Couples Costumes
For something super easy and quick to pull off, hop on over and visit Say Yes. You'll be dressing like stylish and comfortable bandits in no time.
37. Cat & Kitty Litter Funny Couples Costumes
Gurl featured this cat and litter DIY couple's costumer on their site and we thought it was both clever and fun! Have everyone giggling with the creativity.
38. Spartan Cheerleaders Matching Couple Outfits
Who loves this skit of SNL? It's an easy one to pull off and create right at home. We found this gem over at Cul de Sac Cool.
39. Struck By Lighting Couples Halloween Costumes
Over at Coolest Homemade Costumes, you'll find these clever ensembles. Go as "struck by lighting," both the cause and effect versions.
40. Mad Men Matching Couple Outfits
Dress is some vintage looks and go out and party as a Mad Men couple! All the easy details are over at Say Yes.
41. Waffle & Mrs. Buttersworth Funny Couples Costumes
Check out this inspiration from Baby, Let's Play House. Why not show up as a breakfast duo to your next Halloween party?
42. Black Swan Creative Couples Costumes
Remember that slightly strange movie that came out a few years ago? Dress up like those ballerinas with your beau or best friend. (via Brit + Co)
43. Deer & Hunter Easy Couple Costumes
Here's another great idea featured at College Candy that we're loving. You and your beau can go as a deer and hunter … and you'll have fun with the makeup!
44. Tooth & Tooth Fairy Funny Halloween Costumes
Clever, creative, fun and unique … dress as a tooth and the tooth fairy for something extra fun. Julie Ann Art has the details.
45. Alice & White Rabbit DIY Couples Halloween Costumes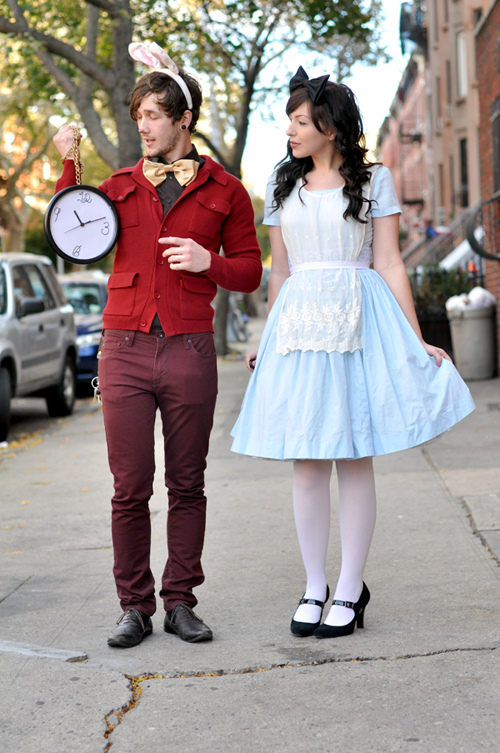 Keiko Lynn has some of the prettiest costumes and that goes double for this rad idea for you and your partner. Who loves Alice?
46. Gatsby & Daisy Cute Halloween Costumes
Classy Girls Wear Pearls gave us some great inspiration with this fun party spread. Grab your best 1920's looks and adorn yourself with a taste of Gatsby.
47. Salt & Pepper DIY Couples Halloween Costumes
You can go about this one in so many ways but it's such a great idea for one main reason: ease. Jonathan & Jamie gives us the feature.
48. Nerds Matching Couple Outfits
Why not go out as a pair of nerds. But the candy version, of course. This fun idea was featured and found on 22 Words.
49. Jack & Jill Couples Halloween Costumes
But this version is obviously after they fell down the hill. Again, 22 Words gives us a super fun and creative idea.
50. Pac Man & Woman DIY Couples Costumes
Here's another fun idea from Julie Ann Art. And it's super easy to make these costumes as home in a pinch!
51. Fresh Prince & Carlton Funny Duo Costumes
Here's a great idea for best buds or brothers to dress up as. Who doesn't love Fresh Prince of Bel Air .. just make sure Carlton is the one that can dance. (via imgur)
52. Mario & Luigi Creative Couples Costumes
And here's another classic for those that love classic Nintendo. Whether it's you and your best friend or you and your gal, go as the Super Mario brothers! Thanks again 22 Words.
53. Kissing Sailor DIY Couples Costumes
We all know the shot of the sailor and nurse kissing their hearts out in NYC. Why not go as that romantic pair? Check it out at Camille Styles.
54. "The Dress" Funny Duo Costumes
Camille Styles does it again with this clever couple's costume idea. Check out "the dress," that the Internet nearly broke over last year.
55. Doritos Couples Costumes
Smilebooth made us giggle with this Nacho cheese chip idea. Go as the life of the party and the perfect party snack!
56. Miss Frizzle & The Magic Schoolbus Hilarious Couples Costumes
Who remembers watching this in school and actually enjoying it? Costume Works shows off this DIY idea and we're in love!
57. Soap & Loofah DIY Couples Costumes
Fun and one you can get really creative with, dress yourself as a loofah and some soap! Just don't forget the bubbles like this set from She Knows.
58. Taylor Swift & Kanye Hilarious Couples Costumes
What a fun pair to recreate on Halloween night or for a party that needs a quick laugh. Katie in Kansas gives us this idea!
59. Shipwrecked Matching Couple Outfits
Go as the shipwrecked couple to the party. CS gives us, yet another, perfect costume idea that can be whipped up in no time.
60. Cruella De Vil & Dalmatian Pup Creative Couples Costumes
Here's a Disney idea we love and you can mix up with whoever you'd like quite easily. Katie in Kansas gave us this fun idea too!
61. Fantastic Mr. Fox Unique Couples Costumems
Hop on over to ABM for this fun idea. You can recreate it last minute but still with a whole lot of style.
62. Grease Matching Couple Outfits
Again, A Beautiful Mess has an easy and quick idea to pull off when you're in a pinch. Dress as your favorites from Grease – just don't forget the vintage dress and leather jacket.
63. Cowboy & Cowgirl Matching Couple Outfits
Simple, easy and A Beautiful Mess sparks the creation again, dressing as a cowboy and girl will have you craving both humor and fashion in the look.
64. Woody & Bo Peep Creative Couples Costumes
If you love Toy Story, pick out some of your favorite characters and recreate them. Woody and Bo Peep are a great place to start. (via Costume Works)
65. Safari Matching Couple Outfits
Go on a safari with your best mate and make sure you DIY the costume too. Over at CS, you'll have the full tutorial.
66. Baseball Couples Halloween Costumems
Get your gals together and go as the team from one of the best, most popular movie around! Camille Styles has the details for this too.
67. American Gothic Matching Couple Outfits
Innovative and creative, take a famous painting and turn it into your costume inspiration. Sea Kettle has the details of this American Gothic look.
68. Deer & Hunter Couples Halloween Costumes
The lady can get creative with makeup and the man can be super casual and comfortable … of course, you can swing this both ways and have your beau dress like a doe. (via Pinterest)
69. Lady Liberty & Tourist Couples Halloween Costumes
Here's an easy one to pull together. Pretend like you've just stepped into NYC with this fun duo from Costume Works.
70. Mortician & Gomez Matching Couple Outfits
CHC featured this fun Halloween couple's costume idea and we're in love. Dress as a pair from the Addams' Family!
71. Fox & The Hound DIY Couples Halloween Costumes
If you're a Disney fan, this fox and the hound costume will be right up your alley. You just have to decide who will be who! (via Insta)
72. The Purge Couple Costumes Alternative
Sifting through Pinterest, we also found this gem. Has anyone seen the movie The Purge? Put on your best, grab and mask and go!
73. McDonald's Matching Couple Outfits
Dress as the most popular fast food around! This idea from CHC is DIY-able but intricate and quite impressive too.
74. Lumiere & Babbette Matching Couple Outfits
Take your love of Beauty and the Beast to a new level with an offbeat and fun DIY costume. Go as some of the characters that aren't talked about as much likeLumiere and Babette. (via Brit + Co)
75. Kangaroo & Pouch Funny Duo Costumes
This is an offbeat couple's costume we found on Pinterest. For those of you that are two, go as a kangaroo!
76. Camp Counselors Matching Couples Costumes
Here's one that you can make as funny or as simple as you'd like. Check out these camp counselor costumes over at Say Yes.
77. Party Animals Matching Couple Outfits
Here's another play of words and costumes we're swooning for. Dress to the nines and then slap on an animal mask … thanks again Brit + Co!
78. Mary Poppins Couples Halloween Costumes
One of the best Disney films around, why not get a bit nostalgic for "a spoon full of sugar," and dress up like Mary herself. Of course, the chimney sweep will need to accompany the party as well. Thanks for the idea Keiko Lynn!
79. Magician & Rabbit Couples Halloween Costumes
How adorable is this clever combo? It doesn't matter who the rabbit is either, or how sexy you make the costumes. (via Say Yes)
80. Pizza & Delivery Boy Matching Couple Outfits
It really doesn't get any more classic or fun than this. Check out Studio DIY to recreate this fun piece.
Final Thoughts on Creative Couple Costumes
As you can see, each of these creative couple costumes are unique and will surprise everyone around you. So, if you are planning to go on a date with someone special or just goof around with a friend, then any one of these outfits will definitely leave a strong impression!
Regardless of which Halloween costume you end up choosing, be sure to later return to this page and let us know how you and your partner dressed up for the scariest night of the year. Also, feel free to share with us more exciting outfit ideas that work well not only for Halloween but also for any other event.