50 of the Most Creative Couples' Costumes For All Events
Whether it's you and your best friend, you and your beau or you and your little guy or gal, there are so many variations when it comes to couples' costumes. And there are so many different events you may need the looks for. From Halloween to vacation, let's take a peek at 50 of the most creative couples' costumes around, for every and all kinds of events!
1. Patti Mayonaise & Doug Funnie
The cartoon we all love, check out this snazzy Patti Mayonnaise and Doug Funnie couple's costume! The details are at She Knows.
2. Juno
Here's a costume that will get everyone to turn heads and think you're super clever. Featured on Baby Gaga, this is one of the easiest to recreate!
3. Hawaiian Punch
Brit + Co did something really clever too. Taking Hawaiian Punch to an entirely new level, check out this play on works and costumes.
4. French Chef & Cake
Over at Studio DIY you'll find one of the most charming of couples' costume ideas. Dress like a French chef and his French wedding cake, for something a bit sweeter!
5. Bandits
For something super easy and quick to pull off, hop on over and visit Say Yes. You'll be dressing like stylish and comfortable bandits in no time.
6. Cat & Kitty Litter
 Gurl featured this cat and litter DIY couple's costumer on their site and we thought it was both clever and fun! Have everyone giggling with the creativity.
7. Bonnie & Clyde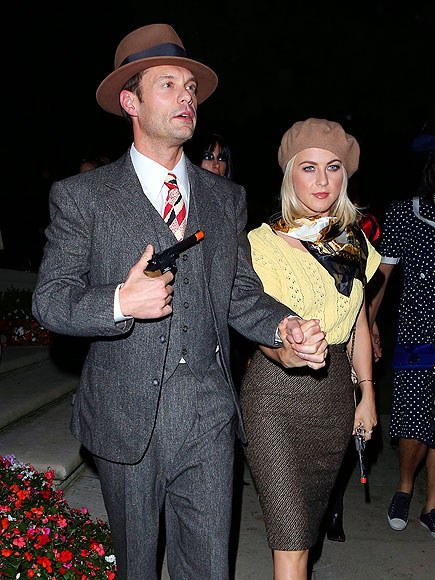 Easily put together with help of your local thrift store, check out this idea featured on College Candy. Thanks for the chic look Ryan & Julianne!
8. Spartan Cheerleaders
Who loves this skit of SNL? It's an easy one to pull off and create right at home. We found this gem over at Cul de Sac Cool.
9. Struck By Lighting
Over at Coolest Homemade Costumes, you'll find these clever ensembles. Go as "struck by lighting," both the cause and effect versions.
10. Mad Men
Dress is some vintage looks and go out and party as a Mad Men couple! All the easy details are over at Say Yes.
11. Waffle & Mrs. Buttersworth
Check out this inspiration from Baby, Let's Play House. Why not show up as a breakfast duo to your next Halloween party?
12. Black Swan
Remember that slightly strange movie that came out a few years ago? Dress up like those ballerinas with your beau or best friend. (via Brit + Co)
13. Deer & Hunter
Here's another great idea featured at College Candy that we're loving. You and your beau can go as a deer and hunter … and you'll have fun with the makeup!
14. Tooth & Tooth Fairy
Clever, creative, fun and unique … dress as a tooth and the tooth fairy for something extra fun. Julie Ann Art has the details.
15. Alice & White Rabbit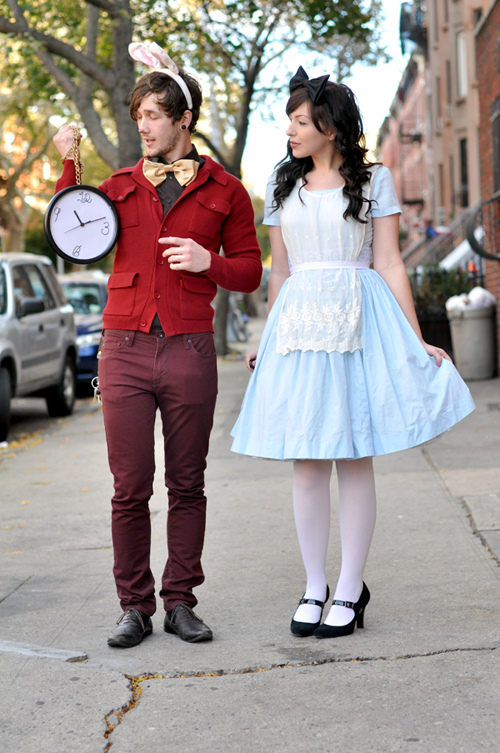 Keiko Lynn has some of the prettiest costumes and that goes double for this rad idea for you and your partner. Who loves Alice?
16. Gatsby & Daisy
Classy Girls Wear Pearls gave us some great inspiration with this fun party spread. Grab your best 1920's looks and adorn yourself with a taste of Gatsby.
17. Salt & Pepper
You can go about this one in so many ways but it's such a great idea for one main reason: ease. Jonathan & Jamie gives us the feature.
18. Nerds
Why not go out as a pair of nerds. But the candy version, of course. This fun idea was featured and found on 22 Words.
19. Jack & Jill
But this version is obviously after they fell down the hill. Again, 22 Words gives us a super fun and creative idea.
20. Pac Man & Woman
Here's another fun idea from Julie Ann Art. And it's super easy to make these costumes as home in a pinch!
21. Fresh Prince & Carlton
Here's a great idea for best buds or brothers to dress up as. Who doesn't love Fresh Prince of Bel Air .. just make sure Carlton is the one that can dance. (via imgur)
22. Mario & Luigi
And here's another classic for those that love classic Nintendo. Whether it's you and your best friend or you and your gal, go as the Super Mario brothers! Thanks again 22 Words.
23. Kissing Sailor
We all know the shot of the sailor and nurse kissing their hearts out in NYC. Why not go as that romantic pair? Check it out at Camille Styles.
24. "The Dress"
Camille Styles does it again with this clever couple's costume idea. Check out "the dress," that the Internet nearly broke over last year.
25. Doritos
Smilebooth made us giggle with this Nacho cheese chip idea. Go as the life of the party and the perfect party snack!
26. Miss Frizzle & The Magic Schoolbus
Who remembers watching this in school and actually enjoying it? Costume Works shows off this DIY idea and we're in love!
27. Soap & Loofah
Fun and one you can get really creative with, dress yourself as a loofah and some soap! Just don't forget the bubbles like this set from She Knows.
28. Taylor Swift & Kanye
What a fun pair to recreate on Halloween night or for a party that needs a quick laugh. Katie in Kansas gives us this idea!
29. Shipwrecked
Go as the shipwrecked couple to the party. CS gives us, yet another, perfect costume idea that can be whipped up in no time.
30. Cruella De Vil & Dalmatian Pup
Here's a Disney idea we love and you can mix up with whoever you'd like quite easily. Katie in Kansas gave us this fun idea too!
31. Fantastic Mr. Fox
Hop on over to ABM for this fun idea. You can recreate it last minute but still with a whole lot of style.
32. Grease
Again, A Beautiful Mess has an easy and quick idea to pull off when you're in a pinch. Dress as your favorites from Grease – just don't forget the vintage dress and leather jacket.
33. Cowboy & Cowgirl
Simple, easy and A Beautiful Mess sparks the creation again, dressing as a cowboy and girl will have you craving both humor and fashion in the look.
34. Woody & Bo Peep
If you love Toy Story, pick out some of your favorite characters and recreate them. Woody and Bo Peep are a great place to start. (via Costume Works)
35. Going on Safari
Go on a safari with your best mate and make sure you DIY the costume too. Over at CS, you'll have the full tutorial.
36. A League of Their Own
Get your gals together and go as the team from one of the best, most popular movie around! Camille Styles has the details for this too.
37. American Gothic
Innovative and creative, take a famous painting and turn it into your costume inspiration. Sea Kettle has the details of this American Gothic look.
38. Deer & Hunter
The lady can get creative with makeup and the man can be super casual and comfortable … of course, you can swing this both ways and have your beau dress like a doe. (via Pinterest)
39. Lady Liberty & Tourist
Here's an easy one to pull together. Pretend like you've just stepped into NYC with this fun duo from Costume Works.
40. Mortician & Gomez
CHC featured this fun Halloween couple's costume idea and we're in love. Dress as a pair from the Addams' Family!
41. Fox & The Hound
If you're a Disney fan, this fox and the hound costume will be right up your alley. You just have to decide who will be who! (via Insta)
42. The Purge
Sifting through Pinterest, we also found this gem. Has anyone seen the movie The Purge? Put on your best, grab and mask and go!
43. McDonald's
Dress as the most popular fast food around! This idea from CHC is DIY-able but intricate and quite impressive too.
44. Lumiere & Babbette
Take your love of Beauty and the Beast to a new level with an offbeat and fun DIY costume. Go as some of the characters that aren't talked about as much like Lumiere and Babette. (via Brit + Co)
45. Kangaroo & Pouch
This is an offbeat couple's costume we found on Pinterest. For those of you that are two, go as a kangaroo!
46. Camp Counselors
Here's one that you can make as funny or as simple as you'd like. Check out these camp counselor costumes over at Say Yes.
47. Party Animals
Here's another play of words and costumes we're swooning for. Dress to the nines and then slap on an animal mask … thanks again Brit + Co!
48. Mary Poppins
One of the best Disney films around, why not get a bit nostalgic for "a spoon full of sugar," and dress up like Mary herself. Of course, the chimney sweep will need to accompany the party as well. Thanks for the idea Keiko Lynn!
49. Magician & Rabbit
How adorable is this clever combo? It doesn't matter who the rabbit is either, or how sexy you make the costumes. (via Say Yes)
50. Pizza & Delivery Boy
It really doesn't get any more classic or fun than this. Check out Studio DIY to recreate this fun piece.