25 DIY Thanksgiving Table Decor Ideas You Need to Try
It's that time of the year again when everyone is planning out how they can cook pumpkins, turkeys, and sweet potatoes in ways they haven't tried before in past years, but if you already have the food planned out, then maybe you're interested in some DIY Thanksgiving table decor ideas instead.
You see, just like Christmas morning is the most anticipated moment of the winter holidays, so is Thanksgiving dinner the highlight of the one day of the year when Americans feel most thankful for what they have in their lives.
That being said, Thanksgiving dinner needs to be as close to perfection as possible, and you can do that via table decorations, but it must also fit into everyone's budget, and that's where the DIY part comes in.
Anyway, we compiled a list of the best decorations that you can try out this fall, and while it's a part of a very large checklist that most of us follow during Thanksgiving, it's a good start.
About Thanksgiving
Thanksgiving has been a core American holiday ever since the country was founded, and while everyone loves sticking to tradition, there's nothing wrong about spicing things up and letting modern-day trends influence the style and feel of the holiday, especially when it comes to Thanksgiving table decor.
Turns out, there are quite a few great ideas that you can consider when it comes to Thanksgiving table decorating this year, but before we go into more detail, let's talk about what exactly Thanksgiving is all about.
About Thanksgiving: As we told you above Thanksgiving is a core American holiday celebrated on the fourth Thursday of November. It happens every year, and it has been around since 1621 when the first English pilgrims arrived in Plymouth, Massachusetts after a long journey from England across stormy seas.
The holiday first started as a celebration of how healthy the new colony was and how well everyone had been doing that first year, but as time went on some changes have taken place.
Nowadays, Thanksgiving stands as a day when Americans celebrate and give thanks for what they have, and that includes happiness in their personal and professional lives.
Here Are the Best Ideas for Thanksgiving Table Decor in 2021
Trends change year after year, and this includes how you do things on Thanksgiving as well, from the way you cook the turkey or stuffing to how you decorate the house or what Thanksgiving table decor you end up using.
As such, we went ahead and did a little research to see what are the most popular table decorations that you can try out in 2021.
Keep in mind that this article is just a list and not a ranking, so that doesn't mean that the first decor ideas are better than the last ones.
1. Thanksgiving Centerpieces – Fall Centerpiece
In the old days, autumn was the time of the year when everyone was out working the field to harvest the crops that they grew all spring and summer, and Thanksgiving dinner was basically them celebrating all of the waiting that they did.
Because of this, it should come as no surprise that one of the most popular Thanksgiving centerpieces is a fall-themed centerpiece that uses elements found in nature in colors that are typical for the period.
While the goal is to go for a theme that's as natural as possible, many people choose to make it personal and decorate their Thanksgiving table with things like corn holders, fall leaves, and fruits.
Of course, you can do this with any fruit (or vegetable) you want if you think that pineapples or strawberries look nicer than apples or oranges.
This way of doing things is not only popular but very easy as well, especially if your family tends to enjoy eating their meals on TV trays in front of the TV set rather than at the dinner table (it happens more often than you'd imagine).
The most important thing about these centerpieces is that they're functional too because they will serve as decoration and food all at once.
2. Thanksgiving Flower Centerpieces – Floral Garland
Unfortunately, when it comes to Thanksgiving table decorating ideas, many people forget about the flowers and focus only on food.
But before we dig deeper into this matter, let's explain what exactly floral garlands are (in case you didn't know).
They are basically arrangements of flowers – preferably fresh – attached to a wireframe that's usually shaped like a circle. These kinds of decorations were once reserved only for public places such as funerals and graduations, but that changed after Pinterest hit the mainstream.
Nowadays they are back in style and people use them to decorate their homes or get together with friends and family.
To our surprise, for 2021 (based on trends observed in recent years), we noticed that floral garlands might become one of the most popular Thanksgiving table decorations.
We say this because flower-themed centerpieces are very popular in general and not just during Thanksgiving thanks to their versatility and effortless beauty. For instance:
You can plant it in a flowerpot and use it as an indoor decoration, you can put it in a vase and place it on your table for Thanksgiving dinner, and you could also use it to decorate outdoors, for instance when you're hosting a party or family get-together around the pool.
3. DIY Thanksgiving Centerpiece Ideas – Golden Fall Centerpiece
Another great idea for the Thanksgiving table decor of 2021 is to go with a metallic centerpiece that will work well during the day or at night because of how nicely it reflects light both indoors and outdoors, unlike some other types of decorations on this list.
Keep in mind that this idea works best if you're hosting a big dinner and not just a small family meal like Thanksgiving should be because it's very easy to go overboard with these types of decorations.
Even so, we believe that the gold centerpieces look very beautiful and festive during the holidays, so they will fit right in regardless of whether you're having a formal or informal Thanksgiving dinner.
While many people choose to go with silver or gold, it's important to remember about colors because you can also get creative here if you want so black might be a nice choice too especially if your tablecloth is red or white in color.
As an alternative, you can use wooden stars instead but keep in mind that metallic items tend to not only look better but they're also easier to clean because you don't have to worry about dust sticking on them.
Of course, if you really want to make a statement at your Thanksgiving dinner table, the best idea is to go with a combination of metallic elements and natural ones, like the table decor above that uses typical symbols of the fall, such as pumpkins, leaves, and flowers, all of which were spray-painted in a gold/copper color.
You could use different sizes of golden bowls filled with flowers or fruits or simply use them as pedestals for candle holders and votive candles placed around the table.
4.Thanksgiving Table Decor Ideas – Golden Pumpkin Place Cards
If you're still looking for Thanksgiving table decorating ideas, another good choice is to go with golden pumpkins as place cards because they're inexpensive and very easy to do.
Start by spray painting your pumpkins gold. If you don't do it right the first time, that's okay because you should be able to peel off the paint if needed.
After that, take a sharpie (or any other type of marker) and write the guest's name on it.
However, make sure you hold your place card in place for at least five seconds otherwise the writing might rub off when handling them too much before seating all your guests.
The main reason why people like using these types of decorations is because they're inexpensive, easy to do and because they look great.
Plus if you need to pack up everything quickly because you haven't finished cooking yet or the guests are starting to arrive early or because there aren't enough dishes for everyone, just grab a pumpkin by one side and pick up all the cards with it so you don't have to worry about losing track of them.
Another reason why this idea works well is that it's easy to do with kids because most of them like using markers and it's fun for them to see what their handiwork looks like.
Plus, these small details will make them want to help out even more next year!
5. DIY Thanksgiving Centerpieces – Mini Pumpkin Placecards
If you're looking for a way to celebrate the Thanksgiving holiday in your home, you should consider making small pumpkin place cards that will go well with most types of Thanksgiving dinner tables.
You can use them as part of the centerpiece or simply as regular decorations around the table. You don't have to write anything on them because they look very cute even without any words so if you have kids, they'll enjoy coloring them and placing them around the table.
They're also great for bigger dinners because it's better to provide a few extra seats than not enough and people who don't end up with a seat will feel bad about going hungry during such an important meal.
The best idea is to give all your guests their own card because if you give everyone two or more, it might be hard to remember whose is whose.
It's also a good idea to include these place cards on your Thanksgiving table decor list of ideas because it will save you time when setting up the table and people can seat themselves without having to ask who is supposed to sit on what chair.
Altogether, pumpkin place cards are inexpensive, easy to make, and very cute so they'll definitely add some cheerfulness to your Thanksgiving dinner table, so it should come as no surprise that they are among the most popular DIY Thanksgiving centerpieces around.
6. Cheap Thanksgiving Table Decor – Mini Decorative Pumpkin
The beauty of this small pumpkin decoration is that it's the perfect way to spruce up your home for fall without spending tons of money or using a lot of space.
All you need are some mini pumpkins, a sharpie marker, and a whole lot of imagination, and you're pretty much set up to make a table decoration with almost unlimited potential.
Simply draw small designs onto the pumpkins with your favorite type of marker, making sure that you hold them in place for at least five seconds to make sure that they don't smudge when handling them.
It's much easier to have each pumpkin placed on a small piece of wood or plastic which will also help keep them in place because the drawing might come off easily when handling them too much.
You can draw more than one pattern on each pumpkin and it's always fun to mix and match different patterns just like with regular clothes.
However, if you're looking for more simple designs, you can try adding some lines or dots into the white space surrounding the pumpkins and this is easy enough that even kids will love doing it.
As an alternative to drawing designs onto these mini pumpkins, you could also paint them instead and either way works perfectly well so it's entirely up to you!
Kids will love being able to help with this project because it's so simple and fun for them.
In fact, they'll have a blast mixing different colors on each pumpkin or using glitter paint if you have some of that handy.
If you want to save time, one great idea is to get all of your pumpkins ready ahead of time and let your kids decorate one while you're working on the rest – since they're small enough to fit inside a cardboard box, any type of packaging works well for setting this up.
7. DIY Thanksgiving Table Centerpieces – Cute Toilet Paper Roll Pumpkin
You can make these cute Thanksgiving table centerpieces with items that you probably already have on hand since all you need are some toilet paper rolls, orange tissue paper, glue, scissors, some googly eyes, some green ribbon to make the stem, and a marker.
Once you've gotten all of your supplies together, the trick is to cut out four equal-sized strips of orange tissue paper and then fold them into rectangles before gluing them onto the ends of two toilet paper rolls.
Leave the middle part empty for now because it's where you're going to stick another roll later so try not to cover up too much of this area or else once your third roll is inside the pumpkin, there won't be anywhere for people to grab on to when taking it off!
After letting everything dry for at least ten minutes, cut out two small triangles from your tissue paper and glue them onto the opposite end of the toilet paper rolls before you put in your third roll, then use googly eyes to give life to your pumpkin creations!
Once you've let everything dry for another 10-15 minutes, it's time to add in that stem by cutting off a piece of green ribbon or fabric that is about four inches long.
Along with looking great on top of pumpkins, this also makes a cute table centerpiece if you're planning to use orange as your primary autumnal color scheme.
There's no need to specialize in crafting if you want to make something cute and festive for Thanksgiving because simple ideas like this one are easy enough that anyone can do it!
And, the best part of all is that once these pumpkins are empty, you can reuse them year after year and even change up how they look by using different types of tissue paper or paint next time around.
8. Thanksgiving Table Decor – 3D Paper Apple Decor
Since it's the season for Thanksgiving table decor, why not try making some 3D paper apple decorations that are perfect for adding to your autumn table decorating ideas?
You'll need a glue stick, scissors, a black pencil, a miniature terracotta planter, some small brown ribbon, white styrofoam, a popsicle stick (a kebab stick or a cotton candy stick will also do), and some construction paper in the colors green red and brown.
The fun part is that these little apples are so easy to make because all you have to do is trace the apple shape onto a sheet of red construction paper and then cut it out before repeating this step for the leaf.
What you'll need to do next is cut out two small triangles from your green construction paper and glue them onto either side of two long strips before gluing one strip onto each side of the pop stick so that you can create a stem.
Then, use brown construction paper to add little lines around the top and bottom of your mini apples so they look like real fruits! Once everything has dried, it's time to assemble your 3D apple decorations by adding a dab of glue inside the base of your miniature planter before fitting your apples snugly inside.
Once you've added in two more dabs of glue for extra security, add in the leaves by sticking them underneath the rim of the planter, and then use brown construction paper to draw on a couple of little twigs with your pencil!
More so, you can swap out the red paper with orang one, and with a few tweaks to the shapes and a few changes to your scissor cuts and you can now create 3D pumpkins instead.
And there you have it – a gorgeous centerpiece that's perfect for Thanksgiving table decorating ideas!
9. Simple Thanksgiving Table Decorations – DIY Chevron Candles
Many people think that decorating a table with too many candles turns it from festive to romantic, but as long as they look a certain way or don't give off certain scents, they will do just fine.
However, if you're the type that loves everything to look a specific way, the best way to go with decorations is to make them yourself, and surprisingly enough, even chevron candles are also easy to make at home.
You'll need candles, pins, acrylic paint, and a brush. As far as the paint goes, you can use whatever colors you want, but we do recommend that you use colors that match with the table cloth, the napkins, and all the other table decorations.
First, in order to make the lines in your candle stand out, you'll need to either heat pin and use them around the candle or draw small horizontal lines with a pencil.
After that, you can then paint over these lines with your acrylic paint of choice. If the line is too thin, it will still be noticeable after painting so just wait until everything dries before using another coat of color to fix this problem.
While the paint is still wet, take a pen or pencil and make zigzag patterns over your candle. Make sure to use different shades of color for your zigzags so that they are noticeable once everything has dried.
Finally, all you need to do is let everything dry and then light them up! These candles are perfect for Thanksgiving dinner table decorating ideas because they look absolutely gorgeous.
10. DIY Thanksgiving Floral Centerpieces – Flowers in a Pumpkin Pot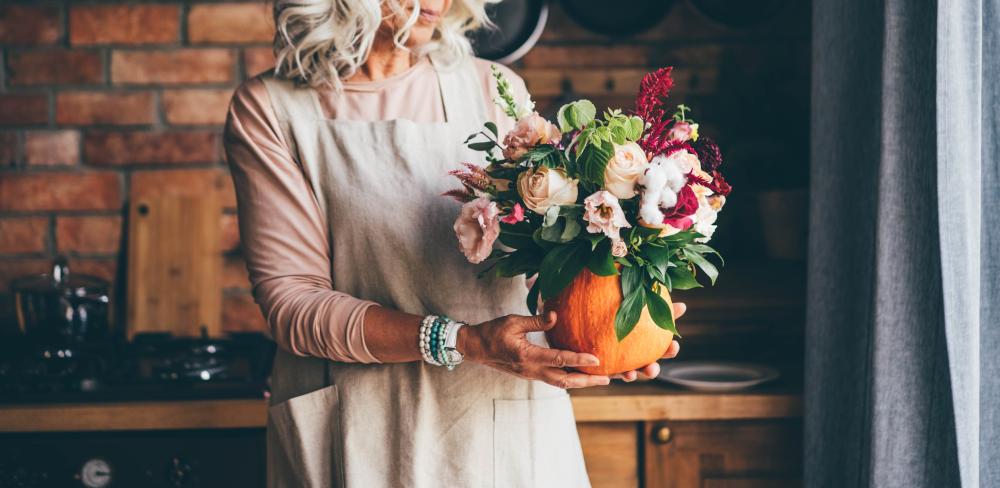 This Thanksgiving table decor, a pumpkin with a bouquet of flowers in it, is sure to look great when put on display at your dinner table. All you need to make this festive centerpiece are a few items from around the house and some basic crafting skills.
What you'll need for this project is a pumpkin that's large enough to hold a bouquet, a knife to carve it, and whatever flowers you love the most, including ones that are off-season (although for the sake of realism, we suggest that you stick to flowers that exist during the fall as well).
Start by carving the pumpkin with your knife. To do this, draw out a circle of about 7 inches or so on top of your pumpkin before tracing around it with the tip of your knife. After that, carve two triangles of equal size next to each other at about an inch away from one another right where you drew the circle on top.
These triangles will be the opening for where you put in your flowers later. If you're new to carving pumpkins, there are plenty of internet tutorials that can help you learn all about how to do it!
If not, then feel free to skip these steps and go straight on ahead to arranging your flowers inside of the pumpkin once everything else is ready!
Take apart the bouquet carefully so that you can reuse the flowers later, and then arrange it inside of your carved pumpkin. Make sure to place them snugly so that they don't fall out too easily.
Once again, if any of these steps are confusing, there are plenty of internet tutorials as well as books available at your local library that can help teach you all about carving pumpkins and working with different types of flowers!
Finally, place this table decoration somewhere that is at the center of your dinner table, and make sure everyone sees it too!
More DIY Thanksgiving Table Decorations
Like we said earlier, this article is not meant to be a ranking of the best DIY Thanksgiving table decorations, but rather a list of them, and while the previous 10 entries were the most popular ideas of 2021, that doesn't mean that you can't try something that's a bit more classic.
That being said, the following 15 table decoration ideas were quite popular in past years as well, so if all you're looking for is inspiration, and don't care about the latest trends, go ahead and continue reading the following section.
11. Simple Thanksgiving Table Decor
Are you actually quite new to the DIY game and simply exploring your options right now because you're not entirely sure you're ready to dive right into the decor process yet, but you really like seeing what other people have done to decoratetheir tables? Then we think you'll find this list of Thanksgiving table tips and tricks outlined onInterior Design Paradise to be a pretty useful resource!
12. DIY Metallic Themed Thanksgiving Table Decor
Are you the kind of person who loves a little bit of sparkle and shine in their style, both decor and personal? Then we think you'll get a real kick out of the way Tater Tots & Jello made this beautiful metallic-inspired tablescape setting that kind of starts to introduce the idea of colder temperatures into the atmosphere! We're particularly fond of how they made their glittered mini pumpkins.
13. DIY Burlap and Corn Husks Table Decor Idea
In your space, are you actually convinced that a slightly more rustic and down-home aesthetic would suit your home's space a little better? Then we think you'll have a little more luck checking out something like this table decor scheme from Amanda's Parties To Go that involves burlap and corn husks! We love the way it hearkens back to harvest on the farm.
14. DIY Modern Organic Table with Succulents – DIY Thanksgiving Centerpiece
Even though you're undoubtedly celebrating harvest season, would you rather do so in a way that looks a little more contemporary and minimalist but also somehow still very natural and organic to suit the season? Then we think you'll really appreciate this light neutrals and green decor scheme that puts lovely succulents at center stage. Craft and Couture even suggests leaving a cute little succulent at each person's plate like a place card!
15. DIY Thanksgiving Table Decor Idea – Rustic Wood Table Runner
If you're going to aim for a rustic atmosphere around your Thanksgiving table, would you rather actually go all out and make it a little more explicit? In that case, we have a feeling that this gorgeous stained wood table runner outlined step by surprisingly simple step onBlooming Homestead will beright up your alley! They show you how to make the sturdy statement piece that is at once decorativeand quite practical.
16. Rustic Chic Thanksgiving Table Decor
When you started thinking about ways to make your tablescape a little more "rustic chic" did your mind actually wander to an aesthetic that borders closer to what you might have found in an old-fashioned farmhouse? In that case, we'd be willing to bet that you'll love the wayCity Farmhouse added a sense of country comfort to their table with lanterns, plaid cloth runners, and even some (faux) fur lining the seats and benches for coziness and comfort while everyone eats.
17. Branch Wrapped Pumpkins and Pinecones Thanksgiving Table Decor
If you could have your ideal Thanksgiving table, would it actually involve a lot more nature than a lot of what you've seen so far? In that case, we think you'llreally appreciate the waySuburban Living managed to involve pinecones, pumpkins, and branches, creating awesome visual textures by wrapping and winding the thin, supple twig branches around the pumpkins like a mobile.
18. Rustic Paper Fan and Burlap Pockets – Thanksgiving Table Decor
Are you actually the kind of crafty person who wouldn't mind doing some simple sewing and paper crafting in preparation for their Thanksgiving dinner tablescape, rather than just arranging things creatively like a designer? In that case, grab the patterned card and burlap and take a look at how Quilted Cupcake made these lovely fall-colored paper fans and burlap napkin and utensil pockets in a surprisingly few simple steps.
19. Gourd and Candle Thanksgiving Centerpiece Idea
Is your favorite part of going shopping in the fall actually the way all the stores get in tons of pumpkins and gourds, making every supermarket look like a farm patch? Then we'd be willing to bet that you'd have a great time giving your dining table the same treatment for Thanksgiving. We love the ease and the style of this lovely gourd, pumpkin, and candle tablescape outlined in detail onHoosier Homemade (and we also get a real kick out of the way they snuck a pineapple in the middle)!
20. Easy Leaf Folded Napkin and Name Cards – Thanksgiving Table Decor Idea
Besides some pumpkins and a bit of leaf decor in the middle, would you actually rather keep the rest of your table decor primarily to place settings because you want to make each guest feel well taken care of? In that case, we'ddefinitelysuggest taking a look at howClean & Scentsible got creative with their napkin folding in order to make these little linen leaves and pinched them in place with a jute string and weathered paper name tag tied around a real stick of cinnamon.
21. Painted Gold Thanksgiving Table Decor Idea
Did wealmost have you convinced when we started talking about metallic-themed Thanksgiving tablescapes earlier on our list but, if you're honest, your absolute favorite of the metallic options is simply gold? Then perhaps you'd get along a little better with some of the suggestions on A Pumpkin and A Princess, who teaches you detail by detail about how they used paint to gild all kinds of natural elements in order to create a warm, golden fall glow around their table.
22. DIY Chalkboard Table Runner – Cheap Thanksgiving Table Decor
Have we actually really caught your attention with this whole concept of a hard table runner because you think it's quite practical on top of being decorative but you're just not sure you want to putmore wood on top of your already wooden tabletop? Then maybe you'd prefer to try your hand at this concept fromLiz Marie, who outlines how to make a chalkboard table runner topped with pumpkins and grain-filled candle vases instead.
23. Unique Log, Candle, and Fall Nature Thanksgiving Table Decor
If you're going to build yourself some kind of table decor scheme for Thanksgiving, would you actually prefer to goall out and make some kind of grand statement? In that case, particularly if words like "rustic" and "nature" have really appealed to you so far, then we think you'll simplyadore the wayDiva of DIY made this unique log centerpiece with spots for tea lights carved out of the top all the way down its length. Their idea to surround it with miniature pumpkins is cute as well!
24. Colouring Place Settings for Kids – DIY Thanksgiving Centerpiece
Have we caught your attention quite well with this whole concept of finding table decor ideas that are prettyand useful in some way, but you're thinking more along the lines of something your guests can actually interact with? Well, at least for the smallest members of the family, this next idea fromMomtastic just might have you covered! They show you not only how to set up an adorable place setting based around coloring but also how to present it in a decorative way that suits the rest of the tablescape too. This way, the kids will have something to do while they eat, just like at a restaurant.
25. Kid-Friendly Faux Turkey Leg Place Cards – Thanksgiving Table Decor
Are you actually scrolling through our list thinking about ways that you can get the kids involved in actually making and setting up the tablescape and dining room decor, rather than just finding a way to use it to amuse them? In that case, we think you'll find this next tutorial fromCreative Juice quite amusing indeed! We love the way they outline the steps for making funny turkey drumstick place holders to set at each plate of a Thanksgiving table, like the foreshadowing of delicious things to come.
Best Thanksgiving Table Decor: Conclusion
The thing is that it's the 21st century, and some people find themselves having less expendable income than they used to have back in the day.
That being said, setting up a classic Thanksgiving dinner table is going to cost quite a bit of cash, but what if there were ways for you to make your own centerpieces without spending too much on them?
In fact, every single year there are more and more different kinds of Thanksgiving table decor ideas popping out from all directions too quickly for you to keep up with, so that's why the best idea is to make your own thanksgiving table decorations
Not only that, but don't forget that you can also decorate the rest of your house as well, not just the table, but if you're not sure where to start, check out this detailed guide on how to decorate your house for Thanksgiving from A to Z.
All in all, if you're looking for more articles where we teach you how you can make your Thanksgiving an unforgettable one, feel free to browse our website.
We have lists of decoration ideas, food recipes, as well as step-by-step articles on how you can cook delicious Thanksgiving meals from scratch!