DIY Table Runners for Every Occasion
Adding a runner down the centre of your table can take your place setting and dining atmosphere to a whole new level. Your guests will be particularly impressed when they learn that the gorgeous piece in the middle of it all is something you actually made yourself!
Check out these awesome, easy DIY table runners for any special dinner occasion.
1. No-sew table runner
This tutorial shows you how to make a table runner using two-sided steam strips to create nice edges rather than sewing them!(Source: Home Oh My)
2. Canvas drop cloth
This look is simple, bohemian, and easy to make. Make sure you cut it to the right size, but don't worry about being too neat. A bit of irregularity adds charm!(Source: A Daily Something)
3. Stamped table runner
This awesomely worn looking effect was created by cutting a sponge to shape, dipping it in paint, and using it like a stamp! Easy, fun, and messy… but in a good way.(Source: Sarah Hearts)
4. Stitched lace doilies
An eclectic collection of lace doilies sewn together might sound strange, but it's actually one of the prettiest effects you'll see when it comes to DIY table runners!(Source: The Sweetest occasion)
5. Chalkboard table runner
A piece of oil cloth painted with blackboard paint makes for the perfect mid-dinner entertainment. Kids ad adults alike will enjoy doodling while they socialize between courses.(Source: Hey Look)
6. Burlap table runner
A strip or burlap down the centre of the table helps establish the perfect rustic chic atmosphere. Don't worry if it starts to fray! That just makes things even more authentic.(Source: Wedding Chicks)
7. Paper pinwheel table runner
This idea might not be very practical for putting serving dishes on during dinner, but it's stunningly decorative for tables where the centre isn't immediately needed to set things.(Source: Green Wedding Shoes)
8. Wood shim table runner
This tutorial shows you how to make an adorable DIY table runner from pieces of wood. In fact, it even shows you how to stain the wood different shades for maximum impression!(Source: Shanty 2 Chic)
9. Vintage photo table runner
Having old photos printed nice and big and attaching them as a runner is an adorable idea for so many occasions! Family wedding photos look great at a wedding, childhood pictures are fun for a birthday party, and family pictures are nice for an anniversary!(Source: Ruffled)
10. Paper flower table runner
Some tables are simply meant to look wonderful. These paper flowers do just that! Choose a colour scheme that compliments the room around your table or get crazy and make flowers of all different colours!(Source: Ruffled)
11. Pebble table runner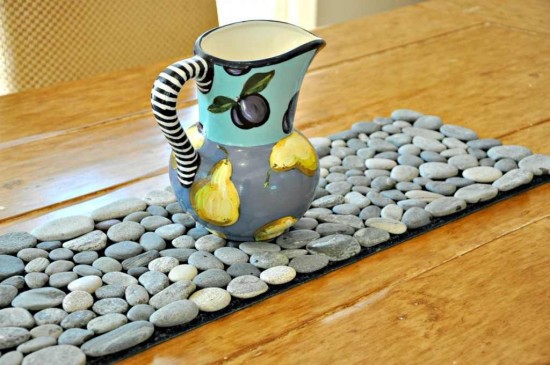 Gluing small, smooth pebbles to a solid long base, like cardboard or plastic, makes for an impressive natural runner. It takes patiences, but fitting the pebbles together like a mosaic is a lot of fun!(Source: Home Tips World)
12. Rope table runner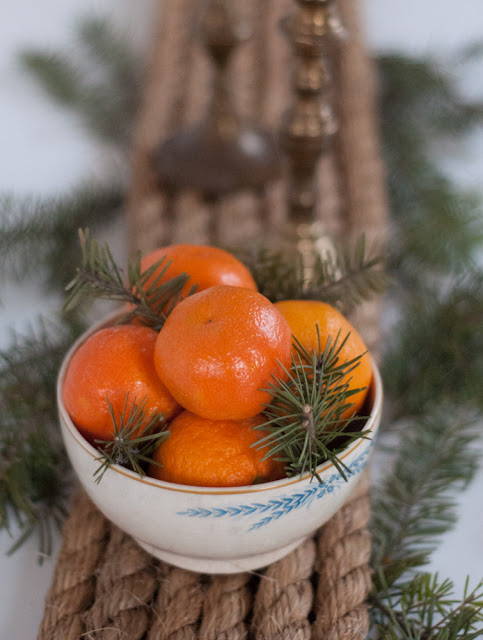 This awesomely rustic rope table runner supports dishes and centre pieces, and it's way easier to make than you'd think! All you need is a long piece of cardboard, some rope, some strong glue, and some patience.(Source: Vintage Whites)
13. Braided jute table runner
If you like the idea of the simple burlap runner but you're hoping for something with a little more detail, try weaving strips of jute like a basket!(Source: Tara Dennis)
14. Rainbow felt table runner
Felt is easy to get, easy to work with, and it comes in a whole array of bright colours. A rainbow runner like this one is perfect for kids' birthday parties or Pride celebrations!(Source: Say Yes)
15. Paint stick table runner
Cutting paint sticks into smaller sections is easy, and so is painting them all kinds of bright colours! Stick them to a thick material base like felt. This runner looks especially cool if you create an interlocking pattern like this one!(Source: Ruffled)
Have you created other DIY table runner styles that you don't see here? Tell us about how you did it or link us to your pictures in the comments section!