50 DIY Table Runners for Every Occasion
Using a table runner is classier than using a tablecloth to decorate the table and prepare meals. And there are many options you can choose from, whether you prefer a rustic table runner that complements your farmhouse or a simple white table runner that goes well with any theme.
Most people use table runners for special occasions like Thanksgiving, Halloween, Christmas, Easter, or weddings. However, you don't really need to use these events as an excuse to take out the runner and lay it on your table if you love it so much.
Best Table Runners to Use in 2021
From simple designs with linen fabric to quilted designs with colorful themes, these are the best table runners that you should definitely try this year.
1. Rustic Table Runner
From Mud Pie comes a blue and white rustic table runner that blends well with a farmhouse. It's made out of cotton, has a fringe trim with chunky tassel, and is sized at 18×90 inches.
You can buy this table runner from Dillards and, if you're not a fan of blue and white, you can replace it with light grey and white or all white.
We think this table runner works well on any day of the year since it's so versatile and casual. The fact that it's available in muted colors proves that it can be adapted to any color scheme.
2. White Christmas Table Runner with Trees
This white Christmas-themed table runner is perfect for decorating your dining table this holiday season. Made of cotton, it's light grey and has adorable Christmas trees stitched to both ends.
What we love about this design is that it embodies the Christmas spirit without going overboard. It doesn't try to take over your red and green decorations but still manages to complement the dining table, all thanks to the neutral colors with tree details.
3. Burlap Table Runner
A burlap table runner is an excellent way to add a bit of countryside flair to your table. It's also perfect for fall due to the rustic theme. Made of burlap, it's a simple and sophisticated beige table runner that helps your other table decorations stand out, all thanks to its neutral color.
Of course, you can use this table runner throughout Thanksgiving and Halloween to add some festive touch to your dining table. However, you could also keep it on display all year-round since the beige is not exclusive to these events.
4. Green Farmhouse Table Runner
This green farmhouse table runner is ideal for celebrating Easter since it's made with pastels. But that doesn't mean it should be limited to Easter. Instead, you can set it on your table on any day of the year.
It works well with the farmhouse theme since it can complement brown, blue, and white dishes. And, since the green is a light shade, you can effortlessly match this table runner to your dining table plates and decorations without having to worry about the colors clashing with each other.
5. Blue Table Runner
Whether or not you love the blue color, a blue table runner does a good job creating a calming atmosphere. The color is relaxing, and the design has a simple geometric pattern. Made of cotton, it's sturdy and can be used for various events throughout the year.
What we like about this runner is that it can become your table centerpiece but, at the same time, allows other table decorations to shine. It works for both casual and formal settings. You can also go all-out modern by teaming this runner with minimalist white dishes.
6. Easter Table Runner
A colorful Easter table runner like the one shown in the picture can be used to brighten up your dining table when you have guests coming over for brunch.
What we love about this design are vertical strips of pastel colors, such as lilac, lime, mint, a bit of light grey. It will certainly add a festive touch to the dining room, while the vibrant shades will attract attention.
Just remember that you can use this Easter-themed runner throughout spring, thanks to its pastel palette. However, you could apply it all year round since it doesn't have any explicit spring details such as rabbits and flowers.
7. Distressed Foil Metallic Gold Table Runner
A distressed gold table runner glams up your dining room since the metallic embellishments make it glisten. The gold design and color of this table runner are not too flashy, allowing it to work with both traditional and modern decor.
Whenever you have a special event coming up, like a grown-up birthday party or a wedding anniversary, just take out this runner and place it on the table to make the event elegant and memorable.
If you like metallic touches but don't want something garish, then this tabletop accessory will help you get what you're looking for. It's machine washable, sized at 72×16 inches, and made out of cotton. You can get it from Macy's.
8. Simple White Table Runner
White is a neutral color that matches various table settings and decorations. Even if you're thinking about going for a minimal modern theme, then this simple white table runner can go well with it.
What we like about this table runner is the simplicity. It's not flashy, which means it doesn't command attention. Instead, it allows other items at the dining room table to stand out and look good. You can also combine it with any plates or dishes you like since they will complement each other easily.
9. DIY Hexagon Crochet – Table Runner Ideas
The hexagon afghan crochet pattern is used in several items, such as duvets. However, it's also a good idea for table runners. You should try to make one at home since it offers various advantages, like saving money and having the possibility to personalize your own table runner.
What we like about this idea is that you can use the finished table runner both indoors and outdoors. The color might not be suitable for all seasons, but you can easily get around that problem by using different colors for each season or event that you're celebrating.
You might not think of crocheting something when you want to decorate your dining room furniture with a table runner since crocheting may seem too difficult. But mistakes are easy to fix in crochet, so there's no need to worry much about errors.
As far as supplies are concerned, you will need yarn, a darning needle for sewing in the ends, a crochet hook, and a pair of scissors. Check out the complete tutorial for this DIY hexagon crochet project at Envato Tuts+!
This elegant beaded table runner is handmade and works on any autumn day, thanks to the design of leaves. You can place set it on the table and decorate it with candles and pumpkins for Halloween or Thanksgiving, for example.
The size of the table runner is 13×36 inches. It uses multicolored beads and has a non-symmetrical design that will add texture to your dining table. Besides, it makes for an excellent gift. You can buy it from Etsy.
If you like St. Patrick's Day, then this green coffee table runner will be perfect for your dining room set. The Irish design of the runner makes it suitable for this holiday season, but it also looks nice all year round.
The size for this runner is 13×70 inches so that it can cover a more extended area on your coffee table without any problems. However, there are multiple sizes available for purchase on Amazon.
The green color theme is bright, so you must complement it with natural colors, like white dishes or white flowers. This way, the table runner will stand out, but you won't create an overwhelming visual effect.
The coffee table runner is made out of polyester and is durable, thanks to the fact that it resists stains and fading. To prolong its lifespan, it's best to handwash it. Otherwise, you have to use a gentle cycle and low tumble dry setting in your washing machine.
12. Stencil Witches – Halloween Table Runner
Halloween is the most suitable holiday for creating spooky decorations. If you want to add items to your home that will create an effect of mystery and suspense, then this Halloween table runner with stencil witches is definitely something you should consider.
Besides, you can make it yourself. When it comes to materials, you will need a solid black table runner with no details added to it, a cutting machine, shape and stencil film for the cutting machine, a small foam roller, a paint tray, and white acrylic paint.
Polkadot Chair provides you with a straightforward tutorial on how to easily apply a stencil to a table runner, so be sure to look over this DIY project!
13. Modern Balsa Wood Table Runner
We love balsa wood because it's light, flexible, and easy to work with. This table runner is an excellent DIY project if you want to make something modern that will look great on both rustic tables and modern ones.
You can use it for centerpieces or as a decorative piece of furniture on your coffee table. Balsa wood allows you to create beautiful textures like these modern geometric shapes, which are perfect for creating visual appeal through interesting designs.
Balsa wood can be purchased from many craft stores or ordered online for free shipping worldwide. The material is affordable, so this might be an excellent table runner idea if you're looking to save some money on decorating your home.
To start working on this project, you will need an old rag for stain, spray adhesive, balsa wood, wood glue, a metal ruler, a rotary cutter, plywood, and stain like special walnut, dark walnut, or espresso.
If you love this idea just as much as we do, don't hesitate to check out the complete instructions at Remodelaholic and let us know how it turns out!
14. Daisies Table Runner
Daisies are certainly among the most beautiful and delicate flowers. People all around the world use them as a symbol of friendship and devotion due to these traits.
With this daisy-themed table runner, you can create a cheerful and happy atmosphere in your home by adding daisies to any spot where you want – lounges, dining rooms, kitchens, etc. It comes in two sizes (14×70 inches and 14×91 inches) is available for purchase on Dunelm.
The floral table runner is made out of polyesterand has a soft-brushed texture. Plus, it's machine washable if you want to clean it after eating some oily or sugary food or spilling some beverages on it.
15. Leafy Table Runner
If you're a fan of green plants, then this DIY project for a leafy table runner is just what you need to add some color and breathe live life into your dining area. However, it's a sewing project, so you can't make it happen unless you know how to sew.
All Free Sewing provides afree printable leaf template PDF that you can quickly download and easily follow. You can sew the table runner by hand or use a machine. And, if it turns out like the one shown in the photo, you should have a delicate table runner with yellow and mint leaves that your family will love.
16. Fall Leaves Quilt Blocks – Table Runner
If you're searching for decoration items for autumn, then take a look at this quilt block table runner idea. This project is more complex than the previous one, but it's doable if you have experience working with your sewing machine and know how to sew a quilt block.
Quilting in the hoop will allow you to quickly assemble a colorful and pleasant-looking table runner that can be used as a tablecloth or hung on any wall as a decorative element. You will need cotton in several colors, so choose the ones you like best so that you can start doing this fun project as soon as possible!
You can purchase the quilting pattern from Sweet Pea. However, keep in mind that the website will not send you a table runner.
17. Classy Quilted Table Runner
If you're looking for a classy and elegant table runner to complete your dining room decor, then go with the quilted option. And, if you can't find the colors and patterns you were hoping for, then you can start a quilting project and design your new table runner any way you want.
For example, you can use solid grey fabric and create a stunning geometric pattern around it. If you're on a budget but still want to get an elegant-looking table runner, you can use old bedsheets made out of cotton. Otherwise, just purchase cotton from your local crafting store and pick your preferred colors.
Suzy Quilts teaches you how to make a quilted table runner in her extensive tutorial using a basic sewing machine. You can find it on her blog, which also provides a lot of other exciting ideas and free patterns.
18. Fall Table Runner
Here's a table runner with an interesting pattern and vibrant colors that match the fall season. It works perfectly for Thanksgiving or any other autumn day. You can purchase it from 4 Seasons By Rosa.
The table runner is soft, made out of a blend of polyester and cotton. It's 70-x12 inches, reversible, machine washable, and has a long-lasting design.
19. Pumpkin Patch – Halloween Table Runner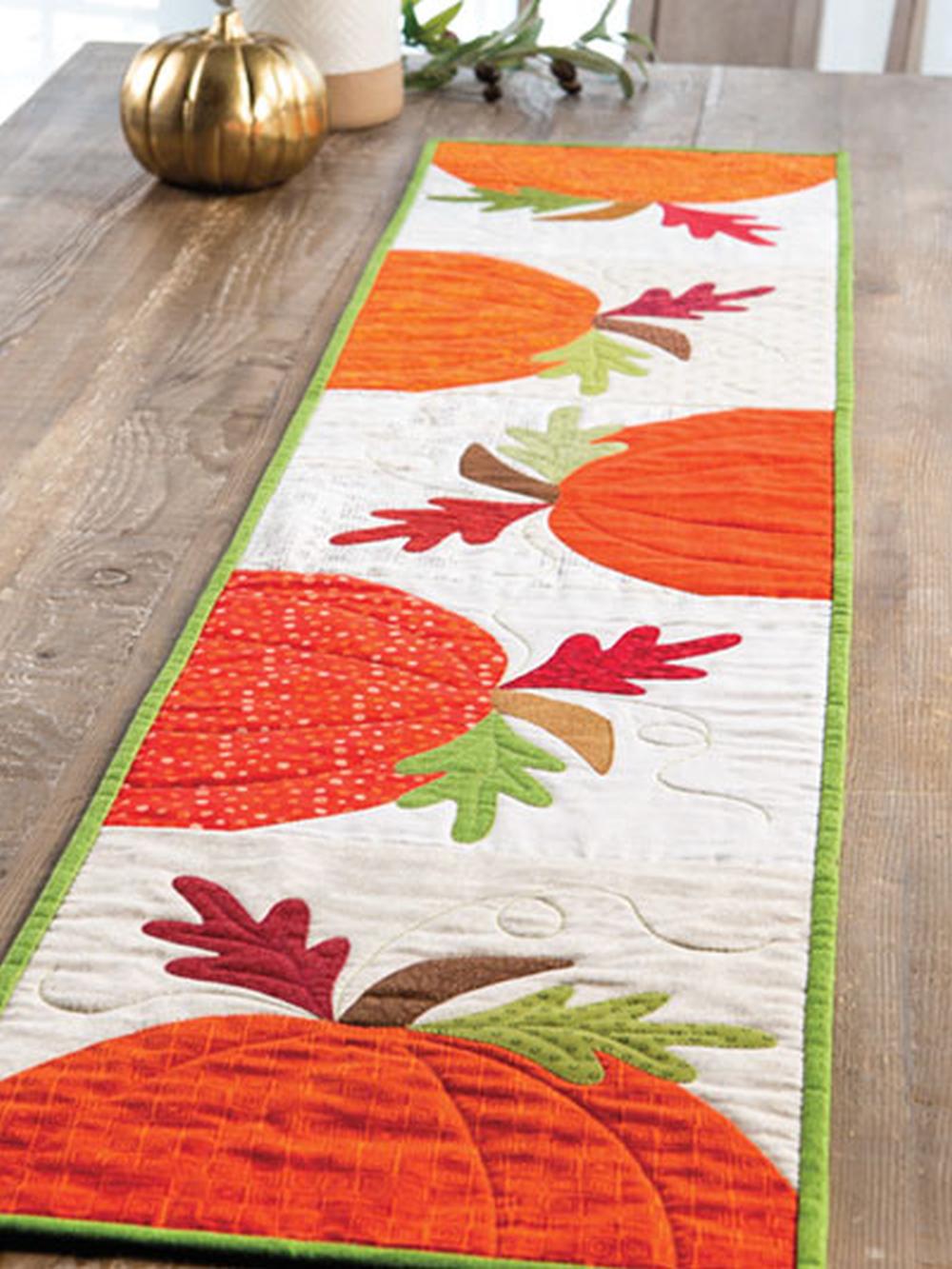 If you're looking for a festive table runner for Halloween, then consider this colorful pumpkin patch idea. The quilting pattern is easy to follow, and the end result looks brilliant! The table runner is made out of cotton and has a length of 50 inches.
You can purchase the quilting pattern from Annie's Craft Store, so be sure to check it out! The product shown in the picture has a size of 60×12 inches.
When it comes to materials, you will need prints (off-white, green, orange, brown, dark red), backing and batting to size, fusible web, template materials, thread, as well as essential sewing tools and supplies.
20. Vintage Green Hand Dyed Gauze Table Runner
If you are seeking a stylish table runner for your family and friends, then this is what you've been looking for! It is made out of 100% cotton gauze and non-toxic dyes with vintage-inspired hues.
You can buy this elegant table runner from Mosshound Designs at any length ranging from 6 feet to 85 feet. The width is 30 inches. It's machine washable as long as you use cold water. However, you shouldn't iron it since you risk ruining the fabric.
Although it's primarily designed for weddings, we think that it works for any occasion since it has a single, neutral color (deep sage) that doesn't overwhelm the other decoration elements.
Farmhouse table runners can have not only neutral colors but also bright, extravagant ones like the one shown in this photo. It's a quilted jelly roll runner that you can use for children's birthday parties, sleepovers, game nights, and other special occasions with a whimsical theme. It's not suited for anything classy or elegant, though.
The pattern of this jelly roll quilted runner is available for purchase on Amazon, so you can get it and learn how to make it on your own.
Once you finish the runner, it should be about 16.25×40.25 inches. You will need theme fabric, precut strips, accent borders, backing, batting, and binding.
Remember that the Amazon listing is for the pattern only and not for the actual table runner.
22. Summer Popsicle Quilted Table Runner
This quilted table runner with popsicles is quite colorful, making it a significant decoration element for summer parties. It's elementary to make since all you need to do is sew the strips together and then follow an applique pattern!
The summer popsicle quilted table runner can be found at Fig Tree and Company. So if you are interested in making your own table runner just like this one, check out their website!
It should have a length of 53 inches, while the width will depend on how many strips you could sew together. In the image shown, the runner has a width of 12 inches. You should use batting that is at least 1 inch wider than the outcome of the runner so that it doesn't get ruined due to folding (the seams would pucker).
23. Gingham Pumpkins Quilt – Halloween Table Runner
Halloween wouldn't be complete without a matching table runner. And what better way to celebrate the spookiest night of the year than by using pumpkins?
This Halloween table runner is quilted and features gingham pumpkin patches. And you can use it on Thanksgiving, too!
Three pumpkins are large and sewn in various patterns of blue, while two of them are smaller, orange, and identical to complement the blue pumpkins. Meanwhile, the borders have gingham stripes that stick to the blue color scheme.
If you wish to learn how to make this stunning gingham pumpkin quilted table runner for Halloween and Thanksgiving, you can download the pattern for free from Hello Melly Designs. Once you finish the project, the table runner should have a size of 39.5×17 inches.
24. French Braid Table Runner
Here's another stunning quilted table runner that you can place on the dinner table any time of the year to greet your guests and have delicious meals together.
You can find it on Ragstofishes' blog. It has a French braid, so it's made from colorful strips in a fishbone pattern. This quilted braid runner features multiple colors, so you can choose your favorite ones and get started on this fun project.
All you need to create your own version of this runner is non-toxic dye and cotton gauze. Medium-weight polyester batting also works so that the runner doesn't unravel and the edges don't curl after washing.
You can use a particular color for the background while resorting to other hues to make the braids. If you don't want your dinner table to look cluttered and keep your guests distracted from their plates, then you shouldn't use more than three different colors.
25. Christmas Gifts – Table Runner
This festive pattern will be a splendid decoration for your Christmas table! It's effortless to make, and the outcome is astounding, especially if you love Christmas.
For this Christmas table runner, you will need 5 fat quarters for the top, 1 yard for the backing and batting, coordinating thread, and 1/4 yard for ribbon. Or, you can purchase an actual ribbon and then sew it on the top side.
The pattern is available on Quilting in the Rain, so be sure to check out the full instructions there!
The runner shown in the tutorial has a length of approximately 59 inches and consists of multiple quilted Christmas gifts that are sewn together.
Also, you don't even need to alter patterns or personalize any elements – just follow the instructions, and you're good to go!
26. No-Sew Fringed Burlap Table Runner
If you're not very good at sewing, don't worry because the string fringe style is fun and quick! Plus, it's stylish and works well for both special events and regular days.
For this no-sew burlap table runner, you will need a canvas drop cloth (that's how it got its name), twine or yarn for fringing, scissors, and a glue gun. The final size of your creation depends on how many strings you cut and attach to the base fabric with the help of hot glue (which doesn't require any sewing).
You can start this DIY project by sketching out what you want your finished product to look like. That way, you will be able to calculate the amount of string needed for the fringe. For example, if you want a runner that's at least 4-inch longer on each side, than your canvas drop cloth then you will need 4 feet of additional twine or yarn for fringing.
You can make your runner as long as you want but keep in mind that the longer it becomes, the less noticeable any imperfections are going to be because there will have more strings added along the sides.
It's also worth to consider placing another drop cloth underneath so that when you crumple it up (and you will), the mess is hidden. As for width, be creative! Measure your table space and consider what looks good to you.
The next step involves cutting individual strands that are 4-feet long. The length doesn't have to be perfect because there's no sewing involved. But it should at least be close enough so that all ends are even after they're tied on the edge of the fabric.
Once you've cut all your strings, attach them securely with a generous amount of hot glue on the top of the drop cloth about an inch from the edge. Make sure that you hold them in place for at least 20 seconds per string because they need to fully dry before you move onto the next one, which will be placed directly under where you attached your first string. You won't see any glue strings after this project is finished because they will be hidden by all of the fringe strings.
After gluing on your fringing, use scissors to trim off any unevenness. This burlap table runner is semi-hemmed, which means there's no hem involved – you can leave it like that or fold over with a sewing machine, hand stitch or simply use hot glue again.
For more inspiration, you should check out Shine Your Light's blog!
27. Royal Blue Table Runner
This royal blue table runner is perfect for all kinds of parties and events! It's made out of high-quality taffeta material, which means it will hold up its shape well. Additionally, you don't need to worry about any little wrinkles because that's what crinkle fabric does!
The runner has a farmhouse style and a size of 12×108 inches. It's made from linen and is suitable for all seasons. However, it's not machine washable, so you need to handwash it instead. You can buy it from Overstock.
28. Blue and Grey Table Runner
This blue and grey table runner is ideal for special occasions when you have a lot of people coming over for dinner. Plus, it has neutral colors, so you can use it to decorate your table without overshadowing everything else.
The runner is embroidered, woven, and made from a blend of polyester and cotton. As far as the size is concerned, it has 13×71 inches. But you can also get it in a bigger size – 13×83 inches.
Furthermore, you can explore multiple color choices if this one doesn't match your color theme, such as black and white, white and red, or black, white and purple.
Feel free to explore your options at Our Lovely Decor and let us know what you think!
29. Linen Easter Table Runner with Rabbits and Carrots
This Easter table runner is adorable and will make your kitchen look very stylish! It's made out of linen, which means that there's no doubt this fabric will keep its original shape for years to come.
The background is light beige. Furthermore, it has a couple of cute white rabbits with three orange carrots in front of them, complete with ribbons made out of twine, so the table runner really accentuates the spring theme.
The measurements are 72×13 inches. You can purchase this table runner from Coastal Farmhouse LLC. We're sure that your kids will fall in love with it!
30. Gold Sequin Table Runner
This gold sequin table runner is perfect for parties, weddings, anniversaries, engagement parties, or other types of special events, especially when you have a lot of people over. Plus, it glitters, so it will definitely grab everyone's attention.
It goes without saying that the runner would be the star of your table, so don't think about adding more glitter in plates or flower vases unless you want it all to turn out kitschy.
The table runner is not durable since it's made out of polyester and plastic. But that shouldn't stop you from whipping it out whenever you have a significant party coming up. It measures 13 inches and 6 feet.
Check out Party City for more information about this gold sequin table runner! You can also explore other colors, like green, rose, pink, and sapphire – all in sparkling sequin, of course.
This ivory boho table runner is perfect for those who want a simple and sophisticated look – not to mention that it comes in a variety of colors, including blue, black, brown, peach, natural, green, and red.
As you can see from the image above, the runner is made out of cheesecloth, which means that you don't have to arrange it neatly on the table. In fact, it's best to create relaxed fabric waves and blend the handmade runner with the plates and glasses to create a carefree look. The endings are raw (rustic unfinished).
If you love this table runner, you can buy it from Etsy. There are multiple purchase options when it comes to size.
32. Macrame Table Runner
A macrame table runner like this one can bring a little bit of summer to your autumn or winter decor, thanks to the beautiful and light texture. Besides, you don't need a special event to arrange it on the table since it works with any day of the week.
The one shown in the picture is ivory and can be purchased from Anthropologie. It's handcrafted and made from cotton, polyester, and rayon. Plus, it measures 16×90 inches.
33. White Table Runner with Maple Leaves
Thanksgiving Day wouldn't be complete without a beautiful table arrangement so that your family and friends can enjoy turkey with gravy. If you're looking for a white table runner that perfectly complements autumn, this is it.
It's completely white except for the triangle-shaped edges that display pumpkins and maple leaves. The runner is woven and made out of a blend of cotton and polyester. Meanwhile, the pumpkins and maple leaves are printed.
If you're interested, you can buy this stunning table runner from PDIC. There are multiple sizes available for purchase, ranging from 13×70 inches to 13 inches x 10 feet.
34. Retro Leaf Print Table Runner
This table runner has a colorful botanical print inspired by nature. It's playful and can be used any season. The retro colors are so rich that it almost looks like a painting. Plus, it would be an excellent housewarming gift.
The runner is made from organic cotton and measures 16×90 inches, which means that it's suitable for all types of tables, including round, square, and rectangular. Furthermore, it's machine washable and can be ironed without any problems.
If you wish to get this table runner online, then check out Edge of the Meadow for more information!
35. Ruler Table Runner
Check out this clever twist – a table runner that looks like a ruler! It's a fantastic way to create a rustic display while stepping outside the comfort zone by opting for an unusual yet whimsical design.
Head over to Ann's Entitled Life to learn how to make this table runner from scratch!
As far as materials are concerned, you will need the following: fabric, tape measure, scissors, a straight edge ruler, straight pins, needle and thread, a sewing machine, iron, a printer, a pencil, a small paintbrush, black fabric paint, and fabric protector.
36. Farmhouse Table Runner
Farmhouse table runners are perfect for any season! We love this one because it imitates sheets of wood, so it goes well with the rustic theme.
Made out of superior cotton and linen, this table runner has solid topstitching to avoid fraying and loose ends. The wooden and teal parts are printed. However, the material is quite durable so that the colors won't fade away after multiple washes.
Since we're on this topic, it's possible to throw this runner into the washing machine and use cold water on a gentle cycle and tumble dry low. Ironing is permitted, too.
You can get this stunning farmhouse table runner from Venue. It's available in several sizes, ranging from 16×72 inches to 13×108 inches.
More Table Runners You'll Want in Your Home
We have even more cool ideas for table runners that could fit your home just right. Let's check them out!
37. No-sew Table Runner
This tutorial shows you how to make a table runner using two-sided steam strips to create nice edges rather than sewing them!(Source: Home Oh My)
38. Canvas White Table Runner
This look is simple, bohemian, and easy to make. Make sure you cut it to the right size, but don't worry about beingtoo neat. A bit of irregularity adds charm!(Source: A Daily Something)
39. Stamped Table Runner
This awesomely worn-looking effect was created by cutting a sponge to shape, dipping it in paint, and using it like a stamp! Easy, fun, and messy… but in a good way.(Source: Sarah Hearts)
40. Stitched Lace Doilies – Table Runner
An eclectic collection of lace doilies sewn together might sound strange, but it's actually one of the prettiest effects you'll see when it comes to DIY table runners!(Source: The Sweetest occasion)
41. Chalkboard Table Runner
A piece of oilcloth painted with blackboard paint makes for the perfect mid-dinner entertainment. Kids ad adults alike will enjoy doodling while they socialize between courses.(Source: Hey Look)
42. Paper Pinwheel Table Runner
This idea might not be very practical for putting serving dishes on during dinner, but it's stunningly decorative for tables where the centre isn't immediately needed to set things.(Source: Green Wedding Shoes)
43. Wood Table Runner
This tutorial shows you how to make an adorable DIY table runner from pieces of wood. In fact, it even shows you how to stain the wood different shades for maximum impression!(Source: Shanty 2 Chic)
44. Vintage Photo Table Runner
Having old photos printed nice and big and attaching them as a runner is an adorable idea for so many occasions! Family wedding photos look great at a wedding, childhood pictures are fun for a birthday party, and family pictures are nice for an anniversary!(Source: Ruffled)
45. Paper Flower Table Runner
Some tables are simply meant to look wonderful. These paper flowers do just that! Choose a colour scheme that compliments the room around your table or get crazy and make flowers of all different colors! (Source: Ruffled)
46. Pebble Table Runner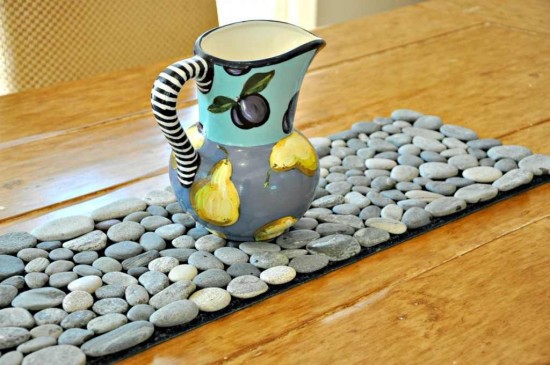 Gluing small, smooth pebbles to a solid long base, like cardboard or plastic, makes for an impressive natural runner. It takes patiences, but fitting the pebbles together like a mosaic is a lot of fun!(Source: Home Tips World)
47. Farmhouse Table Runner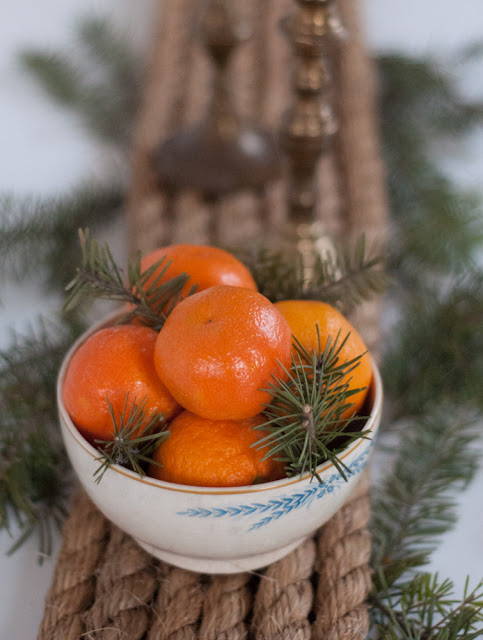 This awesomely rustic rope table runner supports dishes and centre pieces, and it'sway easier to make than you'd think! All you need is a long piece of cardboard, some rope, some strong glue, and some patience.(Source: Vintage Whites)
48. Braided Jute Table Runner
If you like the idea of the simple burlap runner but you're hoping for something with a little more detail, try weaving strips of jute like a basket!(Source: Tara Dennis)
49. Rainbow Felt Table Runner
Felt is easy to get, easy to work with, and it comes in a whole array of bright colors. A rainbow runner like this one is perfect for kids' birthday parties or Pride celebrations!(Source: Say Yes)
50. Chevron Table Runner
Cutting paint sticks into smaller sections is easy, and so is painting them all kinds of bright colours! Stick them to a thick material base like felt. This runner looks especially cool if you create an interlocking pattern like this one!(Source: Ruffled)
Final Thoughts on Table Runners
Table runners are beautiful and versatile. They come in a variety of styles and colors to suit any occasion or season. Plus, they don't cost much money, so you won't have to spend a fortune on them. If you can sew, making your own table runner is an excellent option since it will definitely impress guests!
On the other hand, if you don't want to brag about your skills, simply look for one online! There are so many choices out there, and you just need to take the time to explore them.
We hope that you found something you like on this list. If so, please let us know what you loved best by dropping a comment in the dedicated section below. Also, don't hesitate to share more table runner ideas with us!