15 Incredibly Delicious Thanksgiving Side Dishes
When it comes to Thanksgiving dinner in our house, the turkey is undoubtedly the star. Because we have some family and friends that don't like or eat meat, however, we always make sure to make some extra awesome side dishes as well! Besides, who doesn't love a lot of selection, especially if it adds a lot of flavour?
Just in case you're on the hunt for some especially great Thanksgiving side dishes for this year, here's a list of some of our favourite recipes that we've either tried over the years or simply can't wait to tuck into when we make them this year!
1. Root vegetable gratin with Gruyere
If you ask us, root vegetables are totally underrated. There's just something so homegrown and delicious tasting about them, especially when they're prepared just right! That's why we loved this root vegetable gratin from Wholistic Woman so much! They show you how to combine parsnips, sweet potatoes, celery root, thyme, and parsley with heavy cream and Gruyere cheese to really tie everything together.
2. Bacon and brussel sprouts
We've honestly always loved Brussel sprouts, but we know that they get a bad rap. In our house, we're actually the only ones who would originally eat them! Getting the kids to even look at them was a struggle until we found this game changing recipe from Jaime Loves Stuff. They show you how to make roasted Brussel sprouts with bacon so that the sprouts take on some of that delicious familiar flavour. Even our kids couldn't resist these ones!
3. Monkey bread stuffing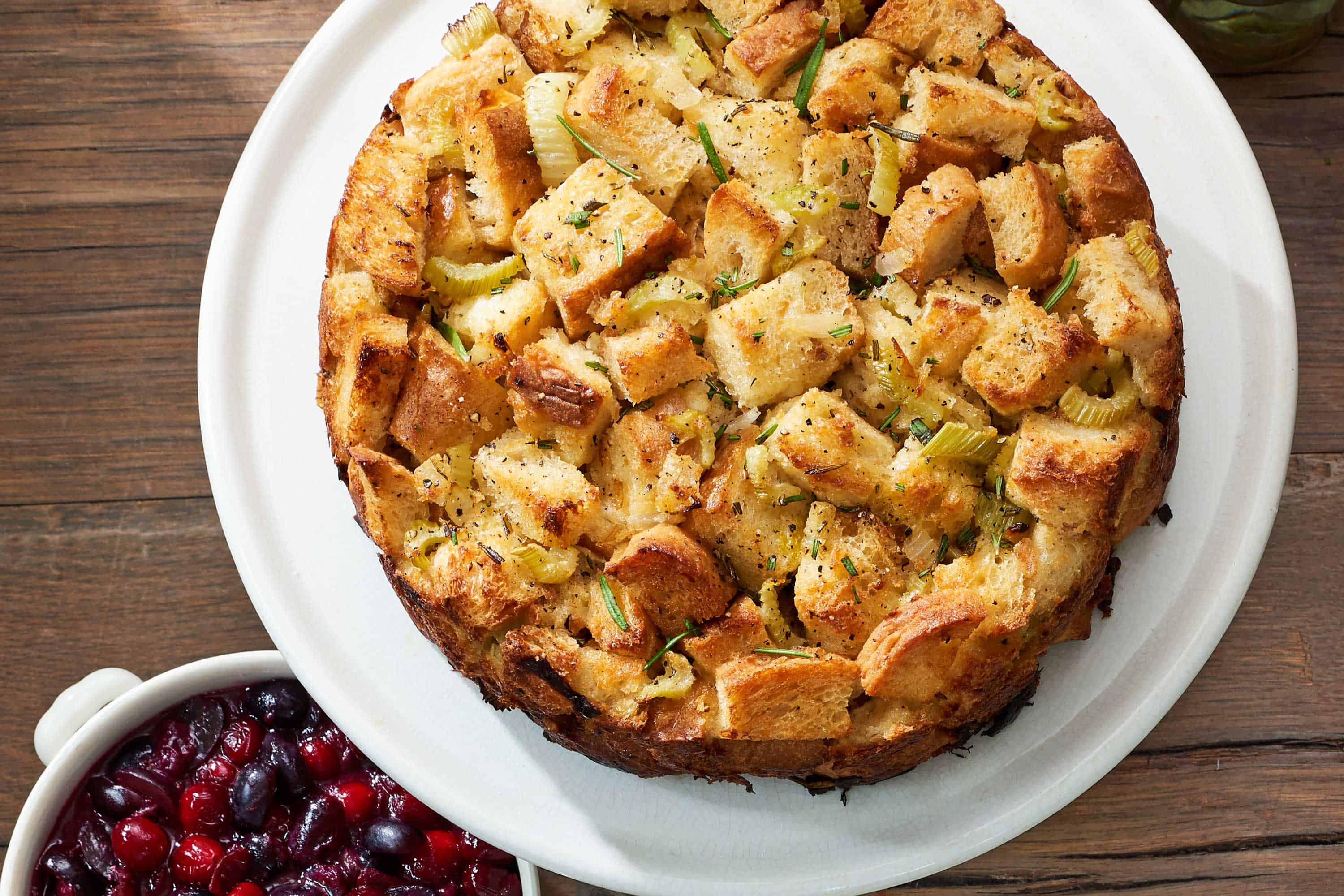 Just in case you've never had monkey bread, it's like a pull-apart recipe that's great for sharing. We actually make sweet or dessert monkey breads most often, but we love those so much that we were completely intrigued by this stuffing version from Country Living! We made it last year and we're happy to report that it tastes just like traditional stuffing, so you're still getting that great flavour. It just serves a little different and our kids thought it was a lot of fun!
4. Foccacia with roasted squash
Do you like to make sure you serve some type of bread with your meal every year but you've done so many years of just plain bread and butter that you're kind of over that idea and looking for something new? In that case, we wonder if you'd prefer to combine your bread dish and one of your vegetables to make an awesome side to your entrée! Check out how Food and Wine made a version of focaccia bread that features scrumptious roasted squash.
5. Cheesy baked butternut squash
We love squash so much that, if our families wouldn't protest, we'd probably make every vegetable side dish we serve a squash dish! We also, however, love cheese and cream based dishes, since Thanksgiving is one of the few times of year that we'll eat just about anything in any calorie count without guilt. Imagine our excitement, then, when we came across this cheesy baked butternut squash recipe from Diethood! It's basically satisfaction on a plate.
6. Roasted root vegetable salad
Were you pretty interested in the idea of making a side dish that's heavy in root vegetables, but the recipe we showed you earlier on was a little bit too heavy on cheese for your liking? In that case, here's a light, more subtle tasting alternative for you! Spicy Perspective guides you through the process of making a shockingly tasty root vegetable salad out of baby new potatoes, gold and red beets, sweet potatoes.
7. Celery root and apple slaw
Coleslaw is the kind of thing that some people like to serve all year round and others prefer to save until summer but if you ask us, slaw is the perfect opportunity to adjust the recipe just a bit for the season so you can always enjoy it! This celery root and apple slaw from Gourmand In The Kitchen is the perfect example of what we mean. It's like a little refresher on the edge of your plate between heavier dishes.
8. No-meat braised collard greens with porcini mushrooms
When it comes to skimping on vegetables and serving side dishes that are mostly comprised of carbs, we've definitely been guilt in the past. There are just so many bread and potato recipes that we get distracted by! One thing we never skip out on, however, is the collard greens! Some people put meat in their greens but we have vegetarian family members, so we skip that part and replace the meat with mushrooms so there's still a lot of flavour, just like The Culinary Tribune did here!
9. Spinach and feta mashed cauliflower
Mashed potatoes are a staple at our Thanksgiving dinner table, but what if you have someone present who's on a strict diet and would rather keep the carbs and butter to a minimum? Then perhaps you'd prefer this mashed cauliflower recipe from Closet Cooking instead! We've actually made this one and we swear we like this dish just as much as the potatoes thanks to the spinach and feta.
10. Cauliflower and pecan stuffing
Are you intrigued by the idea of replacing classic elements of your Thanksgiving dinner with cauliflower because you want to keep things healthy and you like the way the veggie takes on flavour, but you'd rather keep the potatoes and replace something else? Then perhaps you'd prefer to make some cauliflower stuffing instead! We can't get over how fragrant and delicious this cauliflower stuffing recipe from Living Well, Spending Less is!
11. Peach stuffing
In our family, there's always one person who loves to bring a small helping of stuffing that contains a really unique ingredient. They spend most of dinner trying to convince everyone around them to try it… and they're always right, because it's always delicious! This year, maybe you can be that person too by making this delectable stuffing recipe from Martha Stewart that, believe it or not, features actual peaches!
12. Quinoa sweet potato and cranberry stuffing
Perhaps one of your family members is a total stuffing lover but just found out that they're gluten free and you want to make sure they're not disappointed at the dinner table on Thanksgiving? Then we have a feeling this quinoa based stuffing recipe will be a useful one for you! Huffington Post guides you through the process of making a quinoa stuffing with sweet potato and cranberry for extra flavour.
13. Sweet potato pone 
Are you still thinking about the idea of serving a type of fancy bread with your meal but nothing we've shown you so far has quite grabbed your attention? In that case, we present to you this delicious alternative that's a perfect blend of sweet and savoury: sweet potato pone! Popsugar shows you how to make it from mashed sweet potato, brown sugar, and cinnamon.
14. Mini sausage and riced stuffed pumpkins
Have you been most intrigued by the side dishes that are stuffed even though they're not your main stuffing dish? We like sides that blend lots of different flavours in one place for maximum taste advantage. That's why we were so excited to try these roasted mini pumpkins stuffed with sausage and rice from Taste of Home.We were not disappointed!
15. Roasted brussel sprouts with red grapes and walnuts
We've already shown you one delicious Brussel sprouts recipe but what if bacon isn't an option for you because you're having vegetarian guests? In that case, here's a meat-free alternative that's just as tasty! Puddingstone Post guides you through the process of roasting your Brussel sprouts with red grapes and walnuts for a veggie dish that's packed full of flavour.
Do you have another favourite unique side dish that you love to make each year but that many of your guests often haven't tried and that you don't see on our list? Tell us all about it or link us to your recipe in the comments section!