Grab Some Dinner Ideas With These 50 Thanksgiving Side Dishes
You may have your Thanksgiving dinner memorized like the back of your hand. But why not add something else to the mix or revamp one of your less-loved sides – like those green beans or Brussels sprouts? Grab some dinner ideas with these 50 Thanksgiving side dishes that could delight both you and the rest of the family's taste buds.
1. Ranch Potatoes
The Kitchen Wife whips up some ranch-style potatoes that everyone in the family will love. A little ketchup on the side make finish it off easily and nicely as well.
2. Maple Roasted Butternut Squash
Some simple, maple-roasted butternut squash could be a delicious accompaniment to your Thanksgiving feast. Grab the recipe at Skinny Taste.
3. Bacon Balsamic Brussels Sprouts
It can be hard to find a Brussels sprouts recipe that you love but we're confident in this one from Delish. Bacon and balsamic can really jazz these veggies up!
4. Roasted Vegetable Galette
Cook Your Dream shows us how to make something a bit fancier from the family but it's still something they'll all want to dive into. A vegetable galette is both scrumptious and pretty too!
5. Roasted Cinnamon Potatoes & Pumpkin
Noshing with the Nolans mixes up potatoes and pumpkin with some cinnamon for a delicious and unique side dish that fits the season! Dive into this one before the holiday even rolls around to try it out!
6. Chorizo Cornbread Stuffing
Damn Delicious throws some spicy chorizo sausage in their stuffing! For a bit of a kick, check out this recipe and turn your tradition into something with more pizazz.
7. Balsamic Roasted Red Onions with Thyme
This is a great make ahead recipe. Nerds with Knives carries all the details on this unique turkey accompaniment.
8. Mashed Potato Casserole
Picture Perfect Meals makes a mashed potato casserole that will sweep you off your feet. Even the kiddos will want seconds of this one!
9. Potato Goat Cheese Gratin
The Hungry Hounds takes potatoes as their inspiration as well. But this au gratin recipe adds some decadent goat cheese in the mix.
10. Sangria Cranberry Sauce
Hop on over to She Knows to grab this delicious recipe for Sangria cranberry sauce. Guests at the dinner table will be satisfied and impressed with this one.
11. Honey Garlic Roasted Carrots
Do something a bit different with your carrots this year. These honey garlic roasted ones may be your ticket for the entire family joining in on a serving. (via)
12. Kale & Brussels Sprouts Salad
Sugar and Grace made a kale and Brussels sprouts salad that is both healthy and tasty too! Whip this one up for a less-guilty option.
13. Apple Cranberry Walnut Salad
Creme de la Crumb makes another salad worth diving into and enjoying. Mix together this number for those that want a bit healthier options.
14. Sausage & Pear Stuffing
You'll get a bit of sweet and savory in this Martha Stewart concoction. Grab your sausage and your pears and get to work!
15. Crispy Sweet Potato Roll
Smitten Kitchen makes a gorgeous crispy sweet potato roast that is yummy but also gorgeous to look at! Try your hand at this one before the big day arrives for some practice!
16. Squash with Browned Butter & Sage
This is How I Cook made some squash with browned butter and sage that will be quite the treat for everyone at the table. And it's a bit outside-the-box as well!
17. Vegan Green Bean Casserole
Eat The Love makes a vegan, gluten-free, paleo-friendly and grain-free green bean casserole that will satisfy diets and taste buds alike. Grab the recipe after the jump.
18. Sausage & Mushroom Stuffed Acorn Squash
A Girl On Bloor makes such extra savory and satisfying stuffed acorn squash filled with sausage, mushroom and some cheese too. Serve it up with some roasted turkey for the best Thanksgiving yet!
19. Melting Potatoes
Relish shows us how to create these melting potatoes. This would be a fun way to serve up a potato dish instead of the usual mashed way.
20. Cesar Green Beans
This is a great way to serve up green beans and give it a fun and tasty twist! Plain Chicken offers up a Cesar-style option!
21. Garlic Roasted Broccoli
Paleo Grubs makes a garlic roasted broccoli that everyone will love to eat, even the kiddos. When made right, broccoli can be quite the tasty side dish.
22. Herbed Wild Rice & Quinoa Stuffing
Wild rice is a really popular side dish, so why not take that and pack it with a punch. At Kitchen Treaty you'll learn how to pair it with some quinoa and jazz it up for the bird.
23. Corn Pudding with Crispy Onions
Pinch of Yum makes a melt-in-your-mouth corn pudding topped with crispy onions that balances flavor and the day just right. Hop on over now and snag the recipe.
24. Garlic Butter Mushroom Risotto
And if you visit Pinch of Yum again, you can grab this recipe too. Garlic butte mushroom risotto could be your ticket to the best Thanksgiving yet.
25. Extra-Buttery Mashed Potatoes
Bon Appétit goes a more traditional route but with an extra punch of deliciousness. Make those mashed potatoes with some extra butter, would ya?
26. Parker House Rolls
Visit Williams-Sonoma to learn how to make those addictive Parker House rolls we all love. And don't forget the butter!
27. Cranberry Apple Couscous
Cranberry apple couscous from The Daily Muse has the right kind of bite for those that like a bit of sweetness at dinnertime – and that's before dessert hits the table. Check it out now!
28. Pumpkin Rice Croquettes
Who doesn't love a crispy, indulgent croquette? And for Thanksgiving you'll want pumpkin involved in this savory treat. (via)
29. Pumpkin Mashed Potatoes
Steamy Kitchen makes mashed potatoes with the use of pumpkin too. You'll be surprised how decadent and fun his dish is!
30. Cranberry Chutney
Fed & Fit makes a cranberry chutney that truly will be the perfect pairing with your Thanksgiving turkey. And it's healthier way to go too!
31. Creamed Spinach
Over at The Healthy Foodie you'll find another healthy and paleo-friendly recipe to whip up for the holiday dinner. Who doesn't love creamed spinach? It's the best way to eat the leafy greens!
32. Butternut Squash Salad
Here's another fall-inspired salad that's perfect for Thanksgiving dinner. Check it out at PopSugar.
33. Zucchini Bread
PopSugar also shows us how to whip up some yummy zucchini bread that could be a great choice to go with instead of classic dinner rolls. If you want to nix tradition a bit, start here!
34. Green Beans with Bacon Mushroom Sauce
Get Inspired Everyday! gives us another great way to make those green beans a bit more appealing. With some bacon mushroom sauce, everyone will eat them.
35. Apple Raisin Stuffing
Here's another stuffing to try out. With some apples and raisins, you'll have a whole new flavor to add to the table. (via)
36. Roasted Broccolini
Worthy Pause makes a roasted broccolini with curry sauce that will really ignite the family dinner table. Check out the recipe after the jump!
37. Prosciutto-Wrappyed Asparagus
Fig & Cotton wrapped up some asparagus in prosciutto and called it a day! Use these as appetizers or a scrumptious and quick side.
38. Cheddar & Leek Muffins
These cheddar and leek muffins would be quite the satisfying addition as well. Grab the recipe over at The Kitchn.
39. Sweet Potato Casserole with Pecan Crumble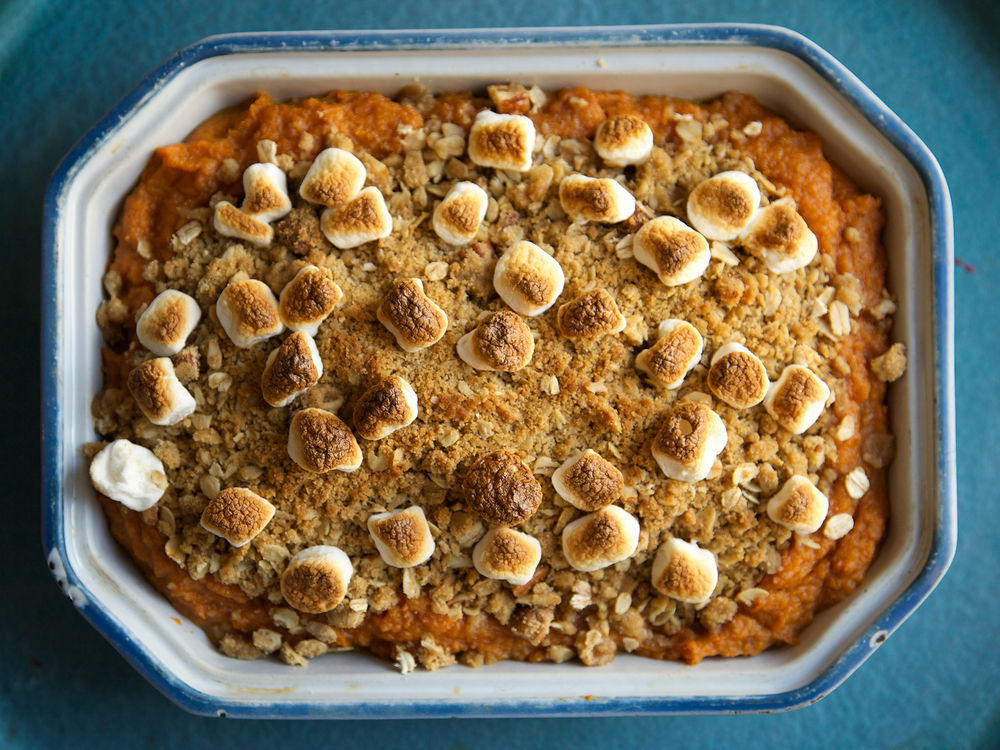 Sweet potato casserole is a favorite among so many family's. Put a slight spin on it this year though with a pecan crumble topping! (via)
40. Brussels Sprouts Gratin
Simply Recipes really knows how to make everyone want to dive in to the Brussels sprouts. Add cheese, of course!
41. Triple Threat Potatoes
Over at Brit + Co learn how to make these triple threat potatoes. You'll want to pop these in your mouth all night!
42. Kale & Wild Rice Casserole
Half Baked Harvest makes a wild rice casserole – with kale – that has healthy ingredients but makes for a delicious bite every single time. Check it out now!
43. Crock Pot Bacon Green Beans
Why not grab the crock pot and utilize it this year? Julie's Eats and Treats shows us how with these bacon green beans.
44. Slow Cooker Mexican Mac & Cheese
Today's Creative Life makes a spicy mac and cheese that the family will love too. Again, it's a yummy spin on a usual side dish.
45. Sweet Pumpkin Buns
Here's another bread side that you'll want to contemplate trying out this year. Grab the details over at Lands & Flavors.
46. Bacon Ranch Deviled Eggs
Deviled eggs are staples for a lot of holiday dinners. But at Parent Pretty you'll learn how to add a bout of bacon and ranch to the recipe.
47. Turnip Gratin
Just A Little Bit of Bacon uses turnips and turns them into something even the little one's will eat. Because, again, cheese is involved!
48. Twice Baked Sweet Potatoes
We're used to seeing twice baked potatoes, but not of the sweet version. Grab the recipe at Delish.
49. Cauliflower Mash
The Organic Kitchen turns cauliflower into mash with ease. Learn how after the jump.
50. Pumpkin Soup
Some The Wiser makes a pumpkin soup with just three ingredients! Start your meal off right and with festive flair!