Make Some of These 60 Thanksgiving Side Dishes
If you are looking for dinner ideas for Thanksgiving, then look no further. Here, we have compiled a list of 60 delicious Thanksgiving side dishes that will help to make your holiday meal much easier and more delicious.
Most of these recipes can be made using ingredients that you either already have in the cupboard or that you can easily pick up from your local store. So whether it's deep-fried turkey, chocolate casserole, cranberry sauce, or French toast, we're pretty sure there'll be something suitable for everyone.
All you need to do is choose the dishes that appeal most to your taste buds and those of your family members, as well as any dietary requirements such as vegetarianism or gluten intolerance.
These Are the Most Delicious Thanksgiving Side Dishes of 2021
The turkey, cranberry sauces, and sweet potatoes have become a staple of every Thanksgiving dinner table since 1621, but that doesn't mean that people can't try bringing something new to the menu.
You could always go with something unconventional, or if you are already tired of the traditional dishes, then try experimenting with new flavors.
And that's exactly what the 10 delicious Thanksgiving side dishes in the following section are all about. They're different, interesting, and some of them even look weird.
But who cares? They will definitely make your holiday meal more special and give your family plenty to talk about, so let's take a look at this list of the best Thanksgiving side dishes of 2021.
1. Thanksgiving Side Dishes – Mini Pumpkin Pies
If we were to rank the foods that are present on the typical Thanksgiving dinner, anything that is pumpkin-based would usually come second only to the turkey, or maybe the sweet potatoes.
That's precisely why one of the first dishes on our list is this recipe for mini pumpkin pies since they are not only just as delicious as regular pumpkin pies, but they also have the convenience of being small, and therefore excellent finger food.
In order to make these mini pumpkin pies, you'll need two sets of ingredients: one for the mini pie crust, and one for the pie's filling.
To make the crust, you'll only need some almond and some oat flour, a bit of maple syrup to give it some extra sweetness, and some melted coconut oil to bind the flour together.
As for the deliciously creamy filling, you'll need some canned pumpkin, canned garbanzo beans (they are the secret ingredient of this recipe), maple syrup, cane sugar, cornstarch, vanilla essence, pumpkin pie spice (go figures), salt, and some coconut whipped cream for decoration.
Once you have all of these ingredients, making a batch of mini pumpkin pies is as easy as mixing the pie crust ingredients together and then spooning the mixture into small muffin tins.
You should be able to get about 15-18 pie crusts out of this recipe. And don't forget that some people might want pumpkin pies without crust, so you might consider baking some extra pie crusts for them.
For the filling, you'll need to mix everything (except for the coconut whipped cream) in a food processor until it's smooth enough to be used.
Then use a tablespoon to fill each of the pie crusts with their creamy deliciousness, and you can finally sprinkle each pie with some coconut whipped cream, but it's optional.
Just before serving, you can pop the mini pumpkin pies in the oven on low heat for about 15 minutes so that they become nice and warm.
2. Thanksgiving Sides – Pumpkin Chowder with Fried Sage
Typical 3-course meals usually involve a type of soup, followed by the main course, and ending with dessert, and while Thanksgiving has already established the turkey is forever the main course, and something pumpkin-based is the dessert, this means that there's a bit of room to improvise a Thanksgiving soup.
Well, if you have a soft spot for Thanksgiving sides that have pumpkin in them, you could go ahead and try out our recipe for pumpkin chowder with fried sage.
In order to make several servings of this delicious soup, you'll need some wild rice mix, coconut oil, diced onions, celery, and carrots, minced garlic cloves, vegetable broth, and a cup of cashews that were left to soak overnight.
As for the spices, you'll use bay leaves, salt, dried thyme and rosemary, and a pinch of nutmeg, although in what quantity you add them is completely depending on your tastes.
You can start by heating up some coconut oil in a soup pot on medium heat. Then you'll need to sauté the onions, celery, carrots, garlic cloves, and rice until slightly softened.
Once this is done, you'll need to add all of the ingredients except for the cashews to make your soup base, then pour everything into a blender (after removing bay leaves) along with the cashews that have been soaked overnight and blend it all together until smooth.
For the final step, you'll need to reheat your soup and add in about a cupful of coconut milk, and we recommend that you serve it hot with some breadsticks or croutons.
Since this recipe makes about six servings of pumpkin chowder with fried sage, if anyone at your Thanksgiving gathering insists on having more of their favorite Thanksgiving side dishes, you might consider doubling the recipe so that everyone gets seconds or thirds without having to cook anything.
3. Thanksgiving Dinner Sides – Sweet Potato Bites with Cranberry Balsamic Glaze
If you like to keep the added sugar to the minimum during Thanksgiving (it's hard, we know), the best way to do so is to use as many ingredients that have sugar naturally, like pumpkins, sweet potatoes, and cranberries.
Well, what's amazing about this recipe for sweet potato bites with cranberry balsamic glaze is that it's one of those Thanksgiving dinner sides that incorporate several naturally sweet ingredients.
Like our previous recipe, you'll need 2 sets of ingredients: one for the actual sweet potato bites, and one for the cranberry glaze, but luckily enough all ingredients are pretty easy to find during this time of the year.
For the sweet potato bites, you'll need a roughly chopped sweet potato (as large as possible), a chopped onion, some garlic, a can of white beans that were drained and rinsed, some quick oats, eggs, along with some rosemary, thyme, salt, and pepper to season it.
Once you have everything ready, it's time to start the second part of the recipe. Regarding the ingredients needed for the cranberry balsamic glaze, you'll need some frozen cranberries (or fresh ones if in season), sugar, water, apple cider vinegar, and sea salt.
Now that your cranberries are washed and ready to go into a pot with sugar, you'll need to let them simmer on medium heat until all their juices come out and they're nice and soft. Then is when you add apple cider vinegar and let it cook for another five minutes on low heat.
Finally, turn off the stovetop and pour your mixture onto a blender or use an immersion blender right there in the pot (be careful not to touch
4. Vegetable Sides for Thanksgiving – Curried Pumpkin and Lentil Soup
We will continue our trend of showcasing soups with one of the most popular vegetable sides for Thanksgiving: the curried pumpkin and lentil soup.
This dish is an excellent choice for those that want a few extra veggies in their stomach before they start the turkey, and this will greatly help with digestion, later on, an issue that follows Thanksgiving that pretty much everyone is aware of.
To make 4 courses of this amazingly delicious soup, you'll need 1 tbsp olive oil, one onion (peeled and chopped), two cloves of garlic (peeled and minced), one and a half tbsp of curry powder, half a tsp salt, a quarter tsp ground black pepper, four heaped tbsp of rinsed red lentils, and two pounds of peeled, deseeded, and chopped pumpkin (butternut squash works just as well).
You'll also need one large sweet potato (peeled and chopped), one large carrot (peeled and chopped), three and a half cups of hot vegetable stock about a cup of half fat milk, the juice of half a lime, some sweet chili sauce to serve, and a small bunch of cilantro.
To start this recipe, it would be a good idea to place your red lentils in a bowl and cover them with boiling water. Let them sit for 20 minutes, drain the water, and set aside.
Heat up your olive oil in a large saucepan over medium heat before throwing in the onion and garlic (be careful not to burn the garlic). Once the onions turn transparent, add in your spices and stir well before adding in your chopped pumpkin, sweet potato, and carrots.
After all the ingredients are well coated with curry powder, salt and pepper pour the hot vegetable stock into the pan and let it simmer until all vegetables become tender (approximately 10-15minutes or so).
If you think that when it comes to soup making you're not too experienced, you should definitely keep in mind that this is one of the easiest dishes to master. What makes or breaks this curried pumpkin & lentil soup are the ingredients and how well you combine them.
For example, once your vegetables become tender, it's important to let them simmer for a few minutes before adding any milk (otherwise it will be hard to achieve the desired consistency).
Once your milk has been added into the pan, it's time to blend everything together with an immersion blender or carefully transfer it into a regular blender.
You can either use fresh lime juice or store-bought sweet chili sauce as a final touch for this dish. This delicious soup turns great with jasmine rice on the side!
5. Easy Thanksgiving Side Dishes – Pumpkin Dinner Rolls
The all-common dinner roll has been a staple of most tables ever since the Middle Ages, so it's no wonder that variations of the original recipes have made their way onto the Thanksgiving table.
These pumpkin dinner rolls are the perfect example of easy Thanksgiving side dishes, so if you're looking for a last-minute recipe to go ahead and add to the table, look no further since you've found it.
Now, unlike typical rolls that only need flour, yeast, and water, you'll need to use yeast, lukewarm milk, brown sugar, pumpkin puree, one large egg, and some all-purpose flour, butter.
As for the spices, we'll be using ground cinnamon, ginger, coriander, cloves, and nutmeg. To finish the "wow factor" on these pumpkin dinner rolls, you'll need some melted butter and chopped pecans that you'll need to then pour over the top.
To make 4-6 servings of these pumpkin dinner rolls, you'll need to mix together your milk and yeast in a small bowl before adding it to your dry ingredients. Before getting any further with the recipe, let the mixture sit for 5 minutes so that the yeast has enough time to activate.
When it comes to making the dough itself, the key is not to flour your working surface too heavily otherwise your final product will end up way too dense. You should also knead the dough until all ingredients are well combined.
You should cover this process by either placing it in a bowl or covering it with plastic wrap before leaving it somewhere warm for about an hour (it needs this amount of time to rise).
Once you're done allowing your dough to rise, simply roll out the dough before cutting it into equal-sized pieces and letting them rest for another 5-10 minutes or so.
To finish off your dinner rolls, shape them in the form of pumpkins, use a brush to cover them in melted butter, place the pecan stalks, preheat your oven to 350°F (180°C) and bake the entire batch for 20 minutes.
6. Thanksgiving Vegetable Side Dishes – Keto Green Bean Casserole
Thanksgiving dinner is just like a regular dinner, only that you have about 3-4 times more guests, and about 10 times more food, so naturally the holiday has garnered a reputation for being a nightmare for those that are on a diet.
Thankfully enough, there are plenty of Thanksgiving vegetable side dishes out there that are great for those that like to be careful with their weight, and some are even ideal for the ketogenic diet, such as this recipe for keto green bean casserole.
To make an entire casserole of this vegetable delight, you'll need green beans (doesn't matter if they are fresh, canned, or frozen), mushroom, onions, heavy cream, and some crunchy topping made from almond flour, grated parmesan, and onion powder.
In terms of the primary ingredients, you'll need to boil your green beans until they are soft before removing them from heat and adding a few spices. Should you wish to make a more watery mixture, feel free to use mushroom broth instead of any other liquid.
The crunchy topping is going to be added later, so once your green beans have been properly boiled, place them on a baking dish and add some sliced mushrooms as well as onions.
As for the heavy cream that was mentioned earlier in this recipe, it's best if you use an immersion blender for this process since it will ensure that everything gets mixed together just right. From there, pour the creamy mixture on top of your vegetables and stir everything around so that no single ingredient gets left behind.
Once you've finished adding everything, place the dish in the oven and bake it at 350°F (180°C) for about 20 minutes before moving on to checking up on it often until your vegetables are nice and crunchy.
And there you have it, a keto green bean casserole that's bound to get everyone raving during Thanksgiving!
7. Best Thanksgiving Side Dishes – Keto Cornbread Stuffing with Sausage
One of the best Thanksgiving side dishes of all time has always been the traditional Thanksgiving topping that can be cooked both inside and outside of the turkey, although most modern-day recipes treat the stuffing as a separate side dish.
Well, if you're looking to enhance your Thanksgiving stuffing game with enough flavor that you will have it compete with the turkey itself, then we give you this recipe for keto cornbread stuffing with sausage.
To make this fantastic dish, you'll need some keto cornbread, sausage, celery, onion, chicken broth, eggs, and some sage, thyme, salt, and pepper to give it some extra flavor.
Once you're done with baking your cornbread cubes, you can move on to adding the sausage, celery, and onion. The taste of the dish will vary depending on your choice of sausage since some are better for this specific type of recipe than others, so feel free to go with a milder option if you're not a big fan of spicy foods.
After that, it's time to add a few spices that will make up for the lack of salt and pepper in this recipe, but you can also add garlic if you wish to do so.
In terms of the liquid element needed for this stuffing, you'll need some keto-friendly chicken broth, which is going to be your best bet because it's simply better than any other kind of meat or vegetable stock available on the market.
When everything has been properly mixed together, all that's left for you to do is place it inside a baking dish and get it into the oven.
Finally, try not to rush the cooking process since it will allow the flavors of the sausage, celery, and onion to blend together with everything else without letting too much fat separate from your keto cornbread stuffing with sausage!
This recipe is the perfect example that a dish can be both delicious and healthy, so don't think twice about adding it to your Thanksgiving table.
8. Most Popular Thanksgiving Side Dishes – Keto Pumpkin Pie
Whenever we hear the word "pie", about half of us have the tendency to look down to see whether we can still hee our belt buckle or not, and if we do, then that means that we have free reign to grab ourselves a slice.
Of course, that's only the case if you're talking about the typical calorically dense pie and not our keto pumpkin pie which is one of the most popular Thanksgiving side dishes for those that are conscious about their weight.
To make one of these pies, you'll only need 6 keto ingredients (7 if you include the pumpkin pie spice): pumpkin puree, pumpkin pie spice, sweetener, almond flour, heavy cream, and eggs.
To begin with, you'll need to heat up your oven to 350°F (180°C) before mixing together the pumpkin puree and all of the spices in a bowl. From there, add in your sweetener and almond flour while stirring everything so that it combines evenly.
After such is done, add in the cream and eggs one at a time until each ingredient is fully mixed through the creamy mixture.
And speaking of this creamy mixture, this is where you're going to pour it into a pie crust that has been waiting for you to transfer its contents over.
To make sure that nothing spills out along the way, just fill it up all the way before placing it into your pre-heated oven for about 45 minutes.
Now all that's left for you to do is come up with something fun to go along with this dish during Thanksgiving dinner since it can get pretty difficult finding new things to talk about after eating more turkey than anyone else at the table.
9. Thanksgiving Side Dish Recipes – Creamy Keto Pumpkin Soup
At first, you're probably wondering how a pumpkin can be the basis for a soup since it's sweet, and that's precisely what we will be showcasing with our recipe for creamy keto pumpkin soup.
This is one of those Thanksgiving side dish recipes of which you may be understandingly skeptical, but trust us when we say that the end result is absolutely delicious.
To make several servings of this creamy delight, you'll need chicken stock, pumpkin puree, garlic, fresh thyme, salt, and pepper for extra flavor. As for decorations, you can add a swirl of full-fat sour cream, red pepper, and even some pepitas.
First off, you'll need to heat up the chicken broth in a pot before adding in some pumpkin puree as well as all of your spices (except for your salt and pepper). This simple melted mixture can then be poured into bowls that are ready to be eaten.
Once you've done that, decorate this dish however you see fit by sprinkling on extra garlic powder, freshly chopped thyme, and even some pepitas before putting it into the oven to make everything melt together like magic.
As for the extra salt and pepper that we mentioned earlier, you'll want to sprinkle it on top before eating this dish because if you put it in while cooking then you risk spoiling everything since pumpkin soup is quite delicate.
Despite being a soup, this side dish is quite satiating, so you don't have to serve it alongside anything like breadsticks or croutons (it would defeat the purpose of a keto dish anyway), and because of that we also recommend that you keep the serving sizes relatively small.
10. Best Thanksgiving Sides – Keto Pumpkin Cheesecake Swirl
Cheesecakes have been the latest rage in terms of desserts in the past years, and one of the best Thanksgiving sides that you can make is one such type of dessert, the keto pumpkin cheesecake swirl.
It's creamy, keto-approved, and delicious, and making it is so easy that you can even have your kids help out in the kitchen while making it, although we recommend that you keep an eye on them so that they won't eat all the dough or cake mix.
To make the crust of a single cheesecake, you'll need two cups of blanched almond flour, some melted unsalted butter, a bit of ground cinnamon, some erythritol (remember, we're not using sugar), and a bit of vanilla extract.
As for the creamy goodness that's on the inside, you'll need softened cream cheese, erythritol, vanilla extract, eggs, pumpkin puree, ground cinnamon, and finally a dash of pumpkin pie spice.
You first want to mix up all of your crust ingredients before pressing them into a baking pan that has been lined with parchment paper so that you won't have any trouble taking out the final product once it's done cooking.
Throw all of the ingredients for the filling into this mixing bowl and mix it up however you feel like it, but make sure you do it slowly so that everything can get mixed nicely.
Once everything's nice and creamy, pour it onto a pre-made crust (we recommend using one made out of chocolate) before baking at 350 degrees Fahrenheit for about fifty minutes.
If your family isn't too fond of pumpkin spices then they probably won't even notice that they're actually eating keto-approved desserts, which makes this dish an excellent way to fool them without having to deal with too much complaining.
More Delicious Thanksgiving Side Dishes
The previous 10 recipes were the most sought-after side dishes of 2021, but for those of you that like sticking to recipes that have proved themselves to be reliable and delicious in past years, we recommend that you also consider the following 50 recipes as well.
So feel free to choose anything from this section and we guarantee that you won't be disappointed with your total number of views and social media shares!
So if anyone asks what you're bringing to dinner tomorrow, tell them "more delicious Thanksgiving side dishes" and point them here.
11. Ranch Potatoes Thanksgiving Sides
The Kitchen Wifewhips up some ranch-style potatoes that everyone in the family will love. A little ketchup on the side make finish it off easily and nicely as well.
12. Maple Roasted Butternut Squash – Thanksgiving Dinner Sides
Some simple, maple-roasted butternut squash could be a delicious accompaniment to your Thanksgiving feast. Grab the recipe atSkinny Taste.
13. Bacon Balsamic Brussels Sprouts – Best Thanksgiving Side Dishes
It can be hard to find a Brussels sprouts recipe that you love but we're confident in this one from Delish. Bacon and balsamic can really jazz these veggies up!
14. Roasted Vegetable Galette – Most Popular Thanksgiving Side Dishes
Cook Your Dreamshows us how to make something a bit fancier from the family but it's still something they'll all want to dive into. A vegetable galette is both scrumptious and pretty too!
15. Roasted Cinnamon Potatoes & Pumpkin Thanksgiving Sides
Noshing with the Nolansmixes up potatoes and pumpkin with some cinnamon for a delicious and unique side dish that fits the season! Dive into this one before the holiday even rolls around to try it out!
16. Chorizo Cornbread Stuffing – Thanksgiving Sides
Damn Deliciousthrows some spicy chorizo sausage in their stuffing! For a bit of a kick, check out this recipe and turn your tradition into something with more pizazz.
17. Balsamic Roasted Red Onions with Thyme – Best Thanksgiving Sides
This is a great make ahead recipe.Nerds with Knivescarries all the details on this unique turkey accompaniment.
18. Mashed Potato Casserole – Thanksgiving Dinner Sides
Picture Perfect Mealsmakes a mashed potato casserole that will sweep you off your feet. Even the kiddos will want seconds of this one!
19. Potato Goat Cheese Gratin – Thanksgiving Sides
The Hungry Houndstakes potatoes as their inspiration as well. But this au gratin recipe adds some decadent goat cheese in the mix.
20. Sangria Cranberry Sauce – Best Thanksgiving Sides
Hop on over toShe Knowsto grab this delicious recipe for Sangria cranberry sauce. Guests at the dinner table will be satisfied and impressed with this one.
21. Honey Garlic Roasted Carrots – Vegetables Sides for Thanksgiving
Do something a bit different with your carrots this year. These honey garlic roastedones may be your ticket for the entire family joining in on a serving. (via)
22. Kale & Brussels Sprouts Salad – Vegetable Sides for Thanksgiving
Sugar and Gracemade a kale and Brussels sprouts salad that is both healthy and tasty too! Whip this one up for a less-guilty option.
23. Apple Cranberry Walnut Salad – Best Thanksgiving Side Dishes
Creme de la Crumbmakes another salad worth diving into and enjoying. Mix together this number for those that want a bit healthier options.
24. Sausage & Pear Stuffing – Thanksgiving Sides
You'll get a bit of sweet and savory in thisMartha Stewartconcoction. Grab your sausage and your pears and get to work!
25. Crispy Sweet Potato Roll – Thanksgiving Sides
Smitten Kitchenmakes a gorgeous crispy sweet potato roast that is yummy but also gorgeous to look at! Try your hand at this one before the big day arrives for some practice!
26. Squash with Browned Butter & Sage – Best Thanksgiving Sides
This is How I Cookmade some squash with browned butter and sage that will be quite the treat for everyone at the table. And it's a bit outside-the-box as well!
27. Vegan Green Bean Casserole – Vegetables Sides for Thanksgiving
Eat The Lovemakes a vegan, gluten-free, paleo-friendly and grain-free green bean casserole that will satisfy diets and taste buds alike. Grab the recipe after the jump.
28. Sausage & Mushroom Stuffed Acorn Squash – Thanksgiving Dinner Sides
A Girl On Bloormakes such extra savory and satisfying stuffed acorn squash filled with sausage, mushroom and some cheese too. Serve it up with some roasted turkey for the best Thanksgivingyet!
29. Melting Potatoes – Best Thanksgiving Side Dishes
Relishshows us how to create these melting potatoes. This would be a fun way to serve up a potato dish instead of the usual mashed way.
30. Cesar Green Beans – Thanksgiving Vegetable Side Dish
This is a great way to serve up green beans and give it a fun and tasty twist!Plain Chickenoffers up a Cesar-style option!
31. Garlic Roasted Broccoli – Best Thanksgiving Side Dishes
Paleo Grubsmakes a garlic roasted broccoli that everyone will love to eat, even the kiddos. When made right, broccoli can be quite the tasty side dish.
32. Herbed Wild Rice & Quinoa Stuffing – Thanksgiving Sides
Wild rice is a really popular side dish, so why not take that and pack it with a punch. AtKitchen Treatyyou'll learn how to pair it with some quinoa and jazz it up for the bird.
33. Corn Pudding with Crispy Onions – Thanksgiving Side Dishes
Pinch of Yummakes a melt-in-your-mouth corn pudding topped with crispy onions that balances flavor and the day just right. Hop on over now and snag the recipe.
34. Garlic Butter Mushroom Risotto – Best Thanksgiving Sides
And if you visitPinch of Yumagain, you can grab this recipe too. Garlic butte mushroom risotto could be your ticket to the best Thanksgiving yet.
35. Extra-Buttery Mashed Potatoes – Most Popular Thanksgiving Side Dishes
Bon Appétitgoes a more traditional route but with an extra punch of deliciousness. Make those mashed potatoes with some extra butter, would ya?
36. Parker House Rolls – Thanksgiving Sides
VisitWilliams-Sonomato learn how to make those addictive Parker House rolls we all love. And don't forget the butter!
37. Cranberry Apple Couscous – Best Thanksgiving Sides
Cranberry apple couscous fromThe Daily Musehas the right kind of bite for those that like a bit of sweetness at dinnertime – and that's before dessert hits the table. Check it out now!
38. Pumpkin Rice Croquettes – Thanksgiving Side Dishes
Who doesn't love a crispy, indulgent croquette? And for Thanksgiving you'll want pumpkin involved in this savory treat. (via)
39. Pumpkin Mashed Potatoes – Thanksgiving Sides
Steamy Kitchenmakes mashed potatoes with the use of pumpkin too. You'll be surprised how decadent and fun his dish is!
40. Cranberry Chutney – Best Thanksgiving Side Dishes
Fed & Fitmakes a cranberry chutney that truly will be the perfect pairing with your Thanksgiving turkey. And it's healthier way to go too!
41. Creamed Spinach – Best Thanksgiving Sides
Over atThe Healthy Foodieyou'll find another healthy and paleo-friendly recipe to whip up for the holiday dinner. Who doesn't love creamed spinach? It's the best way to eat the leafy greens!
42. Butternut Squash Salad – Vegetable Sides for Thanksgiving
Here's another fall-inspired salad that's perfect for Thanksgiving dinner. Check it out atPopSugar.
43. Zucchini Bread – Thanksgiving Sides
PopSugaralso shows us how to whip up some yummy zucchini bread that could be a great choice to go with instead of classic dinner rolls. If you want to nix tradition a bit, start here!
44. Green Beans with Bacon Mushroom Sauce
Get Inspired Everyday!gives us another great way to make those green beans a bit more appealing. With some bacon mushroom sauce, everyone will eat them.
45. Apple Raisin Stuffing – Thanksgiving Side Dishes
Here's another stuffing to try out. With some apples and raisins, you'll have a whole new flavor to add to the table. (via)
46. Roasted Broccolini – Thanksgiving Dinner Sides
Worthy Pausemakes a roasted broccolini with curry sauce that will really ignite the family dinner table. Check out the recipe after the jump!
47. Prosciutto-Wrapped Asparagus – Most Popular Thanksgiving Side Dish
Fig & Cottonwrapped up some asparagus in prosciutto and called it a day! Use these as appetizers or a scrumptious and quick side.
48. Cheddar & Leek Muffins – Best Thanksgiving Sides
These cheddar and leek muffins would be quite the satisfying addition as well. Grab the recipe over atThe Kitchn.
49. Sweet Potato Casserole with Pecan Crumble – Best Thanksgiving Sides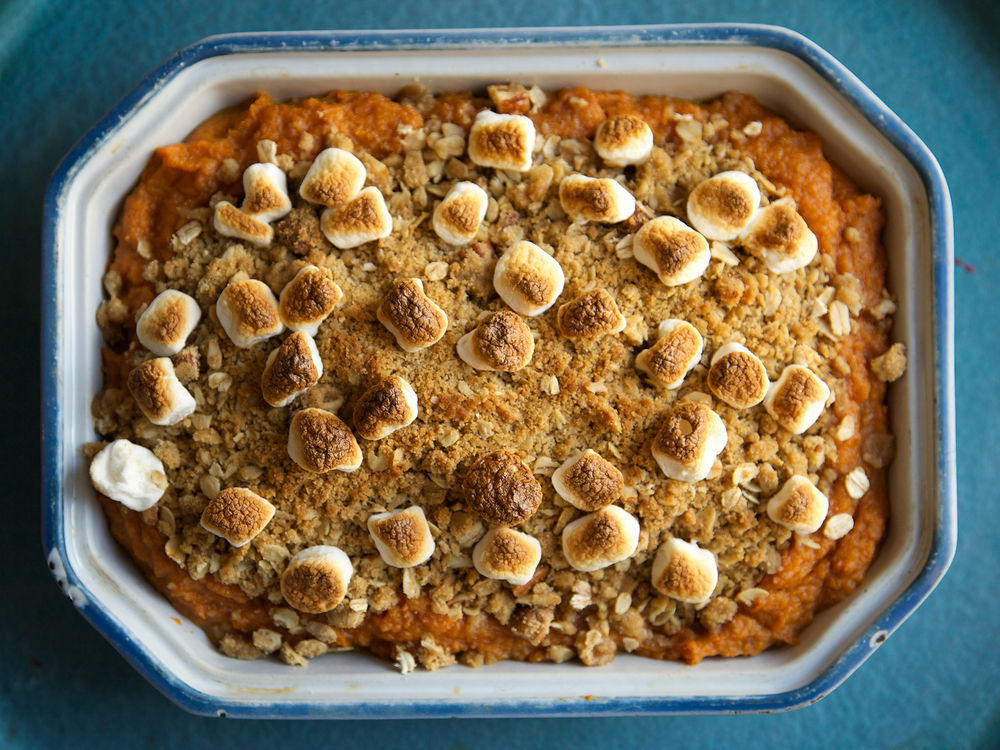 Sweet potato casserole is a favorite among so many family's. Put a slight spin on it this year though with a pecan crumble topping! (via)
50. Brussels Sprouts Gratin – Best Thanksgiving Side Dishes
Simply Recipesreally knows how to make everyone want to dive in to the Brussels sprouts. Add cheese, of course!
51. Triple Threat Potatoes – Best Thanksgiving Sides
Over atBrit + Colearn how to make these triple threat potatoes. You'll want to pop these in your mouth all night!
52. Kale & Wild Rice Casserole – Most Popular Thanksgiving Side Dishes
Half Baked Harvestmakes a wild rice casserole – with kale – that has healthy ingredients but makes for a delicious bite every single time. Check it out now!
53. Crock Pot Bacon Green Beans – Thanksgiving Sides
Why not grab the crockpot and utilize it this year? Julie's Eats and Treatsshows us how with these bacon green beans.
54. Slow Cooker Mexican Mac & Cheese – Thanksgiving Side Dishes
Today's Creative Lifemakes a spicy mac and cheese that the family will love too. Again, it's a yummy spin on ausual side dish.
55. Sweet Pumpkin Buns – Best Thanksgiving Sides
Here's another bread side that you'll want to contemplatetrying out this year. Grab the details over atLands & Flavors.
56. Bacon Ranch Deviled Eggs – Best Thanksgiving Side Dishes
Deviled eggs are staples for a lot of holiday dinners. But atParent Prettyyou'll learn how to add a bout of bacon and ranch to the recipe.
57. Turnip Gratin – Thanksgiving Side Dish Recipes=
Just A Little Bit of Baconuses turnips and turns them into something even the little one's will eat. Because, again, cheese is involved!
58. Twice Baked Sweet Potatoes – Best Thanksgiving Sides
We're used to seeing twice baked potatoes, but not of the sweet version. Grab the recipe atDelish.
59. Cauliflower Mash – Thanksgiving Sides
The Organic Kitchenturns cauliflower into mash with ease. Learn how after the jump.
60. Pumpkin Soup – Best Thanksgiving Dish
Some The Wisermakes a pumpkin soup with just three ingredients! Start your meal off right and with festive flair!
Delicious Thanksgiving Side Dishes: Closing Thoughts
Did you find this article helpful or have any of your family members or friends mentioned that they will be looking for Thanksgiving side dishes recipes this year?
And if you have any friends or family members that are food-lovers, then consider sharing this article with them.
The more people that enjoy Thanksgiving side dishes, the less likely it is that they will become tired of eating them every year, so go ahead, help to make Thanksgiving dinner great!
And if you've got anything else interesting, useful, or entertaining to say about these 60 delicious Thanksgiving side dishes, then don't hesitate to leave a comment in the box below. We'd love to hear from you!