50 Basic Crochet Stitches to Try Next
Crocheting has been around for about a thousand years, if not more, and it remains a great way to make clothes and other types of things that you may want to have around the house, like blankets and scarves or baby blankets.
It's a time-consuming process, but the results are always rewarding. Many crocheters find that this is a calming activity and the fact that you also get to have something to show off at the end with, is pretty awesome.
How to Start Crochet
When you start a new hobby, you first need to learn the basics. When it comes to crocheting, however, you also need a bunch of supplies. Obviously, you'll need a few crochets, some mid-weight yarn (number 4 is perfect for beginners), and patience. When it comes to yarn, we recommend you go for lighter colors in the beginning, as it makes it easier to keep track of the stitch. You need to start with some easy stitches and build up from that.
Also, you should really just practice making basic stitches for a while before you even start on a pattern. You need to know how much tension to add to each stitch as you'll tend to pull more tightly on some than others, resulting in a lopsided pattern.
The best advice we have is to start slow and not to have too many expectations from yourself – crocheting needs time and practice.
Easy Crochet Stitches for Beginners
The first stitches are for beginners or for someone that hasn't done it in a while. Once you have mastered these crochet stitches you can move down the list to try out more complicated stitches.
1. Basic Crochet Stitch For Beginners
If you're justlearning to crochet, this is the easiest stitch there is – the basic crochet stitch. And this blog post will show you how to create a fun little apron using only that most basic stitch. Check out the directions and more photos over at Shirley and Eadie's blog.
2. Chain Stitch
The base for any crochet pattern is the chain stitch. You'll first do this before starting any big project, so learn how to make it properly from The Spruce Crafts.
3. Half Double Crochet Stitch
The half double crochet stitch is a beautiful one that is ideal for beginners. In fact, it's the thing that everyone should master before moving to more difficult patterns. Get the info on how to make this from The Spruce Crafts.
4. Elizabeth Stitch
Are you interested in making some fingerless gloves, a hat, or some boot cuffs? Well, the Elizabeth stitch is a great option for that. This one's an easier stitch so you may find it easier to learn than most. We found a tutorial for it at Dabbles and Babbles that we think is fairly straightforward and easy to learn.
5. Moss Stitch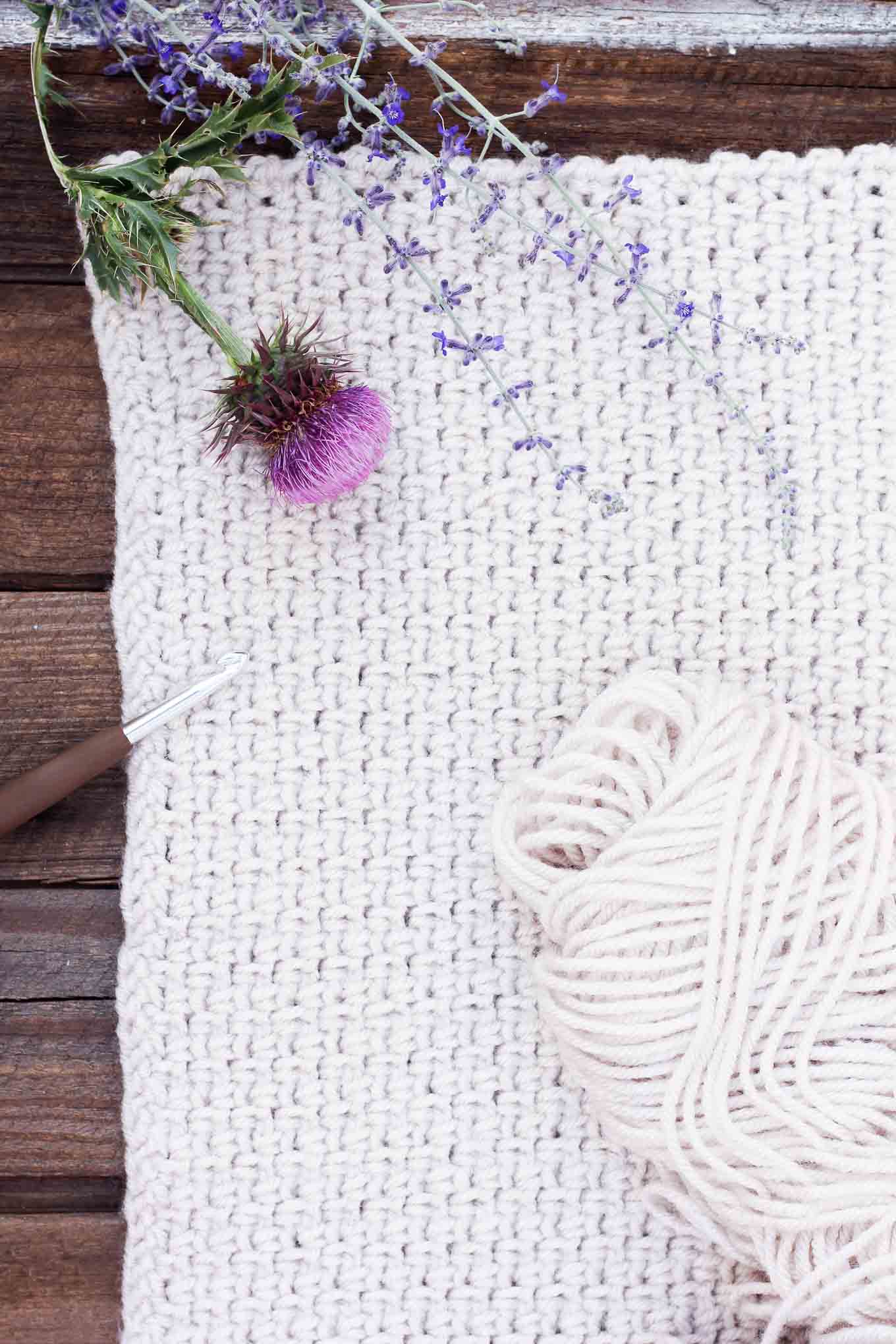 The moss stitch or granny stitch is a great one to start with, because it is simple to learn and looks quite beautiful for a variety of different applications. It is done by repeating two rows over and over again.
Head over to Make and Do Crew to check out the tutorial, in written and video form.
Another example of the Moss Stitch
The Moss stitch is another excellent stitch to learn. It has a tight, closed look with a unique design. And it isn't all that difficult to learn how to do it! Make your way over to We Are Knitters to find out how to do it and to watch the helpful video tutorial.
6. Suzette Stitch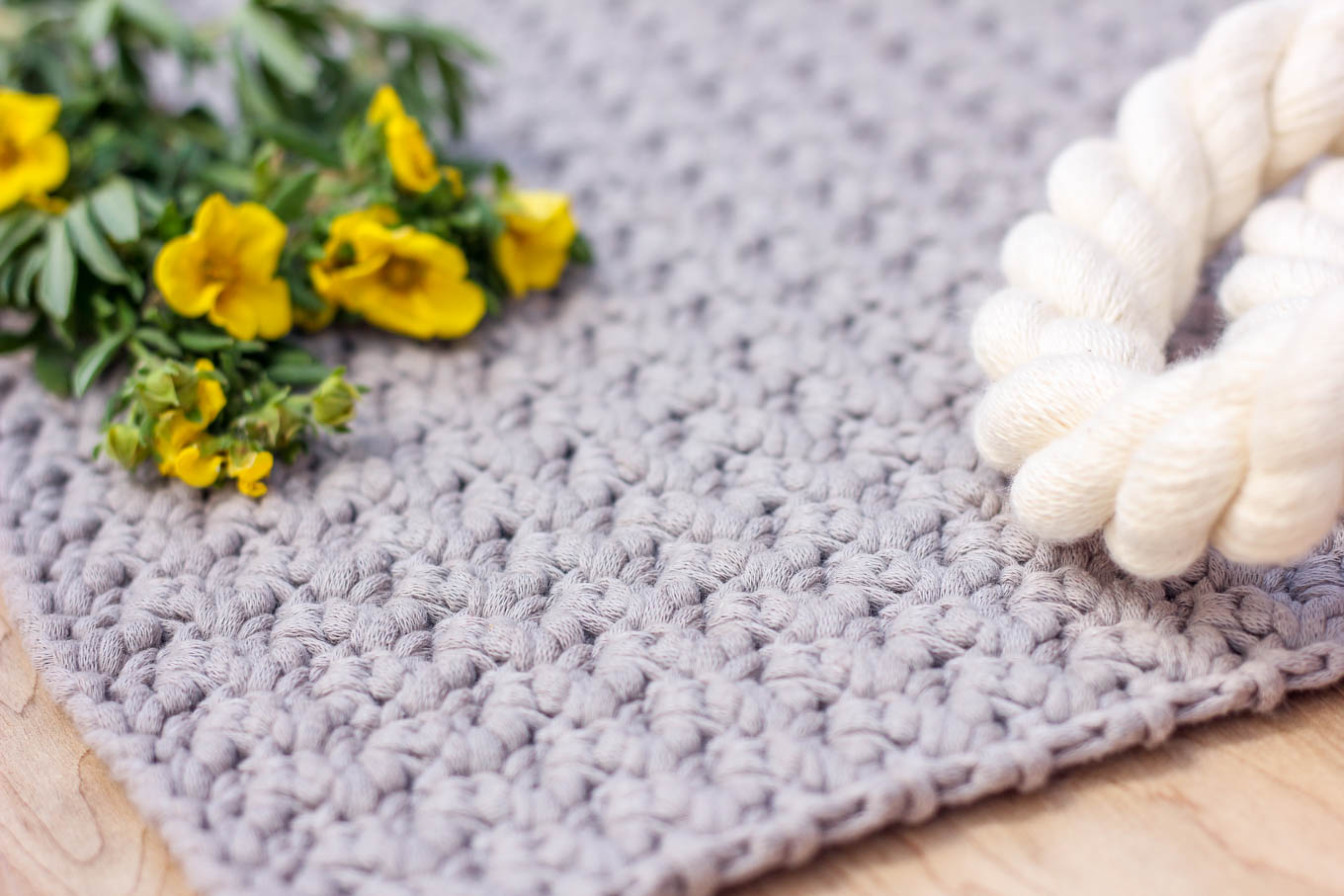 The Suzette stitch is another great one that would be appropriate for those with less crochet experience. It is simply made out of single and double crochet stitches. Jess over at Make and Do Crew will show you how to do the stitch (and a super cute bag!) on her video tutorial.
7. Rope Crochet
This stunning rug has two important elements – an interesting crochet stitch, and a unique material (rope). The pattern uses only single and double crochet stitches, so it should be easy enough for beginners. Head over to Mama In A Stitch to check out the tutorial.
8. Crochet Rib Stitch
The basic rib stitch is an important crochet stitch to know, as it can add interest to the edges of many different patterns. And it's super easy to learn. Head over to Hopeful Honey to find out all about the rib crochet stitch and to watch the video tutorial.
9. Easy – Primrose Stitch
Whether you're looking to make a baby blanket, a scarf, or a bag, you may want to learn the primrose stitch. Not only does it look absolutely adorable, but it also provides a lovely texture. It's a 2-row repeat pattern, so it should be fairly easy once you get the hang of it. Get all the steps on how to make it from Dabbles and Babbles.
10. Ripple Crochet Stitch
This gorgeous afghan is made using the ripple crochet stitch, and then that one row is repeated over and over again. And the blanket has an ombré effect, thanks to the variety of different yarn colors. Check out the full tutorial over at Rescued Paw Designs.
11. Filet Stitch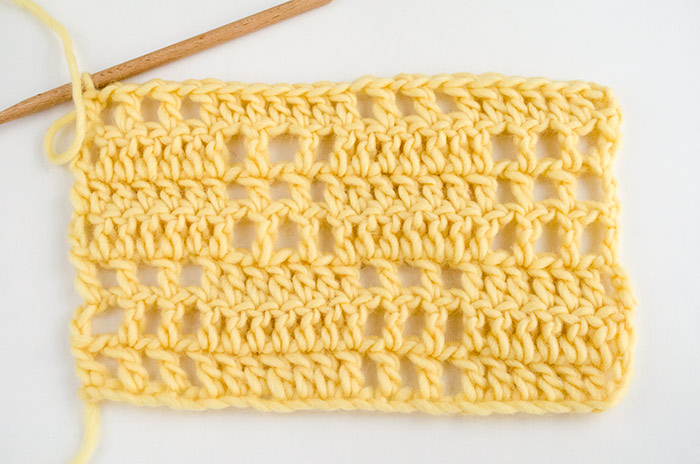 The filet stitch looks a bit like a checkerboard, with alternating open-weave and tight-weave squares. Although it looks complicated, it is actually a great stitch for beginners because it only requires double crochets. Check out the full tutorial with videohere.
12. Basic V Stitch
Before you start on any of the more advanced patterns, the basic V Stitch is something you should be mastering. It's a stitch that works up rather quickly, so it's always good for things like afghans that are massive and you want to finish in this life, not the next. You can get the details from The Spruce Crafts.
Advanced Crochet Stitches
The next crochet stitches are for a bit more advanced and need a bit of experience and patience to master.
13. Tulip Stitch
The tulip stitch is a more complex pattern, but the result is really quite stunning. The use of three different yarn colors gives thedesign some serious punch. Make your way over to Hopeful Honey to find out how to recreate this stitch yourself… video tutorial included.
14. Aztec Stitch Rug
This beautiful Aztec style patterned rug is crocheted using a series of crochet stitches and spaces that combine to make this lovely zig zag design. Make your way over to Grow Creative to find out exactly how to create one of these Aztec rugs yourself through a series of diagrams and text.
15. Spike Stitch
The Spike stitch is a very unique-looking design, with a repeating pattern of "spikes" that jut out over three rows. While this may not be right for beginners, it isn't all that difficult for anyone with some experience. Check out the full tutorial over at Hopeful Honey.
16. Open Weave Style Stitch
This beautiful boho chic scarf is made from an open weave style crochet stitch, which ends up looking something like lace. The fringe is then added at the end. Make your way over to All About Ami to find out exactly how to recreate this gorgeous crochet stitch.
17. Heart Design Baby Blanket
This two color design has a series of repeating heart-shaped crochet stitches throughout the whole piece, and they are formed by using contrasting yarn colors. This one might take a little while to master, but it will be worth the effort! Check out the tutorial at Whistle & Ivy.
18. Sunburst Crochet Squares
These squares are formed by crocheting in the round, and then they can all be connected to form a beautiful blanket. And by using three different colors, the pretty design is pronounced. Make your way over to A Ransom Note to see the full tutorial.
19. Crocheted Flower Stitch
These small crocheted flowers are created in the roundusing only a few basic stitches. They work well as embellishments for hats, headbands, bags and other items. Make your way over to Hello Yellow Yarn to find out how to make one and to watch the video tutorial.
20. Crochet Shell Stitch
Here we have a beautiful stitch called the shell stitch, because it resembles a series of repeating round seashells. And it is surprisingly simple to do, despite its complex-looking shape. Head over to Hopeful Honey to read all about it and to watch the video tutorial.
21. Crocodile Stitch
This incredible design is made using the crocodile stitch, also known as the "scale" stitch thanks to its overlapping scallop shapes. It looks more complicated than it really is, but it is best left to those who have a bit of experience. Head over here to check out the video.
22. Offset Stitch
The offset stitch is a beautiful open-weave design that works great for summer garments or light blankets. It is done using lots of double crochets. Make your way over to We Are Knitters to learn all about it and to watch the super helpful video tutorial.
23. Diamond Trellis Stitch
This headband is made using a beautiful diamond trellis style stitch, which creates a diagonal grid sort of pattern. This works great as a headband, but it could also work well as a larger piece such as a blanket. Head over to Hopeful Honey to check out the tutorial.
24. Starburst Stitch
This stitch is quite a showstopper, with its twisty crochet stitches and organic feel. This is an advanced stitch that requires some prior crochet experience, but it can be easy to do once you get the hang of it. Check out the full tutorial along with a video over at We Are Knitters.
25. Bohemian Mandalas
These colorful round mandalas are made using a few different types of crochet stitches. They are knit in the round, and then each row has a different stitch and color to create the beautiful doily style designs. Check out the tutorial at Set Free My Gypsy Soul.
26. Picot Stitch Succulent Cozies
Decorate your succulent pots with a few of these pretty yarn succulent cozies. They are made using some basic crochet stitches along with the Picot stitch. Make your way over to Vickie Howell's blog to find out all the details about these adorable creations.
27. Hugs Stitch
The Hugs stitch hasa lovely design which has a scalloped edge, making it perfect for edging as well as for things like washcloths and blankets. It is achieved by using double crochets. Head over to We Are Knitters to check out the full tutorial.
28. Catherine Wheel Stitch
The Catherine Wheel stitch is made using two yarn colors, giving it a bold design which will surely impress all of your friends (although you can also use one yarn color for a different look). And it's easier than it looks to learn! Head over here to check out the video.
29. Corner To Corner Crochet
These colorful washcloths are made using another type of crochet, called Corner to Corner. This basically means that you create a square by working in diagonal rows instead of horizontal ones. Make your way to My Poppet to check out the full photo tutorial.
30.Side Saddle Stitch
This particular stitch is so pretty and it comes with a repetitive look that's airy and yet offers plenty of coverage. This is a more difficult stitch, so you'll need to have some experience with crocheting before attempting it. Nonetheless, you can find the tutorial on Make and Do Crew.
31. V Double Crochet Stitch
This one is a simpler stitch that is fairly easy to follow, especially as you add more rows. However, if you need help with this pattern, Dream a Little Bigger is here with some help, guiding you step by step. It's such a cool stitch and we kind of want to make a blanket in this particular pattern.
32. Puff Stitch
The puff stitch certainly requires some expertise and it's such a cute pattern when you're done. Bella Coco Crochet has the guide on what you need to do. Before you even get to the puff stitch, you'll do the chain, and then two double crochet rows to get a good base.
33. Cluster Stitch
We love a new crochet stitch and the Cluster is certainly a pretty one. You start with an even number of stitches in a chain and then work into the pattern. Mama in a Stitch is going to describe it every step of the way, making sure you know how to make this pattern yourself. Basically, there are two rows you get to repeat for as long you want to. It's a great stitch for a spring sweater, so go right ahead and start on it.
34. Crochet Shell Stich
One of the most visually impressive crochet styles is the shell stitch. It's not a beginner stitch, but it's not one for experts either – it falls somewhere in between. You can do this one for a border, or work it rows, alternating colors for a cool design. We found a comprehensive guide on The Spruce Crafts, so give this one a go.
35. Bobble Stitch
Similar to the Puff Stitch, the bobble stitch results in such a cute pattern that you'll want to make a sweater right now. Just look how cute it is! Thankfully, Bella Coco Crochet has us covered with the instructions.
36. Popcorn Stitch
Similar to the Puff and Bobble stitches, the Popcorn stitch brings a more textured pattern to the front. It's quite pretty and we love the instructions that Bella Coco Crochet is serving us.
37. Slip Stitch Crochet
Whatever level you're on, the slip stitch is one that looks absolutely great, particularly for hats, scarves, and cowls. With thicker yarns, the result is fluffy and cozy. Get the guide from Sweet Everly B.
38. Dot Border Stitch
Whenever you want to make a blanket, you could finish it off with a dot border stitch, which is so cute! It's not the easiest thing to do, but it's not that difficult either. However, whenever added to a blanket, it gives it a very cool look. Yuo can get all the info from Daisy Farm Crafts.
39. Sedge Stitch
If you don't know what stitch to try out next, the sedge stitch may be the answer. It's a tight pattern that uses lots of yarn, but it's going to be a great look for whatever you're looking to make. Get the pattern and instructions from Daisy Farm Crafts.
40. Picot Single Crochet
The picot single crochet is a cool-looking stitch and it's not that difficult to make. If you alternate it with regular single crochets, you'll get the Granule stitch, so you may want to check that out too. Get the guide from Moogly.
41. Cable Stitch
The crochet cable stitch is pretty tricky, especially if you want to built it from a foundation chain. Therefore, the best bet is to start with a base row. It's a pretty stitch that you'll want to work into a blanket. Get the tutorial from Look At What I Made.
42. Harlequin Stitch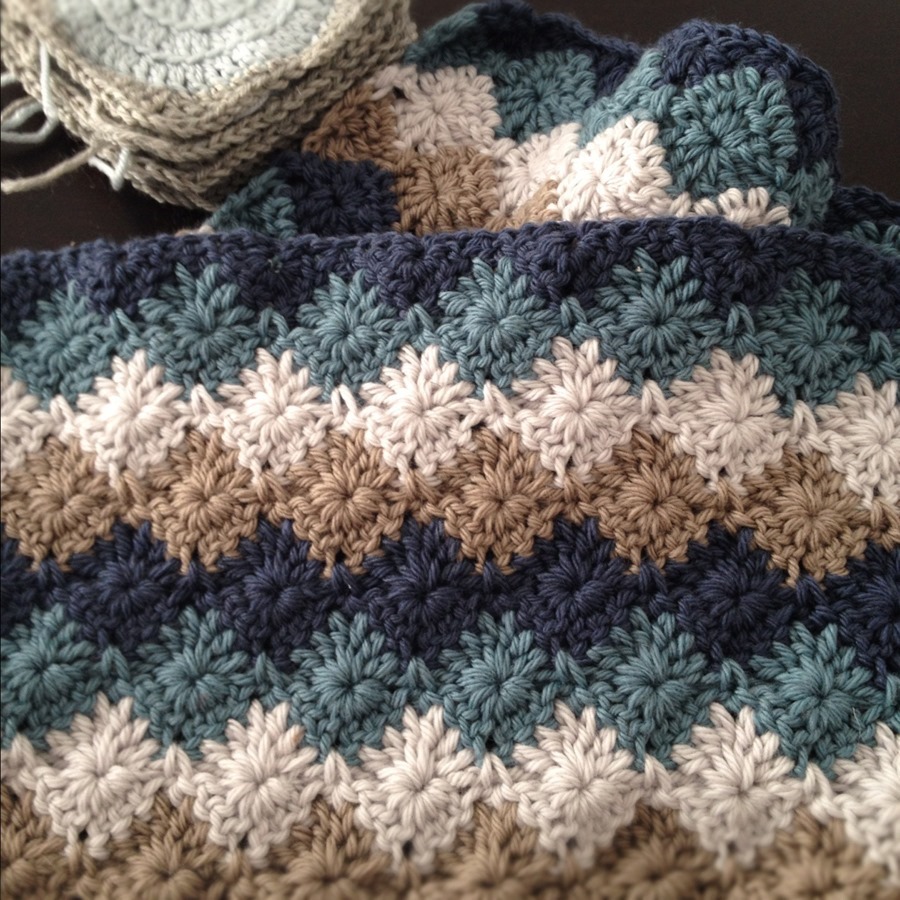 The Harlequin Stitch looks wonderful and it's always best when you work multiple colors in, especially since it would look so pretty with the alternating pattern. The Fine Craft Guild has a ton of information on how you can make this easily.
43. Waffle Stitch
The waffle stitch is so cute and airy and we love how it looks. If you're planning to make an airy blanket, this is the right stitch for it. The Stitchin' Mommy has the step-by-step guide on how to make this pretty easily so follow her instructions to a tee.
44. Icicle Stitch
Also known as the larksfoot crochet pattern, the icicle stitch is such an impressive-looking one. It's also fairly complicated, so you may want to try out with The Little Treasures, as they have a clear guide on how to create this.
45. Granny Crochet Stitch
Granny square are what many consider to be traditional crocheting, but they do look nice, so you may want to learn how to make this too. It's the perfect stitch for when you want to create stripes with color. So, get the guide from Dream a Little Bigger.
46. Zig Zag Puff Stitch
We've already discussed the puff stitch, but we should also talk about the zig-zag puff stitch since it's such a cute change to the classic version. Get the tutorial from Meladora's Creations.
47. Tunisian Crochet
The Tunisian Crochet pattern is pretty tight, so it makes great for anything you want to create to preserve the warmth. You can learn how to make this from All Free Crochet.
48. Tulip Stitch
Tulips are wonderful in themselves, and the tulip stitch preserves that beauty quite well. It's beautiful, but it's also rather difficult, so you may want to take this on slowly. Check out the tutorial from The Unraveled Mitten.
49. Alpine Stitch
Not only is this a pretty pattern that you can get a thick structure with, but it's also extremely repetitive. Thankfully, that means you get to kick back and relax while doing the alpine stitch as your hands learn what they need to do. Check out the instructions on Dora Does.
50. Star Stitch
The crochet star stitch is so beautiful and it will make anything you work on look ten times better than with a simpler stitch. You can get a detailed tutorial from All Free Crochet Afghan Patterns if you want to learn how to make it!
How to Crochet a Blanket
Crocheting a blanket pattern is perhaps the easiest thing you can do when it comes to this hobby since you don't have to do too much – you just maintain the pattern and just keep building up and up as you go. You could go for a pretty simple pattern and a simple stitch, or you could add more to that. Of course, you need to keep in mind that each stitch has its own difficulty level and will take a certain amount of time to complete.
You could go for a single crochet, double crochet stitch, half double crochet stitch, or a waffle stitch if you'd rather.
Then, you could decide to make one huge block for the blanket, or rather go for crocheted squares.
How to Crochet Granny Squares
One thing you can do to build your blanket easier is to crochet granny squares which will help you create more patterns. Choose a size by always making the chain stitch the same length, and build from there. Once you're done and you've made enough granny squares, you can seam them together. You can learn more about how you can make granny afghan patterns and how to blend them together from this tutorial on The Spruce Crafts.
Another thing you could do is to add a border. We particularly like the dot border stitch for the job or the seashell stitch.
How to Crochet a Baby Blanket
When it comes to crocheting baby blankets, things are a bit easier since you'll be going for a far smaller size than a regular blanket. However, you need to be more attentive when it comes to the yarn you use. In fact, you can check our guide on the best yarn for baby blankets. You can even take a look at a few crocheted baby blanket ideas we have for you.
As far as stitches go, there are a few that are great for baby blankets. Aside from the basics, you may want to look into sedge stitch, waffle stitch, or moss stitch.
One piece of advice many experienced crochet enthusiasts have is that when you create a baby blanket, you actually use a hook that is one or two sizes larger than what is required by the selected yarn. In this way, your blanket will have a fluffier feel.
How to Crochet a Scarf?
Scarves are always awesome to wear, as soon as the weather is cold enough to permit it. Of course, there are quite a few ways you can crochet scarves, depending on the type you want – plain or circular.
You'll need to figure out what size the scarf should be so it can properly wrap you warmly. Then, you also want to know the width you want to make the scarf in. Once you have all this information, you'll need to pick the yarn. Once more, you want to take into consideration whether you want a thinner scarf or a heavy one for cold winters.
You can use whatever stitch you want for a scarf, including ones that are more ornate. Since the scarf will be visible when you're out, you want to make sure you use a nice-looking stitch and a good finish on the ends.