25 Super Festive Crocheted Christmas Hats
Unless you're living in the Southern Hemisphere, you probably agree that the only real inconvenience with Christmas is that it's during the winter, and unless you want to catch a bad cold during the holidays, you'll need a Christmas hat.
Fortunately enough, Christmas hats are easy to find nowadays, and the comfiest ones are the crocheted ones.
However, they don't just serve as a means to keep your head warm, since these hats can also be decorated and designed in such ways that they look great and festive as well.
You probably know the popular Santa hats or the crocheted hats with fake reindeer antlers or elf ears, but what you probably don't know is that crocheting your own hat will allow you to design it in your own way, and make it look like whatever is the best suit your personality.
From elegant designs for the more discrete, to funny ones which are perfect for wearing with family photos this Christmas Eve or giving them as presents; all of these hats can be found in this article.
In addition, you will also find a few patterns for hats that stand out from the rest and are a bit more challenging to crochet.
So go on, surprise your family with a one-of-a-kind hat design, and keep them warm at the same time!
Why Is Crocheting Fun?
Before we showcase our 25 entries, we'd like to tell you a few things about why crocheting your own Christmas clothes is such a good idea;
Crocheting your own clothes and designs allows you to craft anything that comes to your mind; from reindeer antlers and elf ears to Santa hats or even ugly sweaters
Crocheting also saves money because if you know how to crochet or you get used to it quickly enough; everything becomes much cheaper
Crocheting by yourself is a good way to be creative and pass time; an activity that becomes more complicated as you learn new patterns and stitches
Apart from all these advantages, there are also some cons when it comes to wearing hand-made Christmas clothes;
Best Crochet Christmas Hat Ideas to Try in 2021
After doing some online research and figuring out what everyone else was searching for, we've managed to compile a list of 25 different crochet Christmas hats that seem to be very popular, and we divided the article into 2 main sections:
The first 10 entries are the most popular crochet hat ideas of 2021
The next 15 entries are still viable, but they were the designs that people were looking for back in 2021, 2019, etc.
As such, let's start our list with the freshest crochet Christmas hat designs of 2021!
1. Simple White Crochet Christmas Hat
When you say "crocheted Christmas hat", you're probably thinking about those typical Santa has that are red, white, and maybe a little green, that has at least one tassel that ends in a bell or two that actually jingle.
Well, you don't have to do that if you don't want to, since even a simple hat like the one illustrated above looks just as fine.
You can easily crochet something like this in a few hours, and as such, it's a great project to try out if you're just learning how to crochet.
In fact, the hat itself wasn't crocheted using complex patterns that make it look a certain way, and even if it may look like it doesn't do a good job at keeping your hear warm because the crocheting seems to have very big holes, the secret here is to use the right material (synthetics just won't do).
Just make sure that you use a nice white yarn for that, with the appropriate crochet hook size, and in no time at all, that hat will be ready to keep your head warm.
However, if you think that the simple white material looks a bit too boring, you can spice things up a bit by using a different color or even using 2 or 3 different colors of yarn.
The good news here is that there are no rules, and since it's a crochet Christmas hat, you're free to use whatever color scheme you want without looking too outlandish.
Also, you can add a little bit of glitter to the white yarn ball in order to accentuate your festive hat.
2. Jack Frost Crochet Christmas Hat
While Jack Frost may only be a more recent addition to the traditional Christmas folklore, there's no doubt that this chilly snowman has somehow managed to warm our hearts with just how cute he is.
Well, since winter is all about snow, one way to make a very festive-looking crochet hat is to make one themed around Jack Frost, where the base of the hat looks like a snowman's head that has a top hat on it, just like the iconic snowman.
To make this crocheted hat, you'll need
Crocheting needles
Yarn in 3 colors: white, black, and red
Some decorations to place on the hat once you're done crocheting
What is more, you can go as creative as you want with the design of this hat.
You don't necessarily need to make a full-on "Jack Frost" hat that looks like his face and such; rather, you can make it look like a plain snowman's head and simply dress him up with black and red pieces.
You can even make little snowballs and stick them on the hat as an added no to its design.
Of course, you don't need to stick with this design if you feel like making something else; after all, crocheting your own hat is a unique experience that allows you to be as creative as you want!
3. Baby Christmas Hat with Extra-Long Tassel
Babies are cute, there's no doubt about it, and no matter what you dress them up with, they'll still look cut, but if you really want to celebrate your baby's first Christmas with a sense of style, then you could try making an oversides Santa Claus hat with an extra-long tassel.
Sure enough, Santa hats can be bought from pretty much anywhere around this time of the year, but it would be ideal to make your own for several reasons:
It's hard to find a baby-size hat
You're limited by what the market has to offer
As such, we recommend that you try crocheting your own hat because then you have full control over how big it is, how long the tassel will be, what accessories will it have, and what materials will it be woven from.
This particular hat was crocheted using a pattern that consists of double crochet stitches, but you can choose to do it in half-double crochet or even single crochet if you want the tassel to be shorter.
You could also use acrylic yarns for babies since they are known for being comfortable, soft, and warm. Having said that, because babies spend most of their time sleeping, make sure the material isn't dense at all since their heads will need enough room to breathe.
4. Hat with Other Matching Crochet Christmas Decorations
If you want to change things up a bit, you can go ahead and use your skills in crocheting to make your very own Christmas decorations, and before making a life-sized hat that you can wear, you can first experiment on first making miniature ones see how they may look without investing too much time or materials.
For instance, it would be interesting to make a Christmas tree using yarns with different colors, and you can use any type of yarn for this project, but if you want the tree to look denser and fuller, go for acrylic or cotton yarns rather than silk or wool.
As for the decorations on your crocheted Christmas tree, you can crochet miniature hats of various shapes and sizes as well as stockings since Santa will surely need somewhere to leave his gifts!
Of course, if you want some more inspiration on how to decorate your crocheted Christmas hat, then you can also look to the internet for some more ideas since there are plenty of tutorials that will guide you through making different designs.
Another thing you could try is crochet about 10 or 20 such mini-hats, and then hang them on a longer piece of yarn, kind of like a miniature hat garland that you can hang all around the house.
5. Christmas Crochet Gingerbread Hat
Gingerbread is for Christmas just like pumpkins are for Thanksgiving: they're everywhere, and we either love them, or love hating them (but still love them in secret).
Well, you can't crochet food, but you can crochet a hat that showcases your love for this amazing holiday pastry, and let's face it, the hat looks amazing on the baby from the photo.
To make a hat similar to the one illustrated above, you'll need:
Crocheting needles
Yarn in the color brown, white and red
Some black buttons or marbles that you'll use as the gingerbread's eyes
A hot glue gun
First, crochet a hat from the brown yarn, and when you're done with it, add some icing to it by gluing on some white yarn tufts around the lower part of the hat.
Now attach two buttons or marbles on the right side of the hat, and if they won't stick by themselves alone, then use a bit of hot glue for this purpose.
When your gingerbread hat is complete, go ahead and dress up your baby boy in his festive getup! Sure enough, he looks cute as can be, but also very tiny since many parts of this getup are meant only for tiny babies.
Note: As for what colors you should choose for your hat, that's completely your choice, but you still have to use brown as your base, otherwise, it won't look like a gingerbread hat anymore.
6. Crochet Hats for Kids with Crocheted Beard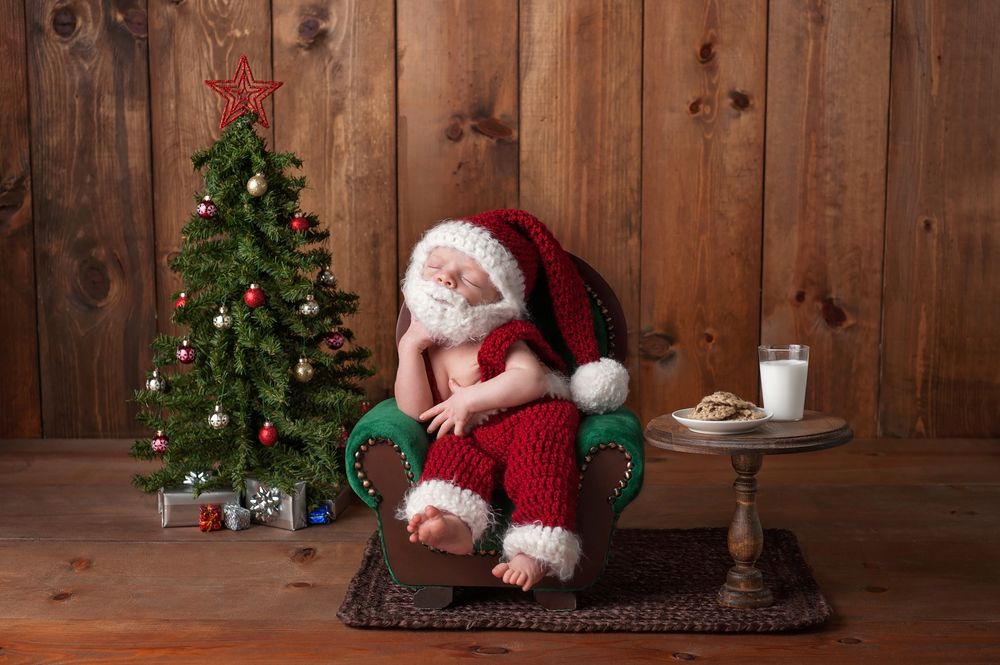 When it comes to DIY crocheting, it gives you complete creative freedom, and you can make something that looks fun and is very functional as well, such as crocheted hats for kids that come with crocheted bears.
Basically, you create a regular crocheted hat, and you put an extra attachment right under it that acts as a partial face cover that resembles a beard.
You don't need a lot of materials to make this crocheted hat, just the following:
Crocheting needles
Yarn in the colors white and red
Some white buttons to make the beard hinge
A hot glue gun
As for how you should actually attach the beard, just follow the steps below:
Crochet a hat of any size and shape you want. If crocheting isn't your thing, then this will be pretty difficult for you, so maybe try looking online to find guidelines on how to crochet various shapes.
When done with crocheting your hat, use some white yarn to add some white hairs around the lower part of it. This will serve as our partial face cover, but we need it to be able to move independently from the rest of the hat if we're going to get any use out of it.
Now get that thread in red color and create a loop over which you'll thread the beard. Knot it behind that loop to make sure the beard doesn't slide out of it.
Keep knotting the beard thread over and over again, so you can create a large enough loop for your face to fit through. Once done with this part, attach the white yarn tufts around the lower part of the hat to cover up any exposed skin.
7. Crochet Santa Hat with Matching Overalls
While we're on the topic of making Santa-themed crocheting projects, another great thing you could try is to make a crocheted outfit made out of a Christmas hat and a pair of matching overalls, similar to the example illustrated above.
The great thing about this particular idea is that it works for both adults and kids alike, and you can design both the hat and the overalls however you want.
To make such a set, you'll need the following:
Crocheting needs
Some buttons
Lots of red yarn
Some white yarn to make the trimming
If you want to create some extra details, you could use black and gold yarn to make a belt and a belt buckle, and maybe a bit of green yarn to make some extra decorations here and there.
The rest of the details can be added by using buttons, so you won't have to bother with any extra sewing. To attach the buttons or marbles, use a hot glue gun or some craft glue.
Whichever option you go for, just make sure that there are little bits of skin showing through between the stitching lines.
A final touch is attaching some white yarn tufts right under the bottom rim of the hat to mimic long hair sticking out from underneath it.
8. Hat with Christmas Crochet Patterns
Whenever you have a big family gathering or an office Christmas party, there's always at least one person that has a crocheted hat, scarf, or sweater that has those minimalist Christmas patterns featuring reindeer, snowflakes, Santa Claus, etc.
Well, if you want to be that person this year, go ahead and try making ourselves such a clothing article, since you'll definitely love it, and even though the design itself seems almost as old as time, it's just as popular in 2021 precisely because of how silly it is.
The tricky part of making this type of Christmas hat, scarf, or sweater is the following:
You need some good old-fashioned knitting needles and yarn in various colors of your choice. Some pink and purple would be interesting choices if you want to make a festive hat for women.
When done with your project, take photos of yourself wearing it and send them in our direction so we can add
The best thing about making a hat using these traditional Christmas motifs is that, because they are popular, there are plenty of tutorials out there that will teach you how to make the various shapes and figures depicted there.
You can use a lot of colors, not just red and white, although very few colors feel as "Christmasy" as red, white, green, with maybe touches of black and yellow here and there.
9. Xmas Hat with Animal Ears
Just because it's Christmas doesn't mean that all the clothes and decorations have to be about snowmen, trees, Santa Claus, or elves.
In fact, since it's winter and also the winter holidays, it's time to be a bit silly and try something different, like crochet has that has animal motifs on them, such as animal ears.
Reindeer hats are already pretty common, especially the ones that come with fake horns, but if you want to stand out, you can go ahead and try a different animal, like a penguin, or a bear.
The colors that you choose are completely up to you, and they pretty much dictate the animal that you'll be creating. For example, if you'll make the hat using brown yarn, and you make the ears relatively rounded, then everyone will think that it's a typical bear hat.
On the other hand, you can go ahead and use patterns, and make a crocheted hat with ears that have black and yellow stripes, in which case everyone will presume that it's a tiger hat.
All in all, don't be afraid to try something different this year, because even if a lot of people tend to play it safe and choose the reindeer hat design, everyone will appreciate a different type of Christmas hat that they haven't seen before.
10. Crochet Christmas Tree Hat for Pets
Speaking of crocheted Christmas hats with an animal motif, the last entry in this section of this article will showcase a design that will show some love to your pets: a crocheted Christmas tree hat.
Many people presume that just because most pets have fur, they don't feel the cold, but they couldn't be any further from the truth, and as you may have noticed with many smaller dog breeds, their owners would usually buy them some miniature jackets to wear.
Well, their head needs to keep warm as well, and if you're going to make them a hat, why not make it a hilarious one while you're at it?
For example, if you were to make a crocheted version of the Christmas tree hat depicted above, both you and your guests will be having tons of laughs, and your pets won't mind the extra attention at all.
While this crochet Christmas tree hat could be perfect to wear by small dog breeds such as chihuahuas or Yorkshire terriers, it can also work for cats that you want to keep warm during the winter (although they will obviously not appreciate wearing a hat with absolute certainty).
What's great about crocheting hats is that they're extremely quick to make, especially if you know some basic stitches and techniques already. So don't let your pet freeze this year! Make them a nice crochet Christmas tree hat, or maybe even several.
More Great Crochet Christmas Hat Ideas
As we said earlier, the next section of our article will be showcasing 15 more crochet Christmas hat ideas from past years, but don't think for a second that the next 15 entries are less impressive than the other 10.
In fact, given that Christmas is all about traditions, there's a high chance that people might like these designs more because it's hard to beat something once it's considered a classic.
11. Preemie Crochet Santa Hat
Do you often make projects for donation to the local hospital so that premature babies have small enough clothe to bundle up in during their stay and once they've been sent home?
Well, you can always get festive there too! No parent with a brand new baby will be opposed to seeing their adorable bundle of joy donning a teeny, tiny Santa hat for some extra cheer during the holidays. We loved this design from by Charmed by Ewe.
12. Simple Baby Christmas Hat with Matching Diaper Cover
Whether you make it in preemie sizes or larger for older babies, this adorable matching Santa hat and diaper cover are probably the cutest thing we've seen all day.
Besides looking absolutely darling once you've put them on, these pieces are also amusing for the person making them because they're a good excuse to use a bit of novelty fun fur style yarn on the trim.
13. Crochet Hats for Kids – Long Elf Beanies
This pattern shows you how to make adorable little elf hats with very long tales, more like the illustrations of elves that you might have seen in old children's books or paintings rather than the little green pointed ones you're familiar with from modern-day Christmas ads in stores.
Technically the pattern gives you sizing for babies, but if you're very skilled, you might figure out how to make larger versions for your older children too since the design fromHouse Esperanza is so darn cute.
14. Christmas Crochet Pattern – Snowman Hat with Pom Poms
One of our favorite parts about being able to crochet is being able to so easily add some novelty to a design in terms of shape or detail. We love the way this snowman hat, for example, has both a face, complete with an orange carrot nose, and a plush hat on top.
The patternby The Whoot gives you kids size for some adorable festive warmth for your little ones, but also adult sizes for grown-ups who are feeling silly in their Christmas spirit.
15. Baby Christmas Hat – Elf Hat with Ears
If you liked the long-tailed elf hat design but you also kind of like making things for your kids that are a little sillier, since they'll only really wear a Christmas hat once a year, then we think we've found exactly what you need.
This designby Make & Do Crewhelps you not only make a cute long-tailed hat, but it shows you how to add silly elf ears on either side that will sit right where your child's ears are ticket under the hat's brim!
16. Christmas Crochet Pattern – Gingerbread Person Hats
We love designs like this one from Repeat Crafter Me because they're like two patterns in one, making them perfect for you and your kids if you have one girl and one boy.
Transform them into matching little gingerbread kids, giving the girl a pretty red bow on hers, just like they might if they were icing and decorating gingerbread cookies.
17. Baby Christmas Hat – Reindeer Hat
Are you an avid crochet enthusiast but you also like sewing and working with felt? Then we've found the perfect Christmas-themed combination project for you!
First, you'll knit up the base hat with the snout and ears, and then you'll cut and sew the felt for the reindeer's eyes and antlers, filling the antlers with a bit of stuffing so they stick up like the real thing when your child puts the hat on. Finally, a red button for a nose will make them look like Rudolph! Don't you love this idea fromRepeat Crafter Me?
18. Snowman Christmas Hat
Did you absolutely adore the snowman hat we showed you above but your child is still quite small and none of the sizes will fit their little head?
Pom pom strings also aren't very comfortable or safe for little babies to wear so, instead, we've found you this cute little snowman alternative!
Besides the hat, the pattern also shows you how to crochet a simple, warm little baby cocoon complete with buttons so that your baby looks like a tiny snowman from top to bottom.
19. Christmas Hat – Cute Penguin
Are you loving the idea of Christmas-themed baby hats but you're not sure a snowman really fits your kid's personality? Perhaps they're more of an adorable little penguin instead, like this one by The Whoot!
This penguin hat design, with its shiny little eyes and miniature beak, pulls at our heartstrings already on its own, so just imagine how adorable it'll look on your little one.
20. Crochet Hat for Kids – Christmas Elf
Just in case the other elf hat that also features elf ears isn't a silly enough design for you, here's an alternative that features bells too!
This one comes in adult sizes so that, if you're really feeling festive, you can make your entire family a set of hats and all transform into jingly little elves at once. Talk about funny family Christmas card material. Find this one atCrochet Spot.
21. Grinch Christmas Hat
Hat designs that involve a hat within the have always made us laugh and this funny little Grinch option is no exception.
When your child puts this Grinch, with his crooked smile, on their head, it's like a dual hat deal because the Grinch is also wearing a hat of his own! We love the bright colors this pattern from by Craft Draweruses, as well as the fluffy trim.
22. Christmas Crochet Snowflake Beanie
Maybe you're looking for a festive hat design that's a little less silly and a little more purely holiday spirited so that you can take cute family pictures for your annual card?
Then this classic little snowflake design might be closer to what you had in mind. If you're feeling very fancy, we think it would look gorgeous to had white, silver, or clear seed beads to the snowflake once you're done with the crochet process!
23. Crochet Christmas Ornament Hat
Speaking of designs that will look hilarious on your whole family together, or perhaps just your children and their cousins here's a design (from by Repeat Crafter Me)that will make everyone look like a cute Christmas ornament!
Gather all around the tree and take some festive pictures that make each person really look like part of the holiday decor.
24. Crochet Christmas Tree Hat
Okay, we lied, we've not finished with the silly hat designs after all. How could we possibly resist putting this amazingly 3D feat of crocheting skill on our list?
This hat is a great way to display your fancy crochet skills, help your kid stand out at their school's holiday costume party, and it's not a bad excuse to use some fun sparkly yarn either. Check out the details here –Lizzziee.
25. Crochet Xmas Hat
Sometimes the real charm of a pattern is in the little details that you add after rather than in the hat design itself. A simple, clean stitching pattern can go a long way, and so can some easy yarn embroidery!
That's what caught our eye most about this cute little scribbled Christmas tree hat on Craftsy. We totally adore the idea of making a tree topper with little beads!
Best Crochet Christmas Hat Ideas: Closing Thoughts
This concludes our article about the best Christmas hat ideas for crochet, and we hope that you found it to be both informative and entertaining.
As we said earlier on, if you're looking for something different this year instead of the traditional reindeer hats or Santa Claus hats, then why not try one of these animal motif designs instead?
They might be a hit with your friends and family, and they'll definitely keep warm and festive, which is always a good thing during the cold winter season.
If you really want to stand out from the rest of the crowd next year, go ahead and give some of our suggestions a shot! Who knows what might happen? You might just discover your newest passion!
Don't forget to check out some other articles on our site, because we've written plenty of other guides on ways to enhance your overall Christmas experience, either through clothing, meal recipes, and decorations.