30 Free Blanket and Afghan Crochet Patterns
We're pretty big crochet enthusiasts all year round, but that'sespecially true in the winter. There's just something so satisfying about curling up with our yarn and hook and creating something cozy! That's why we've been on the hunt for fabulous crocheted blanket and afghan patterns to try over the long winter.
Just in case you could use some new crochet blanket pattern suggestions too, here are 30 of the best designs we came across in our search.
1.Charlotte blanket
If you've ever been a fan of big, chunky stripes (particularly in wintery colours), then this pattern fromRescued Paw Designsis definitely the one for you!
2.Heirloom cabled throw
Cables are something that people usually talk about in reference to knitting patterns but it's absolutely true that you can't make them when it comes to crochet projects as well. Take a look at this lovely pattern fromSewrellato see how they're done.
3.Simple Granny Stripe afghan
Were you intrigued by the stripes idea but you think you'd rather go thinner, include more of them, and maybe add a fun twist? Then youdefinitely need to check out this pattern fromKristine In Between.
4.Neapolitan French Braid Cable blanket
So far we've talked about both striping and cables in crochet, but what if you'd like to combine the two? That's exactly whatYarn Hook Needlesdoes in this gorgeous pattern!
5.Vintage Rippling Blocks blanket
Stripes are great but sometimes chevrons are better, especially if you're a big fan of visual texture! We particularly love the wayAngela Mariastriped through a whole repeating colour pattern in beautiful jewel tones.
6.Nail Diamond cable blanket
We've talked aboutvisual texture, but what if you'd rather make some texture you can actuallyfeel? Then we think this wonderfully criss-crossed blanket fromYarn Hook Needleswill be right up your alley.
7.Briar Rose blanket
Has your favourite part of crochet always actually been the beautiful crochet stitches you've come across in different patterns; the more intricate looking, the better? Well, this particular stitch isn't that hard but it certainly looks pleasing, so check the blanket out onFiber Flux.
8.Chunky blanket
Winter is theperfect time for big, chunky knitting. We love the way the finished products feel squishy and wealso love how quickly they stitch up, making them great gifts. This cozy throw blanket fromAlways Rooneyis the perfect example of what we mean.
9.Chunky Crochet Throw blanket
Just in case the words that caught your attention the best so far were "stripes" and "unique stitches", then here's a blanket pattern that combines the two very well indeed! Get the full details for making your own onLeelee Knits.
10.Granny Square blanket
If you've never made a blanket that starts in the middle and builds outward then we're sorry to tell you that you've been missing out on something fun! You'll already be familiar with the technique if you've ever crocheted classic small granny squares before, only this time it's in jumbo size. Get the pattern fromDaisy Cottage Designs.
11.Mod Heirloom crochet blanket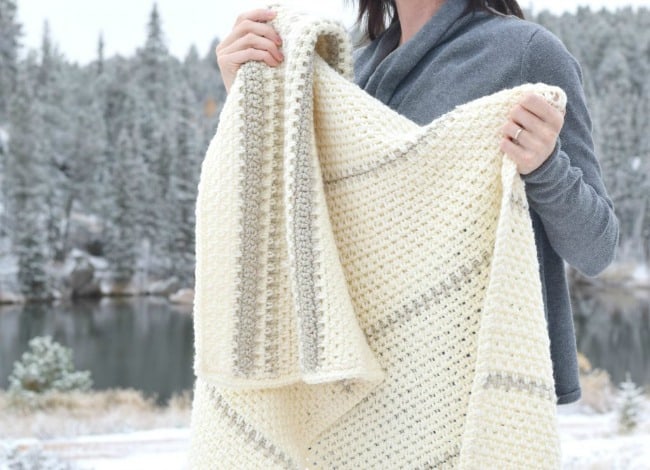 Are you looking for a simple, impressively stitched blanket that has only a little bit of visual contrast? Then this lovely pattern fromMama In A Stitchwill be right up your alley (no matter which colours you choose to make yours in).
12.All Double crochet afghan
Here's something fast and fun for the double crochet lovers out there! We know the feeling of falling in love with a particular stitch once we've mastered it well enough to do it without looking. Get the full details onKristine In Between.
13.Dragonfly blanket
Rather than just crocheting impressive stitches, would you actually rather create some kind of visual pattern in the blanket? Well, this one's a little summery with its bright colours and dragonfly shapes, but that doesn't mean you can't make it now and save it for later! See the pattern in full onJanaya Chouinard.
14.Crochet hooded blanket
Have you actually been looking for something cozy and extra unique to wrap your little kids in on the couch this winter while they watch movies on extra cold evenings? Well, what could be cozier than a blanket that has its own hood? That's whatMake and Do Crewshows you how to make here.
15.Summer Harlequin blanket
Just in case you're feeling up for a challenge and confident in your skills, here's a fantastic patchwork blanket that lets you work with shape and colour!Holly Pipshas the full pattern and instructions for you.
16.Flower Princess blanket
Were youvery intrigued indeed when we started talking about texture that you can both seeand feel? Well, if flowers have ever been your thing, then we'ddefinitely suggest taking a look at this absolutely stunning blanket featured onCrochet News.
17.Interweave Celtic Stitch blanket
Did we really catch your attention with the criss-cross stitch pattern but you can't help wishing it were a little more woven looking? Then we're pretty sure this blanket fromDesign Peakis exactly what you're looking for!
18.Fire blanket
This particular pattern requires a certain colour spectrum if you want the name to suit, but it's also the kind of visually pleasing technique that will look fantastic in any colours at all. See how the lovely spiralling squares are made in more detail onYarn Twist.
19.Peacock Pretty blanket
Like the blanket above, this pattern will most resemble its name sake if you make it in greens, blues, yellows, and teals like an actual peacock. Because the shape outlined byKraftlingis so lovely though, it will still have a very neat effect in other colours!
20.Textured Chevron blanket
Just in case you were a pretty big fan of the chevron stripes we showed you earlier on our list but you couldn't help wishing the whole design had more texture, here's a ribbed effect in the same awesome zig-zagging pattern onNotey.
21.Arrow Stitch afghan
Here's another blanket option for people who love both stripesand awesome defined stitches!Yarnspirationsteaches you how to make a blanket that gathers like arrows down each stripe.
22.Bright Log Cabin blanket
Did the increasing square aesthetic of the granny square blanket you saw above really appeal to you but you can't help wondering whether it might be even cooler if the squares entirely repeated? Then we have a feeling you'll get along very well indeed with this pattern fromLion Brand.
23.Blackberry Salad afghan
Are you still thinking about how much you love the idea of creating a blanket that has some kind of surface texture you can feel, but you've done enough crossing patterns this season already? Then maybe you'd prefer this rounded look with little pompom-like baubles that lookand feel awesome! Thanks goes toMooglyfor this one.
24.Square Upon Square throw
Just in case you loved the concept of making a giant granny square like we talked about before but you'd prefer a more intricate stitching pattern within that, here's a lace square-in-square pattern outlined step by step onKatherine Eng!
25.Bobble Stripe blanket
Are you interested in the bauble idea we showed you above to an extent but you're also not sure you want quitethat many balls across the surface of your blanket? Then we think you might get along a little better with this striped andslightly bauble laden design fromDesign Peak!
26.Snow Berries throw
Here's a wonderfully chunky blanket that's quick to make despite the intriguing squared stripes. We love the idea of making it in seasonal winter colours since it's so warm. Get the full pattern fromFiber Flux.
27.Crochet Zig Zag blanket
Perhaps you actuallyare still thinking about how much you liked the idea of making a criss-crossing textured blanket but only because you can't help wondering whether there's a chunkier version out there? Well,Pretty Ideasis here to make those very wishes come true.
28.Peaked Shell afghan
Here's an idea for all our shell stitch lovers out there! Besides celebrating your very favourite stitch, this pattern also gives you a chance to stripe and play with colours. Get the full details onCrafting Friends Designs.
29.Presto 4.5 Hour afghan
Are you looking for an awesome afghan that has a lot of character but is also as quick as possible to make up because you need to make a gift for someone quite last second? Then we think you'll love the way this awesome blanket with cool pom pom on the edges can be finished in only 4.5 hours!Make and Do Crewshows you how it's done.
30.One-Evening Mermaid Tail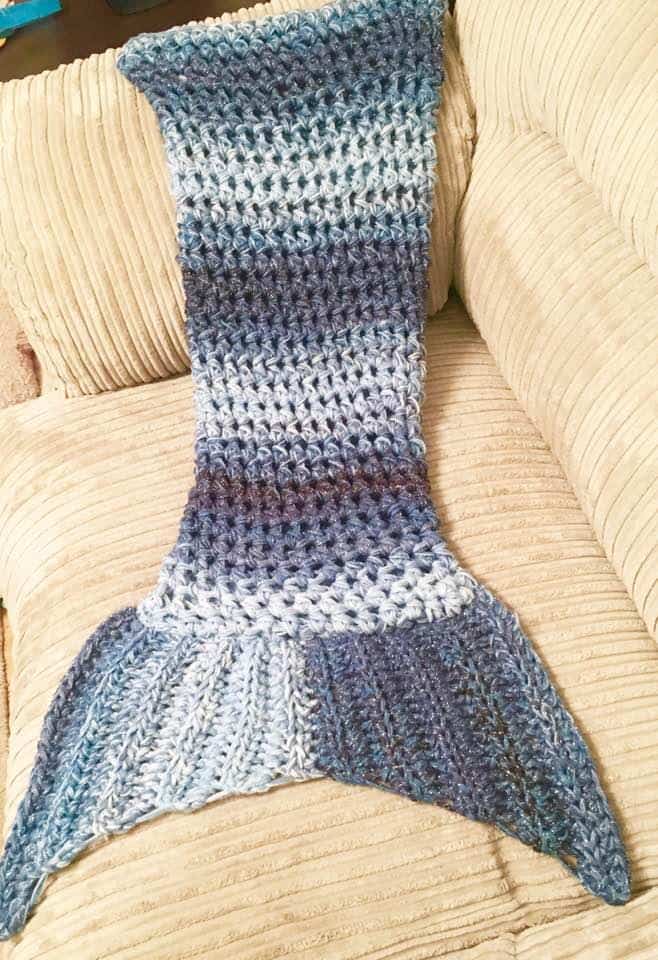 Speaking of crocheted blankets that have a lot of character, there's pretty much no beating this fantastic mermaid tail shaped blanket for that; just look at that fin!Emma O'Tooleshows you how to make one of your own step by step.
Do know a fellow crochet enthusiast who has been looking for new patterns to try out this winter in order to make some cozy new blankets? Share this post with them so they have all kinds of new patterns and blanket designs to try this winter!