These 15 DIY Coasters Will Hold Your Drinks In Style
One of the easiest of homemade projects, these packs are perfect to use as gifts or as a way to dip you toes into the do-it-yourself world. These 15 coaster projects will hold your drinks in style – or maybe your best friend's, sister's, or your boyfriend's at his studio apartment. Let's see all of the wonderful ways you can make some of these fun additions, shall we?
1. Mini Cowhides
Oh So Beautiful Paper had our hearts swooning with this one. We all know that cowhide (faux, preferably) throw rugs are completely in style, but what about taking that idea and turning it into something mini-size? With help from this tutorial, your coffee table just got a whole lot more interesting and fun!
2. Tiles
Here are a more classic set of coasters that we think are rather dreamy too from The Cottage Mama. All you need are some tile pieces to get yourself started. You can really get creative and fun with these, and personalize each one to your liking.
3. Scrabble Pieces
Who loves a good game of Scrabble? Well, Simply Darling took that love and turned it into something really special. These game pieces can be transformed into fun, personalize coasters for everyone at home to enjoy!
4. Crocheted
 
A Beautiful Mess will have you crocheting by the weekend! Just look at this cozy cuties and how fun they'll be to pick out warm color combos for your home. Take a peek at the tutorial after the jump.
5. Marbled
A personal favorite on list, these marbled beauties are actual piece of art. Sarah Johnson will give you all of the details on how to make these stunning pieces for your table and sips. Each one is unique but still acts as a really pretty set, which is great as a DIY gift too!
6. Wood Pallets
If you want something more minimalistic, then these tiny wooden pallets from One Dog Woof are definitely something for you to take a second look at. You can even add some color to these cuties if you'd like. Or, just staying natural is great for our modern lovers.
7. Mason Jar Lids
Off course, some mason jar lids can be upcycled and turned into some cool coasters as well. They're rustic and a great choice or those with more casual tastes. Take a peek at the directions over at Less Than Perfect Life of Bliss.
8. Wood Slices
Tidbits went with wood slices. They're natural and each unique. But it's those floral agents that make these designs such a statement. Check out the tutorial after your visit!
9. Handpainted
The Lovely Drawer hand painted her pieces. If you have a knack for design then this is definitely one that you'll want to take a closer look at. Gather some inspiration and make your own personalized coasters by the weekend!
10. Resin
Resin can act as a great material for creating coasters from scratch. And you can learn all about the hows and whys once you take a leap over to Ashley Hackshaw. Add beads, buttons, and more – even dried flowers if you'd like.
11. Wine Corks
All of those wine corks you've been keeping can finally be utilized! Heart made teaches us how. Again, you can add a bit of metallic paint or glitter to these too if you want some add a pop of color or personalize even further.
12. Felt Balls
Another fun design to love comes to us from Inspired by Charm. Taking some small, colorful felt balls and turning them into a plush coaster seems like a great idea, don't you think? These are perfect for keeping but even better for DIYing and gifting as well!
13. Quilted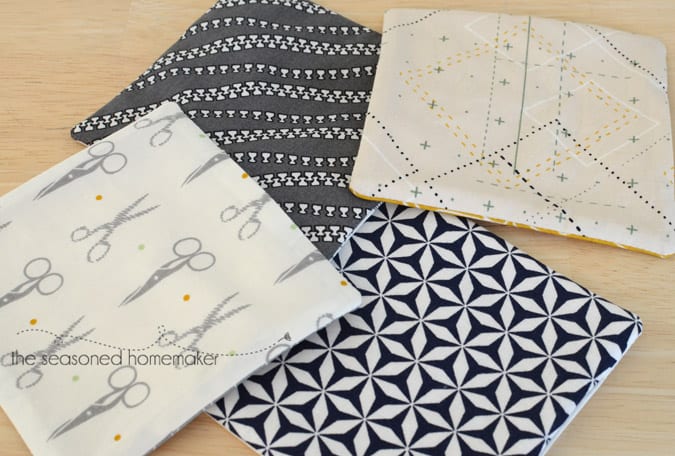 If you're handle with a needle and thread, then these quilted coasters may be your best bet. Check out all of the details over at Seasoned Homemaker. And we suspect that you'll have lots of fun picking out different patterns and prints!
14. Donuts
Hello Glow went with a donut coaster that we're all loving too! How adorable are these cuties? Easy to replicate and great for laying out for your nest friendly get together or birthday party!
15. Felt Citrus Slices
And finally, if you visit The Purl Bee, you'll find all of the details behind these citrus cuties. Using felt, you'll be able to whip these up in now time. Add a bit of summertime flair to the tables!