15 Checkerboard Cakes That'll Be The Center of the Party
Add a bit more festivity into the celebration with one of these edible beauties. Any one of these 15 checkerboard cakes will easily become the center of the party. Slice it, serve it and watch all your guests be wowed – and delighted.
1. Checkerboard Chiffon Cake
Gins Kitchen starts us off with this chiffon checkerboard cake. Follow along with the easy tutorial and see what happens when you try your hand on it for the first time. Add some sprinkles on top for some extra festivity too. This is a great way to go if you're a fan of mixing up flavors.
2. Chocolate Stout and Pumpkin Checkerboard Cake
Style Sweet CA went with an extra special flavor that's perfect for those celebrating throughout the fall months. Some chocolate stout and a punch of pumpkin will delight the tummies and tastebuds of everyone at the party. Hop on over now and grab onto the recipe.
3. Chocolate Ice Cream Checkerboard Cake
Maybe you're a fan of ice cream cake instead of the regular. If so, there's a YouTube video that'll show you how to take some chocolate ice cream and turn it into a checkerboard bite overnight. Make your summertime shindig a little sweet with this one.
4. Rainbow Checkerboard Cake
Tip Hero went with a rainbow cake design that we instantly fell in love with. What better way to celebrate a birthday than with all the colors of the rainbow? Flavor it with lemon, orange or just some vanilla! Every slice is a part on its own!
5. Christmas Checkerboard Cake
When Christmas comes to call, you'll need to visit The Crumby Kitchen. And when you do, pay special attention to this Christmastime checkerboard cake recipe. With all the flavors and colors of the season, the entire family will want to dive right into this specialty.
6. Cherry Blossom Checkerboard Cake
A favorite design of the bunch, this Japanese cherry blossom cake, inspired by the blooms themselves, is a beautiful way to celebrate any milestone. From baby shower to birthday, take a peek at how to design this bite from head-to-toe after the jump. Some fresh petals on top can be a lovely way to garnish.
7. Yellow Rose Checkerboard Cake
You can even make a checkerboard cake that has a subtle, monochromatic scheme. All you have to do is hop on over to i am baker and check out this recipe. It's a great idea for your DIY wedding cake as well, especially with those rosettes.
8. Citrus Checkerboard Cake
Who loves citrus? You can create a checkerboard cake with a bout of fruity flavors if you hop on over to Manju's Eating Delights and check out the recipe. For something lighter and great for summertime, this is the wy to go.
9. Red Velvet Checkerboard Cake
Who loves red velvet? If you're one of the many that loves a slice of red velvet cake, then you'll definitely want to check out this guilt-free recipe from That Skinny Chick Can Bake. The best part is that you get a festive look with every slice of this cake.
10. Black Sesame and White Coconut Butter Checkerboard Cake
Here's another beauty to gather design and flavor inspiration from. Black sesame and coconut butter would be quite the indulgent bite. But that black and white slice also will make an impression before the first taste has been taken.
11. Easter Checkerboard Cake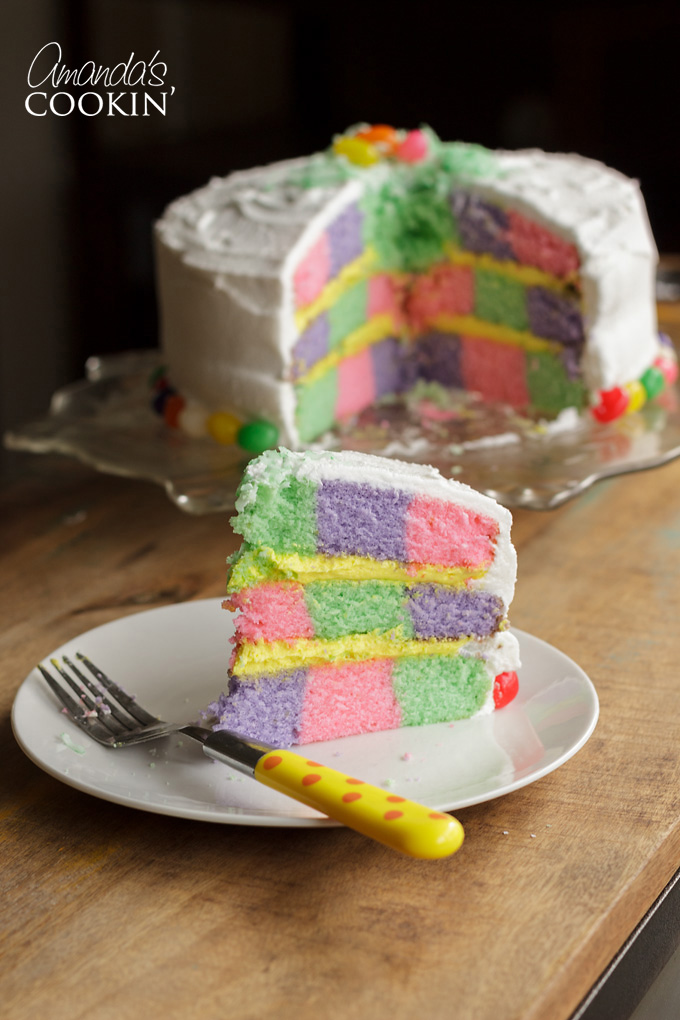 Amanda's Cookin made a cake that works for Easter! With pastel shades, it becomes another fun and festive springtime dessert to treat your family with. Take a peek at the recipe and start up some magic in the kitchen tonight.
12. Chocolate Checkerboard Cake
GH gave us a classic, chocolate checkerboard cake to try our hands at too. Looking like it was dipped in a bout of milky chocolate, this cake is a dessert-lover's dream. Garnishing it with some delicious cookies seem like the right touch as well.
13. Neapolitan Checkerboard Cake
There's so much to love about this neapolitan checkerboard cake and so much inspiration to take from it. It's a beautiful birthday party treat. But we're loving the combination of three classic flavors as well: chocolate, strawberry and vanilla. (via)
14. Peppermint Checkerboard Cake
Every Nook & Cranny gave us a Christmastime recipe too. Check out this peppermint masterpiece after the jump! Leave a bite for Santa and serve up some slices to the family alongside a sweet cup of hot chocolate.
15. Lemon & Strawberry Checkerboard Cake
Brit + Co gave us one of the best checkerboard cake recipes on the list. With some lemon and strawberry flavoring, you get something light and sweet to celebrate with. Birthday parties, baby showers or springtime dinner parties could use a slice or two of this pretty bite.