50 DIY Birthday Cards For Everyone In Your Life
From your next-door neighbor to your sister, everyone's birthday comes rolling around sooner or later. And that means you'll have lots of cards to give out throughout the year. And with these 50 DIY birthday cards, everyone in your life will get something handmade and from the heart!
1. Birthday Bear
Make a birthday bear for any one of your loved ones! It's cheeky and adorable – easy to make too! (via)
2. Cupcakes
Kitchen Table Stamper went with a cupcake as the inspiration for their card design. Check it out after the jump!
3. Edge-Punched
Martha Stewart shows us how to add a bit of designer-worthy spark to our homemade birthday cards. You just need some paper punches
4. Simple Bunting
Sometimes a simple bit of bunting is all you need to make a pretty little "happy birthday" card. It's easy to put a personalized spin on these too! (via)
5. Mechanical Dogs
Gift something funny to your family or friends with these mechanical dogs! Learn how to whip these up at Martha Stewart.
6. Pom Pom Ice Cream
Mama is Dreaming started with some pom poms and turned them into some super festive cards! We're loving these for your best friend, sister or one of the kiddos!
7. Watermelon
Why not give your birthday love over inside a cute little watermelon? You can withs one help from The Craft Blog!
8. Embroidery Notes
Have you ever thought about embroidering your cards? With help from BugabooCity you'll learn how!
9. Travel-Inspired
Is the birthday girl or boy a lover or traveling? Inkstruck shows us how to make a card just for them!
10. Elephant
This adorable little elephant from Deb Duty will give someone you love the right kind of birthday love. Check out how to recreate the cutie after the jump.
11. Chocolate Cake
Who wouldn't want to celebrate their big day with a chocolate cake – even if it's just one the card. Recreate it at Crea Bea Cards
12. Classic
Go the classic route. Simple, colorful and festive, Paper Source will show you how to make this one.
13. Mickey
Maybe the person you're making the card for loves all things Disney – or at least Mickey Mouse. If so, this is the one you'll have to make! (via)
14. Sparkle Balloons
Jennifer McGuire added a bit of glitter to her balloons and we're in love. This is a chic and feminine way to celebrate!
15. Washi Script
Omiyage used washi tape to make their cards pop! Of course, it can say "happy birthday" or "celebrate" and fit more in tune with the festivities.
16. Dip Dyed
Poppy talk dip-dyed their stationary and cards. We love how you get to design your greeting from the ground up with this DIY!
17. Leafy
Over at Delighted Momma you'll learn how to decorate a bit with nature's own. All you need to get started is a leaf!
18. Pop-Up Favs
Brit + Co teaches us how to make some quirky pop-up cards with some of our favorites things. A typewriter, a desktop and a polaroid too – how fun are these?!
19. Stamp Village
What's great about this design from Fellow Fellow, is that you learn how to make your own stamps too! And we love the romantic finished product.
20. Crayola Paint Layered Cake
With some Crayola paint you can make a festive layered cake too! Check out how to make this fun design after the jump, it's so delicate and feminine! (via)
21. Cupcake Liner
DIY Candy used a real cupcake liner in their design. And of course that design is of a cupcake – which is quite fitting.
22. Sequins Balloons
All you need are some sequins to get this one started! Head on over to Craftsy and learn how make balloons out of them!
23. More Washi Designs
Omiyage make some more fun designs out of washi tape. All you need are some different rolls and some creativity.
24. Stickers
One Good Thing shows us that all you need is a great sticker to make a birthday card come to life. Grab more inspiration after the jump!
25. Gilded
Why not make a golden and glittering  birthday card for your best friend or mom? Camilla Styles gives us great inspiration on how to go about it! Just exchange out the phrases!
26. "Birdday" Bunting
Sideoats and Scribbles has a clever little card to get excited over. What better way than to say, "Happy Bird-day!"
27. Pop-Up Cake
Red Ted Art went the pop-up route too! Say "Happy Birthday" with a 3-D cake full of festivity and color.
28. Watercolor Succulents
These succulent cards from Gathering Beauty are stunning! Learn how to recreate some at home and dress them for a birthday greeting.
29. Cupcake Punches
Martha Stewart used a paper punch again and got creative. Cupcakes are always a great way to decorate for a birthday.
30. Washi Tape Candles
Washi tape came into play here as well! And it's so, super easy to make right at home – crafty or not! (via)
31. Pressed Pansies
Martha Stewart teaches us how to press fresh flowers to create something beautiful. How thoughtful would this birthday greeting be?
32. Owl
An owl could be a fun and charming way to go as well. Just learn how to draw the cutie first! (via)
33. Fun Shakers
Shelterness made a birthday card shaker that we absolutely fell in love with. Take on the challenge after you visit the link!
34. Flower Paper Cutout
If you visit Martha Stewart again, you'll learn how to make some floral cutouts that can be a great way to decorate your cards. Take a peek!
35. Fabric Swatches
A Beautiful Mess used leftover fabric swatches for their card designs. We love how they instantly become unique and designer-styled.
36. 3-D Balloons
Some 3-D balloons are an obvious way to go as well. Learn how to make some pop-up festivity now! (via)
37. Superhero
DIY Inspired created a card with a Superhero vibe. It even has a cape! Hop on over and take a look at all the details.
38. Pop-Up Tulips
If you're loving all of these pop-up designs, then you'll want to visit Oh Happy Day. You'll get inspired by all these fun finished products.
39. Happy Cutout
Savvy Nana made some cutouts too! Check out how to fashion your card after this model after the jump.
40. Confetti
If you use this card from An Open Sketchbook you'll get a lot of great inspiration. You too can make a card with a fun, confetti-style quite easily.
41. You've Got Mail
How adorable in this "you got mail" card? Learn how to layer it up this afternoon! (via)
42. Hot Air Balloon
Krystal's Cards made a gorgeous hot air balloon that can be kept by your loved one or friend for a long time to come. You'll have a great time personalizing this one.
43. Donut
You can celebrate your birthday with donuts too! Just take the advice and know-how from Stampin' 365!
44. Vellum Balloons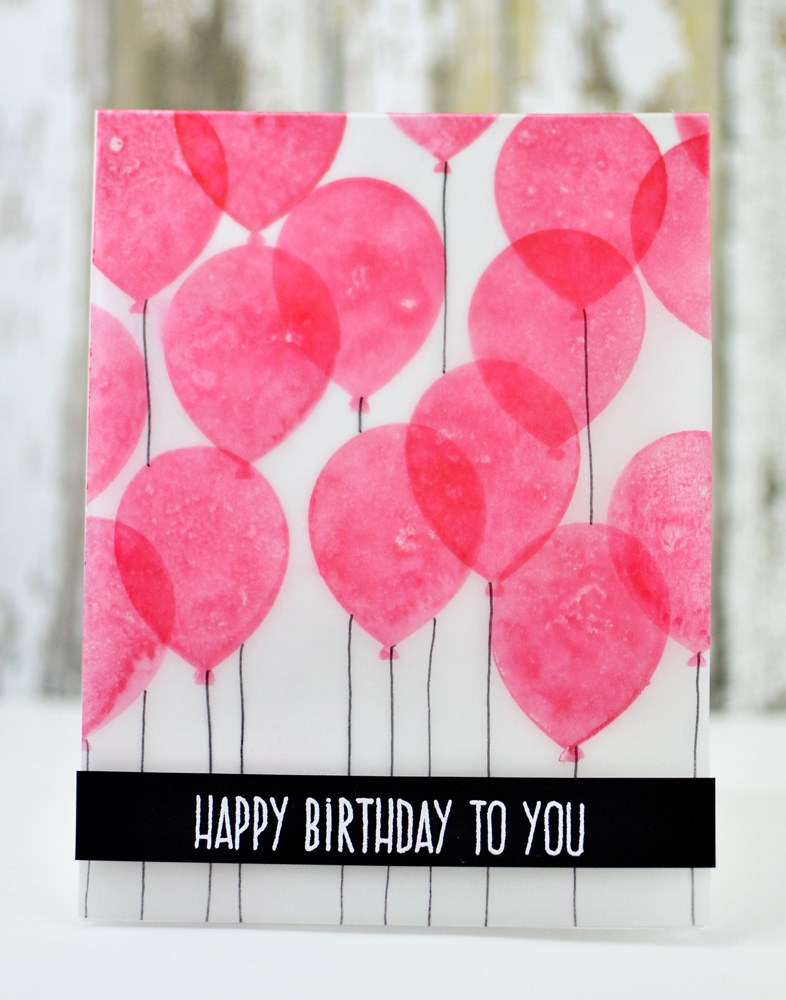 My goodness, these balloons are so beautiful. Grab all the details behind their creation at Altenew Blog.
45. Love Bits
For our tech friends, show them some love and pixels with their birthday card. This one is pretty easy to recreate too! (via)
46. Striped Shaker
Here's another shaker card that we're loving. It's so stylish and the finished product is definitely gift-able. (via)
47. Gem
We're loving these black cards as well. Learn how to design them and get creative with the phrasing. (via)
48. Splash of Watercolor
Big Picture Classes went the watercolor route. We're loving the "splashed" background and how you can style the phrases and greetings in whatever way that feels right.
49. Wallpaper
Martha Stewart shows off some wallpaper cards and we love the innovation. It sets the tone for another "designer" styled card.
50. Button Balloons
And finally, we leave off with some button balloons! The kiddos will want to get involved with this crafty craft. (via)