These 50 S'mores Desserts That Will Have Everyone Singing Kumbaya
You don't have to be beside the campfire for any one of these 50 s'mores desserts to have everyone singing kumbaya. Grab the marshmallows and the chocolate and get yourself started on one of these sweet ends to a family friendly dinner. From pies to cookies, the variety is endless!
1. S'more Truffle Pops
We start off this s'mores party with some truffle pops from Brit + Co! Perfect for parties or edible gifts, hop on over and grab the recipe now!
2. S'mores Bites
Spoonful of Flour knew how to take a s'more and give everyone the perfect bite. These are wonderful for sleepovers, don't you think?
3. Marshmallow Sandwiches with Nutella Hot Chocolate Shots
Brit + Co is where you can find the details behind these innovative treats too. Nutella hot chocolate shots and marshmallow sandwiches sound like quite the delicious bites (and sips).
4. S'mores Milkshake
You can always take the flavors of a classic s'more and turn it into a sweet milkshake. That's exactly what The Hungry Housewife did and we're in love.
5. Nutella-Stuffed S'mores Brownies
yellow fingers started off with brownies, stuffed the baked good with Nutella and topped it all off with some toasted marshmallow. Everyone will want a piece of this batch!
6. Peanut Butter S'mores Cookie Pie
Averie Cooks made a pie that looks good enough to dive right into. Again, it has all the flavors we love of s'mores with the addition of peanut butter!
7. Pumpkin S'mores Pancakes
Handle the Heat started out with a gorgeous stack of pumpkin pancakes and topped it all off with everything you love about a campfire s'more. Whether it's breakfast, lunch or dessert, it's a plate to indulge and enjoy.
8. S'mores Frappuccino
You can always inspire your coffee flavors with this classic treat as well. Just check out this delicious recipe over at Baking Beauty.
9. S'mores on a Stick
A Latte Food put a classic s'mores on a stick! This is a great way to celebrate for sleepovers, birthday parties or even for a baby shower!
10. S'mores Fudge
S'mores fudge sounds pretty delicious too. Check out all the ingredients you need to get started at My Modern Cookery.
11. Peanut Butter Cup Stuffed S'mores Brownies
There were some Nutella-stuffed brownies below but these ones are filled with peanut butter cups! Check out these s'mores-inspired delights at Melanie Makes.
12. No-Bake Fluffernutter S'mores Bars
Make with fluffernutter instead of classic marshmallows this is just another fun twist on a traditional s'mores teat. And they're easy to make too! (via)
13. S'mores Cheesecakes
Baking Beauty made a s'mores cheesecake that will top off your next dinner party in style – and taste. Check out the recipe after the jump!
14. S'mores Chocolate Chip Cookies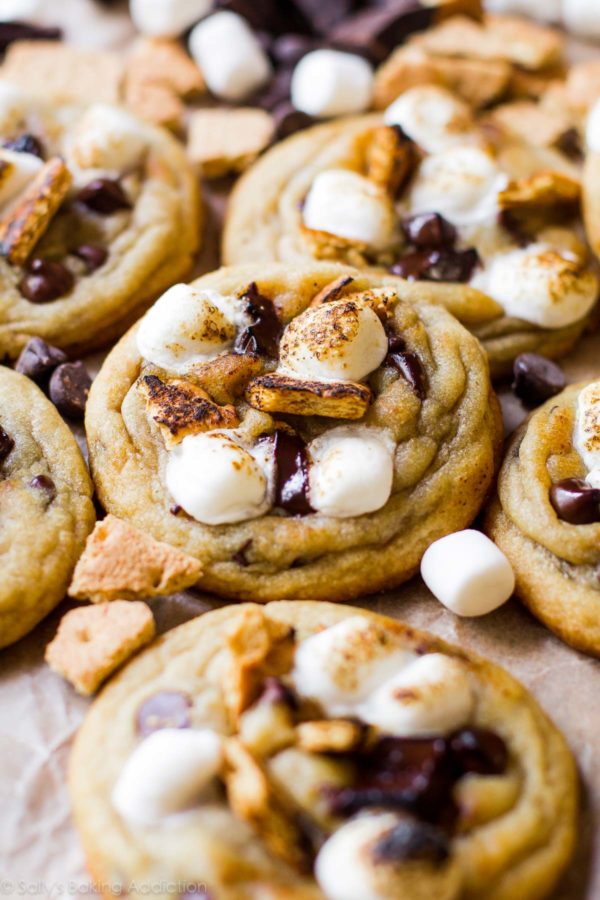 Chocolate chip cookies are delicious. But these s'mores inspired batches are even more so. Thanks for the idea Sally's Baking Addiction!
15. Deep-Fried S'mores
Sugar Hero took their s'mores to the next level by adding a deep fryer to the equation. Grab one and sink into the melted goodness.
16. Oreo Brownie and S'mores Ice Cream Cake
There's just so much to get excited about with this innovative dessert from Life's Ambrosia. You get a bit of brownie, you get a bit of s'mores and you get some ice cream too!
17. S'mores Chocolate Mug Cake
A mug cake is always good because you can make it solo and dive in by yourself too. Dip your spoon in and enjoy! (via)
18. S'mores Pudding Parfaits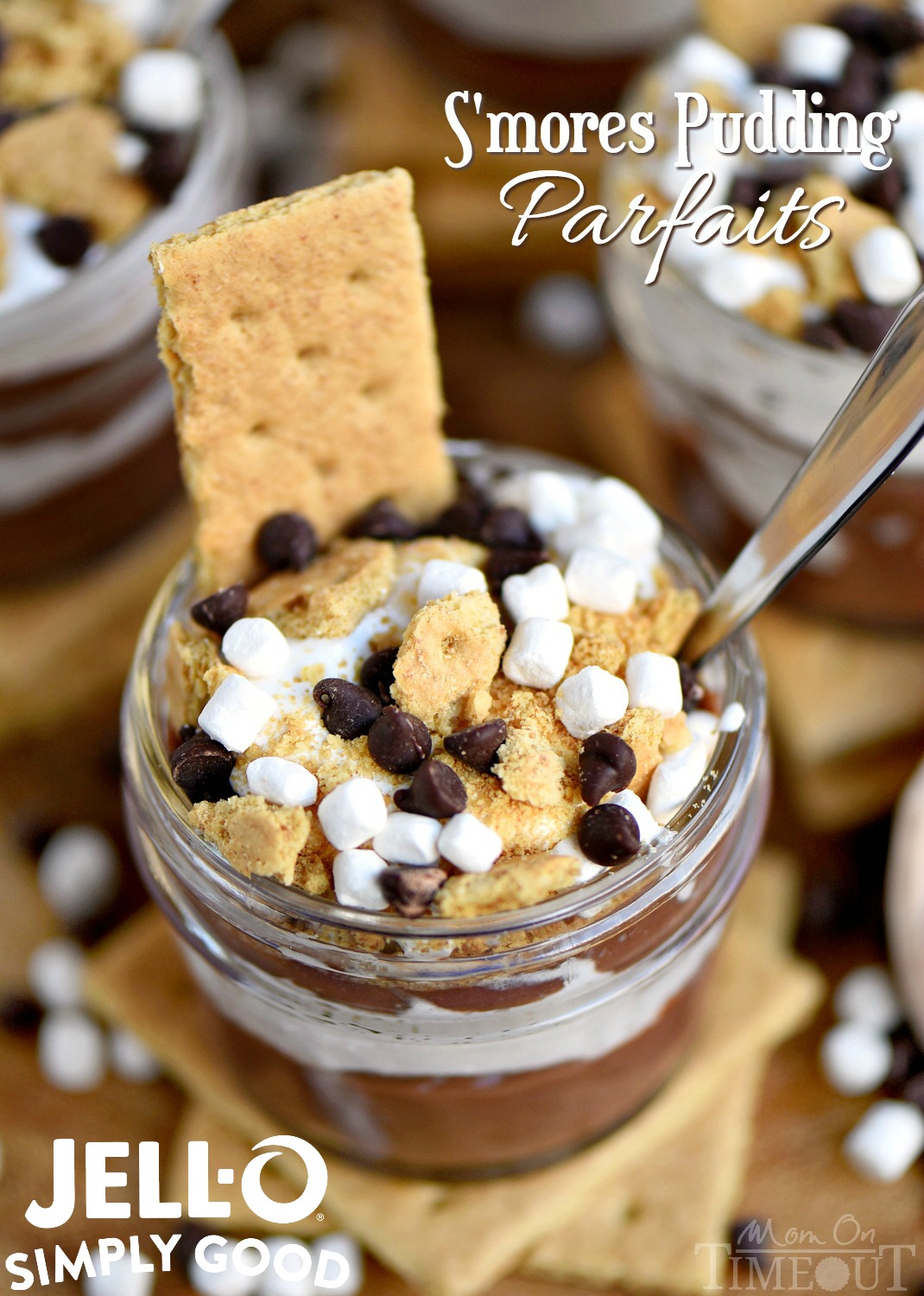 Mom On Timeout put a fun spin on plain ole chocolate pudding. The kiddos are going to love to gobbling up this parfait after school!
19. S'mores Cups
These little chocolate and marshmallow-filled cups will be fun to whip up in the kitchen. Serve them on Friday night after a round of pizza with the family! (The First Year)
20. S'mores Turnovers
Turnovers are a great way to blend classic s'mores flavors too! A Latte Food has all the details you need to make them at home.
21. S'mores Bark
Perfect as a DIY gift or as a fun way to liven up the weekend. Cook. Craft. Love. shows us how to make homemade chocolate bark topped with some extra sweet ingredients.
22. S'mores Chocolate Cupcakes
Sweetest Menu made s'mores-inspired cupcakes and we're loving the finished products. They're adorable, of course, but it's such a great way to jazz up more simpler bites.
23. S'mores Whoopie Pies
You can even make a whoopee pie inspired by this campfire treat. Delight yourself in a bite with your afternoon coffee! (via)
24. Peanut Butter S'mores Cookie Cups
Confessions of a Confectionista added peanut butter to their s'mores creation too! And this time, there's some cookie involved.
25. S'mores Cookie Bars
Something Swanky went a bit further and made cookie bars! With marshmallows and chocolate too, it's a great spin on the classic sweet we all love.
26. S'mores Doughnuts
Donuts are easy to love. And Bake with Christina knows they're even easier to love with a bit of s'mores inspiration involved in the making.
27. Mini S'mores Pies
Mini s'mores pie seems like a fun route to take for family dessert. Tidy Mom has the recipe you need to try them out!
28. Peanut Butter Cookie S'mores Pizza
Five Heart Home took those peanut butter s'mores cookies and turned them into a pizza. If there was ever a way to end a Friday night sleepover, this is it.
29. Hershey S'mores Cupcakes
Here's another cupcake recipe we're loving. But this time it's made with s'mores chocolate and we're drooling over it! (via)
30. Mini S'mores Tacos
Hungry Girl whipped up a recipe that's sweet and delicious but not too terribly bad for your either. These are great for dinner parties of holiday get-togethers!
31. S'mores Eggrolls
Living Locurto went with a more creative approach on their s'mores dessert. Their egg rolls look rather delicious don't they?
32. S'mores Pie Pops
We already know s'mores pies are good. But One Little Project made them even tinier and put them on a stick – so naturally – we're loving these too.
33. S'mores Magic Bars
Classic magic bars are sweet and addictive, but Wine and Glue knew how to make it even better. They added marshmallow and chocolate of course!
34. Fluffy S'mores Dip
It's not a party without some sweet dips to dive into! Check out this s'mores dip recipe (served with graham crackers of course) over at Homemade Hooplah.
35. S'mores Cheeseball
Chef in Training made a s'mores "cheeseball" that's perfect for topping off parties or showers as well. Grab the recipe after the jump.
36. S'mores in a Cup
Sometimes just a shot of the right flavors is what you need. And that's what you'll find over at Finding Time To Fly.
37. S'mores Cake
Who needs a cupcake when you can create an entire cake filled with s'mores love. Liv for Cake made one that's not only yummy but pretty to look at too!
38. S'mores Bread Pudding
If you're a fan of bread pudding then you'll have to visit Chef in Training to learn a bit more about this recipe. Just look at that ooey gooey goodness!
39. S'mores Nachos
Here's another party idea that's great for sharing. All you have to do is visit Liv for Cake just one more time.
40. Peanut Butter S'mores Dip
Fake Ginger added peanut butter to their s'mores dip. Which, in our opinion. just makes in that much more drool-worthy.
41. S'mores Sushi
This dessert sushi is something that we know your kiddos would love. Visit Delish and have the little ones help you make a roll or two!
42. S'mores Snack Mix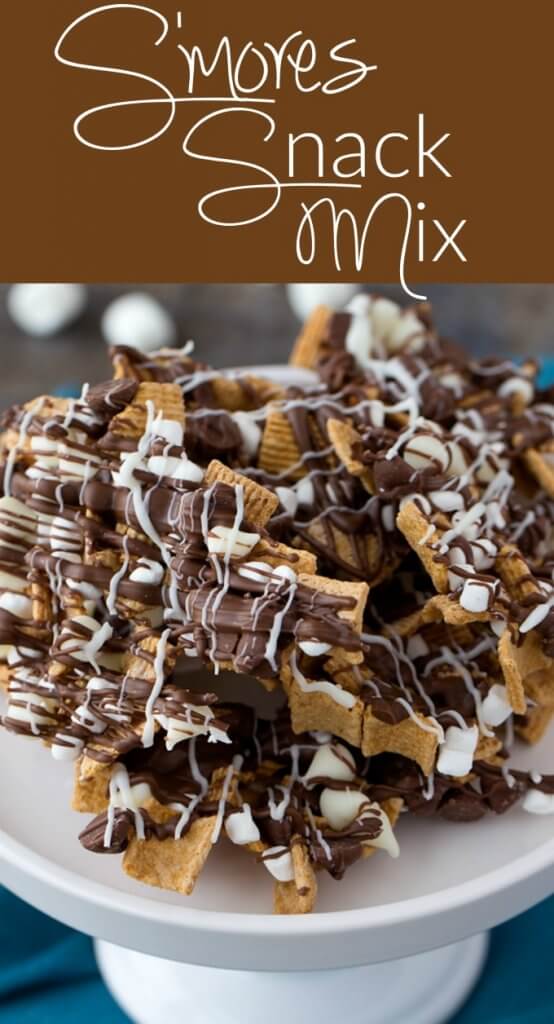 Princess Pinky Girl made a snack mix that will stay with you all week long. Break bits up and pack it for everyone's lunch!
43. S'mores Quesadilla
Delish made a s'mores quesadilla too! It's such an innovative way to utilize classic s'mores flavors and we love it!
44. S'mores Stuffed Cookies
Here are some more s'mores cookies that we're loving too. This time they're stuffed with s'mores instead of just inspired by them. (via)
45. S'mores Macarons
Everyone loves a good macaron. And, fortunately, Liv for Cake will walk us all through the details in creating the perfect sweetened – French – bites.
46. Oreo Thins Cookie Dough S'mores Sandwiches
Instead of graham crackers, you'll want to grab some Oreo thins. And then, add some cookie dough too, right Sweetest Menu?
47. Pretzel S'mores
Milk and Honey made some pretzel s'mores bites that are the perfect sweet snack! Pack a few to indulge in and give yourself a pick-me-up late in the afternoon at work.
48. Tricked Out S'mores
Sammie's Noshery made classic s'mores but added bananas! We love the added punch of fruity sweetness!
49. Peanut Butter S'mores Baked Doughnuts
I Heart Eating made donuts too! They're just slightly different than they're predecessor and more inspired by the chocolate side of s'mores.
50. Coffee S'mores Pie
And finally, we leave off with another s'mores pie but this one is from Some Kitchen Stories. The difference here is the added coffee flavor!