40 DIY Barn Wedding Ideas For A Country-Flavored Celebration
If your venue had more of an outdoor, rustic vibe instead of a formal, posh affair, you'll want to fill the space with decor that makes sense. And with these 40 DIY barn wedding ideas, you'll get just that; variety of country-flavored projects that will transform the celebration into something you'll always remember.
1. Ladder Display
As always, we found lots of great inspiration while scrolling Pinterest. And our first stop on our journey through barn wedding ideas takes us here to this charming ladder display. Grab an antique piece and display it at the reception while filling it with fun bits and pieces.
2. Simple Bunting
Some simple bunting can help to decorate the wedding space as well. Whether it's the ceremony or the reception, a small bout of garland can help to spruce the area in a delicate way. Check out more inspiration like this over at Nouba.
3. Lantern Centerpieces
Lanterns are always a way to go when it comes to barn-style weddings. No matter if you're lighting the aisle or using them as centerpiece inspiration like you see here, they're a charming and fun addition. And then you can get creative by styling them in different ways.
4. Floating Candle Ceremony Decor
Pinterest had this easy idea up their sleeve as well. Even novice DIYers can handle create these floating candle votives. Light the aisle and add a bit of romance without any hassle or fuss.
5. Suitcase Card Box
Rustic Wedding Chic displayed some beautiful bouts of inspiration in the realm of rustic or country-flavored weddings. And with those genres comes vintage accents like these antique suitcases. Use them to house the guest book and all the congratulatory cards your loved ones will be along.
6. Burlap Bows
Burlap will always be the go-to fabric in the world of barn weddings. From the tabletops to the chairs! All you have to do is use some scraps to create bows on the VIP seating area, and you don't even have to hire anyone to take it happen.
7. Wooden Ceremony Sign
You and the gals can get extra creative with a craft night before the big day arrives. With some scrap wood and some paint, you can make something extra special for the ceremony site or the reception venue. This is easily personalized and it's a way to infuse some couple style into the day's design.
8. Glitter Bottle Centerpieces
Brandy Hill Farm showed off these beautiful glitter bottles that look great on top of any and all of the tables. This is an easy way to add a bit of glam to a rustic setting, like a barn, but not seem too over-the-top or mismatched. It's okay to want the day to be romantic and feminine, even if you're getting married in the countryside.
9. Hay Bale Welcome
You could even welcome your guests to the big event with a hay bale setup. Our favorites over at Homedit showcased this fabulous idea and we couldn't help but fall in love with its ease. You can do this same design over at the ceremony site as well.
10. Apple-Pie Pops
You've got to add that same down-home feel not only in the day's decor but the food as well! Whether they're displayed at the dessert bar or used as edible favors to take home, these apple pie pops are a great way to top off your barn-style wedding. Check out all the details behind these at Bird's Party.
11. Succulent Favors
Here's another great favor idea that works for your barn wedding! Check out and follow along with this YouTube video and learn how to pot some of these adorable, mini succulents. Garnish with garland or leave them bare, it's completely up to you.
12. Chocolate Chip Cookie Favors
Classic chocolate chip cookies will work too. They've got that homestyle feel – and taste – that makes them a fan favorite. Send them along with guests or serve them up next to the dance floor at the reception.
13. Flavored Water Station
A Cup of Jo featured this flavored water station and we couldn't help but think what a great idea this would be for your outdoor, barn wedding. Using fresh fruits, you can add a pop of color and organic spirits to your carefree celebration. Raspberries, limes, lemons, grapefruit slices and more; use any and all of your favorite bites.
14. Sweet Treat Table
Take those chocolate chip cookies and add some other flavors while piecing together a sweet treat table for your guests to enjoy. They can grab and go with some bites on the way out or enjoy them while they're celebrating! Take a peek at even more inspiration over at The Northern Nest.
15. Balloon Centerpieces
We're loving this simple and charming idea we found over on Pinterest as well. And all you need is to start with a few extra-large balloon! Using them as a point of focus for each table is innovative and blends well within the style.
16. Crate Seating Chart
Over at Whimsical Wonderland Weddings we found a seating chart that meshes perfectly within a barn wedding vision. An older wooden crate transformed into a seating chart for the reception is unique and charming, don't you think? Just make sure you add a few pretty petals to soften the design.
17. Tin Can Centerpieces
Some old tin cans have the ability to transform a tabletop as well – with some lush blooms of course. We love the wildflower design as it meshes well within the down-home, country vibe. Take a peek at more ideas and inspiration such as this over at Perfectly Disheveled.
18. Hay & Lumber Photo Backdrop
Katie Byram  showcased this gorgeous wedding day photo and we couldn't help but feature it here! Create a unique photo opportunity by gathering some hay bales and lumber in all the right spots. Texture, interest and fitting for a barn wedding, it's just another easy way to make your vision come to life.
19. Shovel-Inspired Wedding Sign
Homedit had this innovative and unique idea up their sleeve and we instantly fell in love. Transforming an old shovel into a welcome sign is a beautiful way to say hello to your guests in a creative way. And you can easily make this yourself within an afternoon!
20. Sunflower Accents
Sunflowers will always hold a special place in the heart of the countryside. Decorate your own venue with bouts of sunflowers at your side. On the cake, on the reception tables and even sprinkled down the aisle, the pops of color will be beautiful.
21. Paper Lanterns & Bunting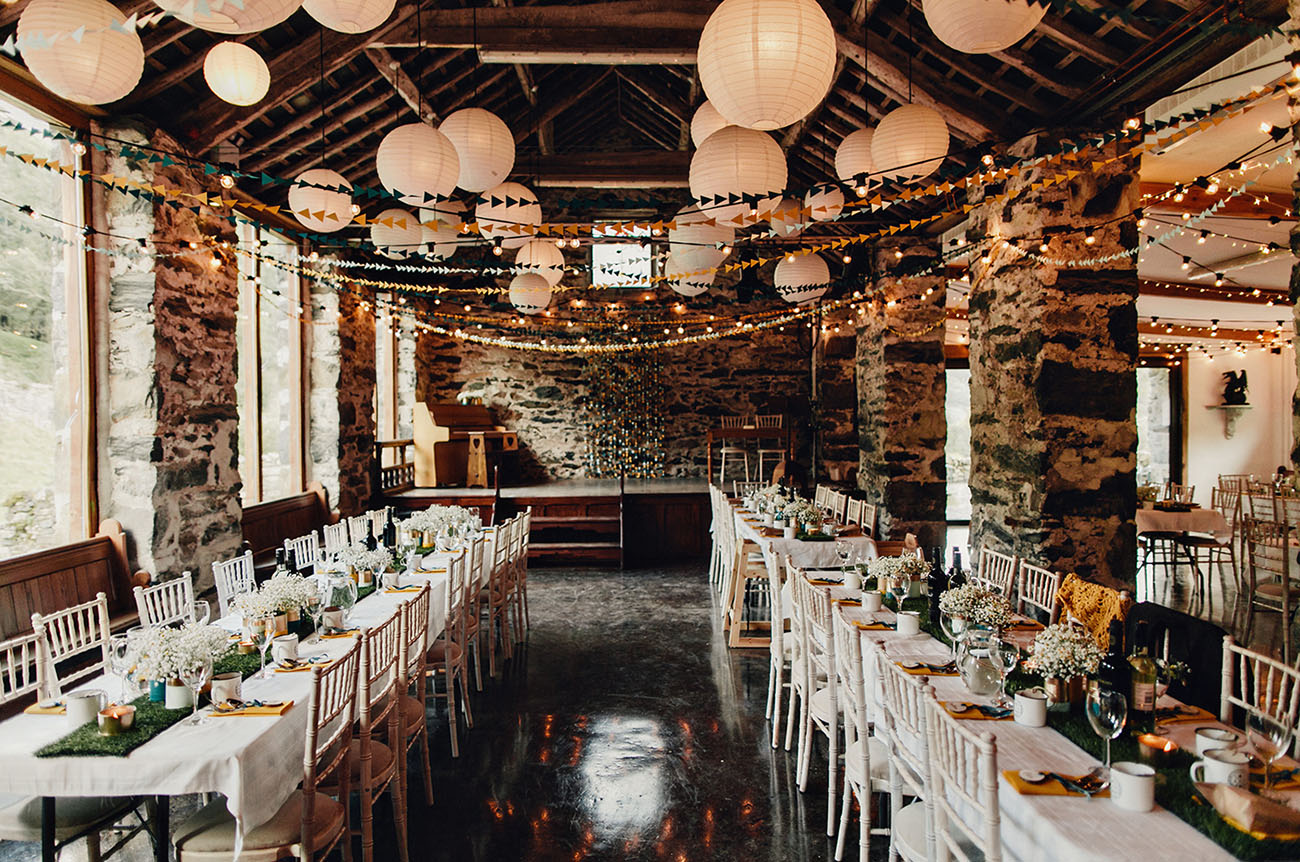 We're loving this scheme found over at Green Wedding Shoes. Decorate your barn venue with both bunting and paper lanterns. Done in the right ways it won't look kitschy, it"ll be quite sweet and charming.
22. Book Centerpieces
Kendra Koman Photography decorated their centerpieces with bout of their favorite books. Bringing in a homemade, vintage spirit, which is perfect for a barn venue, these books provide a great foundation for your light or lush petals. Hardback titles are the best way to go.
23. MisMatched Bridesmaids
Another way to add a hand touched feel to the big day would be to go with mismatched bridesmaids. There's something bit more casual and carefree when you decide to go an alternative route from the chiffon formal pieces we're all used to. Make them or shop for them with the gals.
24. Wooden Activity Signs
J to Z made some wooden signs too. Again, all you need is some scrap wood and paint to get yourself started. Use color, point the way to the fun and add some personalized touches too.
25. Chalkboard Menu Sign
A chalkboard menu sign will work too. Of course you can use these boards for all kinds of reasons as well. No matter the purpose though, this style fits well within a barn wedding scheme – without fuss or troubles.
26. Ribbon Chair Decor
Rock My Wedding showed off these gorgeous ribbon chairs and we instantly fell in love. The idea is more than easy to pull off, even for those that have never DIYed before, because it's as simple as tying a knot. Just choose your colors and highlight the VIP chairs!
27. Fall-Inspired Country Centerpiece
If you're saying, "I do," during the fall months, then go with a themed centerpiece. Pay homage to the season and the venue with something that speaks of rustic value. Thank 99 Wedding Ideas for this bit of inspiration.
28. Natural Lilac Wedding Cake Topper
When you're getting married inside a barn, you'll want to pay attention to more natural textures and decor pieces. And that's exactly what happened to this wedding cake we found over at Whimsical Wonderland Weddings. A bit of fresh lilac can truly be the best topper to your day of dessert.
29. Farm Wedding Invites
You can even create some farm-styled wedding invitations if you take a peek at New Wedding. Make every part of your big day a bit more handmade. From the save-the-dates to the programs, you can do it all if you choose.
30. New Title Sign
Nouba had even more inspiration for us to follow along with, including this "new title" sign gracing the lot of the barn venue. Dip it in color or leave it bare, we're loving the photo-op this provides for both the groom and bride as well as the guests! Just get a little crafty in the garage.
31. Wild Flower Seed Favors
Here are some more easy wedding favor ideas that fit a barn scene. Pass around some wildflower seeds! They won't break the bank and you can easily put them together on your own.
32. Stool & Bench Seating
You can always mix and match your seating as well for a more handmade and casual  style. There's something textural and freeing about a barn venue, so infuse that feeling into every part of the event. And thanks to Nouba again, we have even more inspiration to follow.
33. Naked Wedding Cake
We found this naked wedding cake over at Nouba as well. And we love the fact that we can not only make our own similar bite at home before the big day rolls around but this kind of cake will enhance the day's vision even more. With its unpolished finish and textural top, it will easily pair well with your organic-inspired decor.
34. Wooden Candle Centerpiece
Craft hubs has another great centerpiece idea for us to try our hands at. This time it involves some candles and wooden bits. And it's easy to recreate, which is definitely what we're going for.
35. Branch Head Table Decor
Mark the head table while staying within the confines of your barn wedding styling. Over at Homedit, we see how a simply you can do this with some branches. Dip them in golden paint or leave them pair depending on your personal taste.
36. Wood Chip Place Card Holders
Julie Blanner marked each seat with a wood chip! And you can easily recreate this same look for your own wedding. Have everyone look for their name and take the memorable bit with them after the party is over.
37. Cupcake Tower
This rustic spread is the perfect addition to a reception being held inside a spacious barn. Everyone can grab and go with their sweet bite. But the tiered levels provide an extra bout of country flavors.
38. Chalkboard Romance Timeline
Here's another great example of how a chalkboard could work for your big day. Here we see a "love" timeline develop. Again, it's a great photo-op for both the bride and groom as well as their guests. But it's also a unique way to decorate the day!
39. Vintage-Inspired Photo Backdrop
We're loving this photo backdrop idea we found on Pinterest too. It's an interactive way to get the guests involved and you'll get the photos to keep for years to come. It also adds a pop of color and personality to the party!
40. Flour Jar Ice Bucket
And finally, we're loving this idea we found over at Kendra Koman Photography. Taking an old flour pot or any other vintage piece and turning it into the champagne bucket for the night – at the sweetheart table – just the kind of small details you need to make your big day that much more special.