50 Christmas Wedding Ideas: Stylish, Festive, and Magical
The winter holidays are a magical time of year, so it shouldn't come as a surprise when couples decide to tie the knot on Christmas, and if you're helping someone plan out their Christmas wedding and looking for some decoration ideas, then you've come to the right place.
Christmas wedding decoration is a fun, creative industry with which you can really get creative. The possibilities are endless when it comes to the colors and styles of all the different Christmas-themed decorations you could use in your venue.
Today we will be looking at how to make a rustic Christmas wedding look elegant and classy, whilst also looking into how to make a forest theme look Christmassy by adding lights, etc. Here is our collection of 60 great decoration ideas for weddings from around the world:
Christmas Wedding Decorations: The Basics
The color scheme for Christmas weddings is usually red, green, gold/yellow, and white. This is usually what you would see in a Nativity scene or other traditional holiday items that are sold around this time of year.
Christmas wedding flowers are typically poinsettias, holly bushes/trees, snowflake-shaped roses, and mistletoe. These types of flowers can be used to decorate the venue since they all carry the theme of Christmas with them. Another idea is to have an actual tree inside for people to admire or even purchase as a gift.
There are also tons of fun decorations you can do at your ceremony if it's being held outdoors during the day.
Stringing up some brightly colored lights across the back of your aisle is a fun way to give off the Christmas spirit. but if you're having it indoors, then hang strands of lights or birch garland around any windows for others to admire.
Decoration That Will Make Your Christmas Wedding Unforgettable
When we decided to create this list, we did some extensive research over the Internet to look at all kinds of decorations that would go well with a Christmas wedding, looking at both ideas used in the past, as well as unused concepts that looked promising.
For the sake of giving you plenty of options to choose from, we also made the list long enough so that anyone can find at least one decoration idea that they liked.
Lastly, we tried bringing together entries that were as easy to make as possible, since that's our main focus here on DIYS.com.
Without further ado, here are the best Christmas wedding decorations to try in 2021:
1. Christmas Wedding Invitations – Pine Tree Wedding Invitations
When you're organizing a wedding, regardless of the theme, the first decorative element that your guests will ever lay eyes on is the wedding invitation, so the best way to start off a Christmas-themed wedding is with some beautiful Christmas wedding invitations!
Sure enough, there are plenty of invitation templates that you can try, but if you're aiming for that simple yet elegant winter look, you could try a wedding invitation centered around pine branches and pinecones like the one illustrated above.
As you can see for yourself, the invitation is minimalistic with the primary focus being on the dark green-colored pine Christmas wedding decorations.
To make your invitations fit in with the rest of your wedding, you could try to use this same type of tree design on your other decoration materials like napkins for instance.
The best thing about winter chic wedding invitations like these is that you can also use the same template for the New Year's parties, just as long as you remember to change the text as well.
2. A Christmas Wedding Classic – Curtain Lights at the Venue
If you want to decorate your wedding venue in a way that's in keeping with the winter holiday without it looking like you tried too much, you could try using some neutral decorations that are used during both Christmas and regular weddings throughout the year, such as mesh or curtain lights.
They look great and elegant, and you can even get yourself some of those mesh lights that are meant to cover an entire house so that you can decorate the entire ceiling of the venue.
Of course, if you want to avoid a wedding that seems too "Christmasy" you should try getting yourself mesh lights that have a neutral color, like regular yellow lights, or even white LEDs if you manage to find them.
This is because small sparking lights are already popular at weddings, and having them at your Christmas wedding won't seem out of place at all.
If you want to go for something that will look great at the entrance of the venue, however, you could simply decorate the arch or doorway with a few strings of lights that have a Christmas theme.
3. Christmas Themed Wedding – Birch Cake
Everyone is used to seeing cakes at weddings that look simple and white, with the occasional pastel colors here and there, like rose, light blue, or lavender, but if you have a Christmas-themed wedding, you'll also need a Christmas-themed cake.
Sure enough, if you think that a red velvet cake with golden decorations seems too tacky for your tastes, you could try something that's more "wintery" than "Christmasy", like the birch cake showcased above.
The secret to making this cake the wait it does is the glazing, and if you want to make something similar, you could make it using regular white cake glazing mixed in with crumbled Oreos, since this will give it that "dirty" look while still looking very appealing.
As for the inside, we recommend that you go with something that has chocolate, or vanilla as the main ingredient so that it doesn't clash too much with the Oreos in the glazing.
If you want to accentuate the "wintery" look of your wedding cake, you can then add a lot of decorations on top of your cake, like cranberries, pine branches, and marzipan Christmas decorations.
4. Christmas Wedding Cake – Cotton Cake
Another interesting Christmas wedding cake that you can try out is a cotton-themed cake like the one illustrated above.
It's similar to the birch cake mentioned earlier, but as you can see the glazing isn't as marbled, and you can use crumbled Oreos to achieve the same look here as well, but the secret is to not use as many, and that you crumble them to an almost powder-like state.
As for the inside of this kind of wedding cake, we recommend going with something that's very rich in taste even if it's not chocolate-based.
You can then top off your cake with marzipan or sugar decorations that have a Christmas-themed look to them, like pine branches, white balls, Christmas bells, red bows, etc.
As for the cotton flowers, if you want to make the entire cake edible, we suggest that you use cotton candy, just as long as you make sure that there isn't too much moisture in the air, otherwise they will melt.
5. A Wedding for Christmas – Tree Napkins
The venue where you hold the wedding party is the place where you'll be using most of the Christmas decorations that are on our list, and a good way to start off this winter holiday-themed wedding is with napkins that are folded to look like Christmas trees.
They look amazing and festive, and your guests will probably feel bad about having to unfold and actually used them, but then again that's what they're there for.
To make these folded Christmas trees, you'll need napkins that are green on one side and red on the other, and it's also preferable if you manage to find round napkins as well.
You should be able to find these napkins online easily or else your local department store should have them stocked, although try to make sure that the fabric is as thin as possible, so that the folds will look ok and that your tree won't end up looking swollen.
Once you've got the napkins needed for this project, all you need to do is make sure that the green part of the napkin is on the outside and then fold it in half, making sure to bring together both sides.
6. Wedding Christmas Ornament – Cranberry Table Setting
If the previously-mentioned napkins seem like too little a decoration, you could try an entire Christmas-theme table setting like the one shown above.
You'll need red napkins (green ones will be just as good), some pine tree branches, some cranberries, and some twine to wrap up the silverware in a way that looks both elegant and rustic.
This is very easy to do and the entire table will look like it's straight out of a forest, and the best part is that the tiny pine branches will also make the entire table smell like the heart of a forest.
One recommendation we'd like you to consider is that when you design your table setting, make sure that it matches the rest of whatever else is on the table.
For example, if the table cloth is red and green, try to use napkins that use the same colors, or if the platters and trays are gold-colored, try using gold-colored silverware as well.
Another neat addition would be to use wooden slices placed under the plates to keep them from getting dirty from spills.
7. Christmas Wedding Decorations – Mistletoes Hanging from the Ceiling
Christmas is filled with all kinds of traditions, and one we're particularly fond of is the one with the mistletoe where you have to kiss the person next to you if you're both caught under one.
Well, since weddings are all about two people declaring their eternal love for one another, and because weddings are a place where you go with your significant other, one of the best Christmas wedding decorations is to have as many mistletoes hanging around the ceiling as possible.
You can have either simple bundles of mistletoe, or you can even get crafty and use twine, mistletoe, and pine branches to create long garlands that go from one end of the wedding venue to the other.
The real trick, though, is to make sure that the mistletoes are in places where your guests will have no choice but to walk underneath them.
All in all, people will love this decoration, especially since it's a free pass to kiss their beloved in a festive way.
8. December Wedding – Poinsettia Table Centerpiece
Poinsettias are the de facto Christmas flower, and in many parts of the world, they have "Christmasy" names, such as "Christmas Stars" in English.
Well, it should come as no surprise that we decided to include them in our list of December wedding decorations, and you can turn them into the literal star of the wedding table by making them the focus of your table centerpiece.
To make a centerpiece like the one above, you'll need a large and very rich-looking poinsettia plant, a large wooden slice, a small wreath, some gold paint, and some wicker.
The first step is to paint the wreath gold, and then leave it out to dry. Meanwhile, wrap some wicker around the large wooden slice a few times until you get a nice consistent ring.
Once the wreath is dried, place it on top of the wicker, and then place your poinsettia plant in the middle of the gilded wreath.
Normally, table centerpieces also have lit candles, but there are too many dried plants in the centerpiece to risk any fires, and prolonged exposure to the candle's heat might make the poinsettia wither away before the evening is even over.
9. December Wedding Ideas – Winter Bouquet
Once the couple leaves the church and made about 100 photos, one of the most anticipated moments of any wedding is the catching of the bouquet, so if you want to give this moment a Christmasy twist as well, you could try making a winter bouquet like the one showcased above.
You can make it using traditional winter and Christmas elements, like pine branches or pinecones, and you can go ahead and use white and red flowers like they used red and white roses in the illustration.
The bouquet will look unconventional without being extravagant, it mixes together the 3 main colors of Christmas (red, green, and white), and it will also look elegant enough to deserve a few photos taken with it before you throw it.
Sure enough, you can design the bouquet however you see fit, but we do recommend that you at least stick to the traditional Christmas color scheme.
The best part, though, is that you can use any flowers you want, and if you do decide to use winter elements like pine cones and cranberries, you can choose dried ones that will last longer than fresh ones.
10. Nightmare Before Christmas Wedding – Coasters
If you're a big fan of Tim Burton's movies, particularly timeless classics like A Nightmare Before Christmas, and you plan to add certain movie elements to your wedding decor, you can try out something that's simplistic, yet visible to anyone sitting at the table: coasters.
The Internet is filled with such products, especially Amazon, but if you save some money and make the coasters yourself using the designs you like most.
You can start off by getting yourself a set of those plain cork coasters (they're cheaper by the dozen), and you can then use a heat press to print out vinyl and stickers that you then apply to one side of the coasters to give them their distinct look.
If you're out of ideas as to what exactly you should print on the coasters, you can try the following:
Pictures of Jack and Sally, but with the names of the bride and groom written underneath
Pictures of Jack and Sally kissing
Quotes from the movie
All in all, they are a funny addition to these already festive events, and if your guests are familiar with the movie, they'll definitely appreciate this slight nod to an iconic Christmas movie.
More Fantastic Christmas Wedding Ideas
Each person has different tastes when it comes to decorations in general, and if none of our previous entries look like something you'd like to try out, you could try looking at the other 50 entries.
They're all described briefly, and for most of them, we've even attached links to the original tutorials on how to make them made by the original authors.
11. Christmas Wedding Idea – Knitted Ring Pillows
Martha Stewartshows us how to make one of these wintery, knitted ring pillows that the little ones can carry right down the aisle. You can make them into any color you'd like too!
12. Wreath Escort Card Display – Christmas Wedding
Bring a bout of the Christmastime spirit into the reception with this unique idea fromMartha Stewart. Place your guests right onto a festive wreath!
13. Cascading Snowflake Cake – Christmas Wedding Idea
Martha Stewartalso shows us how to DIY our our cake decor. Falling snowflakes can be scattered around your cake to help set the scene.
14. Geode Paper Lanterns – Christmas Wedding Idea
Here's another really fun way to involve a bit of Christmastime, winter feelings into to your reception decor. Check out the details over atMartha Stewartonce more.
15. Rosemary Wreath Place Cards – Christmas Wedding Idea
Spoon Fork Baconprovides us with this easy tutorial for place settings featuring mini wreaths. All you need is some fresh rosemary to get your started.
16. Snowed-In White Hot Chocolate – Christmas Wedding
Provide your guests with an extra-special, Christmas-inspired treat with this white hot chocolate recipe. This is a great addition to a hot chocolate bar as well! (via)
17. Porch Light DIY – Christmas Themed Wedding
If you're getting married at someone's residence or even a grander mansion, make sure you pay attention to details. Even porch lights can be decorated with the seasonal spirit like you see here atIn My Own Style.
18. Silver Ball Centerpiece – Christmas Wedding Decorations
Wedding Bellsfeatured this beautiful centerpiece and we immediately fell in love with its festivity and modern style. All you need to get started on this are some varied sized metallic ornaments and candles.
19. Wooden Snowflakes with Lights – Christmas Wedding Idea
DIY Networkteaches its readers how to make some of these large, snowflake lights. How beautiful would these be decorating a reception area or providing a beautiful, photo backdrop?
20. Frosted Mason Jar Candles – Christmas Wedding Decorations
These are great for lighting the ceremony aisle or providing some spirited romance to the cocktail hour on surrounding tables. Take a peek at now! (via)
21. Glam Holiday Centerpiece – Christmas Wedding Idea
If you want to get really into the spirit of the holiday, visitThe Sweet Escape. This is a gorgeous setup to create in smaller or bigger versions depending on the size of your reception tables.
22. Birch Log Candle Pillars – Christmas Themed Wedding
Fruitcakewhips up some birch candle pillars that you'll want to learn how to make. These can be scattered all throughout the celebration providing a wintery warmth.
23. Pine Cone Place Holders – Christmas Wedding Idea
Squarely Mindsshows us how to make place card holders that work with a Christmastime theme. Dip them in all kinds of sparkle or metallic shades.
24. Mason Jar Christmas Luminaries – Christmas Wedding Idea
These luminaries fromHouse of Hawthornesare a great DIY to take a peek at as well. These too can light the ceremony or provide a bit of wintertime romance to the event.
25. Cranberry + Rosemary Cake Topping – Christmas Wedding Cake
A simple white cake can be infused with Christmas spirit by adding just a bit of rosemary sprigs and sugar-covered cranberries. Check out the ideas atMy Wedding.
26. Cinnamon + Winter Berry Napkin Ring – Christmas Wedding Idea
My Weddingalso shows us this fabulous and super easy idea to dress up the place settings at the reception. Winter berries and cinnamon can really do a great serve to your transformation.
27. Lighted Burlap Garland – Christmas Wedding Decorations
VisitCreate Craft Loveif you want to learn how to make this festive garland. Dress up banisters, photo booths and more with this fun little project.
28. Giant Christmas Wreath – Christmas Wedding Idea
If you're having a Christmas-inspired wedding, you'll want to have some wreaths around. And we really love this one fromHomemade Ginger.
29. Eucalyptus Garland – Christmas Themed Wedding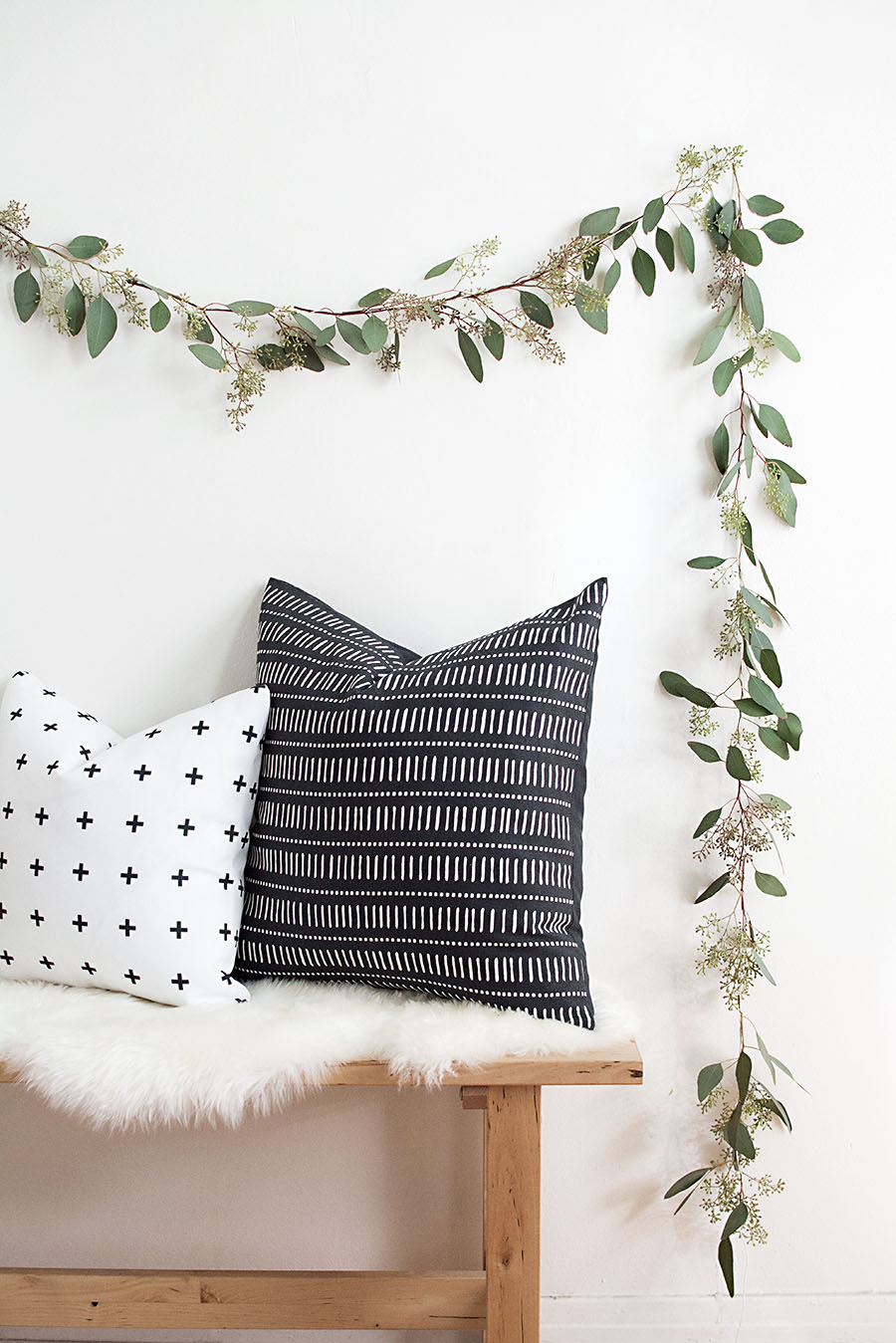 This eucalyptus garland will help to bring in some subtle, stylish spirit as well. Learn all about it atHomey Oh My.
30. Rope Lights – December Wedding Idea
These rope lights will do the trick too. It's not a kitschy Christmas DIY, instead grab this tutorial fromA Merry Mishapand provide a subtle bit of festivity.
31. Ombre Candlesticks – Christmas Wedding Decorations
You'll want to visitApt. 34and learn how to make these sexy, ombre candles to fit into your Christmas wedding day theme. They're spirited and romantic too!
32. Mini Wooden Christmas Trees – Christmas Themed Wedding
If you have more of a modern style, then these mini wooden tress fromSugar & Clothare something that you'll want to scatter throughout the day as well. It helps to transform the day into something festive but contemporary too.
33. Vintage Ornament Wreath – Christmas Wedding Decorations
Martha Stewartmakes a gorgeous wreath out of vintage ornaments and we're swooning over the final product. How gorgeous would these be lining the day's events?
34. 5-Point Stars – Christmas Wedding Decorations
Kate's Creative Spacemakes some 5-point stars that can help with the spirit of the day as well. Choose your prints and colors and get to work!
35. Holiday Throw Pillows – Christmas Themed Wedding
We love this idea fromStyle Me Pretty. Cozy up the seating areas with some holiday throw pillows that you can make yourself.
36. Bottle Brush Trees – DIY Christmas Wedding Decorations
A Beautiful Messshows us how to make classic, bottle brush trees. They're so whimsical and fun!
37. Pine Cone Garland – Christmas Wedding Decorations
Pine cones are a classic way to dress up for wintertime or Christmas spirits. And that goes for weddings to. Check out this idea over atThe Sweetest Occasion.
38. Tinsel Letters – Christmas Wedding Decor
A Bubbly Lifemakes this tinsel garland that could be a fun way to dress the photo booths or backdrops as well. We love the metallic additions!
39. Merry & Bright Wall Art – Christmas Wedding Idea
Paper & Stitchmakes a charming "merry & bright" wall art that we're loving too. Over the sweetheart table or as a backdrop in any corner of the celebration, it works!
40. Gold Triangle Garland – Christmas Wedding
Almost Makes Perfectmakes a sweet and delicate gold garland that's spirited and modern too. Here we have another bit of decor that has a endless possibilities.
41. Silver Glitter Ornaments – Wedding Christmas Ornament
Valley & Co. Lifestyleshows us how to dip some ornaments in glitter and provide your guests with an easy, Christmas-inspired favor or a way to decorate the trees at the event.
42. Sweet Cinnamon Candles – Christmas Wedding Idea
Check outTreasures & Traveland this fun cinnamon sweet idea. Whether they're as favors or sprinkled over the sweetheart table, we're in love.
43. Candy Cane Mini Donuts – Christmas Wedding Desserts
Paper & Stitchmakes some mini candy cane donuts that taste just like the holiday. Serve them up at the hot chocolate bar or as edible favors.
44. Full Green Wreath – Christmas Wedding Decorations
Here's another gorgeous wreath to learn how to whip up. If you'd like to add a bit of festive greenery to your big day, this is the tutorial to catch a peek at. (via)
45. Christmas Filled Votives – Christmas Wedding Idea
Kristin Eldridgeshows us how to make some Christmas-inspired votives as well. It's so simple to whip these up for the big day.
46. Bailey's Hot Chocolate – Christmas Wedding
ScouringPinterestwe came across these Bailey's hot chocolate favors that are the perfect way to gift your guests with a thank you! It's winter-inspired and fun too.
47. Feather & Glitter Garland – Wedding Christmas Idea
Craftsshowed us how to make a garland full of romance and whimsy. With some glitter, you'll be able to add a bit of Nutcracker vibes to the party.
48. Snowflake Cookie Favors – Christmas Wedding Idea
Martha Stewartgives us even more great ideas with these snowflakes. Turn cookie decorating into a wedding favor!
49. Trees To Go – Christmas Wedding Idea
And these mini "tress to go" fromMartha Stewartare truly the perfect way to send off your friends and family. Some littletrees are just too quintessentially Christmas not to think about using.
50. Winter Wedding Escort Cards – Christmas Themed Wedding
And finally, visitMartha Stewartjust one more time to grab this idea.These wintery escort cards are a great way to help set the scene.
Best Christmas Wedding Decorations: Closing Thoughts
This concludes our extensive list of 60 different Christmas wedding decoration ideas, and we hope that we've provided you with more than enough inspiration to try out something unique this winter.
Keep in mind that this article is just a listing of ideas and not a ranking, so don't think that some decoration ideas are better than others just because they're higher on our list.
More so, your decorations don't have to turn out exactly like the ones in the picture, and we even encourage you that you use our entries as a starting point to create your very own unique designs.
All in all, we hope that this Christmas wedding that you're planning will turn out great and that the decorations you choose will make the day even more special.
If you want more Christmas articles, simply check out all o our other Christmas guides and lists, since we've got plenty of them, and if you want to contribute to making them even better, leave us your feedback in the comments section below!
Have a Merry Christmas, and cheers to the bride and the groom!