50 Christmas Wedding Ideas That Are Both Festive and Stylish!
If you're getting ready to say your vows over the holiday, you'll want to add some personal touches to the big celebration. Whether it's on the reception tables or at the ceremony, a bit of your own hand could get in on the vision. And these 50 Christmas wedding ideas are both festive & stylish – the best of both worlds!
1. Knitted Ring Pillows
Martha Stewart shows us how to make one of these wintery, knitted ring pillows that the little ones can carry right down the aisle. You can make them into any color you'd like too!
2. Wreath Escort Card Display
Bring a bout of the Christmastime spirit into the reception with this unique idea from Martha Stewart. Place your guests right onto a festive wreath!
3. Cascading Snowflake Cake
Martha Stewart also shows us how to DIY our our cake decor. Falling snowflakes can be scattered around your cake to help set the scene.
4. Geode Paper Lanterns
Here's another really fun way to involve a bit of Christmastime, winter feelings into to your reception decor. Check out the details over at Martha Stewart once more.
5. Rosemary Wreath Place Cards
Spoon Fork Bacon provides us with this easy tutorial for place settings featuring mini wreaths. All you need is some fresh rosemary to get your started.
6. Snowed-In White Hot Chocolate
Provide your guests with an extra-special, Christmast-inspired treat with this white hot chocolate recipe. This is a great addition to a hot chocolate bar as well! (via)
7. Porch Light DIY
If you're getting married at someone's residence or even a grander mansion, make sure you pay attention to details. Even porch lights can be decorated with the seasonal spirit like you see here at In My Own Style.
8. Silver Ball Centerpiece
Wedding Bells featured this beautiful centerpiece and we immediately fell in love with its festivity and modern style. All you need to get started on this are some varied sized metallic ornaments and candles.
9. Wooden Snowflakes with Lights
DIY Network teaches its readers how to make some of these large, snowflake lights. How beautiful would these be decorating a reception area or providing a beautiful, photo backdrop?
10. Frosted Mason Jar Candles
These are great for lighting the ceremony aisle or providing some spirited romance to the cocktail hour on surrounding tables. Take a peek at now! (via)
11. Glam Holiday Centerpiece
If you want to get really into the spirit of the holiday, visit The Sweet Escape. This is a gorgeous setup to create in smaller or bigger versions depending on the size of your reception tables.
12. Birch Log Candle Pillars
Fruitcake whips up some birch candle pillars that you'll want to learn how to make. These can be scattered all throughout the celebration providing a wintery warmth.
13. Pine Cone Place Holders
Squarely Minds shows us how to make place card holders that work with a Christmastime theme. Dip them in all kinds of sparkle or metallic shades.
14. Mason Jar Christmas Luminaries
These luminaries from House of Hawthornes are a great DIY to take a peek at as well. These too can light the ceremony or provide a bit of wintertime romance to the event.
15. Cranberry + Rosemary Cake Topping
A simple white cake can be infused with Christmas spirit by adding just a bit of rosemary sprigs and sugar-covered cranberries. Check out the ideas at My Wedding.
16. Cinnamon + Winter Berry Napkin Ring
My Wedding also shows us this fabulous and super easy idea to dress up the place settings at the reception. Winter berries and cinnamon can really do a great serve to your transformation.
17. Lighted Burlap Garland
Visit Create Craft Love if you want to learn how to make this festive garland. Dress up banisters, photo booths and more with this fun little project.
18. Giant Christmas Wreath
If you're having a Christmas-inspired wedding, you'll want to have some wreaths around. And we really love this one from Homemade Ginger.
19. Eucalyptus Garland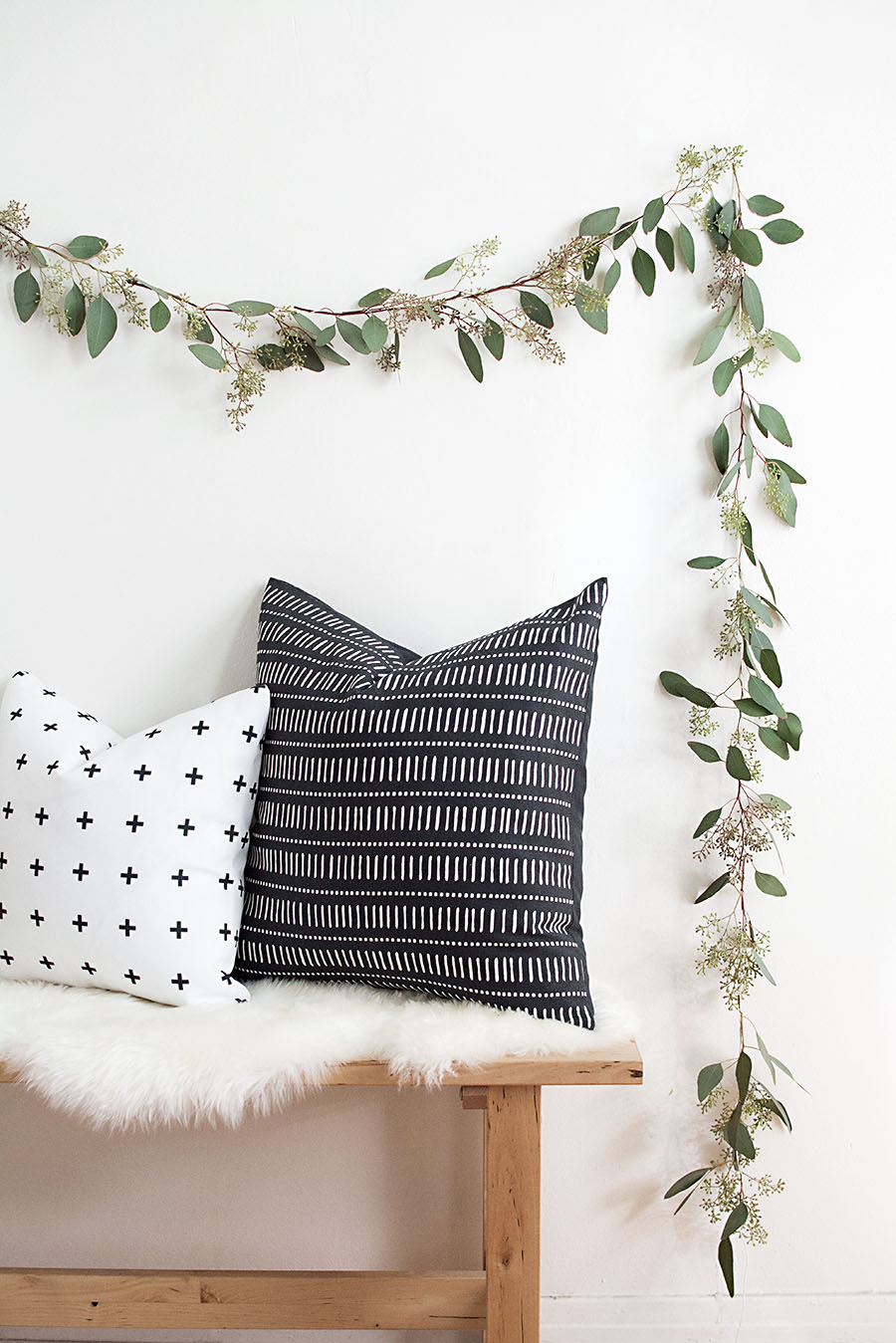 This eucalyptus garland will help to bring in some subtle, stylish spirit as well. Learn all about it at Homey Oh My.
20. Rope Lights
These rope lights will do the trick too. It's not a kitschy Christmas DIY, instead grab this tutorial from A Merry Mishap and provide a subtle bit of festivity.
21. Ombre Candlesticks
You'll want to visit Apt. 34 and learn how to make these sexy, ombre candles to fit into your Christmas wedding day theme. They're spirited and romantic too!
22. Mini Wooden Christmas Trees
If you have more of a modern style, then these mini wooden tress from Sugar & Cloth are something that you'll want to scatter throughout the day as well. It helps to transform the day into something festive but contemporary too.
23. Vintage Ornament Wreath
Martha Stewart makes a gorgeous wreath out of vintage ornaments and we're swooning over the final product. How gorgeous would these be lining the day's events?
24. 5-Point Stars
Kate's Creative Space makes some 5-point stars that can help with the spirit of the day as well. Choose your prints and colors and get to work!
25. Holiday Throw Pillows
We love this idea from Style Me Pretty. Cozy up the seating areas with some holiday throw pillows that you can make yourself.
26. Bottle Brush Trees
A Beautiful Mess shows us how to make classic, bottle brush trees. They're so whimsical and fun!
27. Pine Cone Garland
Pine cones are a classic way to dress up for wintertime or Christmas spirits. And that goes for weddings to. Check out this idea over at The Sweetest Occasion.
28. Tinsel Letters
A Bubbly Life makes this tinsel garland that could be a fun way to dress the photo booths or backdrops as well. We love the metallic additions!
39. Merry & Bright Wall Art
Paper & Stitch makes a charming "merry & bright" wall art that we're loving too. Over the sweetheart table or as a backdrop in any corner of the celebration, it works!
40. Gold Triangle Garland
Almost Makes Perfect makes a sweet and delicate gold garland that's spirited and modern too. Here we have another bit of decor that has a endless possibilities.
41. Silver Glitter Ornaments
Valley & Co. Lifestyle shows us how to dip some ornaments in glitter and provide your guests with an easy, Christmas-inspired favor or a way to decorate the trees at the event.
42. Sweet Cinnamon Candles
Check out Treasures & Travel and this fun cinnamon sweet idea. Whether they're as favors or sprinkled over the sweetheart table, we're in love.
43. Candy Cane Mini Donuts
Paper & Stitch makes some mini candy cane donuts that taste just like the holiday. Serve them up at the hot chocolate bar or as edible favors.
44. Full Green Wreath
Here's another gorgeous wreath to learn how to whip up. If you'd like to add a bit of festive greenery to your big day, this is the tutorial to catch a peek at. (via)
45. Christmas Filled Votives
Kristin Eldridge shows us how to make some Christmas-inspired votives as well. It's so simple to whip these up for the big day.
46. Bailey's Hot Chocolate
Scouring Pinterest we came across these Bailey's hot chocolate favors that are the perfect way to gift your guests with a thank you! It's winter-inspired and fun too.
47. Feather & Glitter Garland
Crafts showed us how to make a garland full of romance and whimsy. With some glitter, you'll be able to add a bit of Nutcracker vibes to the party.
48. Snowflake Cookie Favors
Martha Stewart gives us even more great ideas with these snowflakes. Turn cookie decorating into a wedding favor!
49. Trees To Go
And these mini "tress to go" from Martha Stewart are truly the perfect way to send off your friends and family. Some little trees are just too quintessentially Christmas not to think about using.
50. Winter Wedding Escort Cards
And finally, visit Martha Stewart just one more time to grab this idea. These wintery escort cards are a great way to help set the scene.