15 Awesome Dice Themed Crafts
We've talked a lot in our posts about hosting game nights because let's face it, we just love to play games with out family and friends! Besides crafting and creating awesome DIY projects, that's actually one of our very favourite things to do! We find that people forget, however, that playing cards aren't the only thing you need when it comes to hosting a truly awesome game night, whether you're playing with adults or kids. We also love playing dice games, or at least board games that involve dice! As usual, though, we prefer find awesomely creative ways to make dice of our own rather than buying them at the store. Conversely, we also love it when we can find cool ways to make old dice into other things!
Check out these awesome dice themed and dice related crafts that are an absolute blast to make, whether they're something you'd make for yourself or with your kids.
1. DIY jumbo light table dice
If you have kids like we do, then there's no need for us to explain what a light table is to you because your kids will have already fallen in love with theirs the way our have! We could set them at the light table with all of the toys and trinkets that go with it and leave them there for hours and they'd be completely content. That's why we're always keeping an eye out for DIY and crafty things that we can either make for them or help them make so they can use them on their light table and have even more fun. These transparent coloured dice by And Next Comes L are the perfect example of what we're talking about!
2. DIY wooden lawn dice
If your kids are anything like ours, they probably love things even more in jumbo size than they already do in their regular size. That's why we knew we had to make them these jumbo wooden lawn dice the moment we saw them! Sometimes Homemade shows you how to create perfectly squared off wooden cubes, we well as how to use wood burning techniques to make circular marks to show the numbers on each side.
3. Colourful foam dice
Do you love the idea of making your kids a set of jumbo dice but you're not quite ready to handle an entire woodworking project just yet? Well, lucky for all of us, there are always crafty alternatives if you're willing to get creative enough! One of our favourite alternatives to the wood dice idea, which are certainly best to be used in the backyard so they don't damage anything, are these lighter foam dice that can be used indoors too. Find out how they're made on Miss Kindergarten!
4. Paper dice templates
Perhaps you're looking for something even lighter than the foam dice and even easier to make? We really like that idea too because the easier the craft is, the more likely are kids are to be able to make it themselves, so that's why we were pretty happy to find these simple printable dice templates on Pinterest! Print it out, label the numbered sides if you'd prefer to make your own designs on the other side rather than folding it printed side out, and get folding!
5. DIY dice tray
If you're a regular to playing dice games of any kind then you probably already know how awesome having a dice box or tray to throw into is. Besides keeping your dice contained so they don't go scattering across the table, off the edges, and into oblivion, these trays keep the sound of the dice rolling around quiet so you can play any time. Gameritis has a great tutorial for making a felt lined tray of your own, since they're not very common in store and they can be on the pricy side.
6. Cufflinks made from dice and watch parts
Besides making dice and dice themed crafts for and with your kids, did you know that there are plenty of things that you can make for yourself that involve dice too? In fact, you can make lots of awesome things out of dice as well, transforming them into all kinds of useful things! We made our husbands these adorable cufflinks out of cut coloured dice attached to spare watch parts, managing to upcycle two things in one project, which is always a great feeling. Check out how these cufflinks were made in more detail on Miss Vicky Viola!
7. Awesome activity dice
Maybe your kids love the idea of actually throwing dice around and seeing what comes up on top when they land but they're not quite ready to start learning actual dice games just yet? Perhaps they're just looking for a new game and you're looking for a way to help them make one for themselves rather than amusing them with something else store bought? In that case, these awesome activity dice are the perfect project for all of you. Blueberries and Bees shows you how to make them in a similar way to the jumbo wooden dice, but they also make great suggestions for what kinds of things to write on each side that will encourage your kids to get active and run, jump, and play.
8. Dice party favour boxes
Did you love the idea of making folded paper dice but you also couldn't help thinking that they look like little boxes before you close the final side on them in folding? Well, why not take that idea a little bit further and actually make dice themed gift boxes the next time you host a party? Paper Scissors Pop shows you how to fold boxes that are a little bit bigger and make the perfect packaging for party favours on game night or at a birthday party.
9. DIY dice tower
Just like the dice tray, dice towers are something you'll already be familiar with if you're a big dice gamer in lots of different capacities. Usually, these are made from plastic or similar materials and bought from a store, but you know we love to find ways to make things ourselves whenever we can! The moment we saw this awesome tutorial from All3DP, we knew we had to put it on our list because it's unique and really guides you through the steps of making one of your very own.
10. DIY dice bag
While we're discuss dice centred games, why not cover all your bases and give you something that you can carry your dice around in as well, to keep them all together and make sure none get lost? Sure, you could keep your dice in almost anything, but we all know that making something yourself is always more satisfying. That's why we love this easy little sewing pattern from Bead and Cord that will help you make a dice bag with a drawstring top for easy access but also good closing ability.
11. Mirror, rhinestone, and glitter dice
Is the part of dice that you love most actually just their dimensions, the way they look, and the fun times they remind you of? Then perhaps you'd like to make yourself some fancy dice décor, even if they're not necessarily ones that you'll use a lot? In that case, we have a feeling you'll love this eye catching idea from Dragonfly DIY! They used mirror pieces, glitter, and rhinestones to create dice that glint and shine from different angles, whether you actually play with them or just set them out as trinkets on the side table.
12. Dice shaped cardboard cat box
We might have already listed crafting and game nights as some of our very favourite things, but there's definitely something we left out; we're also crazy about cats! We find that no matter what type of DIY project we're talking about, we can almost always find a way to relate the theme back to making a project for our cat in some way. Believe it or not, dice are no exception! This hilarious little dice themed cat bed from Box Yourself is simple to make out of cardboard and very funny to see your cat sleeping in.
13. DIY electronic dice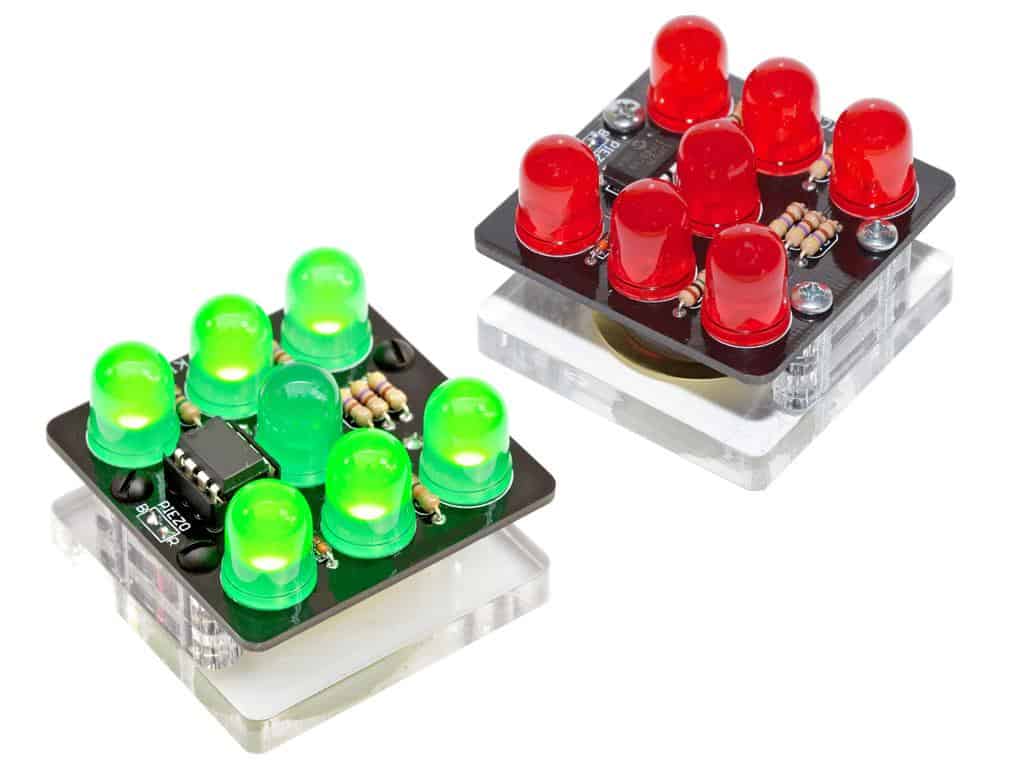 Are your DIY skills actually way more technological than they are creative and you're always looking for ways to incorporate that into the cool DIY projects you see online? Well, in this case, there's an awesome tutorial out there just for you! Circuits 4 You guides you step by step through the process of making tiny circus boards with lights that blink and then light up when you push the button in order to show you which number you've "landed" on. You sure won't have to worry about dice rolling of the table this way!
14. Magnetic dice Rubik's cube
Are you at your happiest when you're tinkering with things that involve shapes, numbers, and maybe even a little bit of math? In that case, we have a feeling you're going to love this project that combines three different very cool things: dice, Rubik's cubes, and magnets! Making your own cube like this gives you endless playing hours matching numbers. Find out how it was made on Instructables.
15. Dice square vase centre pieces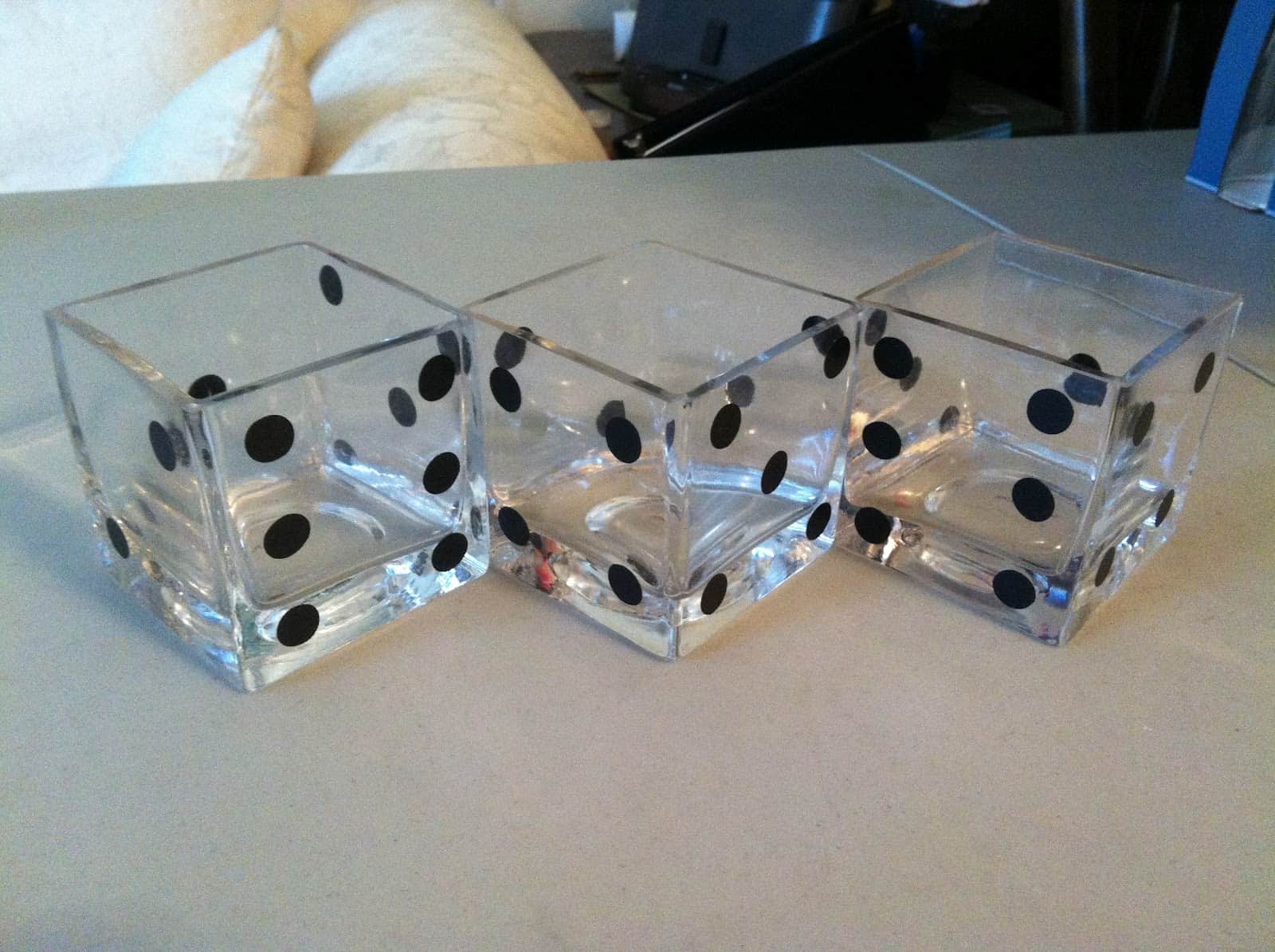 Did you really like the idea of making dice themed décor but you haven't seen any specific projects that really appeal to you so far and you're just looking for something simple that might complement décor you already have? In that case, we definitely think you should check out these adorable little centre piece glasses from My Time to Craft. Their tutorial shows you how to apply neat, even little dots to make them look like a set of dice!
Have you made other awesome dice crafts before that you really enjoyed creating but you don't see anything similar to what you made on our list? Tell us all about how you did it or link us to pictures of your work in the comments section!