50 Welcome Porch Signs To Showcase At The Front Door
When you're a neighbor, you want to find ways to welcome and reach out to those new families moving in next door or those who have been there with you. It's human nature, after all. We like to feel connected and part of the larger community.
One simple way is by making a personalized welcome sign for your porch. They are easy and inexpensive, thanks to the broad availability of vinyl lettering at most craft stores or online retailers. Or, you can just paint words on a wooden board.
And, if you're looking for something polished, there are always welcome porch signs available online that you can order with the click of a button.
If you find it difficult to scour the Internet to find the best idea for your family when it comes to welcome porch signs, we got you covered! We made a list of the best welcome porch signs for your home, which you can use during the holidays or without any special occasions.
Best Welcome Porch Signs to Try in 2021
Here are the top welcome signs for your front door or porch that you should definitely try out this year to make your home more inviting.
1. Leaning Rustic Front Porch Oh Hello – Welcome Sign
We found an excellent tutorial on Megan Plus Five, which shows how an old metal cabinet can be repurposed into a welcome sign that says Oh Hello. It's a charming rustic look that goes well with a farmhouse since the sign is unpolished.
You just have to design the letters by hand or by using a cutting machine, place the letters on the sign and draw their contours with a Sharpie marker, then remove the letters and use paint to fill them in.
You might want to apply a second coating of paint to obtain a solid color. Just make sure to let the first layer of paint dry off completely before doing so.
2. Double-Sided Welcome Porch Sign
We love this idea of creating a double-sided welcome porch sign since it's so practical – it allows you to combine two ideas into one.
To make this project from scratch, you would need a thick wooden board or thick cardboard. Just make sure to keep it safe from humidity since it might get ruined.
Another idea is to create a personalized front porch sign by painting it on two wooden boards and then attaching them together using hinges. It especially works if you have limited crafting skills or want to save time when making your own welcome sign.
The double-sided sign idea is versatile in case you change your mind about welcoming visitors to your home in a certain way, or just want to leave a quick note for yourself.
3. Hello Summer – Porch Signs
If you can't wait for summer to get here sooner, you can prepare by designing a porch sign that says Hello Summer. It doesn't have to be elaborate since you can paint the letters on a piece of wood and call it a day.
Or, if you like the idea of also including a summer decoration element, you could go with a refreshing fruit like a slice of watermelon. This idea comes from Alex in Aurora.
Unless you want to create this porch sign on your own, you can simply buy it from their online shop. It's hand-painted and sealed for both indoor and outdoor use. It also has a sawtooth hanger on the backside if you want to hang it somewhere. And there are multiple choices available for purchase, such as Sweet Summer Time.
4. Simple Welcome Signs for Front Door
If you wish to add a personal touch to your front door and make your home feel more inviting, you can use a simple welcome sign like the one displayed in this photo.
Made from solid pine, this welcome sign for your front door is elegant with its clean lines and eye-catching lettering. It also has a burlap bow and a string for hanging. You can easily buy it from Peony Custom Creations.
5. Welcome-ish Depends on Who You Are – Welcome Home Signs
Another welcome home sign idea that has a rustic twist to it is this one sold by Signs by Loretta. Well, only the idea is sold since you have to make the project from the ground up.
But we love the funny message that says Welcome-ish, depends on who you are, so we should give credit where credit is due. We can only assume that the do-it-yourself project is straightforward – get a piece of wood, paint it black, and wipe the margins with a piece of cloth to give it an unfinished look.
Then, you can design the letters using software or a cutting machine, attach them to the wood, trace the contours with a Sharpie marker, then remove the letters and apply white paint instead. It's best to use several coatings of paint, though.
6. Welcome to Our Home Stencil – Welcome Signs for Front Porch
Another way to paint a welcome sign for your front porch is by using stencils, which are sold in either wood or plastic. The one seen above has a nice font that spells Welcome to our home.
You can buy the stencil from Essential Stencils, which is durable, reusable, and made from flexible mylar. However, keep in mind that it doesn't also include the wooden board, so you have to obtain it from somewhere else.
8. Outdoor Welcome Sign Planters
An excellent way to spruce up your outdoor welcome sign is by adding colorful flower boxes underneath it. They are easy to make since they are basically boxes covered with paper filled with soil and planted with flowers.
You can make your flower box either by cutting out the top or bottom of a sturdy box, depending on how you want it to look. Leave about a 1-inch gap between the box's edges and the cutout part so that you have enough space for planting flowers inside it.
And don't limit yourself to flowering plants! You can also try using veggies or herbs that are rich in color but still edible. That way, everyone will know what kind of treats they're going to get from you the moment they step inside your home.
If you're looking for an enchanting and handmade welcome door sign for your farmhouse, you can buy this one from Etsy. It's round, made from solid pine wood, painted with the Home Sweet Home message, and stained.
It also has a cute bow with green leaves. Plus, the lettering is made with permanent vinyl. Hangers are on the backside so that you can easily attach the sign. It also makes for a thoughtful housewarming gift.
A welcome sign that you will surely love is this one sold by Etsy, which says Welcome to our home. It's 3D, so it mimics the look of white cutout letters attached to a black board with a wooden frame.
The good thing about this welcome sign is that you can edit its design. In addition to selecting the preferred size at checkout, you can personalize it by mentioning your family's name so that it gets written under the Welcome to our home sign. It's an elegant way to show first-time visitors whose door they are knocking.
11. Hello Sweet Cheeks – Welcome Sign Ideas
Another way to welcome guests at your front door is by putting up a message that simply says Hello, sweet cheeks. It's a cute phrase that can be placed on a welcome sign or anywhere else in the house because it doesn't really have any deep meaning.
Unless you want to take over a do-it-yourself project and design this welcome sign from the ground up, you can purchase it from Studio 29 Eleven. It's sized at 10×20 inches and also makes for an excellent housewarming gift!
12. DIY Joy Front Door Signs
Here's a beautiful, vertical front door sign that you can make on your own. It has the word Joy decoratively designed in wooden lettering against a white background with a wooden frame. Plus, it has a burlap ribbon and a small wreath with red berries, which add to its rustic flair.
To create this versatile welcome sign, all you need is plywood or scrap wood, two 1×2 boards, wood finish stain, wood letters, white chalk paint, wood glue, brad nails, a power drill, a wired burlap ribbon, and a small wreath.
Check out the complete DIY tutorial at Shanty 2 Chic! We think it works great as a Christmas front door sign.
13. There Is No Place Like Home – Vertical Welcome Sign
The next item you might find useful for your front door is a vertical welcome sign that says There is no place like home. Inspired by The Wizard of Oz, the sign is rustic and cheerful, thanks to the bright colors.
You can buy this piece from Bargain Junction at a reasonable price. However, if you're up for it, we think that you could get away with a DIY project. You just need a piece of wood, colorful paints, paintbrushes, and a bit of painting talent. Besides, it would be a thoughtful gift for your friends or family!
There's no better way of showing visitors how much love there's in your family by expressing your feeling in a welcome sign that says This is us: a little bit of crazy, a little bit loud, and a whole lot of love.
The message and its font are the focal points here since the rest of the welcome sign is pretty basic. You could probably get away with a piece of wood, black paint, and white stencil.
But if you don't want to go through that trouble and make sure that your new front door sign will have a polished look, it's better to purchase it from Etsy. It goes double for those thinking of making considerate housewarming gifts.
If you, your family, and your friends love to sit around a table and chat while sipping hot coffee, then this front door welcome sign is for you! It features the words Welcome, coffee and friends make the perfect blend in fancy lettering.
You can purchase this handmade door sign from Etsy. It's also possible to personalize it by adding your family name or any other information you want to include in the sign. It's round, has a 17-inch size and 3/4-inch thickness, and is made from vintage solid wood.
And if you feel that it's too plain, you can ask the buyer to decorate it by changing the paint or stain color, the color scheme, or by adding a bow or flowers.
16. Just Married – Welcome Porch Sign
Just Married is a common expression that speaks of love and commitment between a man and a woman. It's an excellent welcome porch sign idea for newlyweds going into their first house together as husband and wife!
The front door welcome sign says just married in white lettering on a wooden background. You can hang it using a piece of twine or ribbon, depending on your preference.
Plus, when purchasing this hand-painted piece from Perry Hill Rustics, you can make sure that it will have the most special touch ever by adding the wedding date, first or last name of the bride and groom, or the wedding date with the first or last name!
It's possible to include additional customization notes, change the stain color or the font to anything you like, and choose between a twine and ivory ribbon. The frame has an approximate size of 6×12 inches.
17. DIY Reclaimed Wood Wreath Frame – Welcome Signs for Front Door
Adding reclaimed wood to your home decor is always a good idea and it works just as well in the entryway area, whether we're talking about welcome signs for the front door or other kinds of decoration.
If you want to pay homage to nature and create a rustic feel at the same time, then this welcome sign is definitely for you. It's a wreath frame made of reclaimed wood, which blends well with any color scheme.
Do Dodson Designs shows an excellent and straightforward tutorial on how to obtain a reclaimed wood wreath frame, without having to turn to professional help. When it comes to materials, you will need a chop saw, fluff chalk mineral paint, a pallet or reclaimed wood, a jigsaw, screws, a drill, screw eyes, a pencil, a large wood frame, a paintbrush, a staple gun with staples, and 1/8 inch plywood.
18. Welcome, Please Come In – Welcome Sign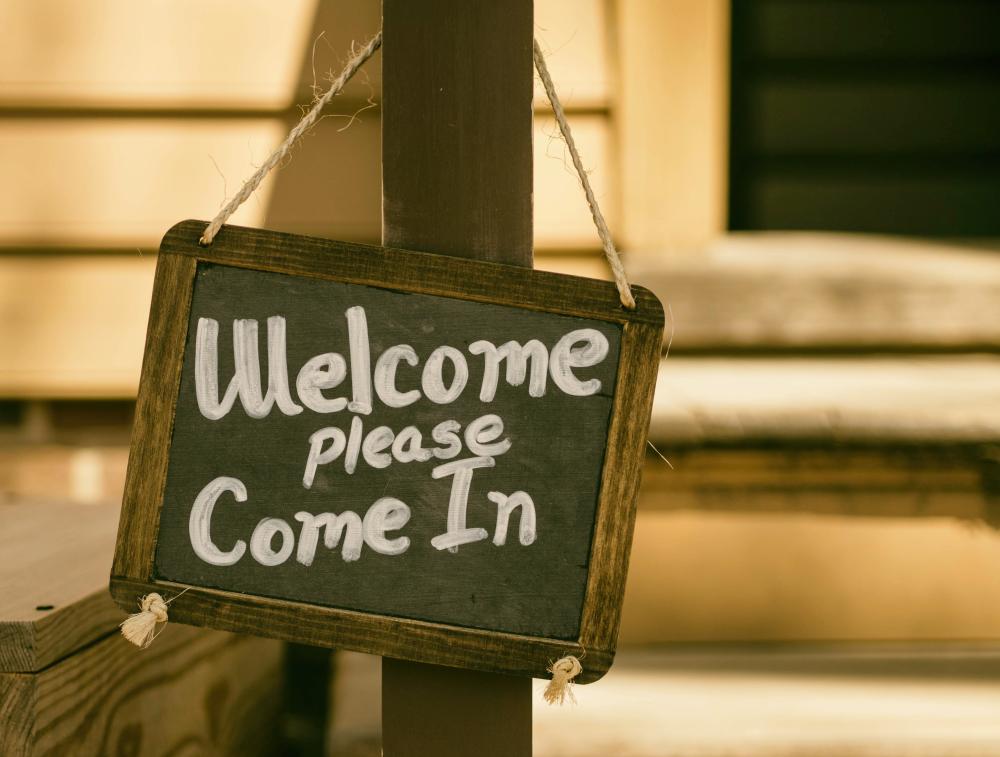 You've just invited some friends or family members to your house, and you want to make them feel right at home with a warm welcome sign. If so, this is the perfect sign for you!
The front door welcome sign says Welcome, please come in. The best part about it is that you can just need to buy a small chalkboard with a wooden frame, use chalk to write the welcoming message, and then attach some twine so that you can easily hang the sign on your front door.
19. Welcome on Board – Welcome Home Signs
This is a unique welcome sign that you can use to decorate your home's entryway area. It's navy-themed and perfect for people who have just moved into their first house together as husband and wife, or for those who are buying or renting another home.
The welcome home sign says Welcome on board. It's tricky to build it on your own by tackling a do-it-yourself project, so it's easier to just buy it from the Internet and then hang it on your front door using a piece of string.
20. Veggie Decor with Welcome Signs
Vegetables are always a good idea when it comes to decorating your front porch area. They fit in just fine with welcome signs, especially if you're using them for decoration purposes only and not actually growing the vegetables!
This stylish concept features flower bulbs in baskets, which are placed in metallic basket holders with big metallic forks. Furthermore, small wooden frames with welcome signs are attached to the forks using twine. The design is a bit antique and a reminder of fresh produce available at a nearby stand or store.
The best part about this design is that it's fully customizable according to the number of people who are invited for dinner, so you can add everyone's names on individual signs and place them near the entryway entrance door. It might take a bit more time, but it definitely looks impressive!
Additionally, you can choose from various different types of vegetables and flowers, change the color of the baskets and twine, and even replace the welcome sign with another one that has a different message.
21. Open Sign
This sign puts a nice twist on the open signs of shops since you can attach it to the front door of your house to let guests know that you are, indeed, home.
Besides, it's an easy project that can be created in just a few minutes by attaching some string to the lid of an old storage container, then cutting out cardboard letters that read Open and painting them with chalkboard paint.
You get double points if you make the sign double-sided by writing Closed on the back. This way, you can flip the sign over when it's time to go to sleep or when you and your family leave on vacation.
Of course, there are other types of signs you can create using recycled materials for your front door area or entryway. Some might be made from wood planks, while others could contain recycled metal paint cans with engraved messages. The choice is yours!
22. Easy DIY Welcome Sign
You don't have to put a lot of thought into your welcome sign, as long as it does its job and lets people know this is the place where they want to be. If you want to create a large, vertical welcome sign to place on your front porch, check out this tutorial made by Girl Just DIY!
You can paint a wood board, create a no-stencil layout, transfer the welcome letters to the board, and outline the letters using paint. To decorate the sign and make it a bit fancier, just add a dry flower vase.
When it comes to supplies, you will need a wood board, a chip brush, white chalky paint (exterior paint works, too), a craft paintbrush, black craft paint, and a black acrylic paint pen.
Additionally, you should have a pint-size mason jar, a printer, tin snips, a hose clamp, a screwdriver, painter's tape, flowers, and pebbles.
23. Green Basket with Flowers – Welcome Porch Sign
This is a nice welcome porch sign that you can make yourself, and it doesn't require any special tools or paint. Instead of using store-bought cheap materials, you should opt for flowers and green baskets (you can use old ones) to create this sign on your own.
All you have to do is attach the flowers with some twine to the front door area left corner, then hang the basket from a hook on the right side of the doorway entranceway. The idea might seem a bit too simple at first glance, but it works very well in practice!
This sign is a great way to welcome visitors and make them feel at home even before they've entered the house.
You can use this porch sign as an option for Mother's Day, Father's Day, or other occasions like Thanksgiving and Christmas. Besides that, you should know that its design features sunflowers, which makes it a nice decoration piece that goes well with any other nature-themed outdoor decorations.
This front porch welcome sign is available for purchase at Etsy. It's handmade and hand-painted with acrylic paint. Because of this, you should keep in mind that each product is unique, so don't expect to get the exact sign shown in the picture.
This front porch welcome sign is something that you can create yourself even if you're not an expert at crafting. Simply, draw the desired design on some cardboard, then paint it with acrylic paint and embellish with flowers or leaves made of craft foam.
Besides creating your own DIY welcome sign for the front door area, consider adding other nature-themed elements to the outdoor environment. For example, you could install a birdhouse, place plants in hanging pots near the entranceway gate, and so on.
However, if you absolutely love the welcome sign shown in the picture, you can get it from Etsy and skip the whole DIY project thing. It's hand-painted, features delicate flowers, and shows the Consider how the wildflowers grow message from the scripture. There's a sawtooth hanger on the back so that you can easily hang it on your front door.
26. Huge Carrot – Welcome Porch Sign
Don't feel like creating a welcome sign for your front door entrance? There's no need to worry since there's a perfect solution – simply purchase a welcome porch sign and use it instead.
This huge carrot porch sign we found on Unfinished Wood Co. is very inviting and fun. It will definitely attract guests' attention when they approach your house. Evidently, since the sign says Happy Easter, it means that you can only use it during the Easter holiday. It's made from thick Baltic birch plywood.
27. DIY Shiplap Porch Sign
Knowing how to make shiplap decor can not only save you money but also create a personal project that your family will genuinely appreciate. Plus, it makes the perfect accent piece for many rooms in your home or your front door.
The beauty of this porch sign DIY project is that it doesn't require a lot of wood or tools. Nevertheless, you still get the front porch look with traditional charm. All you need are some supplies and a little bit of time!
Before getting started, make sure you have plywood planks, short framing pieces, backing strips, a nail gun, glue, and a staple gun. Then, carefully follow the instructions detailed by Our Handcrafted Life and let us know how your shiplap porch sign turns out!
These welcome home signs are so cute and could be placed anywhere throughout your home. Your family will appreciate the inspiration every time they walk in the door, after all… good vibes only! The theme is monochromatic, making it an excellent addition to any porch or entryway.
You should be able to easily make this welcome home sign by painting the letters on a piece of board. Otherwise, you can purchase this sign from Amazon since it's more convenient, especially if you don't have the patience necessary for DIY projects.
29. Welcome to the Farmhouse – Welcome Sign
Your guests will be excited to come inside your farmhouse when they see this cute welcome sign hanging from your front porch! It says Welcome to the farmhouse.
The design features a rustic font and focuses on the color green. Nevertheless, you can keep it hanged on your front door year-round since it doesn't need any special occasion. Overall, this wooden welcome sign would look great on a sunroom door too!
You can easily purchase this welcome sign from Karen's Kraft Room. It was made on a 12×6 inch aluminum blank. Plus, the sign is UV-protected, which makes it weather-resistant!
30. Budget-Friendly DIY Custom Welcome Sign
Show your guests just how grateful you are that they visited your home by putting up this welcome sign! It's on a large wooden board and filled with all sorts of messages, like Make yourself at home.
If you have a DYI spirit and feel like creating a welcome sign from scratch, you're not alone. The Hamby Home did it, too, so you should check out their project to get inspired.
Simply purchase a premade wooden piece and cover it with vinyl letters of your choice. You can also give the finished product as a gift or sell it via Etsy for some extra cash.
In order to make this budget-friendly custom welcome sign, make sure to measure the dimensions of the wood before purchasing the letters, obviously. Then, measure and cut vinyl lettering to fit the front of the wood, and paint over the vinyl lettering with a contrasting paint color.
After peeling off the vinyl lettering, you can apply clear transfer tape over the painted letters and attach the vinyl lettering to all sides of the wooden board using transfer tape.
Use a damp cloth to smooth out any visible wrinkles. In this case, you can use a credit card or something similar to press down on the letters for a minute or two until they are set properly against the wood surface. You may also need to reapply transfer tape if it begins coming up during this process.
Fill in the welcome sign text next! Although you can use paint to create a custom welcome sign, vinyl lettering is better because it is more durable and resistant. As such, it will last much longer when exposed to the weather elements.
Here's another welcome porch sign that features rustic lettering. It's on a stained pine board and says Hello Fall, making a perfect addition to any farmhouse during autumn, whether it's Halloween, Thanksgiving, or no special occasion at all.
This welcome porch sign can be purchased from Etsy, but you can also use your DIY skills to make it. The only things you should ensure are that the sign is large enough, has a stained wood surface (you can stain it yourself or let this job be done by the vendor), and uses rustic lettering.
No specific instructions are necessary since the design is straightforward. You just have to paint over the letters with white paint using a craft brush and allow it to dry before peeling off the transfer tape and applying the vinyl lettering. Afterward, hang up your welcome sign anywhere on your front door.
32. DIY Vintage Outdoor Welcome Sign
Enjoy the summer with this vintage welcome sign! It's a handmade wooden sign that says Life is good and can be made by following the simple tutorial made available by I Should Be Mopping the Floor.
You can start making this welcome sign by getting hold of a wooden board. Then, you can apply a base coat using light red chalk-style paint, wait for it to dry off, create the vinyl lettering using a cutting machine, and then place it on top of the paint.
Next, you can remove the vinyl, sand the edges, and seal the board with a clear varnish. Be sure to check out the complete guide and let us know how your DIY vintage outdoor welcome sign turns out!
More Welcome Porch Signs
When you get home, a welcome sign may help you get grounded faster, may help you find your peace faster. Let's get some cute ideas for your home.
These wooden rustic welcome signs come in a variety of neutral tones and sizes. They have a wonderful selection of phrases and ideas to snag as well as some charming accents that enhance the overall design. They're also made in a selection of woods from cedar to faux blush.
If you want to stay away from the farmhouse style, then this modern vertical welcome sign may be more your speed. This has a more contemporary, polished finished without too much texture or distraction from the simplicity of its design. You too can recreate this with a recycled piece of wood, black paint, and wooden stencils.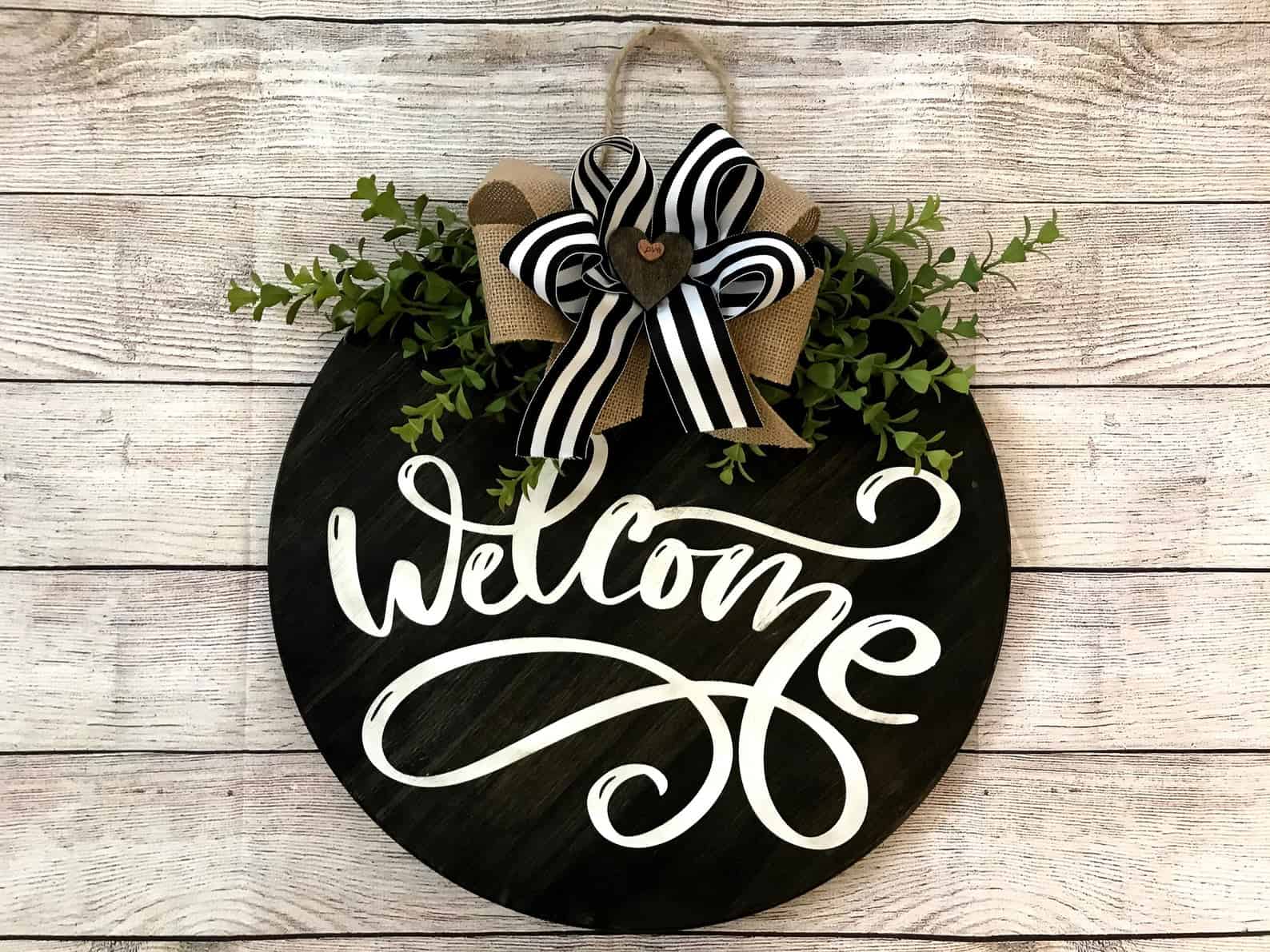 Something sweeter may look a bit like this round cottage style welcome sign. The gorgeous lettering, the greenery, and the burlap and striped bows all come together nicely to create a feminine finish. You can even gather the supplies and your gal pals and make this a craft to do on a Friday night accompanied by a glass of wine.
For larger front porches you may want to think about investing in a larger welcome sign. This home sign with greenery is just one of the many options floating around the Internet to provide you with the right kind of inspiration. We love its mix of modern and farmhouse touches as well as the warmth that those greens bring to the space.
Sometimes you need height and not width and that's where this tall, slender welcome sign comes in. Again, you can easily make these yourself in various ways or you can just find the perfect design for you and snag it off line. This particular sings comes in various colors such as weathered gray and honey as well as an array of sizes to suit your needs too.
For those that want a little more pep in their step, add some color to your welcome sign. Just check out this sunflower welcome sign for inspiration! A floral design, stripes, or any other additions of color can really bring about the right amount of life to your front porch.
We had to show off this version of a home porch sign with wreath as well because this one is displayed with a bit more of a country style. The lettering feels a bit more down-home and less crisp and that burlap bow sends it into farmhouse overdrive. You can match this look with such ease and style its surroundings accordingly.
We love this style for the kitchen or to top off your plantation-style home. If you have a farm, why not add this wooden farmhouse welcome sign into the mix. A cow inclusion really brings the vision full circle don't you think?
Here's a more traditional welcome wood sign as its displayed horizontal, can be leaned on the wall while sitting on a console table or threaded and hung on the front porch siding or door. We love the mix of feminine lettering and country wood.
For a more weathered look, check out this personalized welcome sign! The white-washed wood is right on trend but we love how you can easily add your family name to the design for a more unique feeling. Welcome your guests in style and with a touch of your own pizazz!
A shabby chic wedding sign is one of the most versatile. Its simplicity makes it easy to be embedded into a more contemporary space but the wood and white stenciling makes it just as easy to fit into a more farmhouse feel. Recreate this at home this weekend, it's a novice-level craft!
Of course your welcome sign does't have to be made of wood. Instead, you can have a family name metal sign to welcome guests to your home and add some personalization to your porch. Here's a mock up of how one could look in your space.
And finally we leave you with just one more personalized family name welcome sign. This is just another way you can style your sign, with your name and with a thinner, stenciled lettering just depending on your preference. We also love how easy this piece of decor is but how much life it brings to a bare space.
46. Welcome Sign Lettering
This next sign can be hanged in a tree or on the door, and it features pretty lettering, a large branch, and some hanging features. It gives us a lot of vacation vibes, so if you like this, you may want to make or get yours too.
47. Etched in Wood
If you want to go a bit rustic, you can go for a wood board that features etched in letters. You can use a wood engraver on a piece of board to write out your message.
48. Welcoming Flowers
If you want to give your home a cute vibe, you can go for a welcome sign that features a pot with flowers. You can use a pot or a bucket and etch in the sign with an engraver.
49. Welcome Sign with a Clock
By using a welcome sign with a clock, you'll always know what time it is when you're kicking back on the porch. Plus, it kind of reminds us of a train station of sorts, which is super cute.
50. Welcome Home with a Cat
Another thing you can do is create one of these welcome signs with a box. You can either use the wooden box to put in some mail, or flowers, or just allow your cat to be a cat and make sure that "if it fits, it sits."
Final Thoughts on Welcome Porch Signs
What's on your front porch? A welcome sign is a great way to greet guests and visitors. Plus, the more welcoming your sign looks, the more you can brag about your personality and interests. That might be important if you're trying to sell something, especially when you've got some online business ideas that involve e-commerce.
But of course, it's also about sending off an awesome first impression with a personalized welcome sign: one that matches your style and tastes so everything around the house says something about you and your family members. That said, we hope this article helped teach you how to make a welcome porch or front door sign.
Let us know which is your favorite welcome porch sign in the comment section below! Also, feel free to share more ideas with us that you should belong to this article!