40 DIY Beach Wedding Ideas Perfect For A Destination Celebration
Are you planning to say your I do's out on the sandy seashore? If so, there are lots of ways to jazz the festivities from your own home and with your own two hands. Below you'll find 40 DIY beach wedding ideas perfect for a destination celebration. Scroll through and see if any fit the vision for your nautical, knot-tying ceremony!
1. Candy Rock Favors
Martha Stewart Weddings starts us off with some candy rock pails that make the most perfect and charming beach wedding favor! Delight your guests and spark a giggle or two with these little bits. Of course, the best part, is that you can whip these up yourself with minimal fuss.
2. Surf Board Ceremony Sign
Decorate the big day with a personalized surfboard. We found this fabulous idea lingering over at Confetti Daydreams. And although surf boards can be expensive, you can easily take an older piece and revamp it a bit for the photo-op and the perfectly placed decoration.
3. Driftwood Centerpiece
Driftwood will always be a go-to piece of decor for a beach wedding. Use scrap pieces on any and every table you've got at the party. Build a collage or show off one piece; each table can be different and unique.
4. Starfish Favors
Wedding Window knew that the most obvious idea for a beach wedding is truly one of the best! Gift everyone with a starfish to commemorate the big day. Add a personalized note and voila!
5. Seashell Escort Cards
Start collecting your seashells now! Little bits, like the ones you see here at Martha Stewart Weddings, can be used to create a beautiful seating chart. Every part of the reception can be sparking with seaside style.
6. Lantern Lighting
Uniquely Your's Wedding Invitation  lit the way with some romantic lanterns. And there's truly no better way to add some extra light to a beach wedding than with a bout of these beauties. Welcomed warmth and an amber glow, once the sun goes down, you'll need it.
7. Flip Flop Favors
We're loving this fun idea as well! If you're vows are being exchanged on the beach, don't allow your guests to ruin their shoes! Provide them with a pair of flip flops to get the through the sand instead.
8. Starfish Boutonniere
Wed Pics showcased this unique beauty and we fell in love with its obviousness as well. A starfish can be used all throughout the event, even on the groom! Take a traditional boutonniere and add some beachy flavor.
9. De-Sanding Station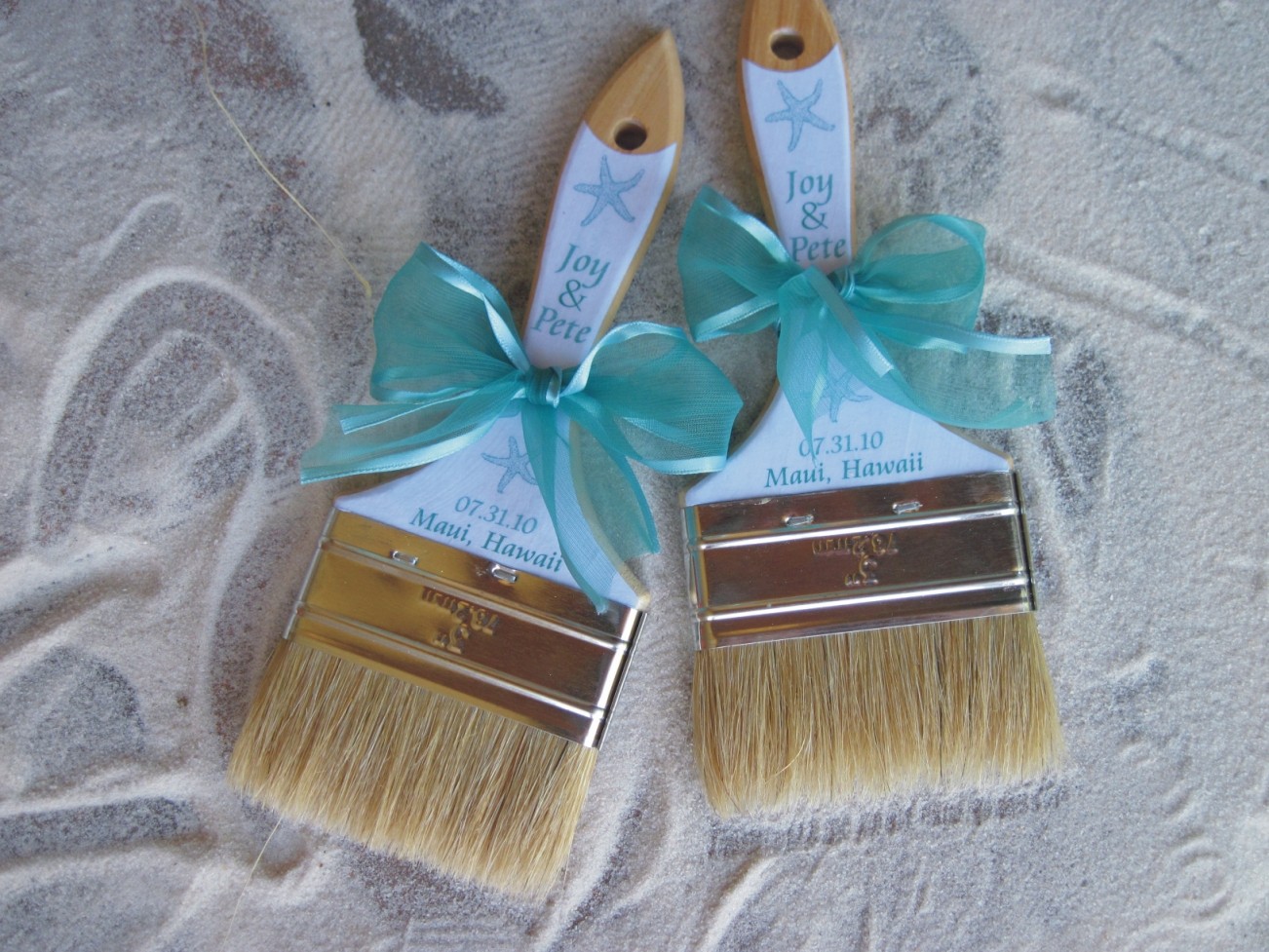 Everyone will get a bit of sand on them, so why not concoct a spot where everyone can "de-sand" before they dance the night away. A pair of paintbrushes can be used to brush away the debris and keep everyone comfortable. You can even personalize the brushes beforehand if you'd like.
10. Painted Ceremony Sign
Some scrap wood and paint will get you started on this easy job. Point the way to the ceremony and/or the party with a handmade side! Thanks to Pinterest, there are lots of inspiration you can follow along and grab ideas from in this department.
11. Program Fan
Turn your program inside a fan with some popsicle sticks and staples. Whether you create your own programs for the big day or not, this can work! And thanks again to Pinterest for the brilliant idea
12. Seashell Bouquet
Ditch the petals and go with something that makes a little more sense for a beach wedding. Cluster together your lifelong collection of seashells and make the most perfect bridal bouquet around. Just check out this design from Confetti Daydreams!
13. Barefoot Sandals
You can even learn how to create your very own "barefoot" sandals to don on the big day. You won't want to wear heels anyway! Grab the tutorial and all of the details over at Live & Diet.
14. Welcome Bag
Most beach weddings will be destination affairs, which means all of your guests will be traveling to get to the events. If that's the case, why not create a welcome bag for everyone to enjoy. Show your appreciate and use this as the celebration's favor!
15. S'mores Bar
Design Waffle showed off this stylish s'mores bar and we couldn't help but think how perfect this would be on the beach! Roast some marshmallows and create an interactive experience for your guests to enjoy. Don't forget the extra toppings either, like peanut butter chips and sprinkles!
16. Flower & Sand Centerpiece
Just Fab gives us a great idea for a centerpiece that we can easily create on our own. A glass container, some sand and some petals are all we need to get started. And this design can be glammed up or toned down to your liking.
17. Rope-Wrapped Candle
Candles will always work for weddings, no matter what kind. But how you style them does depend on the venue and vision. And this rope-wrapped idea form Stone Gable fits perfectly within a nautical theme.
18. Golden Shell Centerpiece
Martha Stewart took some seashells and painted them gold. And some are even filled with some wax and made to be candles. Take a more glam and romantic approach to your beach wedding decor with this one.
19. Seashell Heart Door Hanger
This seashell heart can be displayed anywhere around the event. At the sweetheart table, on some VIP chairs, on the doors … there are so many ways to utilize this handmade piece. And it's something you may want to keep long after the party is over.
20. Message in a Bottle Invite
Invite your guests in a more unique way. Create something yourself or found a helper set like this one from Wedding Parcel. Ask for an RSVP in a way that screams "destination celebration" like this message in a bottle idea!
21. Photo Backdrop
Confetti Daydreams had this beautiful bit of inspiration for us as well. Creating a photo backdrop on the beach you get married on is a must! For both the guests to enjoy as well as the bride and groom!
22. Shell-Covered Love Accent
Here's another shell-covered accent that can be made ahead of time and used long after the dance floor is closed. Use this on the cake table or at the bar. Just make sure you have a glue gun before you get started in on the work.
23. Driftwood Chuppah
Creating a chuppah for you beach wedding doesn't have to be stressful, just go with the obvious. Driftwood will always be beautiful in photos and sturdy enough to create something like this. Thanks for the inspiration Wedd Book!
24. Shoe Drop-off
You'll want to create a little "show drop off" for the ceremony site. Instead of having everyone ruin their shoes, make a spot for everyone to place their favorite pairs. We love this little setup from Floridian Social and how easy it would be to recreate for your own event.
25. Starfish Ceremony Chair Decor
Here's another starfish idea that we're loving. Use them to mark the rows at the ceremony. Along with a bit of greenery, you'll have a polished, perfectly beachside look for everyone to enjoy.
26. Simple Invites
You, of course, can learn how to make your own invites as well. Just check out these simple ideas for instance. With just a small, seashell accent your guests will get the vibe of your celebration without any fuss.
27. Rustic Lock & Key Chuppah
Pinterest showcased this gorgeous chuppah idea too, and we gobbled it right up. If you're looking for an even more enhanced beach wedding idea then this is where to start. Some older doors and fabric too, it's whimsical and romantic.
28. Breezy Fabric Backdrop
Martha Stewart Weddings showed off some great beach wedding ideas as well and this one really struck our fancy. Instead of wooden pieces, why not add some sunny fabric bits into the mix. We love how upbeat and celebratory this entire ceremony site feels.
29. Fruit Kabobs
A sweet treat to serve up on a warm, seaside day, fruit kabobs are easily made ahead of time! And the best part is, everyone will gobble these right up and enjoy them. Add your favorite fruit and start passing them around with some sparkling champagne.
30. Pail Candle Favors
Here's another favor idea that works for a beach wedding. Turn some mini pails into candles. Actually, you could use these on the reception tables as well for some romantic lighting, and we love the themed vibe.
31. Taco Bar
Here's another food idea that works perfectly for a beachside celebration! Serve up tacos at the main party. A taco bar is easy to DIY yourself and everyone will be satisfied with their plates.
32. Soundtrack Favors
Wedding Chicks gave us an idea that's not only great for beach weddings but for all. Of course, creating your own soundtrack means you can theme the music too. Vacation-worthy songs will slide easily into this album.
33. Simple Romantic Centerpiece
R. Love Floral featured this gorgeous and simple centerpiece. Of course, we thought that this would be a beautiful addition to a beach wedding design. With its simplicity and romance, it would truly fit into any kind of theme – and be easy to recreate on our own!
34. Sequins Hangers
When you wake up on your big day and your girls start gathering in your room to get ready, thank them nicely. This idea from Glamour and Grace is not only a DIY opportunity to take on but there's something rather special about it. The photo-op and the keepsake, it's just as special as a destination celebration.
35. Petal Confetti
Instead of blowing bubbles or throwing bubbles, throw petals! It's biodegradable and won't hurt anything in or around th beach. We love this idea found over at Deep Pearl Flowers!
37. Donut Hole Bouquets
Since your day has become a bit more casual, your food choices can be too. Of course, they can still be presented in a way that's charming and photo-worthy. Just look at these donut hole bouquets for instance!
38. Driftwood Table Numbers
Your table numbers can be highlighted with a bit of driftwood too. Add some paint or glitter to personalize it if you'd like. Or leave it bare for a more organic and natural styling.
39. Seashell Candles
Etsy had this seashell candle idea up their sleeve and we're still loving it. Use them as favors or a way to light the reception tables. They're really easy to just make up at home in the kitchen too.
40. Seashell Centerpieces
And finally, if you visit Martha Stewart Weddings just one more time, you'll see these gorgeous centerpieces. Gather up everything you've been collection to make tables capes that are unique and innovative. Full of texture, just start out with seashells and grow it all from there.