50 Breathtaking Flower Embroidery Patterns to Welcome Spring
Welcome the arrival of spring with flower embroidery patterns! These fun and easy designs add a touch of floral flair to your projects. With everything from traditional blooms to abstract geometric patterns, there's a style for everyone. So get stitching and add brightness to your world!
Spring is almost here; you can feel it in the air, see it in the daffodils blooming and hear it from those birds chirping.
Here's a little secret: if you want to make spring come sooner, bring some flowers indoors! You can always go out and buy some flowers or seeds at your nearest grocery store.
However, not all of us are fortunate enough to be allergy-free when it comes to flowers. If you fall into that category, you can just stay indoors and start doing some needlecrafts to bring spring closer.
Best Flower Embroidery Patterns to Add Spring Cheer
Discover the most spectacular flower embroidery patterns to welcome spring into your home:
1. Printable Floral Embroidery Patterns
What makes these floral embroidery patterns stand out in the crowd is the very fact that you can print them directly on fabric.
Of course, for that, you'll need some special equipment such as a Silhouette or Cricut machine. Otherwise, you can just print them on paper and iron them onto some fabric.
All the instructions are included in the package, together with a list of needed items to begin stitching. These are some of the most beautiful floral embroidery patterns.
The pattern features a lot of different flowers that you can use to create a gorgeous piece of needlework. You can stitch them on towels, pillowcases, aprons, etc., for a little bit more color in your house.
We found this fantastic flower embroidery pattern on Sarah Hearts' blog.
2. Freeform Felt Embroidery Flowers
If you have been stitching for a little while now, you probably have some practice with needle felting. It's a craft where you create wool items using a special barbed needle and strong furs.
In this project, you can find an excellent tutorial on making freeform embroidered felt flowers. The technique combines felt applique with embroidery and provides you with marvelous results.
You can use the flowers to add a little bit of color and texture to your clothing. However, if you're not entirely into embroidering into clothing items, just create some decorative objects. You can turn these freeform felt flowers into wall hangings, bookmarks, etc.
Check out The Spruce Crafts for the tutorial and all the necessary items to get started.
3. Floral Illustrations Embroidery Pattern – Embroidery Flower Pattern Free Download
This embroidery pattern displays a marvelous spring garden illustration. The design is stunning and can be used to make small decorations such as bookmarks, wall hangings, etc.
It is not precisely the best suit for beginners, given that it has some pretty intricate details. However, the pattern should help you get started with more complex stitches.
The steps are included in the pack, so you can keep it nearby whenever you want to start stitching. You can find a list of supplies and patterns for this flower embroidery project on DMC.
4. Ribbon Embroidery Flower Bouquet – Embroidered Flowers
This embroidery pattern features beautiful flowers surrounded by ribbon embroidery. The piece is unique because it combines many different stitching techniques.
If you are looking to learn how to do some advanced stitches, this is the perfect project for you. It can be pretty time-consuming, but you should consider giving it a shot anyway.
The final result will be gorgeous, and you can even use it as a wall decoration. After you finish stitching, you need to ensure that the ribbon is tightly attached to the work surface.
You can find the instructions and items needed for this project on The Spruce Crafts.
5. Flower Embroidery Designs for Dishtowels
If you are really into flower embroidery patterns that can be used on dish towels, then this next project is perfect for you. You get to stitch three distinct flower designs.
What we like about these embroidery projects is the fact that they are perfect for beginner stitchers. As mentioned before, you don't need to go through many trials before you start stitching.
The pieces are not too intricate, so you should have no trouble designing your flower dish towels. Plus, embroidery is great for beginners because it requires very little stitching space.
The whole pattern is only 9 cm in diameter. This way, even beginners can start stitching and get good results in no time.
You can find the tutorial and items needed for this project on Flax & Twine's website.
6. Thread Painted – Single Flower Printable Flower Embroidery Patterns
This flower embroidery pattern uses the thread painting technique to create three different flowers. The tutorial is easy to follow, so you should have no problem stitching these pieces.
Besides, they are suitable for beginners because they require just a few colors of threads that can be easily substituted. It is up to you if you want to use the same color for the whole pattern or if you want to try some new techniques.
A good part of this project is that it's customizable since you can choose different colors for each flower. This way, you get to experiment with some new stitches and see what works best.
You can find more details about this project on Loli and Grace's website.
7. Home Sweet Home Floral Wreath – Easy Embroidery Patterns
This embroidery pattern uses several stitch types to create a floral wreath. The stitching pattern is relatively simple and contains a handful of colors.
It might be more challenging for beginners, but it is still possible. The tutorial includes clear instructions about tackling this project step by step.
You can also find the list of supplies needed for this embroidery project on I Should Be Mopping The Floor. The pattern feels very cheerful and would make the perfect gift for someone special.
The reason is that you can personalize it with any name you want. You are not required to stitch the Home Sweet Home phrase, but this detail adds to the pattern's beauty.
8. Blooming Floral Border Pattern – Floral Embroidery Designs
This flower embroidery pattern makes use of several stitch techniques. However, it's easy to see why this floral embroidery pattern is more suitable for advanced users since it lets you choose your preferred style.
You need to be familiar with several stitching techniques to pick the right one. The tutorial suggests using stem, detached chain, straight, chain stitches, and French knots.
As you can see, this embroidery project is much more complicated than the others. However, it does feel very elegant because of all the stitches used to create it.
As previously mentioned, the tutorial is clear and includes many pictures. You can find the list of supplies and instructions needed for this embroidery project on The Spruce Crafts.
9. Delicate Embroidered Wisteria & Poppies – Hand Embroidery Flowers
This embroidery pattern uses several thread colors to create a single flower. As you can see, it's perfect if you're working with a limited number of threads.
Besides, the flowers are not too complex, making this project suitable for beginners. The tutorial suggests using stem stitch and French knots.
Although it is straightforward and includes many pictures, this embroidery design may seem a bit more complicated because it uses only one color. However, you can use your imagination and experiment with different stitch types.
You can find the full tutorial and list of needed supplies on Stitch Floral's website. As the author states, the wisteria is not an easy pattern suitable for any skill level.
However, the poppies are less challenging, so it would be best to start with them.
10. Sweet Mason Jar Vase Hoop – Simple Embroidery Flowers
The idea of creating a vase with flowers is impressive. This flower embroidery pattern includes three different flower patterns.
It gives you the chance to experiment with different colors and stitch types. The tutorial includes images and step-by-step instructions, easy to follow and understand.
You can find the tutorial, list of needed supplies, and more details on Flamingo Toes. This project may be a bit time-consuming, but it feels enriching.
Not only will you have original flowers for your home, but you will also develop your embroidery skills. This flower pattern has a vintage feel, making it perfect for kids' bedrooms or playrooms.
11. Tea Towel Flower – DIY Embroidery Pattern
Here is another easy embroidery pattern that feels rewarding. Not only can you create your own design, but it allows you to learn the pineapple stitch.
Besides, this project does not require supplies, so it's perfect if you don't have any fabric or threads on hand. The tutorial doesn't include step-by-step instructions and pictures.
However, it does include the pattern, so you should attempt it only if you're already familiar with stitching techniques.
If you're comfortable with basic stitching, this project should be suitable for beginners. You can find this tutorial on Gathered.
This craft idea feels very elegant and original. Besides, you can use as many colors as you want and create a design that feels very personal to you. Your tea towels will never look dull again.
12. Floral Meadow – Embroidery Patterns
Making a floral meadow is one of the most accessible embroidery patterns on this list. But it still requires time and effort becauseyou have to stitch different flowers to complete the project.
Like many other projects in this post, it's perfect for beginners trying various stitches. The tutorial includes step-by-step instructions and plenty of pictures.
Furthermore, you can create this embroidery pattern with your favorite colors so that the flowers reflect your personality. You will find this tutorial on Hodge Podge Craft.
13. Bloom Hand Embroidery Pattern – DIY Embroidery
The bloom hand embroidery pattern doesn't require any specific supplies. It includes some simple flowers that you can complete in a short time.
The tutorial is detailed and easy to follow, but the images are not step-by-step. On the bright side, there's a video for the stitch-along, making this project user-friendly, even if you're a beginner.
What's more, you can replace the word Bloom in the middle of the pattern with any other word you like. However, you'll need to ensure it doesn't go out of bounds. You can find this tutorial on Cutesy Crafts' website.
14. Easy Embroidery Patterns with Flowers and Writing
This simple embroidery pattern won't take much of your time. However, you have to pay attention to the stitches used because it has many curves and angles.
It's recommended for beginners who wish to practice different stitches without investing too much time into a project. Although the guide is thorough, it doesn't include any step-by-step pictures.
On the bright side, it has a guide for each stitch type. You can find out more at Dabbles And Babbles.
This design has simple colors and shapes, making it ideal for beginners who want more practice with small stitching projects. Plus,you can change the text to suit your needs.
15. Choose to Believe – Simple Embroidery Flowers
This simple flower pattern provides beginners with a great way to practice basic stitches. Cutesy Crafts' tutorial should be clear enough to help everyone create the project.
There are no step-by-step images to help you understand what you need to do. However, the pictures are self-explanatory, so you should have no trouble following the instructions to create an awesome project.
On top of that, it includes a template for tracing and cutting out your embroidery design before stitching. All you have to do is sign up for a free email newsletter, and you should receive various free patterns in your inbox.
16. You Will Forever Be My Always – DIY Embroidery
Flamingo Toes' tutorial is detailed and easy to understand, mainly thanks to the step-by-step images. If you follow it closely, you'll be able to create the project without too much effort or problems.
Since it's a simple pattern that requires little time and materials, this is ideal for beginners who want to practice more often. Besides, it doesn't need specific supplies or materials, making it inexpensive.
Depending on the used material, you can create the embroidered pattern in any size you want. Plus, it includes a template to help you trace and cut out your design before stitching.
17. Love without Reason – Floral Embroidery Patterns
With time and effort, you can create this project for yourself or as a gift. If you're new to embroidery, this is an excellent way to practice basic stitches with no additional knowledge required.
There are plenty of images to help you follow the steps and learn various stitches. It's also easy to customize the pattern to create something that fits your needs or tastes. You just have to choose the right colors and change the text.
Down Grapevine Lane has a detailed tutorial with step-by-step images that will quickly help everyone create this project.
18. Floral Unicorn Embroidery Pattern – Embroidery Flower Design
Embroidering a unicorn with flowers is cute for kids and ideal for beginners who want to practice more often. It doesn't require many tools and materials.
There are plenty of images that will help you follow the tutorial and learn different stitches. Because this pattern is symmetrical, it looks great as a wall or door decoration. For instance, it would look great in a nursery.
Cutesy Crafts has an in-depth guide with plenty of images that will help you complete the project without too many problems.
19. Embroidered Bouquet – How to Embroider Flowers
As the name suggests, this design is all about flowers. It's a simple but elegant pattern for beginners who have just starting learning stitches.
Down Grapevine Lane is an excellent starting point if you have no idea how to embroider. You can use it to practice while creating something nice simultaneously.
There are plenty of images to help you follow the instructions and learn the stitches. You can make it as a wall decoration or add it to another embroidered piece of fabric such as curtains, cushions, pillows, or more.
Likewise, you can create this pattern in any size you want by choosing suitable materials.
20. Floral Stitch Sampler – DIY Embroidery
The floral stitch sampler from Instructables comes with everything you need to get started – minus the materials, of course.
It's an excellent project for beginners new to embroidery since it doesn't require many tools and materials. The guide is accompanied by helpful pictures and intuitive instructions, demonstrating each stitch in detail.
The pattern itself can make a great present for your friends, family members, or loved ones. Once you have all the materials ready, it's just a matter of putting together the different elements on the fabric and embroidering them one by one.
With this design on your wall or embedded in another piece of fabric, everyone will be able to see what an accomplished embroiderer you are.
21. Floral Name Embroidery – Embroidery Patterns
Have you ever had your name embroidered? If the answer's yes, you know how nice it feels to see it displayed like that.
This embroidery design is perfect for anyone with a loved one who would appreciate having their name stitched somewhere. It doesn't matter whether it's your partner, friend, family member, or pet.
They'll be over the moon if you make them this little present. The pattern is easy to follow because it comes with detailed photos that will help you understand each step.
Follow Cutesy Crafts' tutorial, and you should be able to finish the project in no time.
22. Heart Made of Flowers – Flower Embroidery Pattern
Flowers and hearts are pure symbols of love, and there's no better to combine them than by making a heart made of flowers.
Unfortunately, it doesn't have the word Love stitched onto a piece of fabric, but if you're advanced enough, you can add it yourself. It's not that difficult since the tutorial has all the necessary instructions.
Once you're done, all that's left for you to do is hang it up on your wall or add it to another piece of fabric. An excellent present for Mother's Day, Valentine's Day, a loved one, friend, or family member, this design will make anyone feel special.
Go to Cutesy Crafts to learn how to make this embroidery pattern.
23. Fall Leaf Pattern – Simple Embroidery Patterns
Yet another floral (sort of) embroidery pattern from Cutesy Crafts, this fall leaf pattern is here to impress. It's a little more complicated than the name embroidery design featured above but not impossible.
The tutorial has enough images to guide you every step of the way. But you'll need several tools and materials to complete this project.
The finished product is eye-catching and beautiful, so you can hang it in your home or office. However, it will also make a lovely gift for a friend or family member, especially if they love autumn and all things related to this season.
24. Blossom Embroidery – Flower Embroidery Pattern
Shiny Happy World has an adorable mini-collection of free embroidery patterns to explore. However, we loved the blossom one the most, which is incredibly easy to do, yet visually appealing.
It's the perfect project if you're new to embroidery and want something simple to start. This blossom pattern doesn't have detailed instructions on how to get the process done.
It only comes with an example of how it should look at the end, so you'll know exactly what to expect. On the bright side, it offers a free embroidery pattern for download and a video on making French knots.
The best part is that you can start making other blossom embroidery designs once you finish this project. There are plenty of tutorials on Shiny Happy World's website, and they're all easy to follow.
25. Cactus Embroidery – Hand Embroidery Designs
The author called this design Can't touch this, and we thought it was a clever play on words. What, don't tell us you're constantly hugging cacti.
Anyway, this is another lovely hand embroidery design that requires just basic stitches. You could download the pattern for free and use it to practice your stitches.
The pattern has four thorns at its top with leaves below. You could also add touch me or something else witty to the design.
Afterward, you can hang it up on a wall in your bedroom, hallway, living room, etc. It's also a great gift idea for your cactus-loving friend.
Learn more about how to make this pattern at Flamingo Toes.
26. Sloth Floral Embroidery Pattern – Hand Embroidery Patterns
Who knew sloths, flowers, and embroidery would go so well hand in hand? This pretty design comes from the creative hands of Cutesy Crafts.
It requires some basic stitches, and it's not overly complicated. So, if you're a beginner and want something super cute to start with, this is the perfect project for you.
Afterward, you can gift the embroidered patterns to your family and friends or keep them for yourself. Although they'd make lovely gifts, sloth embroidery would also look adorable on your wall, pillows, or clothes. It's up to you to decide what to do with them.
27. Red Flowers Embroidery Design – Flower Patterns
Embroidery is the art of decorating fabric with threads. There are many interesting patterns to choose from, but we've selected this particular one because it's easy enough for rookies.
It's also cute and straightforward enough that kids would love it too. If you're looking for a mind-relaxing project, this is the one to pick.
If you don't have a hoop, you could probably use a simple frame from an old picture to hold the fabric in place while working on the embroidery.
You can find this awesome embroidery pattern on Cutesy Crafts.
28. Countryside Flowers – Embroidery Patterns
There are several reasons to love this design. You could use it to promote your country lifestyle or show off your love for flowers.
First of all, it's just a beautiful flower pattern that you could use for plenty of things – embroidery, picture frame decoration, pillows.
After downloading the pattern, you can start the stitching project immediately. Another great thing about this design is that it doesn't require too many stitches. It's also not overly complicated, making it a superb choice for rookies.
You can find the free pattern on Lovecrafts.
29. Provence Bouquet – Embroidery Flowers
The French region of Provence is a colorful and picturesque place. And this embroidery pattern was inspired by the Provencal French flowers and colors.
It's a combination of hand embroidery and cross-stitch designs, so it looks gorgeous in any setting. You can use it to create pillows or framed pictures.
The best thing about it is that it's not overly complicated, so you could use it to practice the basic stitches. The whole pattern is relatively large – the finished size is 8.27×11.69 in (21×30 cm), perfect for almost any wall in your house.
You can find the free downloadable pattern at Lovecrafts.
30. Floral Kaleidoscope (Mandala) – Flower Embroidery Patterns Free Download
If you're looking for a pattern to take your mind off things and relax, this is the one for you.
The author recommends using a hoop to work on the details of the design. All colors come from hand embroidery floss, making it beautiful, easy to make, and cheap.
The finished size is 6×6 in (15×15 cm), making it a good fit for your bedroom, living room, or even kitchen walls. It's an elegant pattern that will look great in any home or office setting.
Plus, you'll probably find it relaxing as you watch the floral kaleidoscope unfold before you. You can get this pattern at Lovecrafts.
31. Bee with Flowers – Free Flower Embroidery Patterns
Here is a lovely pattern to help you learn flower embroidery, which uses just several floss colors.
You can use this pattern for pillows, framed pictures, and just about anything else your imagination dictates. The design itself measures 8×7 in (20×18 cm), so it's just the right size for your favorite wall.
Plus, there are instructions online on adapting the design to make it larger or smaller. You can download this pattern at Lovecrafts.
32. Love Floral Wreath – Flower Patterns
The love floral wreath is a gorgeous pattern that consists of just a few lines. It saysLove in the middle and would look stunning no matter where you decide to place it. It's a perfect pattern for couples who want to make something special for their homes.
Besides, you can use it as a wall decoration, a pillow, or framed picture – the choice is yours. You'll need a hoop to work on the details of the pattern, but that will do little to impede your freedom.
The finished size is 8×5 in (20×12 cm). But the good news is that you can make it in any preferred size and color, so make sure to explore various options.
You can download the completepattern atLovecrafts for free.
33. Summer Party Bouquet – Flower Embroidery Designs
The summer party bouquet is not only an embroidery pattern but also a design you can use for wall art and anything else you can think of. You could make this flower bouquet the centerpiece of your table or hang it on your wall – whatever works.
The pattern consists of many different flowers, and there are not too many leaves included. Thus, if you want to make the design look even more real, feel free to add some leaves of your own.
The pattern is not complicated, making it perfect for beginners looking for easy designs to try out. You could also use it as a base for something more complex.
You can download it at Lovecrafts free of charge, so sign up now and enjoy your pattern.
34. Ornate Cat with Flowers – Printable Flower Embroidery Patterns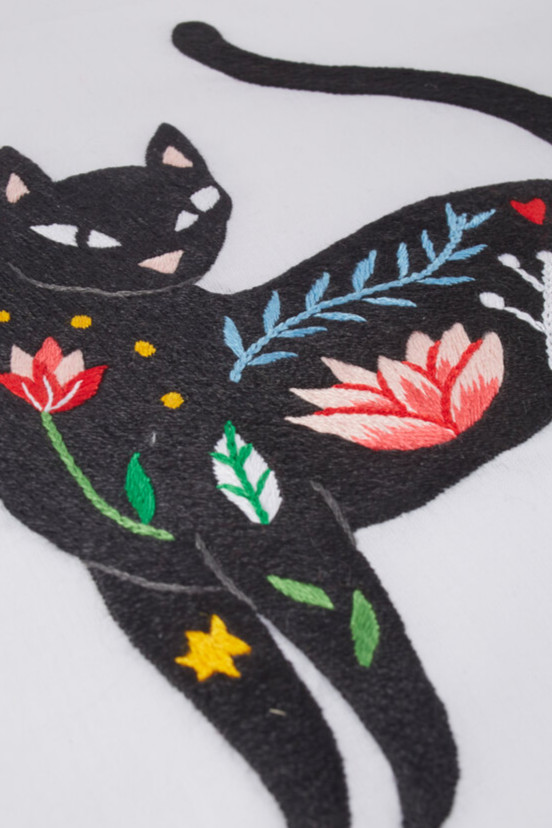 The ornate cat with flowers is a cute pattern that will look good on pillows, framed pictures, and anything else. It's a sweet floral design with a black cat in the center. The finished size of the project is 5×5 in (13×13 cm), so it's just perfect for smaller surfaces.
The only drawback is that the pattern is rather complicated for novices. Still, if you decide to make it, you'll have a sense of accomplishment that you finished something truly stunning.
You can also use it as a base for more color and make it truly unique. You can download this pattern at Lovecrafts.
35. Flamingos and Flowers – Free Embroidery Patterns PDF
Embroidering flamingos and flowers is a complex project that you can use as an elegant wall decoration or framed picture to hang on the wall.
It's even suitable for pillows and cushions. The product measures 29×19 in (73×50 cm), so feel free to experiment and use it differently.
If it's too large for you, you should adapt it to a more petite frame. Don't know how to do it? Then maybe skip this one altogether, or perhaps you could look for online instructions on scaling embroidery patterns.
The pattern includes two flamingos, mirrored, among various leafy plants, such as Monsteras and Ficus trees. The background is covered in multiple types of flowers; it's not complicated but charming and sweet.
You can download the complete pattern at Lovecrafts for free.
36. Desert Landscape – Embroidery Pictures
The desert landscape is a lovely project that will look good on any surface. It's a simple pattern with sand, a sun, and various plants.
The foreground includes neatly arranged cacti so that the design doesn't feel overwhelming. If you're handy enough, you could even add small lizards in the leaves next to the flowers.
The design measures 12×8 in (30×20 cm), making it suitable for pillows, cushions, and similar projects. However, if you want to make it even bigger, feel free to scale the design with online instructions on how to do so.
The pattern is available at Lovecrafts.
37. Cherry Blossoms – Printable Flower Embroidery Patterns
This pattern of cherry blossoms is straightforward and charming. It has a single Japanese Cherry Blossom in the middle, with various flowers scattered around.
The pattern size is 6×6 in (15×15 cm), which makes it suitable for use on smaller surfaces like pillows or cushions. You can quickly scale it up or down, should you wish to do so.
Note that if you reduce the size, the pattern might get too small to be recognizable. Still, it's the perfect choice for smaller projects like cushions and other instances where you wouldn't expect a big design.
Make sure to stitch it onto a light-colored fabric, as it might show through darker colors. The complete pattern is available at Lovecrafts.
38. Autumn Silver Birch Tree – Embroidery Flower Patterns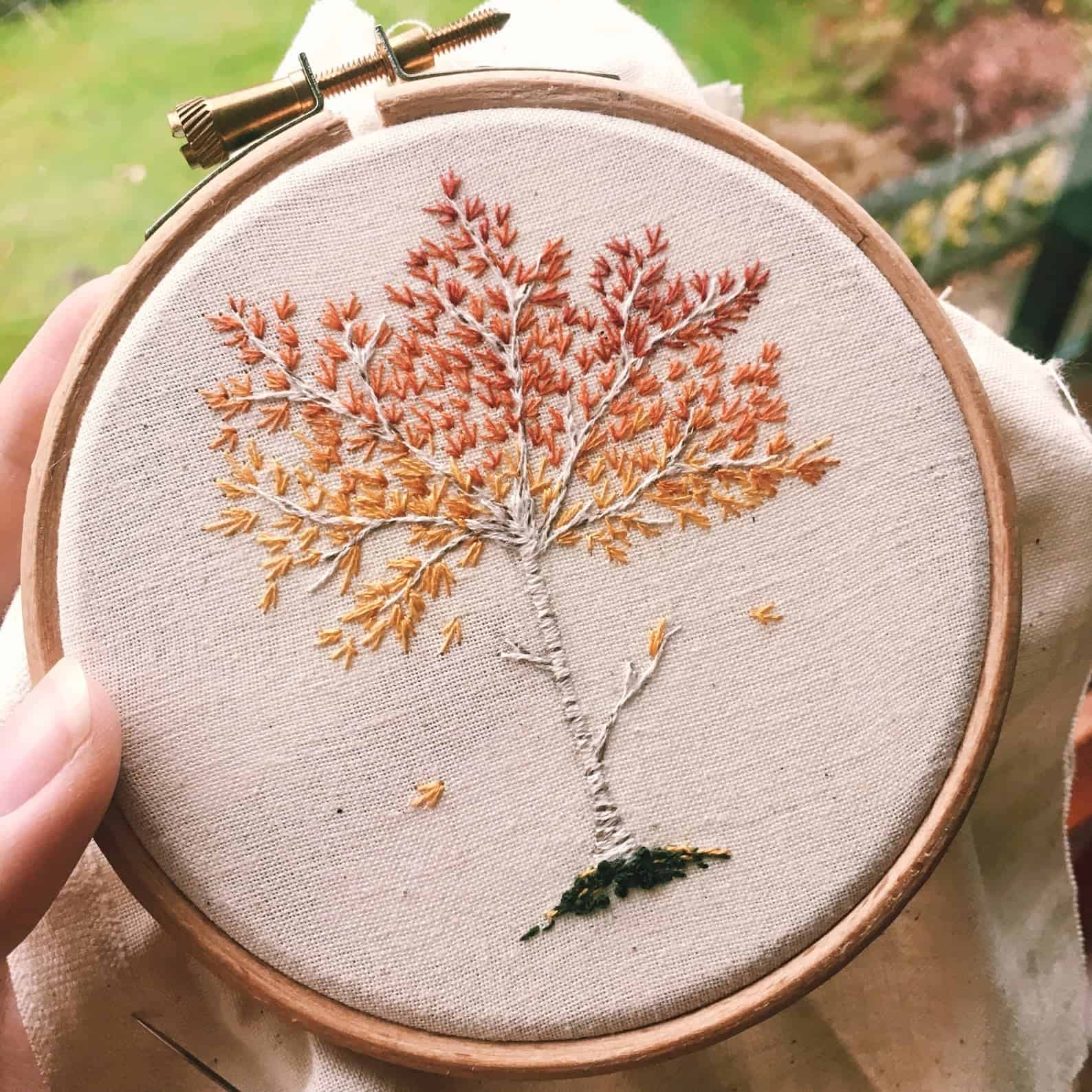 This autumn silver birch tree embroidery pattern kit from Etsy can bring your full circle from spring through the fall. It's a beautiful addition to a funky gallery wall or even the little one's nursery. And you can change the colors to reflect the tones you already have in the house.
39. Garden Roses & Sunflowers
Here's another DIY hand embroidery pattern on Etsy, and this one includes both garden roses and sunflowers. Whip this one up for your best friend's birthday or gift it to your mom for Mother's Day. These projects are the perfect DIY gift ideas. But it's also equally as fun to make for yourself and then hang in your bedroom near your makeup vanity.
40. More Garden Roses – Simple Flower Embroidery Patterns
We're swooning over how romantic this one is. The blush, the cream, and the green thread come together so beautifully to create an elegantly finished project. These hand embroidery garden roses come with a PDF pattern and digital tutorial to get you started. You can find it on Etsy.
41. Tiny Bees
Bring some buzzing bees into the fold with this tiny bee embroidery pattern from Etsy.
42. Blue Koi Fish
Here's something a bit different. This blue koi fish from Etsy can be embroidered onto a pillow – although it would look lovely on a hoop, too. Show this one off on your covered porch, dining room, or kitchen breakfast nook.
43. Rainbow Spiral Embroidery
We've found an excellent project for the kiddos to try or you to get your hands dirty with. It's not only cheerful and charming, but the rainbow spiral embroidery pattern from Etsy is perfect for beginners as it is fashioned for a novice in needle-working.
44. Rainbouquet Digital Pattern
This is one of the most unique designs we've seen. The rain bouquet digital pattern from Etsy brings happiness to an entirely new level by combining rainbows and bouquets all in one. How gorgeous would this be in the kiddo's playroom or nursery?
45. Wildflower Bouquet – Flower Patterns for Embroidery
Of course, a bohemian pattern may be more your speed. And that's where the wildflower bouquet embroidery pattern from Etsy will come in handy. This is a beginner's level pattern so keep that in mind if you've never embarked on embroidery before. Notice that this is just the pattern – you'll have to snag the supplies on your own.
46. Creative Flowers & Herbs Embroidery
We love this easy needlepoint pattern as well. This creative flowers & herbs embroidery from Etsy is beautiful for those with a more traditional, old-age style. But it's also a great project to test your skills with – once bought, you can download the pattern instantly.
47. Spring Honey Floral Wreath
Here's another elegant beauty that we're loving. The spring honey floral wreath from Etsy would top off any door, window, or gallery wall in your home. Choose your colors wisely – although we love the rich tones found in this pattern.
48. Lilac & Cherry Blossom Embroidery
Even if you've never picked up a hook before, you'll be able to complete the lilac and cherry blossom embroidery from Etsy. Why? Because you get the pdf pattern and a video tutorial at your side, walking you through the process with ease and confidence.
49. Oh For F**k's Sake
Maybe you're a bit quirkier in your style, or you want to gift your sister something sassy. The oh for f**ck's sake pattern from Etsy will undoubtedly add the right amount of charm to any wall or any present you're making and wrapping up for a loved one. This one will do it for those who want true personality infused in their projects.
50. Colorful Marble Embroidery
And finally, we have the show-stopping colorful marble embroidery at our fingertips, courtesy of Etsy. Again, choose your colors, but show this beauty off all year round. Even neutral tones will have a particular charm and sophistication attached.
Conclusion
All things considered, these flower embroidery patterns are a good choice for people who want to try making their own designs or simply wish to embellish their surface of choice!
Any of these patterns will look good on pillows, cushions, and similar projects. They're all simple in design but charming, mainly because the colors chosen are gentle and not too vivid.
If you're starting with embroidery and want something simple, any of these options will be a good choice. Just keep in mind that they might get too small to recognize as much if you scale them up or down.
That said, any of these patterns will make for good additions to your home. Just print them off and get stitching!