15 Awesome Viking Themed Projects
Have you been watching the TV show Vikings on television lately and it's making you feel in touch enough with your inner warrior to try and teach your kids about viking history and culture? Perhaps your kids just started learning about vikings in school or became really intrigued by the time period after they saw the movie How to train Your Dragon? Either way, we're a little bit obsessed with viking themed crafts right now and we're also pleasantly surprised by how many cool viking themed crafting tutorials are out there to help us indulge that interest!
Check out these 15 DIY projects that will make you and your kids really feel like viking warriors by the time you're finished.
1. Cereal box viking helmet
What better way to really enjoy your crafting process than to upcycle something while you're at it? Kix Cereal happens to agree! They'll show you how to turn regular cardboard pieces from an ordinary cereal box into a mock viking helmet that's perfect for sailing a pretend longboat.
2. Juice carton viking ship
Are you fresh out of empty cereal boxes but you're still love to get your kids crafting with readily available kitchen supplies? Then grab your nearest empty juice carton instead! We adore this easily made longboat by Happy Brown House because the juice carton does all the hard work by giving you the shape and you can simply help your kids embellish their boat however they please!
3. Water bottle viking boat
Do you like the idea of helping your kids make their own viking longboat but you'd prefer to help them make one that will actually float, rather than getting soggy and sinking like the one above would? Then try following in Mama's Kram's foosteps and making he base of your boat out of empty plastic water bottles instead!
4. Authentic viking bread recipe
Not every viking related DIY project has to be and artsy craftsy one meant for little kids. Believe it or not, there are still many age old viking recipes kicking around that will let you play viking in the kitchen too, whether your kids are old enough to help you or not. Check out this authentic recipe for viking bread on Raising Lifelong Learners.
5. Viking brooches
Have you always loved the iron, copper, and bronze jewelry that you've seen in pictures of vikings but you've never seen anything similar in modern, mainstream stores? Try making your own instead! You don't have to break the bank to make novelty viking jewelry; simple use some tinfoil, copper wiring, and rhinestones to make the rune-like markings, just like Angelic Scalliwags did here.
6. Viking runestone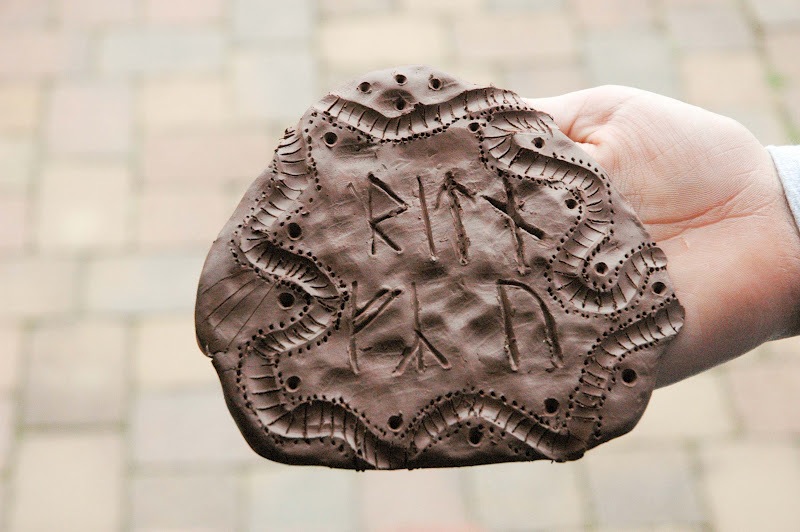 Speaking of viking runes, have you ever looked up the language and markings and investigated what your favourite quote or the names of your loved ones might look like? Well, Home School Days suggests using modeling clay to scratch the symbols onto the surface and create a runestone just like you might have found in viking villages thousands of years ago.
7. DIY viking Kubb set
Historical accounts of daily viking society have taught us about a game called Kubb. If you ask us, this will be one of the most interesting viking crafts of all to your kids because it's an interactive one that they can actually play with after, and they'll learn from doing so. Check out how Sustainable Living Projects made this authentic Kubb set out of three short wooden blocks and five sharpened sticks.
8. DIY aged viking map
Maybe your kids are so intent on playing viking that they're been begging you to help make them props for a while now, but you're ready to go all out and really give them the full "viking experience"? Then they're going to need a map for going on voyages! Check out how Angelic Scalliwags made this "authentic" viking map from modern graphing paper!
9. Easy viking lunch
Have you and your kids been making viking crafts all day and now it's time for lunch, but they're just not ready for a break from all the themed excitement yet? Then make sure lunch follows suit! We love the way Happy Brown House shaped the top of the sandwich, gave it banana horns, and used raisins and pretzels for some detail in order to make an awesome little viking helmet meal.
10.Leather iron age shoes
Perhaps you're actually the one with the viking intrigue, rather than your kids, and you're looking to make yourself a DIY craft that you might actually use and feel rather proud of? Then we definitely suggest these gathered leather shoes that are actually an accurate representation of what women would have worn in the Iron Ages when vikings ruled. Get the pattern for creating your own pair of leather shoes from Earth and Living.
11. Cardboard viking shield
Did your kids love their cereal box helmets so much that they're back and begging you for more easy viking gear that won't take long to make? Then grab the next closest cereal box and get to work on this adorable little cardboard viking shield! Kix Cereal shows you how it's made.
12. Painted paper vikings
Sometimes you just can't beat a little bit of classic paint and paper crafting time! Just because you've handed your kids standard painting supplies, however, doesn't mean they can't still incorporate their love of viking stories into their arts and crafting time. Check out these hilarious little painted vikings on Painted Paper Art.
13. Viking hat cake
Maybe your kids love vikings so much that they actually asked you to throw them a viking themed birthday party? Well, if you ask us, we think that sounds like a great idea! We're also glad to report that Bombshell Bling has you covered when it comes to the party cake because they've already made a cake design that looks like a classic horned viking's helmet!
14. Backyard viking play tent
Have you and your kids just finished reading about viking shelters and homesteads, talking at length about how they built their homes on the road as they went off to grand expeditions throughout the lands? Well, then we think they'll pretty excited to read about how Adventure in a Box made this gorgeous viking tent in their backyard and then outlined the process so that you can make one too!
15. Clothespin dragon
Okay, okay. There's no real historical or scientific fact confirming that vikings actually had dragons that they battled or tamed and flew around on. The dragons were, however, a symbol of power and success in viking society, so we figured we'd be safe putting at least one viking themed craft on this list! This adorable little dragon is actually made from a clothespin and some construction paper, which we think is fantastic.(found on Kix Cereal )
Do you know someone who loves Viking era things as much as we do? Share this post with them for a little bit of crafting inspiration!