25 DIY Yarn Wall Hangings
Wall hangings made with yarn are all the rage these days, and with good reason… they add some serious bohemian charm to any space, and they also use up all that leftover yarn you probably have laying around. Keep reading to check out 25 of our favorite DIY wall hangings made out of yarn scraps.
1. Stitched Embroidery Wall Hanging
This colorful wall hanging is made with lots of different yarn scraps, stitched in a random manner that gives it a very organic and freeform sort of vibe. And it's a great way to get rid of leftover yarn! Head over to Lebenslustiger to check out the tutorial.
2. Fringe Wall Hanging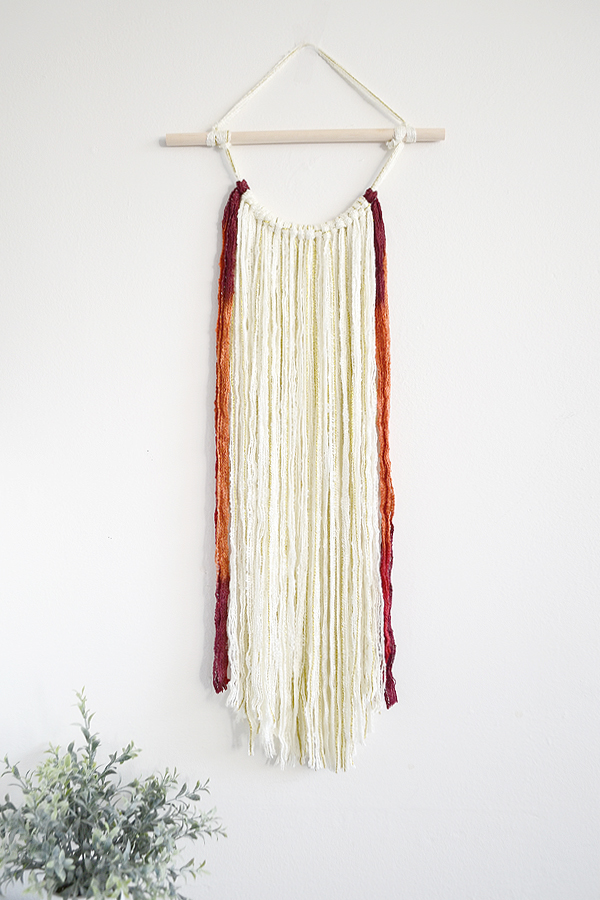 This simple wall hanging has fringe along the bottom in a cream colored yarn, with copper brown accents along the sides. And you won't believe how easy this one is to make! Head on over to Drawn To DIY to find out all the details of this stylish little piece.
3. Mop Head Wall Hanging
This textured wall hanging is made with contrasting yarn colors, along with a couple of wooden beads and some mini pom poms. The key is to layer different shapes and lengths over one another. Make your way over to Cuckoo 4 Design to check out the tutorial.
4. Wreath Wall Hanging
This uniquely shaped wall hanging has a shape similar to a holiday wreath, and it is made by weaving bulky yarn in and out through a round wreath form. Add a big pom pom for a finishing touch! Head over to We Are Scout to see the whole how-to.
5. Mini Wall Weaving