25 DIY Save-the-Dates To Start The Festivities!
Once the Save-the-Dates are sent, the official wedding festivities begin! And if you want something custom, personalized and homemade in spirit, then you're going to have to do just that – make them yourself! Take a peek at these 25 DIY Save-the-Dates to get the party started!
1. Pencil Us In
Smitton On Paper shows us how to make some pencil-inspired pieces. Make sure your guests pencil you into their calendars and don't forget to "save the date!"
2. Champagne
Send some special loved ones an extra-special save-the-date. With a bit of bubbly, DIY Network shows us how to make a big splash.
3. Luggage Tags
According to Elle made luggage tag save-the-dates that are perfect for destination celebrations. Style it according to the venue!
4. Mini Canvas
Brooklyn Bride made tiny canvases that can be displayed around your loved ones' homes. They're never forget your date with these little pieces of art.
5. Graph Paper
Here's another great way to really get your handmade experience on. Oh So Beautiful Paper took some graph paper and got really creative.
6. Confetti Popper
Oh Happy Day made confetti poppers that your guests will have a ball opening up when they receive them in the mail! You can even hand deliver some of these cuties.
7. Paper Dolls
Personalized paper dolls could be a fun way to spread the news. Follow along with the tutorial over at Happiness Is.
8. Insta Magnet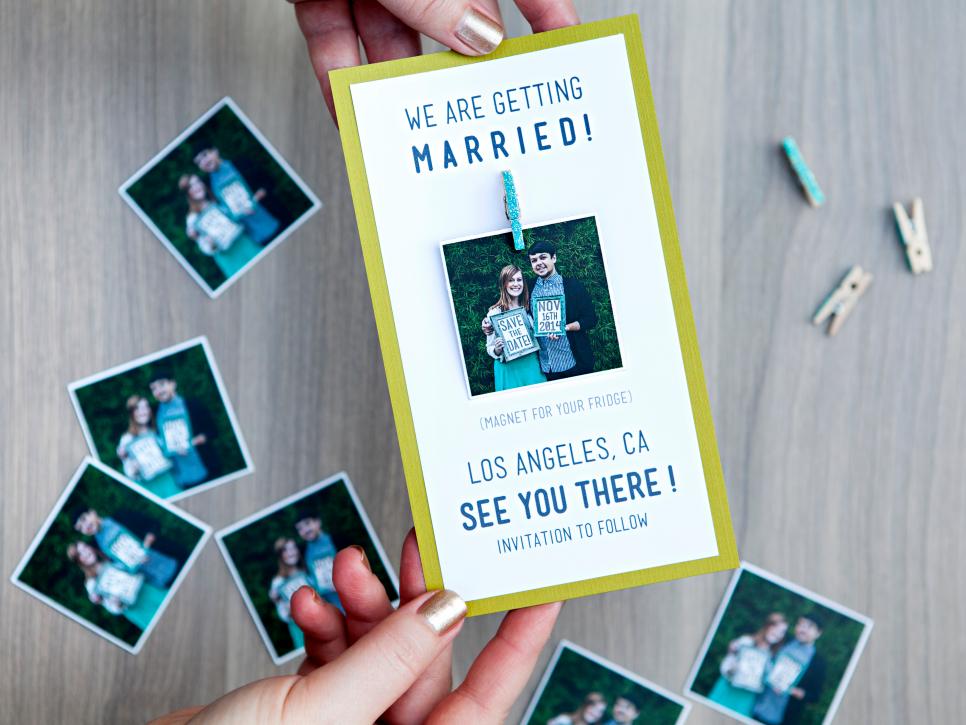 Create a magnet made from insta photos with some help from DIY Network. Your friends and family can pop them right onto the fridge and never forget!
9. Origami Hearts
Eat Drink Chic whipped up some fun, origami hearts to share the news. We love this handmade, romantic vibe.
10. Sprinkle Bag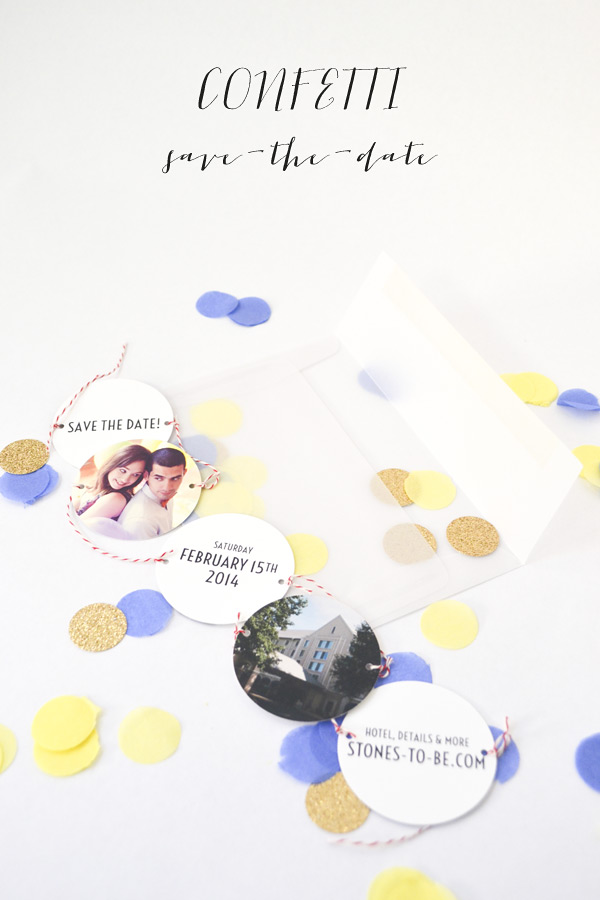 Similar to the confetti poppers, Ruffled made some bags filled with sprinkles and confetti that will give the same celebratory vibe off. Check out the details after the jump.
11. Fringe Heart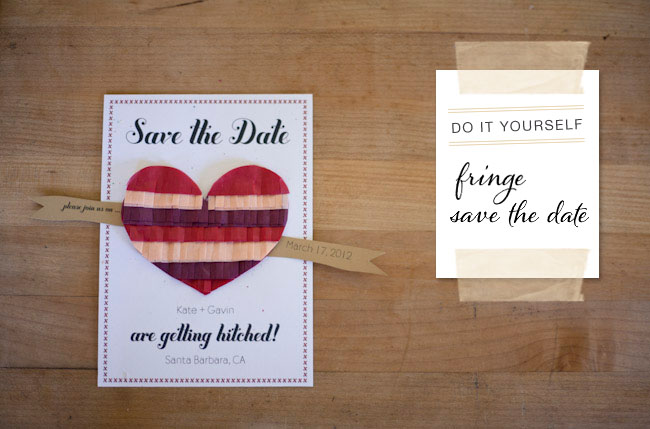 Green Wedding Shoes created this boho-inspired, fringe heart that we're loving. And, yes, you can easily recreate this fun design at home.
12. Dish Towels
Wedding Chicks gave some of these dish towels away at one point, but we're loving the inspiration. If you know how to print on cloth, this is such a fun idea!
13. Paper Airplanes
Send out some paper airplanes with the help of Wedding Chicks. Pick out fun paper or even maps that include the destination of the event.
14. Scratch Off
Bridal Musings showed us a variety of ways to make some "scratch off" save-the-dates. Have you guests participate in the fun and the big reveal!
15. Fingerprints
We found this inspiration over at Emmaline and couldn't help but think how easy and fun his would be to DIY at home. With a bit of paint or ink, you and your beau can do it too.
16. Watercolor
Oh So Beautiful Paper teaches us how to watercolor! We're loving this romantic and artistic creation … and so will your guests!
17. Plant Marker
Your love and your loved ones plants will continue to grow with these DIY save-the-dates. Check out these plant markers over at Oh So Beautiful Paper.
18. Simple Photos
PopSugar gave us ton of inspiration to mull over. But, a simple, personalized photo could be your key to the most perfect save-the-date yet!
19. Library Card
Buzzfeed featured this easily DIY-able library card Save-the-Date. If this matches your couple style, grab some cards from Etsy and make it your own!
20. Gold Embossed
Oh So Beautiful Paper brings us this stunning gold embossed save-the-date and we're wowed at home easily we can recreate this at home. Check it out after the jump!
21. Photo Printable
The Pretty Blog gives us a free printable to utilize. Jump on over and grab the details for this simple and chic save-the-date!
22. Tying the Knot
Natural Wedding Company takes the entire celebration a bit more clever and literal. Tying the knot just went to an entirely new level with his save-the-date.
23. Sharpie Balloons
Have everyone celebrating with a balloon that has all the details! Something Turquoise shows us all the fun behind this idea.
24. Vintage Stamp
Oh So Beautiful Paper stamped out their save-the-dates. Check out how to get this rubber, vintage look down for yourself.
25. Insta Calendar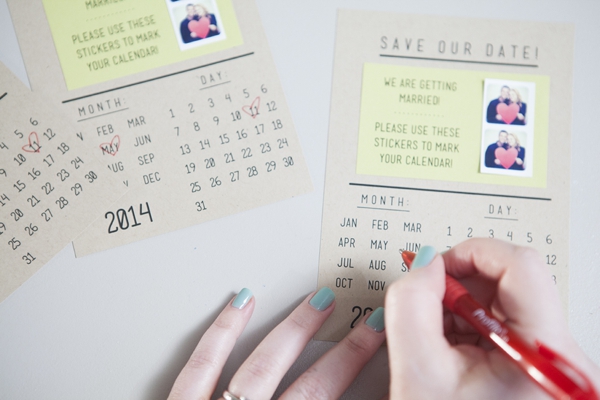 Something Turquoise does it again with this fun and trendy idea. An instal-inspired calendar will have everyone patiently awaiting your big day.