Showcase your favorite photos with this DIY Wood Slice Ornament.  Use it to showcase your favorite photos from the year or visits with Santa. It'll make a great addition to your Christmas tree!
Now that I have kids, an annual trip to see Santa has become a Christmas tradition.   Last year was their first year with Santa, and surprisingly, there were no tears.  I thought for sure our visit with Santa this year would bring tears from someone since the kids are a little older and more aware of their surroundings.  Once again, no tears.  So, we are two for two!
I now have four pictures of Santa – two from last year and two from this year. I figured I would do something with these photos instead of just tossing them into our Christmas storage box.  I decided to transform them into into a DIY Wood Slice Ornament.  My goal is to create these ornaments every year.  That is, until my kids no longer have any interest in visiting Santa!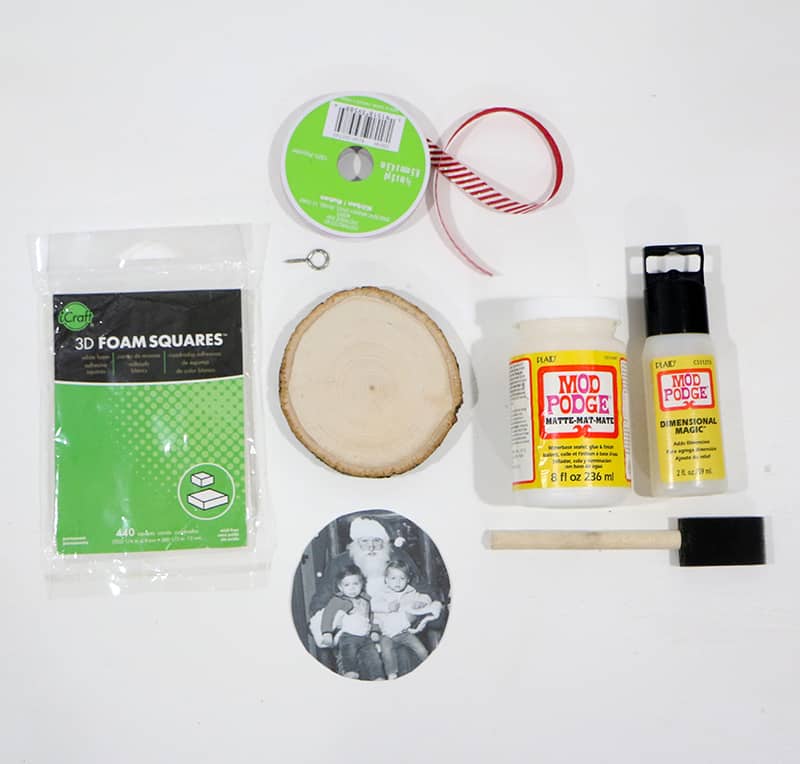 Supplies:
Wood Slice
Small Screw Eye
Ribbon
Mod Podge
Mod Podge Dimensional Magic
Scissors
Paint Brush
Hot Glue Gun
Foam Squares
White Cardstock
Photo
Here's how to make your own DIY Wood Slice Ornament:
Push your hook into the top of your wood slice and began twisting it.  Continue twisting until the screw is all the way in your wood slice.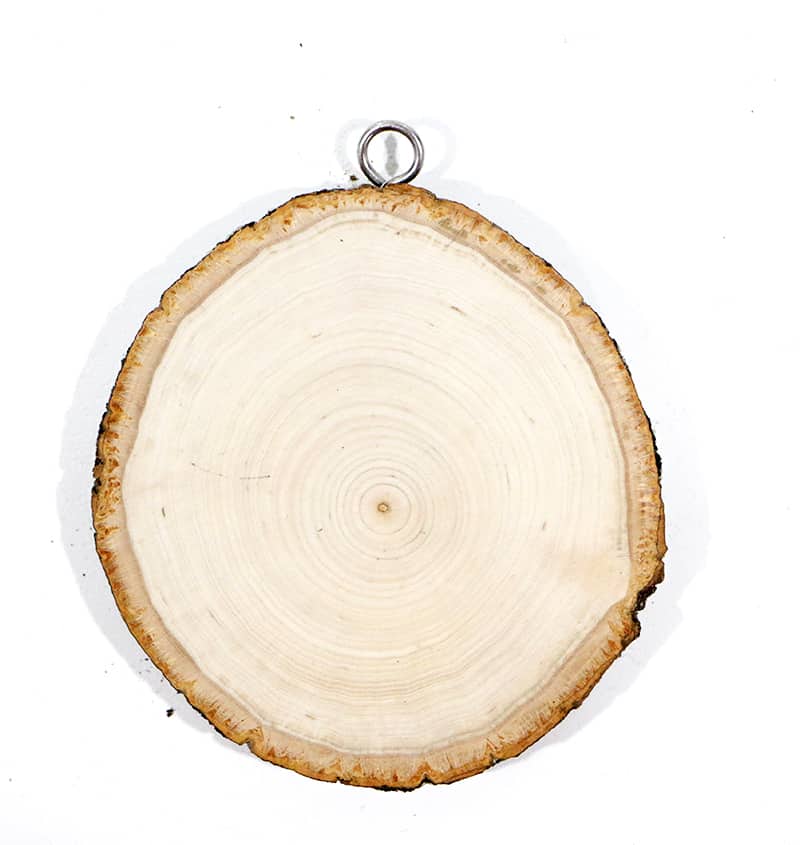 Lay your wood slice on top of your photo and trace around it. Cut out your photo. Then, trim around the edges about an eighth of an inch.  This will allow some of the wood to show.  Add a layer of Mod Podge to the back of your photo, making sure to add it all the way to the edges.
Glue your photo to your wood slice.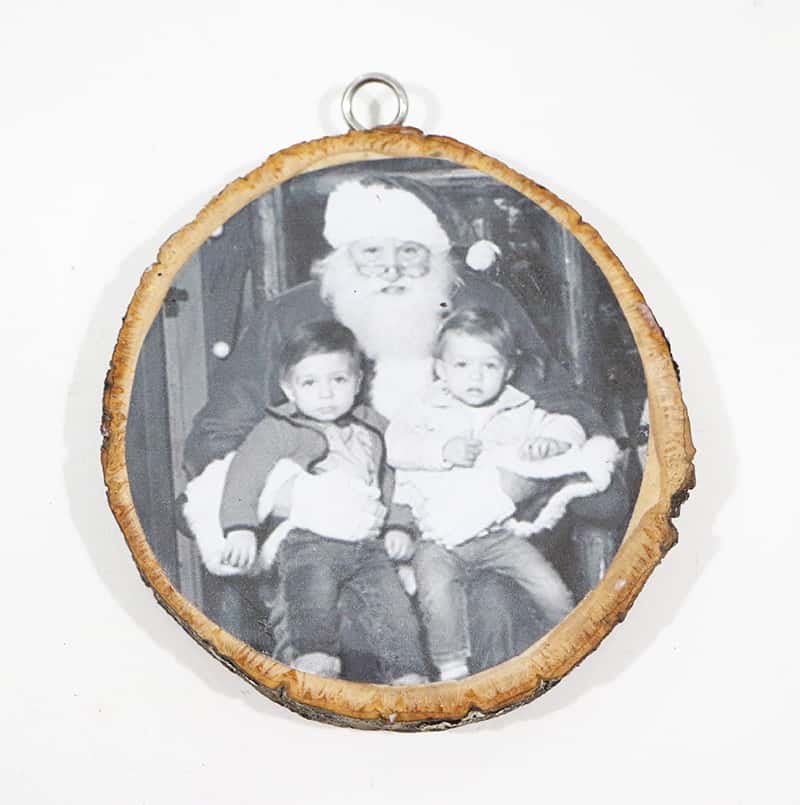 Next, begin adding a layer of Dimensional Mod Podge on top of your photo.  You'll want to start by creating a border around your photo extending it a little bit past your photo to seal everything in.  Then, fill in the entire photo with the Dimensional Mod Podge making sure not to create any air bubbles.  If you do get air bubbles, simply use a pin to pop them or push them to the outside of your photo.  Let the Dimensional Mod Podge dry for 24 hours to ensure it's completely dry.
Time to decorate your wood slice!
Either print or write the year on a piece of white cardstock.  Then, cut out a banner shape and add foam squares to the back.  This will make the banner pop.  Add the banner to the bottom of the wood slice.
Finally add some festive ribbon to your hook and top it off with a bow.  Use a hot glue to attach the bow to the hook.
I love that every year going forward I will have memories of the kids with Santa.  When they get older, they can re-create this DIY wood slice ornament idea with their own kids and display them on their own Christmas trees!