26 Creatively Clever Wine Bottle DIYs!
Instead of throwing out those old wine bottles, save them for later! You can use them to decorate, to display or, even better, to craft with! Just check out the 30 fun and charming wine bottle DIYs that will have you getting creative in this afternoon and making something with your two hands that will last a lot longer than just a simple glass of vino.
1. Spray-Painted
With a bit of spray paint you too can create some chic centerpiece for your dining room table, just like Homey Oh My did! We love the gilded gold, but you can really use any color or metallic shade for this project!
2. Geo-Drawn
Scrap Hacker shows us how to use some spray paint and make a geometric print with ease. You'll need some easy Sharpie markers too to make this happen, and even get the kids involved!
3. Table Numbers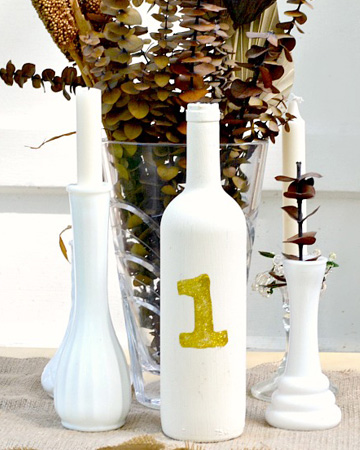 Hop on over to She Knows and learn how to make these charming and easy table numbers. Use them for when you're hosting parties at home or at your DIY wedding!
4. Silver Centerpieces
Style Sidebar shows us, step-by-step, how to make some of these glittering, sparkling beauties right at home for your own dining room table! Dress up the holiday or just your next dinner party with these shining new centerpieces.
5. Rustic Style
If you're into a more rustic style then you'll want to check out this DIY over at Sunshine Shoppe Supply. Cracked paints and twine are just some of the materials you'll need to get started.
6. Jewelry Display
Thirty One Bits created something truly innovative. Who would have thought to make an old wine bottle into a charming and adorable jewelry display? Color and design are you choice, but this idea is golden.
7. Boho Vases
Mom Spark took bottles and turned them into gorgeous cases. All with a beautiful, boho flair we love how each piece has its own personality. So just visit the blog and find out all the details for yourself!
8. Puff Accents
Everyday Dishes shows us how to utilize puff paint when creating a new vase out of some of the wine bottles we have laying around. This one will be fun for the kids to get involved with too!
9. Soap Dispenser
How does turning a wine bottle into a soap dispenser sound? Check out Real Coake and learn how to make one of these beauties for the guest bathroom!
10. Flattened
eHow presents us with one of the best ideas on the list! Learn how to flatten those wine bottles and create something totally unique, like this serving dish!
11. Candy Dispenser
Turn those bottles into candy dispensers for the entire family to enjoy. Check out Instructables for the easy instructions and stock up on some of your favorite sweet treats or small snacks.
12. Citronella Candles
Hello Glow has another innovative and creative idea for us to enjoy. Dress up the back porch and add some function as well with these DIY citronella candles.
13. Glitter Ribbon
Real Coake has another great DIY for us to try out at home. Use some glitter ribbon to add sparkle and shine to your bottles and create a fun centerpiece with them!
14. Classic Candles
I'm so in love with the simplicity of these classic wine bottle candles from Jetting to the Wedding. There's so much versatility wrapped up in these beauties and I'm swooning for all the possibilities!
15. Winter Centerpiece
Well, she did it again! Real Coake has so many wonderful ideas we just had to feature one more! Just look at this beautiful and sparkling winter centerpiece idea using wine bottles!
16. Pendant Lights
DIY Network shows off their beautiful wine bottle light fixture and we can't help but think about all the wonderful spaces it can be used to light up!
17. Bottle
Lana Red uses a wine bottle to create another type of light fixture: a table lamp! And we're in love! For the home office or the dorm room, this project brings a bout of hipster flair and personality to the space.
18. Festive Lights
Turn those wine bottles into a festive light display! Whether it's for a birthday or for the holidays, This Old House shows us how to transform the bottles into something entirely new!
19. Tumblers

Hop on over to Brit + Co to learn how to make these wine glass tumblers! They'll be a fun addition to your next dinner  party too – just learn how to cut those bottles safely!
20. Yarn Wrapped
These simple, yarn-wrapped pieces can be used as decor in so many nooks and crannies of the home. La Crema shows us how to make these in an easy afternoon!
21. Birdfeeder
The Garden-Roof Coop shows us how to make something functional and fun for the whole family – including the birds that hang around the backyard. It's an easy project, and one that can be done in a short time period.
22. Necklaces
Saved by Loved Creations turned parts of a wine bottle into a necklace! This is a great gift for loved ones, especially when that bottle comes from a special moment in time!
23. Lace
Hostess with the Mostess utilizes wine and lace in this gorgeous and easy DIY. We love this idea for decorating your own home or for DIY decor when its time to host a bridal shower or birthday!
24. Dipped
Hop on over to Homedit to learn how to easily dip your glasses into paint and come out with a fun design for the house. We love the color blocking here and realize how inspirational this project is as it opens the door to so many possibilities!
25. Fragrant Candles
Learn how to make candles and learn how to make them inside a wine bottle too! Visit Saved by Love Creations for all the details and instructions!
26. Heart Art
Open House featured this beautiful piece of art and since we fell in love instantly, we knew we had to feature it too! Again, you'll need to learn how to cut bottles in half safely to make this work – but it's so work it!