These 32 Crocheted Baby Accessories Will Look Adorable On Your Little One!
Are you good with a need? Can you whip up a scarf with ease or crochet a blanket in no time? Well, if you have a little bundle of joy on the way, you may just want to dive into some of these projects below! Check out these 32 crocheted baby accessories that will look absolutely adorable on your baby-on-the-way!
1. Bluebell Hat
Wonderful DIY gives us this beautiful pattern and idea for a bluebell hat for your baby! Whether it's for newborn photos or used as a springtime accessory, you'll have fun making this adorable new addition to the little wardrobe.
2. Sandals
Are these crocheted sandals found on Wonderful DIY not the absolute sweetest? If you're already a veteran crocheter you've got to make a set of these for the babies in your life!
3. Nike Booties
If you want to create some Nike-inspired booties for your babe, then you'll want to dive right into this Youtube video! For girls and boys, this tutorial will come in handy!
4. Cuddle Buddy
101 Crochet shows us how to make one of these adorable cuddle buddies for our baby! You'll get a free pattern too and have a friend for car rides and inside the pack and plays!
5. Colorblocked Blanket
Blankets count as baby accessories. You wrap the little ones up in them, cover car seats and the like so it's only natural that you have several to choose from. And this color blocked idea from Small + Friendly is perfection!
6. Bunny Accessories
Perfect for a newborn photoshoot, check out this adorable outfit from All About Ami. Have your new baby boy or girl sporting this charming look for photos that you'll have forever.
7. Moccasins
It's really hard not to fall absolutely head-over-heels in love with these baby moccasins – that you can make right at home! Grab all the details over at This Lovely Life.
8. Cardigan
Little Things Blogged gives us a way to make a sweet and cozy cardigan for both little boy and girl babies! Visit the site and snag the directions and get started on this project tonight!
9. Bow Headwraps
Are these bow head wraps not absolutely charming? Cover those little ears from the cold and give that tiny head some style with these accessories from Rams Leigh Crochet.
10. Lamb Bibs
You're going to be absolutely swooning over these quirky and adorable lamp bibs. My Hobby is Crochet gives us two cute styles for our children to dawn and we love them!
11. Heart Beanie
Add a bit of extra oomph to your classic baby beanies with a heart! Color + Cotton has the directions to help you get started on this sweet little project.
12. Bow Booties
Hopefully Honey gives us a pattern for making these "lemon drop" bow booties that will be the perfect addition to so many outfits for your baby girl!
13. Cowboy Hat
Check out this cowboy hat from KatiDCreations! How darling will you baby girl or boy look in this Western-inspired piece?
14. Princess Leia Cap
Who out there is a Star Wars fan? Get your baby started off right with her fandom by making this Princess Leia hat from All Things Belle.
15. Bunny Security Blanket
Crochet features this beautiful and adorable bunny security blanket that you can make for your little one to have for years and years to come!
16. Avenger's Caps
A Chick With Sticks shows us how to make all of these incredible Avengers hats for our little one to dawn. This too will get their little sense of fandom off on the right foot!
17. Monster Bibs
Repeat Crafter Me has some of the absolute best ideas. And these monster bibs were just too darn adorable not to share with you and hopefully you'll start making some of these cuties for your own little ones.
18. Beard Hat
How's this for a laugh? This beard hat from Ashlee Marie will have all the little men of the family making the rest of us fall to our knees with giggles and coos.
19. Simple Slippers
These simple slippers can be made with any color for any outfit for any baby! Check out this YouTube video to follow along and learn how to make some right at home.
20. Cupcake Hat
We told you, Repeat Crafter Me just has some of the absolute best ideas and here we are again with a cupcake hat that we're swooning over and think you will too!
21.  Rainbow Booties
If you want something with a bit more color, you'll have to snag this idea from Repeat Crafter Me. We love the fun colors and easy pattern!
22. Pearl Hat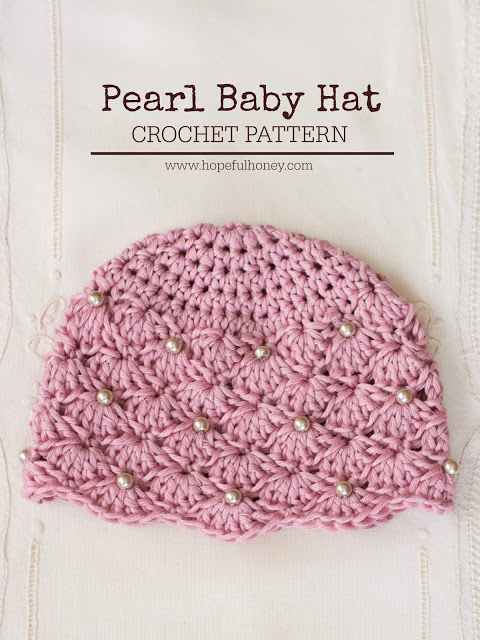 Hopeful Honey wants to add some pearls to your little gal's getup and we couldn't be more thrilled. Visit the blog for the free pattern and all the details!
23. Mittens
Dream A Lil Dream fills us with all of the warm and fuzzies with these baby mittens! You can make these in all kinds of colors, make gifts out of them and keep those little hands warm!
24. Cape
We think your little gal is going to look completely chic and adorable in this cape from Craft Passions. Various colors and embellishments can be added for personalization too!
25. Leg Warmers
Ink & Squid makes some simple baby leg warmers that will definitely come in handy during the colder months or at home during playtime – especially when the little ones start to crawl!
26. Aviator Hat
Repeat Crafter Me made this outstandingly adorable aviator hat that will have everyone around your little one oohing and ahhing. This also makes quite the baby shower gift idea!
27. Cupcakes
All About Ami makes some tiny cupcakes that your baby will love to play around with and take everywhere. Yes, even these little trinkets for tiny bundles count as accessories!
28. Turbans
Give your little gal a push of style with this idea from This Mama Makes Stuff. Go grab the tutorial, pattern and all of the details and then makes a whole set of colorful additions to your daughter's wardrobe.
29. Cuffed Baby Booties
You'll be able to make these with both boys or girls in mind! Hop on over to Repeat Crafter Me to gather all the details and know-how on how to create these adorable pieces.
30. Soft Play Blanket
Hop on over to Red Heart to snag the free pattern for this soft play blanket. Your baby will love how easy this is on their skin and be able to cozy up with it long after playtime is over.
31. Ballet Slippers
The Green Dragonfly shows us how to make these incredibly precious baby ballet slippers! How adorable will your sweet one look with these on those teeny tiny feet!
32. Owl Hat
Wonderful DIY does it again with this adorable owl hat. Perfect for both girls and boys, photoshoots or just to wear and keep warm on a chilly day, grab the pattern after the jump.