Vegan Cupcakes That Are So Good You'll Forget They're Healthier
Anyone who's been eating vegan for a while knows exactly how delicious vegan baked goods can be. For people who are new to the idea, however, vegan desserts and recipes often seem bland and "too healthy" to really be considered treats.
We're pretty sure one bite of any of these cupcakes could change their minds about that! Check how the most delicious types of vegan cupcake we could find.
1. Peanut butter chocolate vegan cupcakes by Happy, Healthy Life
Peanut butter and chocolate is one of the most decadent combinations around. It's rich and sweet, making it perfect for real dessert lovers. The best part of this particular recipe is that every ingredient involved is vegan-friendly!
2. Vegan pumpking spice cupcakes with "cream cheese" frosting by The Cozy Vegan
Vegans don't have to be excluded from the pumpkin spice trend sweeping the nation. Try making these aromatic cupcakes that will really open your non-vegan friends' eyes to how vegan desserts can taste just as good as- and sometimes better than- the classic recipe.
3.Vegan vanilla cupcakes by Veggieful
Not everyone is a fan of rich chocolate tastes. Some people prefer the lighter taste of fluffy vanilla cupcakes instead. This simple recipe gives you all the classic flavours of your standard vanilla cupcake, but with completely vegan ingredients.
4. Vegan peanut butter Oreo cupcakes by The Cake Merchant
Peanut butter is a beautiful ingredient because it complements so many other flavours. We love the idea of combining it with Oreos for an extra sweet (vegan) treat!
5. Vegan red velvet cupcakes by 40 Aprons
Eating vegan doesn't mean you have to miss out on the latest baking trends. Red velvet has been popular for a while now, but you'll still find it in every cupcake shop around! Naturally, there's a vegan alternative that we can't wait to try!
6. Vegan carrot cake cupcakes by Popsugar
Raisins, nuts, carrot cake, and mouthwatering icing. What more could we possibly ask for in a cupcake? These little vegan treats are like having your own personal carrot cake.
7. Gluten free vegan Mexican chocolate cupcakes by Simply Gluten Free
These cupcakes take the idea of vegan chocolate to the next level! Cinnamon and cayenne pepper amp up the flavour to a completely mouthwatering degree.
8. Gluten free vegan samoa cupcakes by Frank & Beans
Whether you're vegan or not, samoa cupcakes are literally one of the most delicious ingredient combinations we can think of. This particular recipe guides you through the process of making them just a little healthier and vegan-diet-friendly.
9. Vegan chocolate cherry cupcakes by Baked Bree
Who ever said vegan treats don't have flavour? These vegan cupcakes are full of amazing cherry taste and the best part is that they're actually made with real cherries rather than synthetic flavours!
Cupcakes don't have to be overly sweet and piled high with rich icing! They're called "cakes", after all, and there are many different types of cake to choose from. These individual coffee cakes are both vegan and delicious!
11. Chocolate chip "cheesecake"-filled cupcakes by Whole New Mom
Can you think of anything better than a treat within a treat? We sure can't. On top of being vegan, these chocolate cupcakes are filled with vegan cheesecake and chocolate chips. We're hungry just thinking about them.
Sometimes recipes that involve unconventional good combinations are the best tasting kind. We're pretty sure that theory holds true for this recipe that marries banana bread and French toast!
Raspberry cupcakes are already a delicious thing, but adding hazelnuts to the mix takes the flavour factor to a whole new level. Just make sure none of your guests have a nut allergy!
14. Vegan blueberry banana cupcakes with lemon coconut frosting by Vegan Yack Attack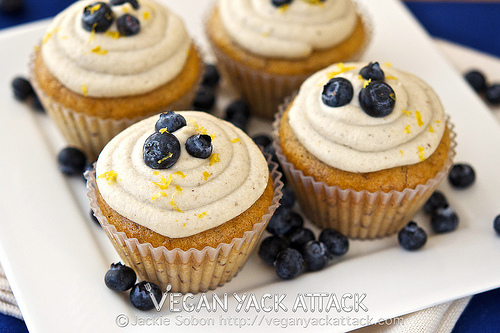 When we saw this recipe, we actually had to look twice to make sure we were reading it right. Beyond being vegan and more nutritious than your standard cupcake recipe, they're so full of fruity deliciousness that we might leave the rest of this post unfinished in favour of making them right this second.
We love the idea of adding a little crunch to an otherwise soft, fluffy cupcake, especially if it stays in the vegan realm and tastes like sweet, rich caramel! These ones are so good that your non-vegan friends will never guess the difference.
Do you have another favourite vegan cupcake recipe that you don't see on our list? Tell us all about it in the comments section!