These 18 Easy Tricks Will Have Your Garage Organized in No Time
Instead of stacking odds and ends on the tables, leaving cobwebs to cover the corners and having no designated spot to put the tools, take a weekend to revamp it! With these 20 easy tricks your garage will be organized in no time and the headache inside the house will be gone.
1. Colorblocked Walls
A Beautiful Mess starts us off with habit of inspiration on how to transform your garage into a space that's not only organized but stylish too. A bit of color blocking can go a mighty long way.
2. Pegboard Tool Wall
All you need is a pegboard to get your garage revamping project started. It's actually a fantastic pantry organization idea, too. Check out DIY or Diefor all the snazzy details.
3. Basket & Bins Storage
I Heart Organizingshowcased a fun way to take care of all the sports equipment in the house. Using a variety of colorful buckets and baskets, all you need is a shelf to get started.
4. Spice Containers
Homeditfeatured this little clever idea. Grab some spice jars and use them to conquer and divide your nuts, bolts, nails and more.
5. Screwdriver Rack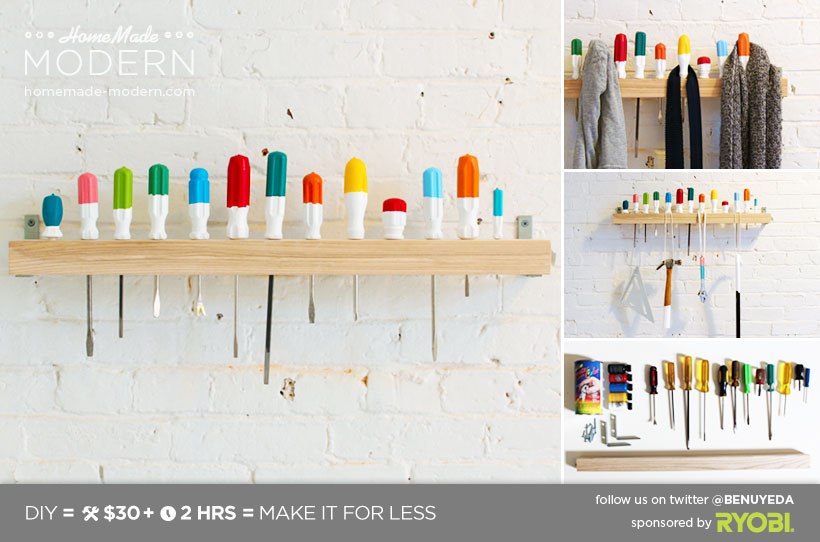 Grab some paint and get to dipping. With some fun colors and a wooden pallet, all you need is Homemade Modern to give you the details.
6. Garden Station
You can easily create a little garden center inside your garage too. Keep everything neat and tidy and easy to get to when you need it. (via)
7. Scrap Wood Box
With a little help from Hometalk, you'll be able to get all that scrap wood out of the corner and easy to find. Check out the details after the jump.
8. Cord Hook
Grab some PVC pipes and turn them into hooks for your cords.
9. Metal Bin Toy Storage
Even some simple metal bins and labels can help out in the garage. Just check out this easy-to-replicate idea fromFantabulosity.
10. Storage Wall
A Bowl Full of Lemonsknew how to utilize every nook and cranny of the garage. Just take a peek at this impressively organized strange wall.
11. Spray Paint Organizer
Got a lot of spray paint laying around? This idea from Hi Sugarplum!will get them off the floor and easy to find.
12. Ball Organizer
Bungee cords can save you from a headache. Grab all of the easy details over at Dukes and Duchesses for keeping the balls at bay.
13. Peg Rail Tool Holder
Julie Blannerused a simple peg rail to get her tools off the ground and out of the corner. With a fresh coat of paint, anything can be made to look new.
14. Wreath Organizer
Have a lot of wreaths for the changing seasons and holidays? Check out Ask Ann and learn how to store them without losing a flower or feather.
15. Bike & Scooter Rack
Our Taylor Lifemade a bike rack out of pallets that became quite the simple task as well. Just grab some scraps and get to work.
16. Filing Cabinet Storage
HGTV teaches us how to turn an old filing cabinet into something usable for the garage. With a bit of handiwork, this organizer will go a long way.
17. Garden Tools Pallet
Grab some pallets again for this fun project we found over at Hometalk. Nothing will fall to the floor and everything will be ready to grab.
18. Magnet Tool Strip
And finally amagnet still and your bits are all you needed to get started.