20 Pantry Organization Hacks to Reset Your Kitchen
An organized pantry is a total game-changer for limited food storage space. So turn your cluttered, chaotic pantry into a well-oiled machine with these simple pantry organization ideas.
If you feel like you're losing your mind every time you try to find glass jars or soup cans in the pantry, check out these kitchen pantry organization ideas.
With clever storage solutions and organizational tips, you'll be able to find everything you need quickly.
Editor's Choice
Organizer Sliding Shelf
Top Pantry Organization Ideas to Optimize Your Kitchen
These clever tips and tricks will have your pantry looking tidy in no time. You can also check out our home organization ideas.
If you're looking for an attractive way to organize your pantry and free up much-needed space,DecoBroshas the perfectpantry closet organizer for your cans, glass jars, and awkwardly shaped goods.
This stackable can rack flawlessly fits your pantry organizer shelves, so that you don't have to wrestle with cans whenever you want to grab something to eat in a hurry.
It slots into place and stores cans of all sizes on their sides for a better fit. Plus, it's slightly tilted, so the cans roll within reach whenever you remove the front one.
View price on Amazon
If you keep cleaning supplies in your pantry, you might be interested in this wall-mounted strip rack fromBerry Ave.
It's one of the best storage ideas for your kitchen pantry to store long-handled tools like mops and brooms.
It provides easy access to your hand brooms and oven mitts. At the same time, it keeps them out of your way so that you don't accidentally knock over your broom and hurt yourself – it's one of the best pantry organization ideas.
Just be sure to hang the rack low enough for your kids to reach it, in case you're trying to teach them a thing or two about housekeeping.
View price on Amazon
Lynk Professionaloffers apantry organizer system in the form of a pull-out under cabinet sliding shelf.
It's great for storing heavy objects since you won't have to break your back when you want to pick up something – just slide out the shelf like a drawer.
Its low profile makes it perfect for use in any cabinet, and the industrial-grade ball-bearing glide system ensures smooth sliding every time.
At the same time, your appliances will be safe from scratches with these pantry organization ideas.
View price on Amazon
4. Vtopmart – Containers for Organizing a Pantry
If your pantry is cluttered and disorganized, you don't need to struggle anymore, thanks toVtopmart. It offers clear containers for organizing a pantry and making it space-efficient, especially if your cupboard or pantry shelves are narrow.
These clever containers declutter and streamline your shelves, and you can effortlessly add labels. Meanwhile, the storage containers come with airtight lids to keep your food fresh longer.
Whether you're looking for a way to organize snacks, fruits, vegetables, or anything else, these containers are perfect for the job.
View price on Amazon
mDesign has a Lazy Susan solution for cabinets to help organize small items, just like a spice rack.
It rotates your whole stock to give you easy access and a better view of your small kitchen supplies.
Plus, the inserts have high edges to prevent items from falling out when opening the cupboard door. It's an efficient pantry organizing idea.
View price on Amazon
GeekDigg lets you organize your small and large pots on different levels so that you don't have to wrestle with all of them when trying to remove a pot for cooking.
This pantry shelf organization system features easy-to-clean wire shelves for standard-sized pots and pans, together with a rubberized coating to prevent them from sliding.
View price on Amazon
Instead of stacking your lids in a cupboard to create a mess and have them fall on you whenever you open the cupboard door, try this idea for organizing a pantryfromYouCopia.
It's a food container dedicated to lids, which looks like a drying rack – you just have to store it on a shelf and add the lids. Furthermore, the adjustable dividers let you organize the lids by size and color.
View price on Amazon
High shelves are awkward because you can't take advantage of the vertical space. ButDecoBros can help you with these stackable wire racks.
You can use them askitchen pantry organizers to maximize cupboard storage and even store baking ingredients.
Besides, the shelves are foldable, so you can put them away anytime. Using stackable racks is an excellent life hack for your home.
View price on Amazon
SimpleHouseware has a beautifulpantry organization system for pans, pots, lids, cutting boards, cookie sheets, and other bakeware.
It consists of two steel racks with three compartments each, which you can store in a cabinet or keep on the kitchen counter.
Moreover, the racks have rubber feet to protect the surface and avoid mishaps.
View price on Amazon
Suppose you often have to use your refrigerator as a pantry. In that case,Fullstar has a simple storage solution for decluttering fridges: clear acrylic bins with handles.
They easily slide into your fridge shelves like drawers to help you take advantage of all available free space.
What's more, they're simple to clean and come with non-slip mats, making them ideal pantry organization bins.
View price on Amazon
Rubbermaid Brilliance proposes the best way to organize your pantry and keep your food fresh.
These modular containers snap together for compact storage, and the thick, durable walls are perfect for everyday use.
Furthermore, the freezer-safe design means you can also store these containers in the freezer, and the dishwasher-safe top-rack lets you quickly clean them up.
At the same time, BPA-free construction ensures that these containers are safe for storing all of your food. We think they're one of the best pantry organization containers on the market.
View price on Amazon
Keep your kitchen clutter-free with this handy wire basket from mDesign.
This bin with handles is ideal for storing pasta, dressing, baking supplies, and other items – the possibilities are endless, thanks to this kitchen pantry organizer.
Plus, the generously sized bin makes it easy to store all of your kitchen essentials, so you don't have to worry about any clutter.
Meanwhile, the integrated side handles make them easy to grab and pull down from high shelves, while the vintage-inspired design gives them a modern touch.
View price on Amazon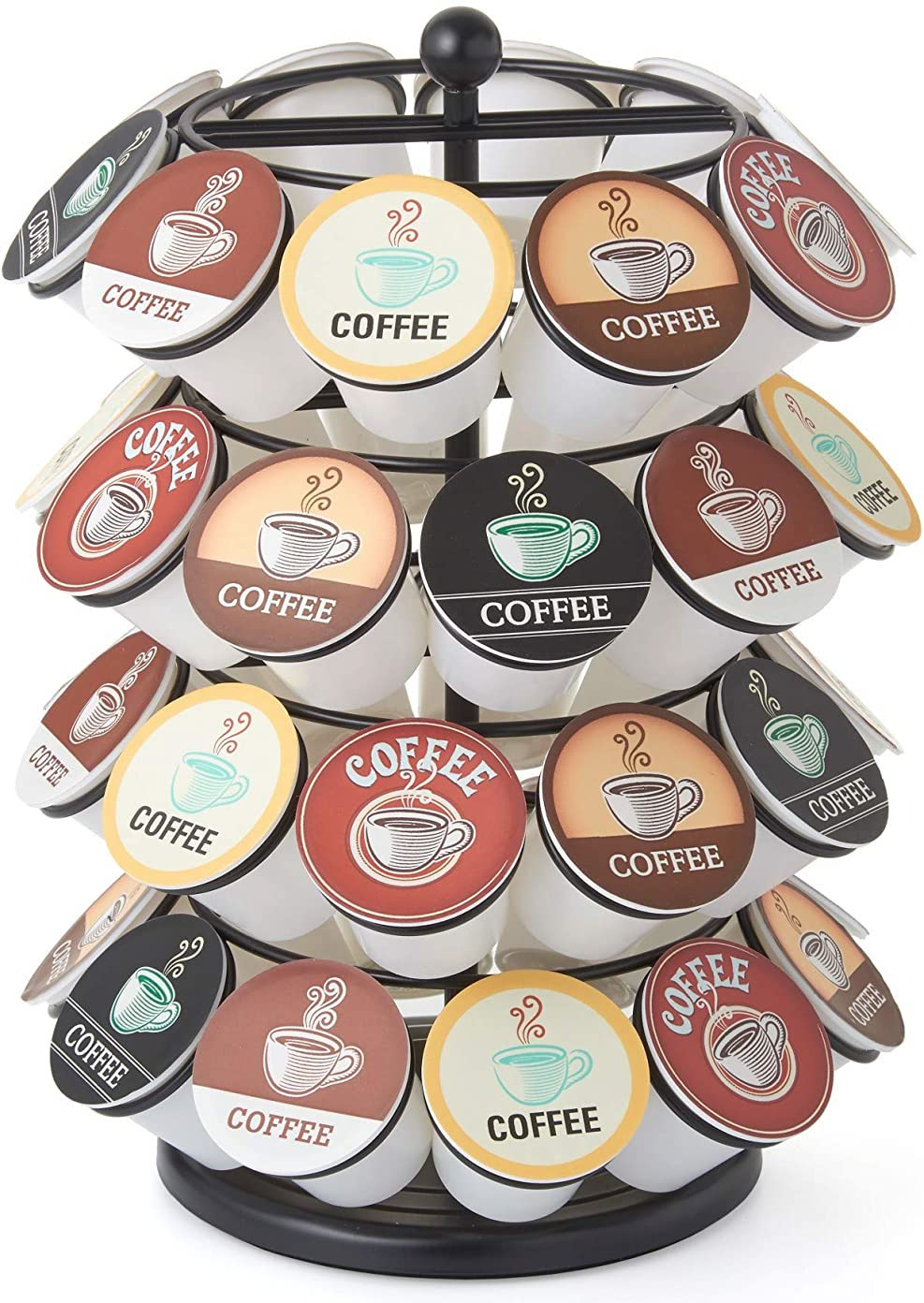 This coffee pod carousel provides you with a stylish way to showcase your coffee aromas.
Made by Nifty, it's compatible with K-Cups and can hold up to 40 of your favorite pods.
Plus, the Lazy Susan base platform rotates 360 degrees, making it easy to find and choose your preferred flavor.
And we think that the modern black powder-coated design looks great on any countertop.
So, whether you're a heavy coffee drinker or just need a cup of joe in the morning, this kitchen pantry organization idea will make brewing a breeze.
View price on Amazon
If you're sick of your belongings taking over every square inch of your kitchen, try using this storage shelving unit from Amazon Basics.
With five adjustable shelves, this unit can accommodate up to 350 pounds per shelf, for a total of 1750 pounds – ideal for heavy-duty objects that would otherwise take up the entire kitchen space.
Furthermore, the black-coated chrome finish is durable and easy to clean, while the adjustable leveling feet ensure that the shelving unit fits perfectly in your space. It's a fantastic pantry organizer idea.
View price on Amazon
Keep your cabinets and pantries spick and span with this 3-tier spice rack from Copco.
It's a versatile organizer for corralling all your spices, featuring non-skid feet to keep them in place.
Additionally, the Copco organizer is made from durable plastic, so it's a must-have for any organizational fan – you just need an empty cabinet for this kitchen pantry organizing idea.
View price on Amazon
If you're having trouble keeping track of your dry goods, you probably end up throwing away cans with a due expiration date, which ends up costing you money and creating waste.
But this can tracker from FIFO is here to help. It stores and rotates your canned goods on a First-In-First-Out model.
Thanks to this food pantry storage idea, you'll never have to worry about expired food again.
View price on Amazon
YouCopia UpSpace is the perfect way to organize your water bottles, travel mugs, baby bottles, and more.
It can accommodate all bottle sizes with three adjustable shelves – even taller ones like travel mugs with handles and sports bottles.
Plus, it doesn't need any tools or installation – just place the wire legs in the base and snap in the shelves.
And with non-slip feet, you can store all your bottles without worrying about them falling. We love this idea for organizing a pantry.
View price on Amazon
No more digging through a cluttered drawer for that one baggie you need since you can keep your sandwich bags tidy and organized with this eco-friendly bamboo holder from Jetec.
This 5-piece set can hold multiple sizes of sandwich bags, making it excellent for your kitchen drawer.
Besides, the thoughtful design of this pantry organizing system includes an upside-down U shape that keeps the bags upright and prevents them from getting squished or torn.
View price on Amazon
This 8-set organization system from Utopia is a great way to keep your groceries in order.
The drawers are big enough to accommodate commodities in good quantity. Meanwhile, the set incorporates four big drawers and four smaller ones to ensure better placement of grocery items.
What's more, the construction is robust, and the design is transparent, making it easy to find the required product without a hassle.
It's one of the best storage containers for your pantry.
View price on Amazon
This sturdy and stylish magnetic spice rack from YJSMO is perfect for keeping your spices within easy reach in the kitchen.
The four hooks make it easy to attach to the refrigerator, and the black finish blends in with any decor.
Or, you can stick it to a metallic surface in your pantry. The rack is easy to use – just attach the magnets on your spices, and they'll stay put. We love this pantry shelf organizer.
View price on Amazon
Pantry Organization Ideas FAQ
Learn more about how to organize your pantry:
How do I organize my food pantry?
Use these pantry organization ideas: check expiration dates and throw away spoiled foods, organize items in custom containers, place heavy objects on the bottom shelf and lighter ones on top, store dry goods in airtight containers, and keep things at eye level in glass jars.
What is the easiest way to organize a pantry?
Use special storage tools to keep an organized pantry and make a clean slate in your kitchen: spice racks, pot racks for bulky appliances, Lazy Susans, clear containers, stackable can racks, sliding shelves, lid organizers, pantry door organizers, and so on.
How often should you clean your pantry?
When it comes to staying organized, you should ideally clean your pantry every two weeks. However, if that's not feasible for you, aim to clean it at least once a month.
How do you organize Ziploc bags?
You can organize Ziploc bags by size, alphabetical order, or food type. You can also use them to store small pantry items.
How do you organize a small pantry cupboard?
Use these pantry organization ideas for small cupboards: re-arrange your pantry shelves, add dividers, stack racks to take advantage of the vertical shelf space, add a food storage unit to your pantry door, install a LED strip, add pull-out drawers to a small space, and so on.
Final Thoughts on Pantry Organization Ideas
With a little bit of creativity and some handy storage solutions, your large or small pantry will be clean in no time. Check out the best kitchen storage decluttering solutions for even more inspiration on keeping your kitchen space organized.
What are your favorite pantry organization ideas? Do you use more ways? Let us know in the comment section below.